How to Get a Car with No Credit
If you don't have a credit history, you can still get a car. Find out how to buy, lease, loan, or finance a car with no credit score.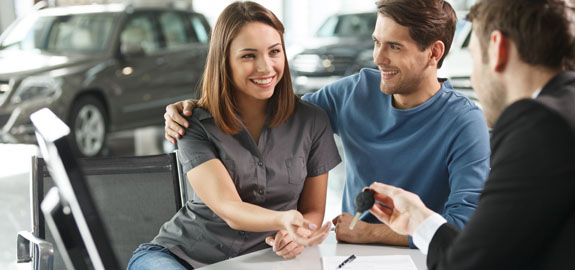 If you don't have a credit history it will be difficult to get a car, but not impossible. If you're trying to buy, lease, loan, or finance a new or used car, there are ways to do so without a credit score. You can get a car with no credit with help from a co-signer, documentation, lowering your debt-to-income ratio, subprime auto loans, and more.
This article touches on:
Getting a Car Loan with No Credit
If you don't have a credit score and you're trying to get an auto loan, that means lenders will have to analyze something other than your credit history. There are a few different roads you can take to get a car loan with no credit.
Subprime Auto Loans
Subprime auto loans are an option for people with bad credit scores or a limited credit history. If you have no credit, getting a subprime auto loan is an option. These types of loans carry much higher interest rates and even come with penalties if you want to pay off your loan early. Interest rates for a subprime auto loan can range from 11 percent to 19 percent. A loan for a new car will have a lower interest rate than for a used or older car.
Although the high interest rate is a major setback with subprime auto loans, it's a last-ditch option for someone who doesn't have a credit history. If you don't have a credit score, you're considered a high-risk buyer in the eyes of the lender.
Co-signer
Getting a co-signer is the most effective and straightforward way to get an auto loan without having a credit history. A co-signer is someone who has good credit and signs the loan with you. You could even qualify for discounts if they have a credit score over 700. The twist: they'll face the consequences if you don't meet your payments. Their credit score could take a big hit, and you could lose an important personal relationship.
Debt-to-income Ratio
Lenders will only give you money that they think you can pay back. That's where your debt-to-income (DTI) ratio comes in. Your DTI ratio is the percentage amount of your monthly income that goes toward paying loans, rent or mortgage payments, and car payments. If you have no credit or poor credit, your DTI is more crucial to lenders. Lenders like to see a DTI of 40 percent or less.
For example: if your monthly income is $3,500, you're more likely to get a loan if you pay $1,400 or less in monthly debt payments. If your DTI is more than 40 percent, you can improve your DTI by increasing your income or decreasing your monthly payments, like moving somewhere with cheaper rent.
Buying a Car with No Credit
So, you can get a car loan with no credit, but can you buy a car with no credit? If you have enough money to swing it, yes. The simplest way to buy a car with no credit is to pay cash for it upfront. This may seem completely out of the question for a $30,000 car, but it's always possible to find used cars for under $10,000.
If you can't pay for your car all at once, you'll have to take out a car loan. Or, you can wait and take steps to build your credit.
Financing a Car with No Credit
If you can borrow money directly from a bank or credit union, you may have better luck financing a car with no credit. Especially if you've been with the same bank for a while – they may be willing to give approve your loan.
Documentation
If you're trying to finance a car without a credit history, you'll have to prove that you're good to pay your bank or credit union back for a loan. Bringing documents that prove you're a responsible loaner will give you a higher chance of approval for a car loan.
You should bring:
Phone and/or utility bills : to show on time payments.
Pay stubs : to show employment history and future income.
Copy of bank statement: this shows financial security and proof of funds.
Names and phone numbers of references : this could be employers, family, friends, or mentors who will vouch for you.
Leasing a Car with No Credit
Leases tend to have lower monthly payment costs than loans, so this is good option if you have a lower expendable income. But leasing a car requires a better credit score than buying a car. Because leasing is like renting the car, the finance company that leases you the vehicle will run a credit check.
The bottom line: you'll have better luck buying or loaning the car with no credit than leasing it with no credit.
First Time Car Buyer with No Credit
If you're 18 or 19 and it's your first time buying a car and you don't have a credit history; you may feel like you've hit a dead-end. Luckily, there are a few options for first time car buyers, including co-signers and new buyer programs.
New Buyer Program
If you're a first-time car buyer with no credit, you could qualify for a new buyer program. New buyer programs are offered by dealerships that want to establish a good relationship with new customers. They offer deals for people with a limited credit history and a low income. Plus, the down payment requirements are minimal. To qualify, you usually need to make a down payment and prove you've had a full-time job for around six months.
Buying a Car with No Co-signer
If you don't have a co-signer or a credit score, buying a car gets even more difficult. Here are some options:
Build credit : If you're not in a rush to get your new wheels, you should work on building your credit. The most straightforward way to do this is to get a credit card and pay your bill on time. It will take at least six months to produce a score. Telephone companies can report your cellphone payments to credit bureaus, so paying those bills on time will also improve your score.
Save money : If you have enough time to save money to buy a car in cash from a dealership, that's the ideal route. That way you don't need to pay any money in the future. Or, you can buy from a private seller, which could be cheaper. If you don't have the time or money to pay cash for your car, you'll have to get a loan.
Auto Insurance with No Credit
To determine your auto insurance rates, companies look at your credit score along with your location, driving history, age, and more. People with bad credit pay higher insurance rates. You're in luck if you live in California, Hawaii, or Massachusetts, where the practice is banned. But if you live in a state like Florida, for example, your rates could be 74 percent higher than the average rate if you have poor credit. Even if you pay your car insurance monthly, it won't build your credit.
To find the best auto insurance rate, shop around and compare quotes from several companies. To keep your premiums low, choose a high deductible, only file claims when you need to, take advantage of discounts, and keep your driving record clean.
QuoteWizard.com LLC has made every effort to ensure that the information on this site is correct, but we cannot guarantee that it is free of inaccuracies, errors, or omissions. All content and services provided on or through this site are provided "as is" and "as available" for use. QuoteWizard.com LLC makes no representations or warranties of any kind, express or implied, as to the operation of this site or to the information, content, materials, or products included on this site. You expressly agree that your use of this site is at your sole risk.