Compare Auto Insurance in Hawaii
Hawaii is known as the Aloha State. Here at QuoteWizard, we've compiled useful insurance information from industry and government sources which Hawaiians can use to say "hello" to savings and "goodbye" to high premiums.
This page will show you which types of coverage are legally required in Hawaii, inform you about important insurance laws, and provide both information about the cost of driving, and some insights about insurance risk in Hawaii, all to help protect you and your family.
Average Hawaii Car Insurance Rates
How much is car insurance in Hawaii? Premiums here are slightly cheaper than in most of the country. On average, Hawaii drivers pay 13% less for auto insurance than the average American. The average cost of car insurance in Hawaii is $764.72 per year. The national average price is $889.01.
Prices may vary depending on your car, driving record, zip code, limits, and the number of claims filed in your neighborhood.
Hawaii (HI) Average Annual Car Insurance Rates
Coverage
Rates
Liability
$458.54
Collision
$313.17
Comprehensive
$101.56
Total Cost Per Year
$764.72
Price Per Month
$63.72
Source: Facts + Statistics: Auto insurance
The graph below shows the change in average Hawaii insurance rates from 2011 to 2015, the most recent year the data is available. According to the III, Hawaii car insurance rates increased from $748 in 2011 to $764 in 2015, a jump of $16 dollars, or 2.17 percent.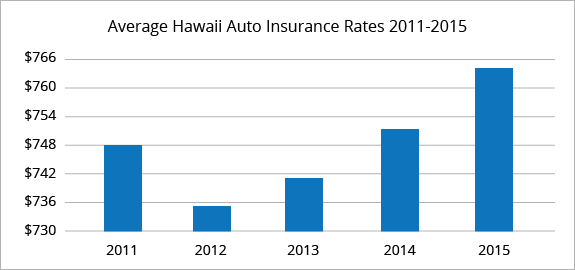 Finding the right car insurance in Hawaii for your needs and budget doesn't have to be stressful. Then again, you want to make sure that whichever company you choose is the right fit, and that means comparing car insurance rates!
Comparing auto quotes can be time-consuming. But with a little help from QuoteWizard, you'll have a policy in no time. We'll connect you with top auto insurance companies so you can find the best coverage at the best price.
Last year, 11,273 people used QuoteWizard to get an auto insurance quote comparison in Hawaii from multiple companies.
Most Popular Auto Insurance Companies in Hawaii
These are the most common car insurance companies reported by QuoteWizard users living in Hawaii last year.
Wondering which insurer has the best plan and rate for you? Study them side by side on our compare page. We've pulled together guidelines for each of the biggest insurance companies in the country.
If you're struggling to find coverage because of a bad driving record, contact the Hawaii Joint Underwriting Plan (HJUP). They can help make sure you get the high-risk policy you need.
Are you a teen driver or the parent of one? Finding the right policy for a teen driver can be difficult. It's extremely expensive. Our data shows that auto insurance for teens costs an average of $438 a month. Progressive, Farmers, and AAA are excellent options for decent coverage for Hawaiian teen drivers.
Top 10 Vehicles
These are the most commonly owned cars by QuoteWizard users in Hawaii.
Toyota Tacoma
Toyota Camry
Ford F150
Toyota Corolla
Honda Accord LX
Ford Ranger
Toyota 4Runner SR5
Honda Civic
Kia Soul
Toyota Prius
Hawaii Car Insurance Rate Factors
Standard car insurance in Hawaii is cheaper than many other states in the country, and with good reason.
Uninsured Drivers
According to the iii, Hawaii ranks 30th for most uninsured drivers in the country. A lot of drivers without insurance in your area means you're picking up part of that bill with your premiums. Thankfully, that's not the case in Hawaii.
Best and Worst Drivers
According to our recent study, Hawaii comes in 28th for worst drivers in the country. We compiled this ranking from accident, citation, speeding ticket, and DUI data for the last year. Our city study found that Honolulu has the 6th best drivers in the country. This is good news for Hawaii drivers, as living in an area with bad drivers can make your insurance more expensive.
Most Commonly Stolen Vehicles
Hawaii has the 35th highest rate of auto theft in the country. A high number of car thefts hurts insurance premiums for everyone in your zip code. Also, if you have a make or model that is commonly targeted by thieves, it will cost more to insure. Check the list below to see if your car is high-risk.
Source: National Insurance Crime Bureau- 2017 Hot Wheels Report
2000 Honda Civic
1996 Honda Accord
2008 Ford Pickup (Full Size)
2000 Toyota Camry
2016 Toyota Corolla
1998 Honda CR-V
2001 Nissan Frontier
2005 Nissan Altima
Ford Pickup (Small Size)
Chevrolet Pickup (Full Size)
Car Insurance Discounts
The average Hawaiian household has two cars. If you own two or more cars, you may qualify for a multi-car discount.
Hybrid cars are popular in Hawaii. If you have one or another type of alternative fuel car, your insurer may be able to cut some off of your premium.
Hawaii is the number one state for carpooling in the nation. If you're letting someone else do the driving when you commute, let your insurance company know. If you're not behind the wheel, you're less of a risk. That can save you money.
Do you already have a home or life insurance policy? Definitely talk to your insurer about a bundle discount. Bundling discount allows you to save money on both policies.
Hawaii has the largest concentration of military bases in the country. If you are current or retired military personnel, your insurance company probably has a discount for you.
Hawaii Car Insurance Laws
Minimum Car Insurance Requirements in Hawaii
Hawaii insurance law requires you to carry minimum auto coverage of 20/40/10. This means whatever policy you get must at least have:
Bodily injury liability per person: $20,000
Bodily injury liability per accident: $40,000
Property damage liability per accident: $10,000
Since Hawaii is a no-fault insurance state, you are also required to carry $10,000 in Personal Injury Protection (PIP).
Recommended Coverage
While liability coverage takes care of the other driver in a crash, it doesn't help with your damages. Hawaii has the ninth highest rate of car theft in the country. There are nearly 370 thefts per 100,000 residents in the Aloha state. That raises insurance rates for all Hawaii drivers. But you can protect yourself with comprehensive coverage. It covers theft and vandalism, as well as fires and natural disasters.
Also consider upping your liability insurance. One major accident can easily wind up costing more than what minimum liability covers. We recommend:
Bodily Injury Liability: $100,000
Total Bodily Injury Liability: $300,000
Property Damage Liability: $100,000
Required Proof of Insurance
You need to be able to provide proof of auto insurance if law enforcement requests it. An insurance ID card or proof of insurance on an electronic device is acceptable.
SR-22 Requirements
Should your license get suspended, Hawaii requires you to file an SR-22. It shows that you maintain the required minimum liability coverage required by the state.
Hawaii requires that you maintain the SR-22 for a minimum of three years. If you fail to pay your auto insurance or renew the SR-22 within 15 days of expiration, the state reserves the right to suspend your license until you get a new SR-22. Getting a new SR-22 at this point may reset the three-year clock.
Totaled Cars with Salvage or Rebuilt Titles
If your car get damaged in an accident and the cost to repair it is close to the car's value, your insurance company will classify it as a total loss. A total loss car gets a salvage title. Once the vehicle is repaired, it gets a salvage title.
Each state has specific laws regarding totaled cars. In Hawaii, total loss is calculated by a Total Loss Formula (TLF). Your insurer will add the cost of the car's repair to its salvage value. If this sum is greater than the car's initial market value, it's a total loss.
Finding auto insurance for rebuilt or salvage title in Hawaii is hard. The best-case scenario is that you will pay a high premium for coverage. Some insurers do not even touch these titled cars.
Hawaii Traffic Safety Laws
Distracted Driving
Hawaii prohibits the use of handheld electronic devices while driving. This includes phone calls and texting. This ban does not apply to 911 calls, emergency responders, or drivers at a complete stop with the engine off.
Penalties for breaking this law include:
$250 for the first offense
$300 for distracted driving in a school or construction zone
Up to $2,750 for distracted driving while operating a commercial vehicle
DUI Law
If you drive in Hawaii with a Blood Alcohol Content (BAC) or 0.08 percent or more, you're guilty of being Drunk Under the Influence (DUI). Depending on how many DUIs you have on your record, penalties include:
License suspension for 90 days to five years.
Up to five years in prison
$150 to $2500 in fines
A Class "C" felony
To make matters worse, you're sure to see an increase in your insurance premiums. Our studies show that you can pay $830 per year for car insurance after a DUI. This assumes you can find coverage after getting a DUI.
Senior Drivers
It's likely your auto rates will go up after you turn 65. If you have a clean driving record, the initial increase probably won't be much. However, as you get older you will see larger increases.
In Hawaii, drivers age 72 and older must renew their license every two years.  A vision test is also required at the time of renewal, and a written and road test may be required as well.
Cars Registered in Other States
If you are driving a vehicle in Hawaii that's registered in another state, you are required to carry the insurance required in that state. You must be able to provide proof of coverage as well.
Hawaii Department of Commerce and Consumer Affairs - Insurance
Website:
Insurance Commissioner:

Colin M. Hayashida
Insurance Hotline:

(808) 586 – 2790
Office Hours:

Monday - Friday
7:45 am to 4:30 pm
File a Consumer Insurance Complaint
Sources:
QuoteWizard.com LLC has made every effort to ensure that the information on this site is correct, but we cannot guarantee that it is free of inaccuracies, errors, or omissions. All content and services provided on or through this site are provided "as is" and "as available" for use. QuoteWizard.com LLC makes no representations or warranties of any kind, express or implied, as to the operation of this site or to the information, content, materials, or products included on this site. You expressly agree that your use of this site is at your sole risk.