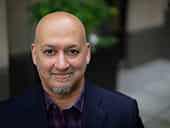 Expertise

Auto insurance, home insurance and renters insurance

Education

University of California-Berkeley (BA in History)

Featured on

ABC, Business Insider, MSN, Yahoo
Rob Bhatt is a licensed insurance agent as well as a staff writer at QuoteWizard, where he has worked for over a year. Prior to joining QuoteWizard, he spent more than 20 years writing for and editing regional publications in California, Nevada and Washington. Rob enjoys helping readers understand how different coverages work so they can make informed purchasing decisions, and he specializes in producing research-backed content for QuoteWizard.com about auto, home and renters insurance. His work has been cited by ABC, Business Insider, MSN and Yahoo.
All articles by Rob
States Where the Environment Impacts Our Health the Most
How Much Life Insurance Do I Need?
The right amount of life insurance can provide your dependents with financial security in the event of the unthinkable.
No Medical Exam Life Insurance
It is possible to get life insurance without a medical exam for certain policies. Is no exam coverage right for you?
Health Insurance Rate Factors
The ACA limits what health insurance companies can use to set your premium. Here's how this affects your rates.
Renters Insurance Rate Factors
The factors that affect your renters insurance rates include some things you can control and others that you can't.
How Much Renters Insurance Do I Need to Buy?
Key tips for getting the right amount of renters insurance for your personal property, liability and other covered needs.
Does Renters Insurance Cover Dog Bites?
Renters insurance does not always cover dog bites or other injuries caused by your pet. Check your policy's fine print.
Is Renters Insurance Worth It?
Affordable rates and valuable coverages often make renters insurance a good deal, even when it's not required.
Do I Need Renters Insurance?
The financial protections that renters insurance provides makes it worth considering, even when your landlord does not require it.
What Doesn't Renters Insurance Cover?
Renters insurance covers many things, but not everything. Here's what it doesn't cover, and what you can do about it.
Renters Insurance with Roommates
You can often add a roommate to your renters insurance, but in most cases, you're better off with separate policies.
How to Cancel Your Renters Insurance Policy
Canceling renters insurance is easy, but doing it wrong can be costly. Here's what you need to know to get it right.
Pet Liability Insurance for Renters
The liability coverage in renters insurance normally covers pets, but some companies have restrictions on certain types of pets.
Actual Cash Value vs. Replacement Cost Renters Insurance
How the type of renters insurance coverage you choose affects your rates and the amount you may receive in a claim.
What is Rental Liability Insurance and Why Do I Need It?
The liability coverage in renters insurance pays for injuries or damage you cause. Increasing your coverage is cheap.
Understanding Renters Insurance Deductibles
Your renters insurance deductible can impact your wallet in important ways. Discover how it works and why it matters.
What Does Renters Insurance Cover?
Renters insurance provides valuable coverage for your belongings, as well as protection from liability claims and other common risks.
What If I Can't Get Home Insurance?
If you are unable to get homeowners insurance for a high-risk home, follow these steps to find the coverage you need.
What to Do if Your Homeowners Insurance Claim is Denied
If your insurance company refuses to pay for damage to your home, here's how to make it honor its contractual duties.
How Trampolines Affect Home Insurance
Trampolines are not automatically covered by home insurance. Check your policy before you install one in your yard.
Homeowners Insurance Dog Breed Restrictions
If your homeowners policy excludes or limits coverage for your dog's breed, it's time to shop for a dog-friendly insurance company.
Best Mobile Home Insurance in California
Discover key details about the best mobile home insurance companies in California and how to get the cheapest rate.
Getting Insurance for an Older Mobile Home
Finding insurance for an older mobile home can be difficult. Here's what you need to know to get the right coverage.
Best Condo HO-6 Insurance in Florida (2023)
Cypress has the cheapest condo insurance in Florida. Homeowners Choice, Kin and Citizens are also good options.
The Eight Types of Homeowners Insurance
Homeowners insurance varies by home types and coverage levels. Here's how to find the right type of policy for you.
Sinkhole Insurance Coverage
Homeowners insurance does not automatically cover sinkholes. Here's how to protect against this hidden threat.
Is Sewer Line Repair Covered by Insurance?
Standard home insurance for sewer messes is extremely limited, but a couple of inexpensive riders can fill the gaps.
How Does Homeowners Insurance Work?
Everything you need to know to get the right amounts of coverage for your home without overpaying for insurance.
Do I Need Flood Insurance Coverage?
Flood insurance is required on some homes and optional for others. Here is key info to help you decide if you need it.
Does Homeowners Insurance Cover Mold?
Home insurance typically only covers mold, mildew and other rot on a rare, limited basis. Prevention is your best bet.
How to Calculate Your Home's Replacement Cost Value
An accurate estimate of your home's replacement cost is key to getting the right amount of homeowners insurance.
Condo Insurance Essentials
When you own a condo unit, you usually need HO-6 insurance. Here are key details about how these policies work.
Homeowners Insurance for Airbnb
Updating your insurance coverage is an important step in getting your home ready for a sharing service like Airbnb.
How to Create a Home Inventory for Insurance
Having an itemized list of your home's contents ready ahead of time can get you paid sooner for an insurance claim.
A Guide to Canceling Your Home Insurance
Canceling your homeowners insurance is not difficult, but doing it wrong can be costly. Here's how to avoid mistakes.
Insurance for Electric Cars
As interest in electric vehicles continues to surge, insurance rates don't have to be a barrier to embracing their new technology.
Penalties for Driving Without Insurance
Driving without insurance can get you a fine, suspended license or worse. An accident could devastate your finances.
Car Repair Insurance: Is It Worth It?
Car repair insurance can spare you from a big auto repair bill. But it's not the only choice for getting this protection.
Cheapest Car Insurance Companies (2023)
State Farm is the cheapest large car insurance company. Concord Group has the lowest rates for regional companies.
How Do I Fight My Auto Insurer on a Totaled Car Payout?
If the insurance company offers a low settlement for your totaled car, here's how to get your payout right.
Best Car Insurance for Military Veterans (2023)
Your guide to auto insurance companies that cater to the military community with low rates and customized services.
The Cost of Insurance for a Jeep Wrangler
Insurance prices for Jeep Wranglers average $157 a month, but you can often find a cheaper rate if you shop around.
Best Car Insurance Discounts (2023)
Car insurance companies use various discounts to win you over. Here's how to make sure you get all the ones you deserve.
Insurance Discounts for Multiple Cars
Multicar discounts allow you to save by putting all the cars in your home on the same policy, instead of separate ones.
Auto Insurance for a Used Car
It's important to have insurance for a used car when you take possession. An existing policy only provides temporary coverage.
How Do I Switch My Car Insurance Company?
If you want a better rate or have new needs, changing your car insurance company is easier than you may think.
How to Buy Online Car Insurance
Online car insurance can be confusing. Here's how to use the different sites out there to get affordable coverage fast.
Best Roadside Assistance Insurance Companies of 2023
Roadside assistance comes in many different forms and price points. Here's a look at how the best choices stack up.
The Cost of Car Insurance for 17-Year-Olds (2023)
Car insurance for 17-year-olds is expensive. Fortunately, there are ways to shave hundreds of dollars off your rate.
What is Non-Standard Auto Insurance?
If you have a few dings on your record, non-standard car insurance can put you on the path to lower future rates.
Car Insurance for New Drivers (2023)
Auto insurance costs more for those with no prior driving experience, but these tips can help new drivers save money.
The Cost of Teen Car Insurance (2023)
Car insurance for young drivers is expensive. Here's a look at how much it costs and what you can do to save money.
How to File a Car Insurance Claim
A car insurance claim can get you back to normal. Here's what to know before you contact the insurance company.
How to Insure Cars with Salvage or Rebuilt Titles
Getting car insurance for a vehicle with a salvage or rebuilt title can be tricky, but not impossible. Here's how to do it.
How to Prevent Car Theft
Auto theft is a rampant problem. Here's how to prevent your car from being stolen, and protect your finances if it is.
How Long Does an Accident Affect Your Car Insurance Rate?
A car accident usually affects your insurance rates for three years. Here are steps you can take to save before then.
Is Your Child Covered Under Your Auto Insurance?
It's usually better to add your child to your car insurance than it is for them to get their own policy. Here's why.
How Do Car Insurance Deductibles Work?
Car insurance deductibles are the amounts you pay for certain types of incidents. Here's a look at how they work and how to choose them.
What is Personal Injury Protection (PIP)?
PIP insurance covers injuries to you and your passengers in a car accident, regardless of fault. Here's how it works.
How To Get Car Insurance For the First Time
The details you need to get your first car insurance policy, including how to shop and the questions you'll be asked.
Stacked vs. Unstacked Car Insurance
Stacking your car insurance can be an easy way to bump up your protection from the uninsured and underinsured.
How to Get Short-Term Car Insurance
Although car insurance is not offered for temporary needs, these alternatives to full-term policies can save you money.
What is a Car Insurance Declaration Page?
Your declaration page summarizes the key points of your auto insurance policy. Keep it in an easy-to-find place.
What Is a Loss Payee?
An entity with a financial stake in your vehicle will usually require you to list it as a loss payee on your car insurance.
Car Insurance for Driving in Mexico
American auto insurance does not cover you in Mexico. Here's how to get Mexican insurance, and how much it costs.
What Happens if You're in a Car Accident with No Insurance?
Getting into a car accident without insurance can be extremely expensive. Brace yourself for what you need to know.
Do You Need Insurance to Register a Car?
In most states, you need insurance to register a car. Here are more reasons to insure your car before you register it.
Car Insurance and Moving to a New State
You need to get a new car insurance policy when you move to a new state. Here are tips to streamline the process.
How to Cancel a Car Insurance Policy
The top things to know about canceling your car insurance to switch carriers, move or sell your car, or any other reason.
What Is Collision Car Insurance? Should I Get It?
Collision insurance is optional auto coverage that pays to fix your car. Here's how it works and when you should get it.
Liability vs. Full-Coverage Car Insurance
Liability insurance is required by law in most states. Full coverage provides more protection. Here's why the differences between them matter.
6 Types of Car Insurance
Understanding how the different types of car insurance work is essential to making sure you get the right coverage.