Compare Auto Insurance in Rhode Island
Rhode Island has some of the highest auto insurance rates in the country. It might be tempting to whittle down your car insurance coverage to save some money, but we'll show you why that's not a great idea.
This page will show you which types of coverage are legally required in Rhode Island, provide information about the cost of driving including average rates, and share some insights about insurance risk to help you protect yourself and your family.
Average Rhode Island Car Insurance Rates
How much is car insurance in Rhode Island? If you drive here, you know how expensive insurance premiums can be. The average cost of auto insurance in Rhode Island is $1,147.95 per year. The national average price is $898.01.
Prices may vary depending on your zip code and driving history.
Rhode Island (RI) Average Annual Car Insurance Rates
Coverage
Rates
Liability
$759.80
Collision
$411.51
Comprehensive
$132.19
Total Cost Per Year
$1,147.95
Price Per Month
$95.66
Source: Facts + Statistics: Auto insurance
The graph below shows the change in average Rhode Island rates from 2011 to 2015, the most recent year the data is available. According to the III, Rhode Island car insurance rates increased from $1,004 in 2011 to $1,148 in 2015, a jump of $144 dollars, or 14.32 percent.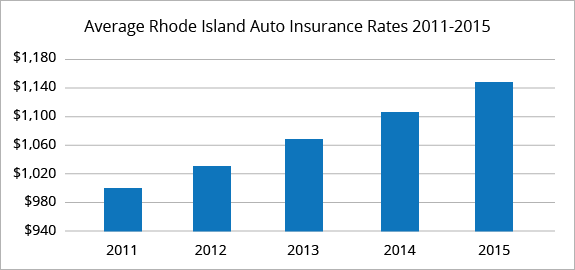 Finding the right car insurance company and policy in Rhode Island just got easier. Say goodbye to countless hours of researching offerings and comparing rates. With QuoteWizard's help, you can do both in a matter of minutes--even seconds.
We'll connect you to a number of top auto insurance companies so you can quickly compare quotes and find the coverage you need for a price you can afford.
Last year, 9,707 people used QuoteWizard to compare auto insurance quotes in Rhode Island from top companies and find the cheapest rates.
Top 10 Vehicles
These are the most common vehicles owned by Rhode Island drivers requesting car insurance quotes through QuoteWizard in the past year.
Honda Accord LX/EX
Toyota Camry LE/XLE/SE
Nissan Maxima
Ford F150
Jeep Grand Cherokee Laredo
Hyundai Sonata
Ford Taurus
Nissan Altima 2.5 S
Honda Civic EX
Hyundai Elantra GLS
Best Car Insurance Companies in Rhode Island
Last year, these were the most common car insurance companies reported by QuoteWizard users living in the state of Rhode Island. Out of the 9,707 Rhode Island drivers that used QuoteWizard to request insurance quotes last year, 1,037 had no car insurance.
Rhode Island State Auto Insurance Laws
Minimum Car Insurance Requirements in Rhode Island
If you drive a vehicle registered in Rhode Island, you must maintain a minimum level of insurance coverage of 25/50/25. This means that you must have a policy with at least the following limits:
$25,000 of coverage for bodily injury liability per person
$50,000 of coverage for bodily injury liability per incident
$25,000 of coverage for property damage liability per incident
All car insurance policies in Rhode Island include uninsured motorist coverage in the amount of your liability coverage. You can decline this coverage, but that will leave you vulnerable if you're ever in an accident with an uninsured driver. An estimated 17 % of Rhode Island drivers are uninsured, making this a rather large chance to take.
Rhode Island also allows drivers to purchase a liability policy with a combined single limit of $75,000 per incident.
Recommended Coverage Levels
Minimum liability insurance is exactly what it sounds like – the minimum. It will help cover damages for the other driver, but not yours. And even then, there's a good chance car crash damages will exceed your liability limits. Consider raising your liability. We suggest:
$100,000 Individual Body Injury Liability
$300,000 Total Bodily Injury Liability
$100,000 Property Damage Liability
Required Proof of Car Insurance
Any time you drive in Rhode Island, you must be prepared to show your car insurance identification card to law enforcement upon request. You will get this identification card from your car insurance company when you buy a policy. The card must include all of the following information:
Name of your insurance company
Policy number
Effective date of the policy
Expiration date of the policy
Description of the year, make, or model of the insured vehicles, or the name of the insured driver
Rhode Island drivers saved up to $383 on their car insurance policies by comparing rates through our simple form.
Ready to see if you're eligible?
Click Here
Penalties
Failure to maintain proof of insurance is punishable by a fine of up to $500. You also risk having your driver's license suspended.
SR-22 Requirements
Rhode Island residents that have had their driver's license suspended due to drunk driving convictions or other violations must provide proof of financial responsibility by filing an SR-22 form. "SR" stands for safety responsibility and it certifies that a driver has the minimum amount of insurance required by state law.
Rhode Island State law requires that an SR-22 be carried for 36 consecutive months. If a driver fails to renew their policy 15 days before expiration, a letter is sent to the state resulting in suspension of their license. Once renewed, the license will be reinstated, but this can be a time-consuming process.
Rhode Island Traffic Safety Laws
Distracted Driving Laws
In Rhode Island, drivers under age 18 are forbidden to use a cell phone while driving. All drivers are forbidden to send or receive text messages while driving in Rhode Island. In some states these are secondary offenses, meaning a law enforcement officer can cite a driver only after pulling them over regarding something else. In Rhode Island, these are primary offenses, which means a law enforcement officer can pull over a driver solely for using their phone or texting.
Booster Seat Law
All children should ride in a rear-facing child safety seat until they are 2 years old, or until they reach the highest weight or height allowed by their car safety seat.
All children 2 years or older, or those younger than 2 years who have outgrown their safety seat, should use a forward-facing child safety seat with a harness for as long as possible, up to the maximum weight or height allowed by their car safety seat.
All children whose weight or height is above the limit for their forward-facing child safety seat should use a belt-positioning booster seat until the vehicle seat belt fits properly, typically when they have reached 4 feet 9 inches in height and are between 8 and 12 years of age.
When children are old enough and large enough to use only the vehicle seat belt, they should always use lap and shoulder seat belts. All children younger than 13 years of age should be restrained in the rear seats of vehicles.
Graduated Driver's License
Rhode Island has implemented a 3-tier graduated driver's license program beginning with a learner's permit and ending with full driver privileges once all conditions are met.
Teens are allowed to apply for a learner's permit once they're 16 years old. Before they can get a full license, drivers with learner's permits are required to drive 50 hours under supervision, with 10 of those hours taking place at night. Once they have accrued the practice hours and held a permit for 6 months, drivers are eligible to take a written and road test. If they pass the test, they will obtain a provisional license.
Drivers with provisional licenses cannot drive between the hours of 1 am and 5 am, unless they have a parent or legal guardian supervising them. They are also forbidden to drive with more than one passenger under age 21 (excluding family members). Drivers may obtain their full driving privileges once they complete the above requirements and have held their provisional license for more than a year.
Senior Drivers in Rhode Island
All drivers are required to renew their driver's license every 5 years, except for drivers aged 75 or older, who must renew their license every two years.
Seat Belt Laws
Rhode Island requires that everyone age 18 or older in a vehicle must wear a seat belt. Children are required to use approved child seats as mentioned above. The maximum penalty for failing to wear a seat belt is $40 for a first offense.
Vehicles Registered in Another State
When you drive a vehicle in Rhode Island that is required to be registered in another state, you must have the type of insurance required by that state. You must be able to provide proof of this insurance to law enforcement if requested.
Car Insurance Risk in Rhode Island
Vehicle Thefts
Rhode Island had 1833 vehicle thefts reported in 2014, a 18.1% decrease compared to 2013. In 2014, the vehicle theft rate was 173.7 per 100,000, a 18.3% decrease over 2013.
The vehicle theft rate in Rhode Island is slightly lower than the overall US vehicle theft rate, which was 216.2 per 100,000 in 2012.
Top 10 Most Stolen Vehicles in Rhode Island
Source: National Insurance Crime Bureau - Hot Wheels Report 2014
1997 Honda Accord
1999 Honda Civic
1998 Nissan Maxima
1995 Toyota Camry
1995 Toyota Corolla
1997 Nissan Altima
1999 Dodge Caravan
1999 Honda CR-V
1997 Ford Pickup (Full Size)
1999 Jeep Cherokee/Grand Cherokee
Uninsured Drivers
The percentage of Rhode Island residents estimated to be driving without insurance is 17%. That ranks Rhode Island as #8 among US states and the District of Columbia, much worse than average. This is presumably a result of the state's high insurance costs.
If you are involved in an accident with an uninsured motorist, please contact the Financial Responsibility Unit at the Division of Motor Vehicles at 401-462-5709.
Rhode Island Auto Insurance Company Market Share
Source: Insurance Information Institute

| Rank | Market Share | Company |
| --- | --- | --- |
| 1 | 17.7% | Progressive |
| 2 | 12.6% | Allstate |
| 3 | 11.7% | Berkshire Hathaway Inc.(Geico) |
| 4 | 11.5% | Amica Mutual Insurance |
| 5 | 8.4% | MetLife |
| 6 | 8% | Liberty Mutual |
| 7 | 6.6% | Nationwide Mutual Group |
| 8 | 5.2% | USAA Insurance Group |
| 9 | 3.7% | MAPFRE |
| 10 | 3.1% | Travelers Companies Inc. |
Rhode Island Division of Insurance
Website:
Superintendent of Insurance:

Elizabeth Kelleher
Phone:

(401) 462-9500
Fax:

(401) 462-9532
Address:

1511 Pontiac Avenue
Cranston, RI 02920
File a Consumer Insurance Complaint
Sources:
QuoteWizard.com LLC has made every effort to ensure that the information on this site is correct, but we cannot guarantee that it is free of inaccuracies, errors, or omissions. All content and services provided on or through this site are provided "as is" and "as available" for use. QuoteWizard.com LLC makes no representations or warranties of any kind, express or implied, as to the operation of this site or to the information, content, materials, or products included on this site. You expressly agree that your use of this site is at your sole risk.