How Much is Car Insurance for an 18-year-old?
Car insurance for 18-year-old drivers is expensive. Find out how much it costs, and how to get lower rates.
Car insurance for an 18-year-old is significantly more expensive than it is for a driver with more years on the road. According to our research, 18-year-olds pay $5,546 per year for car insurance. Because 18-year-olds are new drivers, insurers consider them high-risk drivers. High-risk drivers pay more for car insurance because they tend to file more claims.
Find out more about car insurance for teens and 18-year-olds in this article, which includes:
Car insurance rates for 18-year-olds
If you're in the market for car insurance at 18 years old, you'll soon find that insurance companies tend to charge teens more for car insurance than they do for drivers with more experience. For that reason, you'll want to compare rates from several insurance companies to find your best rates. This is how much 18-year-old drivers should expect to pay for car insurance.
Average car insurance cost for an 18-year-old male
One of the factors that insurers consider when pricing your policy is your gender. We analyzed data from Alabama and found that the average insurance cost for an 18-year-old male is $5,180 per year.
Data shows that men tend to be involved in more car accidents than women, which is why insurance companies typically charge male drivers more than female drivers for car insurance. If you're an 18-year-old male shopping for car insurance, you'll discover that your rates may be higher than others. As you get older, your rates will likely decrease, although your gender will always play a role in pricing.
Average car insurance cost for an 18-year-old female
Although you'll likely pay less for auto insurance than your male counterparts, your rates will be higher than the average driver because of your age and lack of experience behind the wheel. We found that, on average, 18-year-old women in Alabama pay $4,320 annually for car insurance. That's $72 per month or $860 per year less than an 18-year-old man's rates.
Car insurance rates for young drivers
As you search for the cheapest car insurance rates, you'll find that some insurers weigh your age, driving record, location and other factors more or less than others. That's why it's important to shop around for quotes from different providers. According to our research, this is how much teens and young drivers pay for car insurance: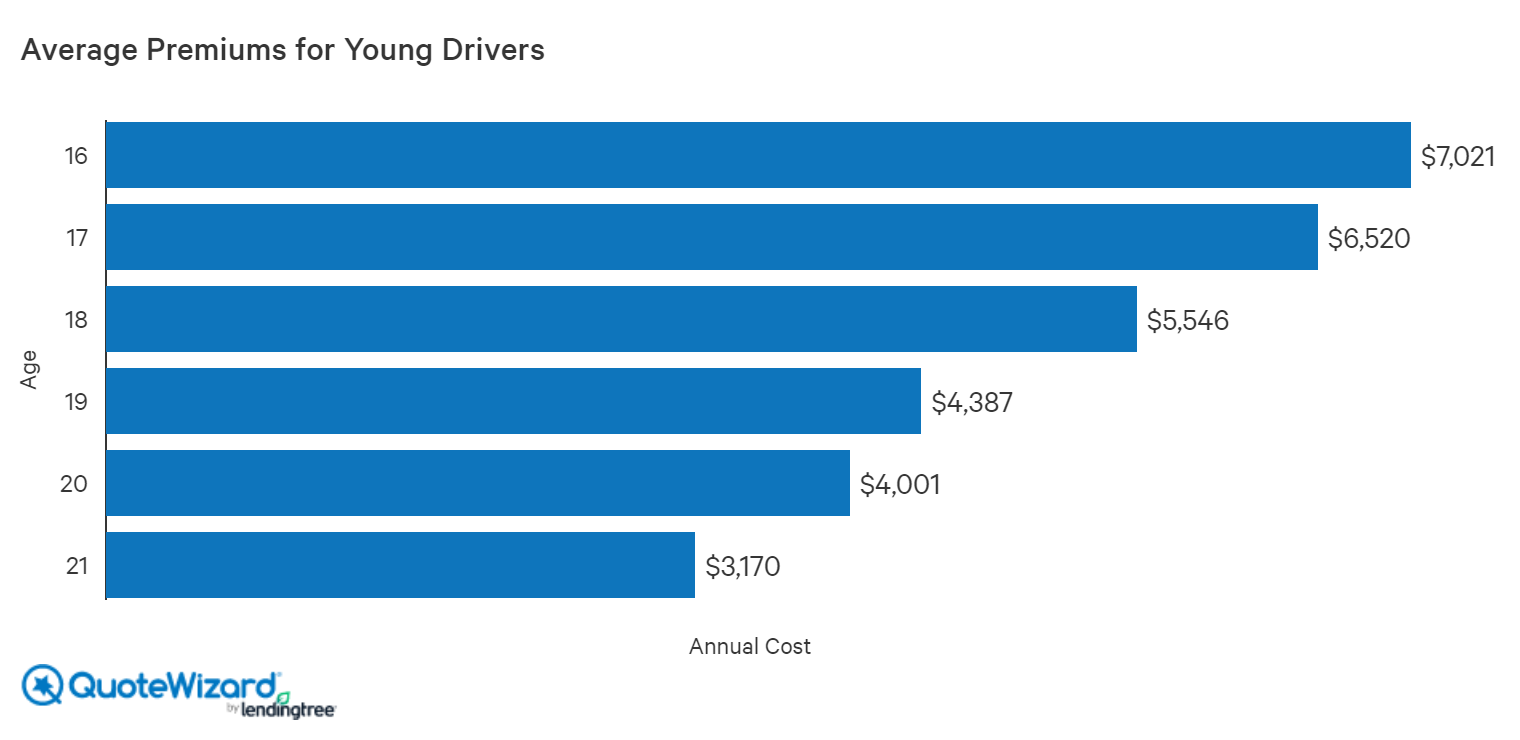 As you can see, age plays a major role in pricing your premium. A 16-year-old pays $321 more per month, or $3,851 more per year than a 21-year-old. To lower your insurance rates as a teen driver, consider being added to your household policy, shopping around for different rates and asking about discounts.
The cheapest car insurance companies for an 18-year-old driver
Your rates will likely vary significantly depending on the insurance company you choose. According to our data, these major insurance companies offer the cheapest premiums for an 18-year-old driver:
Insurance company
Average yearly rate
Country Financial
$2,743
USAA
$3,739
GEICO
$4,282
Safeway
$5,514
Allstate
$5,539
State Farm
$7,320
Progressive
$9,305
Note: Average rates are based on non-binding estimates provided by Quadrant Information Services. Your rates may vary.1
Our data shows that COUNTRY Financial offers some of the cheapest car insurance policies for 18-year-old drivers. That rate depends on several factors, like your gender, coverage level and credit score. However, insurance companies weigh factors differently, so it's important to shop around for rates from several companies before choosing your provider.
Is it cheaper for a new driver to stay on their parent's car insurance policy?
If you're a college student or living with your parents at age 18, you may have the option to stay on your household car insurance policy. If you do, you'll likely save money on car insurance compared to purchasing your own separate coverage.
We compared how much it costs on average for an 18-year-old to purchase a policy on their own versus staying on their parent's policy. This is what we found:
Age
Average annual premiums
18-year-old
$5,546
50-year-old with dependent on policy
$3,382
Difference
$2,164
Note: Average rates are based on non-binding estimates provided by Quadrant Information Services. Your rates may vary.1
According to our data, a driver and their dependent pays $3,382 per year, whereas an 18-year-old who purchases their own policy pays $5,546 per year. By joining an existing policy, this 18-year-old would save $180 per month or $2,164 per year on car insurance.
Even if you're added to your parent's policy and have to pay them for your portion of coverage, you'll still save money. Compared to purchasing your own insurance, joining an existing policy is the cheapest option for teen drivers.
Discounts for teen drivers
Although your insurance rates are almost guaranteed to be more expensive if you're a new driver, there are some ways to get discounts and save money. Here are some popular insurance discounts available to teen drivers:
Good student discounts. If you're a student at a university, college or high school and you have decent grades, you may be eligible for savings. You'll need to provide proof of good grades, usually a B average or better.
Defensive driving programs. Graduating from an accredited defensive driving course proves to insurers that you care about safety on the road. For that reason, you may get a discount for graduating from a defensive driving course.
Resident student discount. In some cases, insurance companies offer discounts to students who attend school more than 100 miles from home.
Bottom line
Buying car insurance as an 18-year-old is an expensive endeavor, no matter how you look at it. However, by joining an existing household policy, you can mitigate the costs. As you get older, premiums become more manageable if you keep your driving record clear.
Methodology
1To determine how much young drivers pay for car insurance, we used Quadrant Information Services to analyze data from several major insurance companies for drivers ages 16 through 21. We analyzed data from these states: Alabama, Arizona, Mississippi, Oklahoma and South Carolina. After finding the average for each age within each state, we determined the average rate for the age across five states. To determine how much a policy that includes a teen costs, we used the profile of a 50-year-old driver with a dependent on their insurance policy.
These were the factors used in our driver profiles from all of the above sections:
All drivers ages 18 through 21.
Female and male drivers.
Drivers with no accidents and one at-fault accident.
Drivers with the state's minimum liability insurance.
Drivers with 100/300/50 insurance coverage limits and a $1,000 deductible.
Drivers with average, excellent and poor credit scores.
QuoteWizard.com LLC has made every effort to ensure that the information on this site is correct, but we cannot guarantee that it is free of inaccuracies, errors, or omissions. All content and services provided on or through this site are provided "as is" and "as available" for use. QuoteWizard.com LLC makes no representations or warranties of any kind, express or implied, as to the operation of this site or to the information, content, materials, or products included on this site. You expressly agree that your use of this site is at your sole risk.