Compare Auto Insurance in Kansas
Kansas drivers have a lot of insurance hazards to watch out for: flying monkeys, falling houses, witches… okay maybe not. But it's still beneficial to know how insurance works in Kansas.
We'll show you which types of coverage are legally required in Kansas, provide information about the cost of driving including average rates, and share some insights about insurance risk to help you protect yourself and your family.
Average Kansas Car Insurance Rates
How much is car insurance in Kansas? Drivers here are pretty good drivers and insurance companies have noticed. Average car insurance rates in Kansas are much lower than the national average. On average, auto insurance in Kansas costs $698.45 per year. The national average price is $889.01.
Prices may vary depending on your zip code thanks to traffic congestion, weather conditions and crime rates.
Kansas Average Annual Car Insurance Rates
Coverage
Rates
Liability
$358.24
Collision
$263.33
Comprehensive
$241.36
Total Cost Per Year
$698.45
Price Per Month
$58.20
Source: Facts + Statistics: Auto insurance
The graph below shows the change in average Kansas rates from 2011 to 2015, the most recent year the data is available. According to the III, Kansas car insurance rates increased from $626 in 2011 to $698 in 2015, a jump of $72 dollars, or 11.59 percent.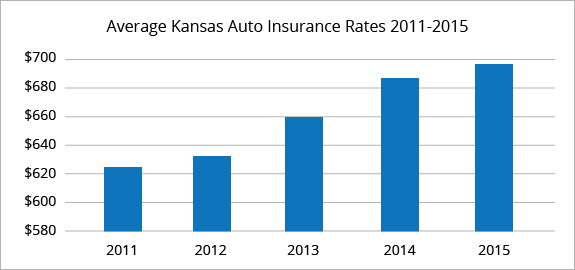 Looking for car insurance in Kansas that provides the best coverage for an affordable rate? Shop around. Compare rates from a number of insurance companies.
QuoteWizard can help with that. We'll connect you to top auto insurance companies so you can find a policy that protects you and your loved ones without breaking the bank.
Last year, 28,519 people used QuoteWizard to compare car insurance quotes in Kansas from multiple companies to lower their rates.
Most Popular Auto Insurance Companies in Kansas
Below is a list of the most common auto insurance carriers of QuoteWizard users in Kansas last year. Out of the 65,475 Kansans who used QuoteWizard to compare auto quotes, 7,893 were uninsured.
Which insurance company has the best auto policy for you? Use our compare page to find out. We have thorough overviews of the biggest auto insurance carriers in the country to make the job easy for you.
Are you looking for high-risk auto insurance? If your search is proving to be a challenge, contact the Kansas Automobile Insurance Plan (KAIP). The KAIP can help you find the minimum liability insurance you need.
Are you a teen driver or the parent of one? You've probably discovered that a finding good, affordable teen driver insurance policy is difficult. Our research shows that teen drivers pay an average of $438 a month for coverage. AAA, State Farm, and The Hartford are known to provide excellent coverage for Kansas teens.
Top 10 Vehicles
These are the most commonly owned cars of QuoteWizard users in Kansas:
Ford F150
Dodge Ram 1500
Ford Focus SE
Chevrolet Silverado C1500
Ford Mustang
Ford Fusion SE
Chevrolet Impala
Toyota Camry LE
Chevrolet Malibu
Honda Accord EX
Kansas Car Insurance Rate Factors
Kansas has significantly lower average auto premiums than other parts of the country. One of the key reasons for this is the state's relatively low population. Fewer people on the roads overall means fewer chances of an accident.
Insurers look at other factors based on regional trends instead of individual ones. These factors include uninsured driver percentages, area driver history, and auto theft rates.
Uninsured Drivers
Kansas has one of the lowest percentages of uninsured drivers in the country. When an area has too many uninsured drivers, rates will go up for insured drivers to make up the difference. Keeping the percentage low like it is in Kansas saves money for everyone in the state.
Best and Worst Drivers
Our recent national study shows that Kansas ranks 23rd for worst drivers in the country. We compiled this list by looking at Kansas'speeding ticket, citation, DUI, and accident rates last year. Areas with a history of bad driving tend to see higher insurance rates. We applied the same formulas to cities within Kansas, and found that Wichita comes in 25th for worst cities for driving in the country.
Kansas Most Commonly Stolen Vehicles
Some vehicles are more attractive to thieves than others. If you own a model that gets stolen often, you will likely see an increase in your rates. Take a look at the list below and see if your car is at risk.
Source: National Insurance Crime Bureau—Hot Wheels Report 2017
2006 Chevrolet Pickup (Full Size)
1999 Ford Pickup (Full Size)
1997 Honda Accord
1998 Honda Civic
2001 Dodge Pickup (Full Size)
1999 GMC Pickup (Full Size)
2008 Chevrolet Impala
1997 Toyota Camry
1999 Chevrolet Pickup (Small Size)
1999 Jeep Cherokee
Car Insurance Discounts
Auto insurance companies often offer specific discounts to help you save on your premium. Here are a few of interest to Kansans:
Kansas Car Insurance Laws
Minimum Requirements
Kansas is one of twelve states in the US that has a no-fault auto insurance system. With a no-fault system, accident victims can make claims against their own insurer for compensation, regardless of who is insured in the accident. As such, Kansas requires uninsured/underinsured coverage alongside standard liability minimums. Kansas required insurance is:
Bodily Injury Liability: $25,000 per person
Bodily Injury Liability: $50,000 per incident
Property Damage Liability: $10,000 per incident
Uninsured/Underinsured Motorist Bodily Injury coverage: $25,000 per person
Uninsured/Underinsured Motorist Bodily Injury coverage: $50,000 per incident
Kansas also requires the following Personal Injury Protection coverage:
Funeral expenses: $2,000 per person
Medical coverage: $4,500 per person
Rehabilitation costs: $4,500 per person
Loss of income for up to one year: $900 per month
Home medical services for up to one year: $25 per day
Recommended Coverage
Minimum legal insurance only covers liability. After an accident, your minimum coverage pays for the other driver's repairs but does nothing for your damages. Full coverage provides significantly more protection. At the least, consider increasing your liability amount. A crash can easily cost more than what your liability policy pays out. To be safe, we recommend:
Individual Body Injury Liability: $100,000
Total Bodily Injury Liability: $300,000
Property Damage Liability: $100,000
Required Proof of Insurance
Kansas law requires that you carry proof of insurance coverage and be able to show it to law enforcement upon request. The information must include:
Name of insurer
Policy number
Effective date of policy
Expiration date of policy
Proof of insurance may be in physical or electronic format.
SR-22 Requirements
Kansas requires that you file an SR-22 if any of the following occurs:
Driving under the influence
Reckless driving
Driving without insurance
A suspended license
You are required to maintain the SR-22 for 12 months. Should the SR-22 lapse during that time, you must renew the SR-22 for another 12-month period.
Salvaged or Rebuilt Cars
Should you be in a crash and should the repair cost to your car exceed its value, your insurance company will deem it a total loss. Total loss vehicles get a salvage title. If the car is repaired to street-legal status, it gets a rebuilt title.
States have different means of rating totaled cars. In Kansas, totaled cars are determined based on a percentage (75 percent). This means that if the damage to the car equals 75 percent of the car's actual cash value, the car is totaled.
Finding insurance for a rebuilt or salvaged car is not easy. The best you can hope for is a high premium rate, but some carriers won't even touch these titles.
Kansas Traffic Safety Laws
Distracted Driving
All drivers in Kansas are prohibited from texting while driving. Novice drivers cannot use a cell phone for texting or phone calls while driving.
Implied Consent
Kansas'Implied Consent law requires that you submit to a urine, breath, or blood test should law enforcement pull you over for suspicion of driving while intoxicated. If you refuse the test, the penalties get worse with each offense:
First Offense: one-year driver's license suspension
Second Offense: two-year driver's license suspension
Third Offense: three-year driver's license suspension
DUI Law
If you are found driving in Kansas with a Blood Alcohol Content (BAC) of 0.08 percent or more, you are guilty of Driving Under the Influence (DUI). Depending on how many DUI offenses you have on your record, penalties include:
Two days to one year in jail
A fine of $1,000 to $2,500
License suspension for 30 days to one year
Installment of an ignition interlock device (IID) for 180 days to two years
It's important to know that in Kansas, you can get a DUI without actually driving. Kansas law defines DUI as "operating or attempting to operate"a vehicle while under the influence. This means the car doesn't have to be moving in order for you to be charged.
In addition to any legal penalties you receive, you will see your insurance rates go up. Our research shows that you can pay an average of $830 more a year for auto insurance after your first DUI — assuming you can find coverage.
Senior Drivers
Once you turn 65, you will probably see your auto insurance rates go up. If you've kept your driving record clean, the increase should be negligible. However, as you get older, you'll see your rates increase even more.
At age 65, you're expected to renew your license every four years. Vision and knowledge tests are also required at every renewal time.
Cars Registered in Another State
If you're driving in Kansas with a car registered in another state, you must have the required auto insurance of the home state. You also need to be able to show proof of insurance.
Kansas Insurance Department
Website:
Current Insurance Commissioner:

Vicki Schmidt
Insurance Hotline:

(800) 432 - 2484
Office Hours:

Monday - Friday
8:00 am to 5:00 pm
File a Consumer Insurance Complaint
Sources:
QuoteWizard.com LLC has made every effort to ensure that the information on this site is correct, but we cannot guarantee that it is free of inaccuracies, errors, or omissions. All content and services provided on or through this site are provided "as is" and "as available" for use. QuoteWizard.com LLC makes no representations or warranties of any kind, express or implied, as to the operation of this site or to the information, content, materials, or products included on this site. You expressly agree that your use of this site is at your sole risk.