What is Collision Car Insurance?
Learn about collision auto insurance coverage, which protects you if your car is damaged in a collision.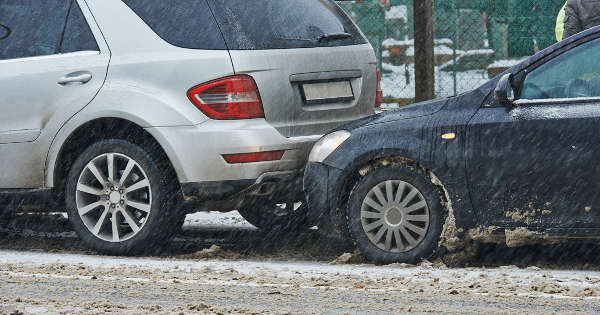 Collision coverage, a part of a car insurance policy, is defined as follows: it helps repair or replace a car damaged in an accident. It also protects you if someone hits your car while parked and causes physical damage. Find out more about collision car insurance, including:
What Does Collision Auto Insurance Cover?
Collision auto insurance helps repair your car if you get into an accident with another vehicle. It will also cover if you hit a stationary object, or if an accident causes your car to flip over. In some cases, damage from potholes is also covered. Many insurers also include rental car repairs under collision coverage in your car insurance policy. Check with your insurer to see if they'll cover it.
If your car was damaged in a hit-and-run, your collision coverage would kick in to pay for repairs. However, you would file a comprehensive claim if something other than a car damages your vehicle. You might consider purchasing uninsured or underinsured motorist protection. This will cover bodily injury and property damage to your vehicle if you're hit by an uninsured driver.
What Collision Car Insurance Won't Cover
Collision insurance won't cover what comprehensive and liability coverage will protect against. This includes:
Natural disasters (floods, hail, hurricanes, tornadoes, earthquakes, volcanic eruptions)
Contact with animals (like hitting a deer)
Fires
Riots
Vandalism
Car theft
Falling trees, telephone poles, or other objects
Broken glass
Damage to another car and injuries to the occupants in an accident
Injuries to drivers and passengers in your own car
You only want to make a claim using your collision coverage if you are at-fault for the accident. If the other party is at-fault, you would file a claim against them, and their liability insurance should cover it. An exception is if someone hits your parked car and doesn't leave a note.
If the other party's insurance company is slow about following through with the claim, you might use your collision coverage while waiting for the liability claim to go through. Once it goes through, they'll likely reimburse you.
Collision Coverage vs. Comprehensive Coverage
Comprehensive insurance reimburses you for the damage sustained to your car from non-accident related incidents. You'll be covered for natural disasters, contact with animals, fires, riots, vandalism, car theft (physical structure), falling objects, and broken glass.
For example, if you hit a tree or telephone pole, your collision insurance would kick in. But, if you park your car and a tree or telephone pole falls on it, or if you hit a deer, your collision coverage won't cover the damage. You would need comprehensive coverage for that.
Comprehensive is much cheaper than collision coverage, with a lower premium. That's because accidents covered under a comprehensive policy are less common than collision incidents. But many insurers advise to purchase both if you want full protection.
Many insurance companies allow you to purchase comprehensive coverage alone. If you want collision coverage, you must already have comprehensive coverage. Many providers lump the two together as "physical damage coverage."
Collision Coverage vs. Liability Insurance
Liability is the minimum coverage required to legally drive, but collision coverage isn't required by law. These two policies also vary in what they cover. Liability coverage offers protection when you're involved in an accident and damage another car or injure people in another vehicle. Liability coverage does not cover damages to you or your car- only those to the other driver, passengers, and their car. Collision coverage protects your own vehicle.
For example, if you rear-end a car, your liability coverage pays for any damages the other car sustains, or any injuries caused to the passengers. In the same scenario, your collision coverage pays for damages to your own car.
Do I Need Collision Car Insurance?
For the most part, purchasing collision coverage is optional. An exception is if you're financing or leasing your car. In this case, speak with the company providing you the car for more details.
There are a few factors you should weigh when determining whether to buy a collision policy. They are:
Car Value. Say you have a new car and get into an accident. Your car endures severe damage, and you must shell out a fortune to get it fixed. This is where collision coverage would be beneficial. If your car is older, it may not be worth it because your insurance caps at the actual cash value of the car. Also, if the deductible is going to cost more than the repairs, collision coverage may not be worth it.
Amount You Drive. Consider how often you drive. Do you drive 5,000 miles a year, or 5,000 a month? The more you drive, the more you're at risk. If you want to be extra cautious you should purchase this coverage no matter how often you drive.
Income Level. Your salary plays a huge role in how much money you want to spend on insurance—especially collision coverage. If you have a large emergency fund, you may be able to pay out-of-pocket for your car's repairs in an accident. If you have a limited income, it may be a better option to pay monthly to avoid a major financial loss in case of an accident. But it's up to you – do you want to spend a couple hundred dollars a year on collision coverage, or a couple thousand on car repairs at once?
When to Drop Collision Insurance
You may consider dropping your collision insurance if the actual cash value (ACV) of your car has gone down so much that it isn't worth fixing. When your collision coverage kicks in, the amount to repair or replace your vehicle can't exceed the ACV of the car. ACV is the cost to replace the car, minus the deprecation. Replacement cost is the amount to repair the car to its same standards of the original purchase.
If you have an older car with a weak ACV and resale value, it may not be worth using your insurance to fix. Because the value of the car has gone down, your collision coverage may not get you far. You might pay more for the deductible than what the insurance will pay you for the repairs. If that's the case, you should consider dropping your collision insurance.
For example, if your car is worth $1,000 and your deductible is $1,000, you would be paying for everything out-of-pocket.
What is a Collision Deductible?
When discussing policies, we can't forget the collision deductible. This is the amount you pay your carrier if you file a claim.
Most drivers set their deductible between $500 and $1,000. The higher the deductible, the lower the monthly premiums, and vice versa. The amount you set your deductible at is up to you. You should base it on whether you'd rather spend more on premiums each month, versus more on the deductible if you file a claim.
How Much is Collision Insurance?
How much you pay for auto insurance depends on several factors. Insurance agents consider the make, model, age, and value of the vehicle when determining rates. They also use your driving record, where you live, age, gender, and other factors when determining premiums.
We compared rates from four major auto insurance companies to determine how much it costs monthly to add collision coverage to a liability policy:
Company
Liability only (monthly)
With collision (monthly)
GEICO
$58
$105
Allstate
$113
$167
State Farm ®
$51
$81
Average
$74
$123
These quotes are based on a single 30-year-old Seattle man with a good driving record. He owns a 2012 Honda Civic and drives about 10,000 miles a year. Coverage levels include $50,000/$100,000/$50,000 in liability plus a $500 deductible for collision coverage.
According to our data, adding collision coverage will cost an average $45 more monthly than having just a liability policy.
No two insurance companies are the same. They each have unique ways to determine the cost of your policy. Comparing quotes from several companies is the best way to get the best bang for your buck.
QuoteWizard.com LLC has made every effort to ensure that the information on this site is correct, but we cannot guarantee that it is free of inaccuracies, errors, or omissions. All content and services provided on or through this site are provided "as is" and "as available" for use. QuoteWizard.com LLC makes no representations or warranties of any kind, express or implied, as to the operation of this site or to the information, content, materials, or products included on this site. You expressly agree that your use of this site is at your sole risk.