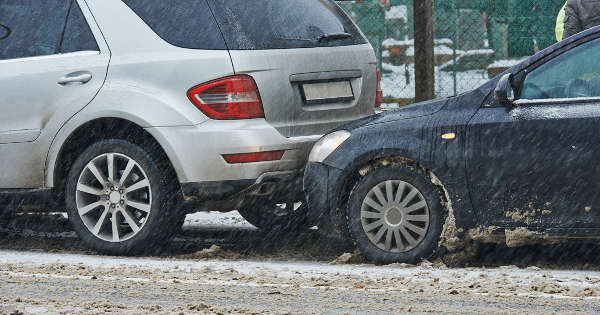 The basic components of coverage in a car insurance policy are liability, collision, underinsured and uninsured motorist, medical payments, and personal injury protection. However, requirements on what you need to purchase vary by state. The only type that's required consistently is liability insurance.
For more information on each type of coverage, read our article on car insurance basics.
What is collision coverage?
Collision insurance coverage is defined as follows: it helps to repair or replace a car damaged in an accident, regardless of whether your car collides with a moving or stationary object. It also protects you if someone hits your car while parked.
Keep in mind that you only want to make a claim using your collision coverage if you are at fault. If the other party's at fault, then you would file a claim against them, and their liability insurance should cover it. An exclusion would be if someone hits your parked car and doesn't leave a note.
If the other party's insurance company is slow about following through with the claim, you might use your collision coverage while waiting for the liability claim to go through. Once it goes through, they'll most likely reimburse you.
For the most part, purchasing collision coverage is optional. A few exceptions are if you are financing your car, or leasing it. In this case, speak with the company providing you the car for more details.
What does collision car insurance cover?
It will help repair your car if you get into an accident with another vehicle. It will also cover if you hit a stationary object, or if an accident causes your car to flip over. In some cases, damage from potholes is also included.
As an example, if you hit a tree or telephone pole, your collision insurance would kick in. On the flipside, if you park your car and a tree or telephone pole falls on it, your collision coverage won't cover the damage. You would need comprehensive coverage for that.
If you want to look into purchasing either collision or comprehensive coverage, feel free to shop around and compare quotes with these coverages to find the best rates.
Collision insurance does not cover:
It won't cover what comprehensive coverage will protect against. This would include:
Natural Disasters (Floods, Hail, Hurricanes, Tornados, Earthquakes, Volcanic Eruptions)
Contact with Animals
Fires
Riots
Vandalism
Car Theft
Trees, Telephone Poles, or other Objects
Broken Glass
Depending on the insurance company, they also may not cover if you crash your car into a building. This might also include other inanimate objects other than a pole or tree. Inquire with your insurer for more information, as well as a full list of exclusions. 
Comprehensive vs. Collision Coverage
Comprehensive insurance reimburses you for the damage sustained to your car from non-accident related incidents. You'll be covered for natural disasters, contact with animals, fires, riots, vandalism, car theft (physical structure), falling objects, and broken glass. Basically everything collision insurance won't cover. Contact your insurer for more information on what is and isn't covered.
Comprehensive is also much cheaper than collision coverage, with a lower premium. However, many insurers advise to purchase both if you want full, and anxiety free protection.
Many insurance companies allow you to purchase comprehensive coverage single-handedly. However, if you want collision coverage, you must already have comprehensive coverage. Many providers lump the two together as "physical damage coverage."
Do I need collision coverage?
There are a few different factors you should weigh when determining whether to buy a collision policy. They are:
Car Value. Say you have a brand new car and get into an accident. Your car endures severe damage, and you must shell out a fortune to get it fixed. This is where collision coverage would be beneficial.
If your car is older, it may not be worth it to purchase because you're insurance caps at the actual cash value of the car. Also, if the deductible is going to cost more than the repairs, collision coverage may not be worth it.
Amount You Drive. Consider how often you drive. Do you drive 5,000 miles a year, or 5,000 a month? The more you drive, the more you're at risk. However, if you want to be extra cautious you should purchase this coverage no matter how often you drive.
Income Level. Your salary plays a huge role in how much money you want to spend on insurance—especially collision coverage. Do you want to spend a couple hundred dollars a year on collision coverage, or a couple thousand on car repairs?
Insurance exists so that you pay a little in premiums each month, rather than pay a lot at once, in the case of an accident.
How does collision coverage work?
Instead of purchasing a specific amount, collision coverage is determined by the actual cash value method.
Let's say you get yourself into a situation that warrants collision coverage. The amount to repair or replace your vehicle can't exceed the actual cash value of the car.
Actual cash value (ACV) is the cost to replace the car, minus the deprecation. Replacement cost is the amount to repair the car to its same standards of the original purchase.
To visualize this, say you purchased a brand new Honda Civic in 1993. Every year you own the car, its value goes down. In 2017, you get into an accident, and use your collision coverage to repair your damages. Your insurance will only cover up to the actual cash value of the Honda.
Because the value of the car has gone down significantly, you're collision coverage may not get you very far. You might pay more for the deductible than what the insurance will pay you for the repairs.
On the other hand, if you have a new 2017 Honda Civic and get into an accident, it would be wise to get full coverage because its ACV is still high.
What about the deductible?
When discussing policies, we can't forget the car insurance deductible. This is what you pay your carrier before the insurance kicks in.
Most drivers set their deductible between 500 and 1000 dollars, but the higher the deductible, the lower the premiums, and vice versa. The amount you set your deductible at is up to you, and you should base it on whether you'd rather spend a little more on premiums each month, versus more on the deductible if you file a claim.
How much do the premiums cost?
The price you pay for auto insurance will depend on a number of factors. Insurance agents may consider the make, model, age, and value of the vehicle when determining rates. They also use your driving record, location of residence, age, gender, and a plethora of other factors when determining premiums.
No two insurance companies are the same. They each have unique algorithms to determine the cost of your policy. Comparing quotes from multiple different companies is the best way to get the best bang for your buck.
Frequently Asked Questions
Q: How does one determine the appropriate deductible amount?
A: Base your deductible amount on how much you're willing to pay for your premiums, versus out of pocket for car repairs. A deductible is what you pay for damages before your insurance covers the rest.
The most common deductibles are 250, 500, or 1000 dollars. Insurers recommend setting your deductible at 1000 dollars, so you can pay lower premiums each month.
Q: Are there circumstances in which you should cancel your collision coverage?
A: Yes, if the actual cash value (ACV) of your car has gone down so much that it isn't worth fixing. For example, if your car is worth 1,000 dollars and your deductible is 1,000 dollars, you would be paying for everything out of pocket.
If you have an older car with a weak ACV and resale value, it may not be worth using your insurance to fix.
Q: Can you use collision coverage for hit-and-runs?
A: Yes. You would file a comprehensive claim if something other than a car hit you.
You might consider purchasing uninsured or underinsured motorist protection. This will cover bodily injury and property damage to your vehicle. These also tend to have lower deductibles and premiums.
For more information on this coverage, check out our article on uninsured and underinsured motorist coverage.
Q: What do I do if I total my car?
A: A totaled car is one where the cost to repair the car is more than it's worth. The collision component of your car insurance will cover your totaled car, but only if the actual cash value isn't too small a value.  
Q: Does my collision insurance include rental cars?
A: Many insurers include rental car repairs in your car insurance policy. More specifically, collision coverage. Check with your insurer to see if they'll cover it.
QuoteWizard.com LLC has made every effort to ensure that the information on this site is correct, but we cannot guarantee that it is free of inaccuracies, errors, or omissions. All content and services provided on or through this site are provided "as is" and "as available" for use. QuoteWizard.com LLC makes no representations or warranties of any kind, express or implied, as to the operation of this site or to the information, content, materials, or products included on this site. You expressly agree that your use of this site is at your sole risk.