Compare Auto Insurance in Alaska
This page is for anyone looking for new ways to save money on car insurance in the Last Frontier. The useful information that QuoteWizard has compiled from industry and regulatory sources will help you discover how to find the best deals and the cheapest rates.
We'll show you which types of coverage Alaskans are legally required to carry, provide information about the cost of driving in Alaska including average rates, and share some insights about insurance risk to help protect you and your family.
Average Alaska Car Insurance Rates
How much does car insurance cost in Alaska? Alaska drivers pay slightly more for car insurance than the national average. On average, auto insurance in Alaska costs $872.39 a year. The national average price is $889.01.
Prices may vary depending on your driving record, zip code and the total number of claims filed.
Alaska (AK) Average Annual Car Insurance Rates
Coverage
Rates
Liability
$539.68
Collision
$350.81
Comprehensive
$137.26
Total Cost Per Year
$872.3
Price Per Month
$72.70
Source: Facts + Statistics: Auto insurance
The graph below shows the change in average Alaska insurance rates from 2011 to 2015, the most recent year the data is available. According to the III, Alaska car insurance rates actually decreased from $873 in 2011 to $872 in 2015, a $1 dollar improvement, or 0.08 percent.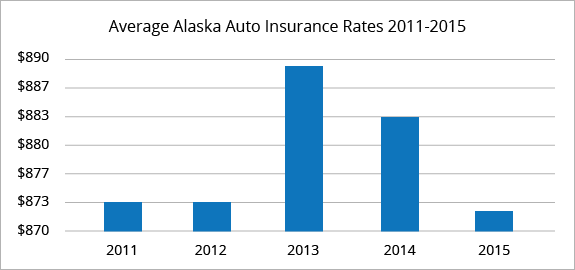 Having the best car insurance provider is important nowadays, but how do you find the one in Alaska that's right for you? Let QuoteWizard help you. We can connect you with the best auto insurers in Alaska. You can compare insurance quotes and get the rate you're looking for.
Last year, 8,186 drivers used QuoteWizard to compare auto rates in Alaska from multiple insurers to find the cheapest quotes.
Most Popular Auto Insurance Companies in Alaska
These are the most used auto insurance companies reported by QuoteWizard users living in Alaska last year. Out of the 8,186 Alaskans that used QuoteWizard to find car insurance, 737 had no insurance.
If you're a teen driver or are the parent of one, you're going to want the best teen car insurance available. Insuring a teen is extremely expensive. Our research shows that auto insurance for teens costs $438 a month on average. AAA, State Farm, and Progressive are excellent choices for teens.
Top 10 Vehicles
These are the mostly commonly owned cars of QuoteWizard users in Alaska.
Ford F-150
Dodge Ram 1500
Ford Explorer
Chevrolet Silverado C1500
Ford Ranger
Jeep Grand Cherokee Laredo
Ford Focus SE
Ford Expedition
Ford F250 Super Duty
Toyota Tacoma
Alaska Car Insurance Rate Factors
Standard car insurance is relatively inexpensive in Alaska. One of the key reasons for this is the population of the state. The most recent estimated population of Alaska is 738,068. Having such a small population is also going to mean fewer people on the road. This, in turn, means fewer accidents, which reduces rates for everyone. Other factors that can affect your rates include percentage of uninsured drivers and theft rates in your area.
Uninsured Drivers
15.4 percent of drivers in Alaska are uninsured. This gives Alaska the 11th most uninsured drivers in the country. The national average for uninsured drivers is 13 percent. High numbers of uninsured drivers can increase insurance rates acorss the state.
Best and Worst Drivers in Alaska
Our research shows that Alaska has the 35th worst drivers in the country.. A bad driving record can affect your insurance rates. This ranking is based on data from QuoteWizard users to compare drivers state-to-state. We used speeding tickets, citations, DUIs, and crash data.
Most Commonly Stolen Vehicles in Alaska
Some vehicles are more prone to theft than others. If you drive a commonly stolen car,  you could face higher insurance rates. These are the 10 most stolen cars in Alaska:
Source: National Insurance Crime Bureau - Hot Wheels Report 2017
1999 Chevrolet Pickup (Full Size)
1997 Ford Pickup (Full Size)
2000 GMC Pickup (Full Size)
2001 Dodge Pickup (Full Size)
1995 Jeep Cherokee/Grand Cherokee
1999 Honda Civic
1994 Honda Accord
2002 Ford Explorer
1999 Subaru Legacy
2007 Ford Focus
Car Insurance Discounts
There are many discounts available to help you lower your premium cost. Here are a few that Alaska drivers may like:
Alaska Car Insurance Laws
Minimum Car Insurance Requirements in Alaska
Alaska law requires you to have minimum coverage of 50/100/25. This means your policy needs to have at least:
Bodily injury liability per person: $50,000
Bodily injury liability per incident: $100,000
Property damage liability per incident: $25,000
According to Alaska's DMV, insurance is "not required in areas where registration is not required." Drivers who have six points or more on their license in the last five years still need minimum insurance, even where it's not required. Check their website for a list of areas in Alaska where insurance isn't required.
Recommended Coverage
Alaska has the number one auto theft rate in the nation. That risk increases auto insurance rates for everyone in the state.
To cover yourself against a major financial loss if your car was stolen, consider comprehensive coverage. A comprehensive plan helps protect you against auto theft or vandalism. It also helps in the event of a fire or natural disaster.
A comprehensive policy is but one of the options you have for better coverage. Minimum legal insurance only comes with liability. That pays for damages you cause to other drivers. But not your damages.
Also, it's a good idea to increase your liability levels. One severe accident can cost more than what minimum coverage offers, leaving you to pay the rest. We recommend:
Individual Injury Liability: $100,000
Total Injury Liability: $300,000
Property Damage Liability: $100,000
Required Proof of Insurance
In most parts of Alaska, drivers are required to carry your proof of auto insurance at all times. As mentioned earlier, some parts of Alaska don't require insurance.
SR-22
Alaska residents with a license suspension due to DUI must provide proof of financial responsibility by filing an SR-22 form. In order to reinstate your license, you must have an SR-22 binder dated within the last 30 days, or an application for the binder dated in the last 30 days.
Alaska law requires SR-22 holders to maintain it for five years after the ending date of the first offense, ten years after the end of the second offense, and twenty years after the end of the third. After the fourth offense, the SR-22 must be carried for the driver's lifetime.
Totaled Cars with Salvage or Rebuilt title
If your car is damaged and the repair cost is close to or more than its value, your insurer will rate it a total loss. Total loss cars get a salvage title. If it's repaired, it gets a rebuilt title.
Every state has their own laws for dealing with totaled cars. In Alaska, total loss is calculated by a Total Loss Formula (TLF). The cost of repair is added to the car's salvage value to come up with the car's actual cash value. If the actual cash value is greater than the car's initial market value, it's considered a total loss.
Buying insurance for a rebuilt or salvage title in Alaska is a difficult process. You can at least expect higher rates, but some insurers won't even touch a rebuilt or salvaged car.
State of Alaska Traffic Safety Laws
Distracted Driving
Alaska has distracted driving laws on the books that prohibit texting and general use of screen devices while driving. There are some exceptions that include:
Displays that enhance the driver's view
Devices and equipment in emergency vehicles
Vehicle audio equipment and controls
Displays that monitor passengers seated behind the driver
The standard penalty for a violation and carries a maximum $500 fine. Penalties escalate with severity. Should a death result from a crash while texting, the penalty is a max 20 years in prison and up to $250,000 in fines.
DUI Law
Driving in Alaska with a Blood Alcohol Content (BAC) of 0.08% or higher results in a DUI (Driving Under the Influence) conviction. The penalties for the first offense are:
Minimum 72 hours in prison
Minimum $1,500 fine
Driver's license revocation for at least 90 days
With every violation afterwards, penalties increase. If you accrue five or more DUIs within a 15-year period, you face:
Minimum 360 days in prison
Minimum $7,000 fine
Drivers license revocation for at least five years
On top of the legal penalties, you can expect your insurance rates to increase as well. Our study shows that you can expect to pay an average of $830 more per year for car insurance after a DUI. This assumes you can find coverage. If finding an insurer after you've had a DUI is a challenge, look into high-risk auto insurers in your area.
Senior Drivers
Auto rates tend to increase once a driver turns 65. It's a small increase if you're a driver with a spotless record. However, it goes up from there as the driver ages.
Alaska drivers 69 years of age or older are required to renew their license at a local DMV. In addition to a vision test, they may also need to take a written knowledge test.
Cars Registered in Other States
If your car is registered outside of Alaska, you must have insurance coverage required by that state. You also need to be able to provide proof of coverage.
Alaska Division of Insurance
Website:
Division Director:

Lori Wing-Heier
Address:

Alaska DOI
P.O. Box 110805
Juneau, Alaska 99811-0805
Toll Free Hotline:

(800) 467-8725
File a Consumer Insurance Complaint:
Sources:
QuoteWizard.com LLC has made every effort to ensure that the information on this site is correct, but we cannot guarantee that it is free of inaccuracies, errors, or omissions. All content and services provided on or through this site are provided "as is" and "as available" for use. QuoteWizard.com LLC makes no representations or warranties of any kind, express or implied, as to the operation of this site or to the information, content, materials, or products included on this site. You expressly agree that your use of this site is at your sole risk.