Compare Auto Insurance Quotes in Texas
Average Texas Car Insurance Rates
How much is car insurance in Texas? Texans shouldn't be surprised that average car insurance rates here are higher than the national average. Prices may vary depending on your driving record and the points on your driver's license. The number of claims filed in your zip code could also be a factor.
The average cost of auto insurance in Texas is $905.64 per year. The national average annual cost is $866.31.
Texas Average Annual Car Insurance Rates

| Coverage | Rates |
| --- | --- |
| Liability | $516.26 |
| Collision | $357.61 |
| Comprehensive | $192.33 |
| Total Cost Per Year | $905.64 |
| Price Per Month | $75.47 |
Shopping for car insurance in Texas can seem like a lot of work. From researching companies to comparing rates, it's easy to get overwhelmed.
Let QuoteWizard help. Fill out our easy to use form and you'll be well on your way to finding affordable car insurance. How? We'll put you in touch with top insurance companies so you can compare quotes and get the best rates.
Last year, 247,646 people used QuoteWizard to get an auto insurance quotes comparison in Texas to find the cheapest rates.
Top 10 Vehicles in Texas
These are the most common vehicles owned by Texas drivers requesting car insurance quotes through QuoteWizard in the past year.
Ford F150
Chevrolet C1500 Silverado
Honda Accord EX/LX
Ford Mustang
GMC Sierra C1500
Dodge Ram
Nissan Altima 2.5 S
Chevrolet Tahoe
Toyota Camry LE/XLE/SE
Chevrolet Suburban
Best Car Insurance Companies in Texas
These are the most common car insurance companies reported by QuoteWizard users living in the state of Texas last year. Out of the 247,646 Texas drivers that used QuoteWizard to request insurance quotes, 28,644 had no car insurance.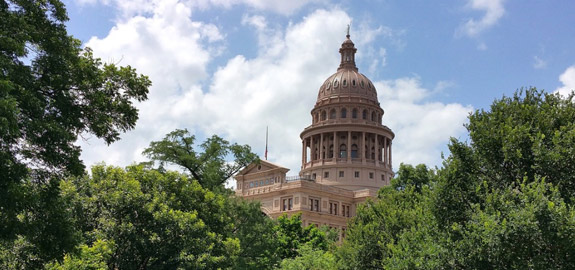 Texas State Auto Insurance Laws
Car Insurance Minimum Coverage
If you drive a vehicle registered in Texas, you must maintain a minimum level of insurance coverage of 30/60/25. This means that you must have a policy with at least the following:
$30,000 of coverage for bodily injury liability per person
$60,000 of coverage for bodily injury liability per incident
$25,000 of coverage for property damage liability per incident
Required Proof of Car Insurance
Drivers in Texas must be prepared to show car insurance identification card to law enforcement upon request. You'll get this identification card from your car insurance company when you buy a policy. The card must include all of the following:
Name of the insurance company
Policy number
Effective date of the policy
Expiration date of the policy
Description of the year, make, or model of the insured vehicles, or the name of the insured driver
Penalties
Failure to show proof of insurance at an accident or traffic stop may result in a fine of up to $350. And a surcharge of $250 will be added to your annual driver's license fee the next three years. You may also have your license and registration suspended until you're able to show proof of insurance
Texas drivers saved up to $383 on their car insurance policies by comparing rates through our simple form.
Ready to see if you're eligible?
Click Here
SR-22 Requirements
Texans that have had their driver's licenses suspended due to drunk driving convictions must show proof of financial responsibility. To do so, they must file an SR-22 form. "SR" stands for safety responsibility. It certifies that a driver has the minimum amount of insurance required by state law.
Texas State law requires that an SR-22 be carried for 36 consecutive months. If a driver fails to renew their policy 15 days before expiration, the state suspends their license. Once renewed, the license will be reinstated, but this can be a time-consuming process.
State of Texas Traffic Safety Laws
Distracted Driving Laws
Texas prohibits school bus drivers and novice drivers, under 18, from making or receiving cell phone calls. Text while driving is also illegal.
DWI Law and Penalties
Drive in Texas with a Blood Alcohol Content (BAC) of 0.08% or higher, you're guilty of Driving While Intoxicated (DWI).
The penalties for a first offense DWI conviction are:
Between three and 180 days in jail
A fine of up to $2,000
Driver's license suspended up to one year
Annual fee of $1,000 to $2,000 for three years to keep your driver's license
The penalties for a second offense DWI conviction are:
Between one month and one year in jail
A fine of up to $4,000
Up to two-year driver's license suspension
Annual fee of $1,000, $1,500, or $2,000 for three years to keep your driver's license
Installation of an ignition interlock device
The penalties for a third offense DWI conviction are:
Between two and 10 years in jail
A $10,000 fine
Up to two-year suspension of driver's license
Annual fee of $1,000, $1,500, or $2,000 for three years to keep your driver's license
Installation of an ignition interlock device
And the fun doesn't stop there. Your insurance rates will climb each time you're convicted of a DWI. But that's only if you can find a company willing to insure you.
DWI with a Child Passenger
If you drive drunk with a passenger under 15-years-old, you can be charged with two crimes. Both a DWI and child endangerment. The punishment for DWI with a child passenger is:
Up to $10,000 fine
Up to two years in jail
180-day driver's license suspension
Booster Seat Law
Children aged 7 or younger measuring less than 57 inches tall must ride in an approved child safety seat. The minimum fine for failing to properly restrain a child is $25 for a first offense.
Graduated Driver's License
Texas has a 3-tier graduated driver's license program. It starts with a learner license and ending with full driver privileges once all conditions are met.
Drivers must be at least 15 years old to get a learner license. New drivers are required to drive at least 30 hours while under supervision, with ten of those hours being at night. Once these conditions are met and the driver reaches the age of 16, they can take the driver's test. If they pass the test, and have completed an approved driver's education course, a provisional license is issued.
Drivers with a provisional license can't drive between the hours of midnight and 5 am. They also can't have more than one other person in the car under the age of 21 (excluding family). Drivers obtain their full driving privileges once they complete the above requirements and turn 18.
Senior Drivers in Texas
All drivers are required to renew their driver's licenses every 6 years. Beginning at age 79, you must renew your driver's license in person. Beginning at age 85, renewal is required every two years.
Seat Belt Laws
Texas requires that all drivers and passengers wear seat belts. Children are required to use approved child seats as mentioned above.
Vehicles Registered in Another State
In Texas, if you can drive a vehicle that must be registered in another state. But it must have the type of insurance required by that state. You must also be able to provide proof of this insurance to law enforcement upon request.
The Cost of Driving in Texas
Texas Average Car Insurance Rates
The average cost of car insurance in Texas in 2014 was $905.64,. The national average was $866.31. Texas is the 13th most expensive state for car insurance.
Fuel Taxes
The state of Texas taxes gasoline and diesel fuel at 20 cents per gallon. There's also a Federal fuel tax of 18.4 cents a gallon on gasoline. And 24.4 cents a gallon on diesel. This makes the total tax on a gallon of gasoline in Texas is 38.4 cents per gallon. For diesel fuel, the total tax is 44.4 cents per gallon.
Car Insurance Risk in Texas
Texas Cities with the Best Drivers
Our nationwide study found that Texas ranked #31 for best drivers. We ranked Texas cities using data from our quote tool to compare drivers in each city. We used accidents, speeding tickets, DUI's and citations to find the city with the best and worst drivers in Texas.
Waco
Traffic Fatalities
In 2014, there were 3,538 traffic fatalities in Texas, an 4% increase from the state's 3,389 traffic fatalities in 2013.
Vehicle Thefts
Texas had 68,546 vehicle thefts reported in 2014, a 4.2% increase compared to 2013. In 2014, the vehicle theft rate was 254.3 per 100,000 – a 2.4% increase compared to 2013.
The vehicle theft rate in Texas is slightly higher than the overall US vehicle theft rate, which was 216.2 per 100,000 in 2014.
Top 10 Most Stolen Vehicles in Texas
Source: National Insurance Crime Bureau - Hot Wheels Report 2014
2006 Ford Pick-Up (Full Size)
2005 Chevrolet Pick-Up (Full Size)
2004 Dodge Pick-Up (Full Size)
2000 Honda Civic
1997 Honda Accord
2005 GMC Pick-Up (Full Size)
2002 Chevrolet Tahoe
2005 Chevrolet Impala
2014 Toyota Camry
1999 Chevrolet Pick-Up (Small Size)
Uninsured Drivers
The percentage of Texas residents estimated to be driving without insurance is 13.3%. That ranks Texas as #19 among US states and the District of Columbia, slightly worse than average.
Crash Statistics
The Texas Department of Transportation maintains a website with vehicle crash data here: Texas Motor Vehicle Crash Statistics
Top 10 Texas Auto Insurance Companies - Market Share
Source: Texas Department of Insurance 2015 Report

| Rank | Market Share | Company |
| --- | --- | --- |
| 1 | 8.74% | Progressive County Mutual Insurance Co. |
| 2 | 7.94% | Farmers Texas County Mutual Insurance Co. |
| 3 | 6.58% | Allstate (Fire and Casualty) |
| 4 | 3.76% | Home State County Mutual Insurance Co. |
| 5 | 3.67% | Government Employees Insurance Co. |
| 6 | 2.76% | USAA |
| 7 | 2.56% | Colonial County Mutual Insurance Co. |
| 8 | 2.55% | Liberty County Mutual Insurance Co. |
| 9 | 2.33% | USAA Casualty Insurance Co. |
Texas Department of Insurance
Website:
Insurance Commissioner:

David Mattax
Insurance Hotline:

800-252-3439
File a Consumer Insurance Complaint
Sources:
QuoteWizard.com LLC has made every effort to ensure that the information on this site is correct, but we cannot guarantee that it is free of inaccuracies, errors, or omissions. All content and services provided on or through this site are provided "as is" and "as available" for use. QuoteWizard.com LLC makes no representations or warranties of any kind, express or implied, as to the operation of this site or to the information, content, materials, or products included on this site. You expressly agree that your use of this site is at your sole risk.