The Cost of Teen Car Insurance
If you're a teenager, or the parent of a teenager, you know firsthand how expensive car insurance is for teens. Car insurance for adults is expensive enough, but rates skyrocket for teen drivers. But there are ways young and teenage drivers can lower their auto insurance rates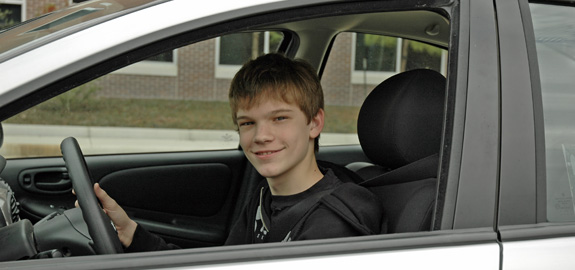 When shopping for car insurance for young drivers, you need to do everything you can to get the best cheap insurance. That includes buying the right levels of coverage, choosing the right insurance company, driving a safe car, and qualifying for discounts. We will teach you everything you need to know to navigate the complex world of car insurance for teens.
Why is car insurance so expensive for teens?
Simply put, insuring a teen driver poses a big risk to insurance companies.
In 2013, people ages 15-19 accounted for 7% of the U.S. population. But according to the CDC, teens caused $10 billion in total costs of motor vehicle injuries. That's about 11 percent of all injury costs. Teens cost their insurance companies more money than other age groups.
There are multiple factors that make teens more dangerous behind the wheel. Here's why car insurance is so expensive for teen drivers:
It's not just cellphones: fiddling with the radio, checking out your reflection, and talking with a passenger all count as distraction. Teens are simply more vulnerable to distraction while driving.
How much does car insurance cost for teenagers?
Methodology:
To paint a picture of the price of insuring a teen driver, we conducted an experiment. We pulled quotes for teenagers across the country from top insurance companies. Quotes include individual policies for teenage males and females as well as bundled policies for teens with both single parents and married parents.
Our teen driver profile is a 16-year-old without tickets or accidents. The insured vehicle is a 2010 Toyota Camry owned by the teen's 45-year-old parents with good driving records. Liability levels are set at 50/100/50 with 50/100 uninsured motorist coverage and a $500 deductible. In other words, a relatively standard insurance policy.
Here are the results:
Key Findings:
It's expensive: There's no way around it. Insuring a teenage driver is expensive no matter how you look at it. It costs an average of $278 a month to add a 16-year-old to a parent's policy. Buying an individual policy for a teenager costs a staggering $438 a month on average.
Teenage boys pay more than girls: Adult men pay more than women for car insurance. This remains true for teenagers, as a 16-year-old boy pays an average of $37 more per month than a 16-year-old girl for an individual plan. That's an extra $444 in a year to insure a boy! This is even truer for bundling, as adding a girl to a parent's plan costs $48 extra per month on average.
Bundling saves money: Adding a teenager to a parents policy is cheaper than buying an individual policy. It costs $302 extra per month to add a teenage boy to a plan. But purchasing an individual plan with identical coverage for a teenage boy costs $456. That's $278 more per month!
Single parents don't save much: A policy for a teen and a single parent only costs $13 less than insurance for two parents and a teen. Bundling favors couples.
How can I get cheaper teen car insurance?
We've established that car insurance for teenagers is expensive no matter how you look at it. Fortunately, there are steps you can take to ensure that you're getting the best possible deal. Here's how:
Best Car Insurance Companies for Teen Drivers
Several companies offer a range of plans and options appealing to teenagers:
American Family
Teenagers can enroll in American Family's Teen Safe Driver Program. After registering, a technician mounts a camera and motion sensor in the vehicle. Parents and teens can then review driving records through weekly reports that highlight any risky driving. It's completely free, and drivers can earn a 10 percent discount after completing a year in the program. AmFam states that their program is responsible for decreasing risky driving behavior by 70 percent and increasing seat belt use to 96 percent.
COUNTRY Financial
High school or college students with a B or higher average can earn discounts as high as 25 percent. Completing a driver's education course opens the door to lowering insurance premiums by as much as 10 percent. Finally, COUNTRY Financial offers Simply Drive, a teen driver education program. Completing the Simply Drive online course and signing a safety pledge entitles drivers to a 10 percent break on their insurance rate.
NationWide
At Nationwide, Teen drivers can benefit from good student discounts and their accident forgiveness program. Students with a B average earn a rate discount. Accident forgiveness ensures that insurance rates won't skyrocket in the event of an at-fault fender bender. According to the CDC, your risk of a car accident is highest in the first month of licensure. This is why accident forgiveness is so crucial for teen drivers.
Progressive
Progressive customers can qualify for standard bundle and good student discounts. An exciting feature for teen drivers is Snapshot, a usage-based insurance program. Snapshot uses a tracker to determine your premium based on mileage and the quality of your driving. For example, drivers who limit hard brakes and rapid accelerations will pay a smaller premium. This policy rewards good driving with discounts, and Progressive states that savings average out to $130 every six months.
GEICO
Teen drivers have access to numerous discounts through their GEICO policy. GEICO insurance plans include discounts as high as 15 percent for good students, as well as benefits for driver safety courses and vehicles with safety features. Also, they offer accident forgiveness, and a Family Pricing Program. The Family Pricing Program allows teens to switch from a family plan to their own individual plan while paying the same premium.
State Farm
Drivers with State Farm ages 25 and under can register for the Steer Clear Program. It provides discounts of up to 15 percent for completing driving safety courses. Similar to other insurance companies, State Farm also offers a good driver discount called Drive Safe & Save. According to State Farm, this program monitors drive quality. Safe drivers with low mileage can net savings as high as 50 percent.
Esurance
Like other insurers, young Esurance customers can save money with good grades. A 3.0 GPA for drivers under the age of 25 earns a discount. Safe cars and multi-vehicle policies will also provide decent discounts. Additionally, Esurance offers a telematics device program called DriveSafe. Unlike other similar programs, it doesn't reward good driving with discounts, but it does give teens and their parents valuable insight on their driving.
Liberty Mutual
Policyholders at Liberty Mutual receive price breaks for 3.0 GPAs, driver training programs, and cars with safety features. Members of an extensive list of alumni and professional organizations are also entitled to various discounts.
For more ways to save money on car insurance, read our comprehensive guide to car insurance discounts.
Best cars for teen drivers
With so many makes and models available, picking a first car for a teen is no easy feat. But there is one car feature that matters most; safety. Driving a safe car as a teen is vital for two big reasons:
It costs less to insure a safer vehicle. That's especially true for teen drivers.
Teenagers get in more fatal car accidents than any other age group. A safe car can be the difference between life and death.
The Insurance Institute for Highway Safety published a study of the best car make and models for teenagers. These rankings are based on four main parameters:
Cars with less power are safer for teens. There are no flashy sports cars with high horsepower on this list.
Bigger and heavier vehicles are safer. They accelerate slower, and they protect the driver more in the event of a crash.
Electronic stability control, or ESC, helps drivers control the car on curves and poor terrain.
Safety ratings are crucial. This list contains only vehicles with a minimum four safety rating from the National Highway Traffic Safety Administration.
Most teenagers drive used vehicles, so we set a $10,000 price limit. Listed prices are based on Kelly Blue Book valuation. Using this data and qualifiers, we selected the following 10 best cars and SUVs for teen drivers:
| Make | Model | Year | Price |
| --- | --- | --- | --- |
| Nissan | Altima | 2013 to present | $9,500 |
| Honda | Accord | 2008 to 2012 | $5,900 |
| Ford | Fusion | 2010 to 2012 | $5,300 |
| Hyundai | Sonata | 2011 to 2014 | $7,200 |
| Chevy | Malibu | 2010 to 2013 | $5,800 |
| Honda | CR-V | 2007 to 2014 | $5,400 |
| Toyota | RAV4 | 2009 to 2014 | $7,000 |
| Ford | Escape | 2009 to 2012 | $4,900 |
| Toyota | Highlander | 2008 to 2012 | $8,100 |
| Kia | Sorento | 2011 to 2015 | $8,400 |
What insurance coverage do teens need?
With so many different types of car insurance, deciding how much and which kind of coverage a teen needs is not easy.
Liability
First, every teen's insurance policy must include liability coverage. Liability insurance pays for damages to other people and their property.
Skimping out on liability insurance is a common mistake. But if you or your teen cause an accident involving another person, you're going to be on the hook for that persons damages. Without liability coverage, those costs can wreck your financial future. If you can afford it, buy more than your state's minimum level of liability coverage.
Buying minimum coverage is tempting because it saves money. But it opens the door for lawsuits and bankruptcy if they cause an accident. Car accidents happen. It's a fact of life, especially for teenagers. That's why experts recommend that you buy at least $50,000 in property damage liability and $100,000/$300,000 in bodily injury liability.
After exceeding liability limits, all additional costs are paid out of pocket. This is where an umbrella policy can help. Umbrella insurance provides extra liability insurance, and it also covers some claims that normal liability policies may exclude. You can usually purchase a $1 million umbrella policy for a few hundred dollars a year.
For more information on liability insurance, read our guide to liability car insurance coverage.
Comprehensive and collision
These two coverages work together to pay for damages to your car. Comprehensive coverage protects your vehicle from non-collision damages like natural disasters, theft, and vandalism. Collision coverage, as the name suggests, reimburses you for damages to your vehicle resulting from an accident.
These coverages are usually required for financed cars. If you drive an older car that isn't worth much, consider skipping collision and comprehensive. This is relevant since teens are more likely to drive older used vehicles. Do the math: if your car is worth $2500 and you pay $500 a year for collision insurance, you're paying 20 percent of your cars vehicle per year. Is that worth it to you?
Read more about collision insurance here, and read more about comprehensive insurance here.
Uninsured and underinsured
If another driver hits you and they don't have adequate insurance, you'll want uninsured and underinsured motorist coverage. It protects you when a driver without insurance (or enough insurance) hits you and can't pay your bills.
If you have collision insurance, it will help cover your car's damages. That's a possible reason to skip out on uninsured and underinsured coverage.
Since this coverage depends on other drivers, it's not vital for teens like liability insurance is. If you can afford it, it's a great added layer of protection.
Read more about uninsured and underinsured driver insurance here.
Deductible
A deductible is the amount you pay out of pocket before your insurance kicks in. Let's pretend you have a $500 deductible, and you cause an accident with $2000 in damages. You have to pay the initial $500 yourself, and your insurance covers the remaining $1500.
It's tempting to save money by choosing a high deductible, but it will cost more in the event of an accident. In order to decide what kind of deductible is best for a teen driver, consider these questions:
How valuable is your vehicle?
How much cash do you have available?
If you can afford it, get a lower deductible. At the end of the day, it's a cost benefit analysis that depends on your situation. Talk to your insurance agent for help, or read 'What Should My Car Insurance Deductible Be?'
What else should I know about insuring a teen driver?
Driving is a privilege, and parents and teenagers alike should realize this. If you're a parent, talk to your child about staying safe behind the wheel. If you're a teenager, don't underestimate the dangers of driving.
In 2015, more than 35,000 people lost their lives in vehicular accidents in the United States. It can happen to anyone. As we discussed earlier, teenage drivers are at a higher risk for accidents due to their inexperience. That's why it's vital to understand the importance of diligence when driving.
Our advice? Always wear a seatbelt. Don't use your cellphone. Never drive if you're impaired whatsoever. Be extra vigilant when driving at night. Follow the rules of the road.
The best way to save money on car insurance is to be a safe driver. It leads to long-term insurance discounts and, more importantly, reduces your chance of getting into an accident.
Frequently Asked Questions
Q: Why is car insurance so expensive for teens?
A: This is a common question. If you shop for car insurance for a teenager, you will likely experience sticker shock. Teenagers consistently pay more for car insurance than any other age group.
Why? Simply put, teens are inexperienced drivers. They're considerably more likely to get in accidents or traffic violations. Due to the high probability that a teenage driver will end up filing a claim, insurance companies charge higher rates for coverage.
Q: When do car insurance rates go down for young drivers?
A: Drivers typically benefit from big insurance discounts when they turn 25. Insurance companies find that drivers ages 25 and up are statistically better drivers than younger people. They're less likely to cause accidents and violations, and their insurance rates reflect that.
While a rate decrease is typical around age 25, it's not a guarantee. If you have a bad driving record, you may still pay high insurance premiums.
Q: How can a teen get cheaper car insurance?
A: It's an unfortunate fact that young people pay high insurance rates until they have driving experience. But there are steps teens can do to mitigate the expense:
Drive a safe and unspectacular car. 'Boring' vehicles are cheaper to insure compared to a flashy sports car, for example. Vehicles with extra safety features will also net drivers extra insurance discounts.
Complete drivers safety courses. Most insurance companies will give premium discounts to drivers who take these courses.
Get good grades. Good students can earn decent discounts for strong report cards. Most insurance companies offer these discounts, and they usually kick in with a 3.0 GPA or B average.
Shop around. One company may offer better rates than other companies. The only way to find cheaper car insurance is to shop around and compare car insurance quotes. The easiest way to do this is through QuoteWizard – we help you compare quotes in a matter of minutes.
Bundle your car insurance with your parents, if possible. Bundling different insurance plans with one company will almost always save you money. Think of it as a bulk discount.
Q: How much does car insurance cost for a teenager?
A: Teenage car insurance rates vary quite a bit depending on several factors. For example, drivers in Detroit pay considerably more for car insurance than drivers in Los Angeles. Insurance companies determine your rate by where you live, what kind of car you drive, your gender, your age, and more.
Insurance rates are different for everyone. But the fact is that car insurance is much more expensive for teen drivers. According to our studies, teens can expect to pay about $233 per month for car insurance. Remember, depending on your specifics, this number could be higher or lower.
Q: How much does it cost to add a teenager to their parents policy?
A: The short answer: a lot. The exact cost depends on several factors like car make and model, coverage levels, location, and more. According to our study, it costs $193 per month to add a teenage boy and $180 per month to add a teenage girl to a parents policy. Remember, these numbers will vary for you.
Q: Will my premium go up if I add my teenage child to my policy?
A: Yes. The cost of your personal coverage won't change. But you will pay significantly more to extend coverage to your teen.
Q: Do I need to add my teen to the policy if we share a car?
A: Yes. If your child drives your vehicle, they need insurance. Buying two separate policies for one car doesn't make sense and is illegal in some cases. So, if you're sharing a car with your kid, put them on your policy. Fortunately, it's usually cheaper to insure teens who share a car.
Q: If my kid moves away for college, should I keep them on my policy?
A: This can be tough. If your kid is away at college, they won't drive your car. So why keep them on the policy? But when they come home for Christmas or summer vacation, they're going to want to use the family car, and they'll need insurance.
Fortunately, most insurance companies offer a policy for this exact scenario. It's called the resident student discount. It gives big discounts to insure student drivers who live in another area – typically 100 miles away from home. It can net policy discounts as high as 30 percent.
QuoteWizard.com LLC has made every effort to ensure that the information on this site is correct, but we cannot guarantee that it is free of inaccuracies, errors, or omissions. All content and services provided on or through this site are provided "as is" and "as available" for use. QuoteWizard.com LLC makes no representations or warranties of any kind, express or implied, as to the operation of this site or to the information, content, materials, or products included on this site. You expressly agree that your use of this site is at your sole risk.