Compare Auto Insurance in Wisconsin
Getting ready to tailgate at a Badgers or Packers game? Here is everything you need to know to find auto insurance rates to cover you for the trip.
Read on to learn how Wisconsin car rates compare to other state averages, the best ways to save on your premium, and more.
Average Wisconsin Car Insurance Rates
How much does auto insurance cost in WI? A low rate of auto accidents helps keeps insurance rates lower than the national average. The average cost of car insurance in Wisconsin is $664.81 per year. That's 33.7 percent less than the $889.01 national annual average.
Your rate may differ depending on your coverage, zip code, and claims history
Wisconsin Average Annual Car Insurance Rates
Coverage
Rates
Liability
$374.37
Collision
$226.00
Comprehensive
$136.81
Total Cost Per Year
$664.81
Price Per Month
$55.40
Source: Facts + Statistics: Auto insurance
The graph below shows the change in average Wisconsin insurance rates from 2011 to 2015, the most recent year the data is available. According to the III, Washington's car insurance rates increased from $600 in 2011 to $664 in 2015, a jump of $64, or 10.76 percent.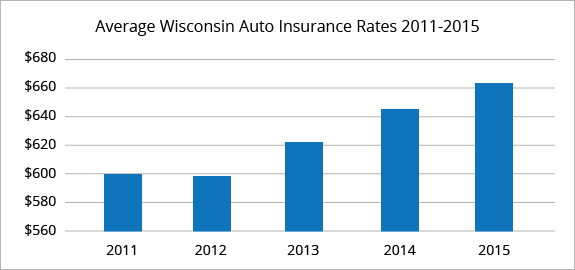 Finding the right car insurance company and policy in Wisconsin just got easier. Say goodbye to countless hours of researching offerings and comparing rates. With QuoteWizard's help, you can do both in a matter of minutes--even seconds.
We'll connect you to a number of top auto insurance companies so you can quickly compare quotes and find the coverage you need for a price you can afford.
Last year, 49,039 people used QuoteWizard to get an auto insurance quotes comparison in Wisconsin from multiple companies.
Best Car Insurance Companies in Wisconsin
These are the top car insurance companies for Wisconsin's QuoteWizard users last year. Out of over 49,000 Wisconsin drivers who used QuoteWizard last year, 8,603 were uninsured.
Top 10 Vehicles in Wisconsin
These are the most common vehicles owned by Wisconsin drivers who used QuoteWizard to get car insurance quotes last year.
Ford F150
Chevrolet Blazer
Ford Taurus SE
Chevrolet Silverado
Chevrolet Impala LS
Chevrolet Cavalier
Ford Escape XLT
Chevrolet Malibu
Dodge Caravan
Buick LeSabre
Wisconsin Car Insurance Rate Factors
Wisconsin is mostly rural. That leads to fewer cars on the road and lighter traffic. These factors help keep WI auto insurance below the national average. Wisconsin does, however, have a high number of uninsured drivers with nearly 15 percent of drivers lacking insurance. That's the 15th highest rate in the country, and it leads to higher rates for insured drivers.
Best and Worst Drivers in Wisconsin
Our nationwide study found Wisconsin ranks 23rd for worst drivers. In our 2018 study, Milwaukee and Madison were 38th and 45th worst, respectively.
This ranking is based on data involving accidents, DUI's, and citations occurring in Wisconsin. If you live in an area with bad drivers, expect to pay more for insurance.
Vehicle Thefts
From the most current data available, Wisconsin had 9,919 vehicle thefts reported in 2014. This is a 34.2 percent increase from 2013.
Top 10 Most Stolen Vehicles in Wisconsin
Driving a commonly stolen vehicle can lead to higher rates.
Source: National Insurance Crime Bureau- Hot Wheels Report 2016
2002 Dodge Caravan
2000 Honda Civic
1997 Honda Accord
2002 Chevrolet Impala
1999 Chevrolet Pickup (Full Size)
2002 Chrysler Town & Country
2016 Toyota Camry
2016 Chevrolet Malibu
2004 Dodge Stratus
2000 Honda CR-V
Car Insurance Discounts
Looking for ways to cut insurance costs? Wisconsin drivers have a lot of options:
If you're married, insurers often offer discounts to married couples
See if where you live can get you a discount. Safer neighborhoods tend to lead to lower rates.
Bundle your auto insurance with home or renters insurance. You can save upwards of 15 percent on bundling
Make sure your car as up-to-date safety features and anti-theft devices

If you're over 55, see what discounts are available to you
Wisconsin Auto Insurance Laws
Minimum Car Insurance Requirements in Wisconsin
Registered WI drivers must maintain basic coverage of 25/50/10 plus uninsured/underinsured coverage. This mean your policy must have a minimum of:
$25,000 of coverage for bodily injury liability per person
$50,000 of coverage for bodily injury liability per incident
$10,000 of coverage for property damage liability per incident
$25,000 of uninsured motorist bodily injury coverage per person
$50,000 of uninsured motorist bodily injury coverage per incident
Recommended Coverage Levels
A state's minimum liability insurance is enough to get you on the road – but that's about it. It helps cover other drivers in a crash, but it doesn't cover your expenses. And there's a good chance that a crash could cost more than what minimum liability pays out.
The number of uninsured drivers in Wisconsin is above the national average. This creates a high-risk situation for insured drivers. Not only does the statewide risk increase auto insurance rates for all Wisconsin drivers, but it puts you at risk of having to pay your own damages in the event of a crash. Auto Insurers offer uninsured and underinsured coverage to help keep this from happening.
To make sure you have the best liability coverage, we recommend:
$100,000 Individual Body Injury Liability
$300,000 Total Bodily Injury Liability
$100,000 Property Damage Liability
SR-22 Requirements
Wisconsin residents with suspended licenses due to a DUI must show proof of financial responsibility. They must file an SR-22. It certifies that the driver has the minimum insurance state law requires.
Wisconsin requires drivers to keep an SR-22 in place for 3 continuous years. Depending on the offense, the time could be longer.  If you let the SR-22 lapse, your license will be cancelled. Should you wish to reinstate your license after that, you'll need to restart the SR-22 process.
SR-22s almost always lead to higher insurance rates.
Totaled Cars with Rebuilt or Salvage Titles
If your car is damaged and the repair cost is greater than its value, your insurer will deem it a total loss. A total loss vehicle gets a salvage title. If it's repaired, it gets a rebuilt title.
Each state has their own law regarding totaled cars. In Wisconsin, total loss is figured by a percentage of the car's current cash value. If the damage exceeds the percentage of the car's value, it's totaled.
In Wisconsin, the total loss percentage is 70 percent. If your car's damages are equal or greater to 70 percent of the car's market value, your insurer considers it a total loss. 
Buying insurance in Wisconsin for a salvage or rebuilt car can be hard. Some insurers won't cover one at all. Also, you can expect to pay higher rates – if you can find coverage
State of Wisconsin Traffic Safety Laws
Distracted Driving Laws
Wisconsin has laws to reduce distracted driving accidents on the road. All drivers are prohibited from texting. Novice drivers are prohibited from using hand-held or hands-free devices while driving. Violation results in a ticket ranging from $20 to $400. These citations can increase your insurance rates.
DUI Law and Penalties 
If you drive in WI with a Blood Alcohol Content level of 0.08 percent or higher, you're guilty of DUI. Depending on how many DUI offenses you have, you could face prison time and pay over $2,000 in fines.  
A DUI can seriously affect your premiums. Data shows that drivers with DUIs pay up to an extra $830 per year for auto insurance.  
Vehicles Registered in Another State
When driving a vehicle registered to another state in Wisconsin, you need the insurance required by that state.
Wisconsin Office of the Commissioner of Insurance
Website:
Insurance Commissioner:

Ted Nickel
Insurance Hotline:

(800) 236-8517
Hours:

Monday - Friday
7:45 a.m. - 4:30 p.m.
File a Consumer Insurance Complaint:
Sources:
QuoteWizard.com LLC has made every effort to ensure that the information on this site is correct, but we cannot guarantee that it is free of inaccuracies, errors, or omissions. All content and services provided on or through this site are provided "as is" and "as available" for use. QuoteWizard.com LLC makes no representations or warranties of any kind, express or implied, as to the operation of this site or to the information, content, materials, or products included on this site. You expressly agree that your use of this site is at your sole risk.