Compare Auto Insurance in New Hampshire
New Hampshire is a fiercely independent state that has always gone its own way. It is the only one of the 50 states that doesn't require drivers to carry car insurance. However, most New Hampshire drivers still do.
This page will show you ways to prove financial responsibility other than car insurance. It also has information about the cost of driving including average rates, and some insights about insurance risk.
Average New Hampshire Car Insurance Rates
Drivers in New Hampshire are doing something right. The average cost of car insurance in New Hampshire is much cheaper than what most Americans pay. The average cost of auto insurance in New Hampshire is $775.03 per year. The national annual average cost of auto coverage is $889.01.
Prices will vary depending on your driving history and the number of claims filed in your zip code.
New Hampshire (NH) Average Annual Car Insurance Rates

| Coverage | Rates |
| --- | --- |
| Liability | $400.56 |
| Collision | $307.42 |
| Comprehensive | $110.77 |
| Total Cost Per Year | $775.03 |
| Price Per Month | $64.58 |
The graph below shows the change in average New Hampshire rates from 2011 to 2015, the most recent year the data is available. According to the III, New Hampshire car insurance rates increased from $705 in 2011 to $775 in 2015, a jump of $69 dollars, or 9.80 percent.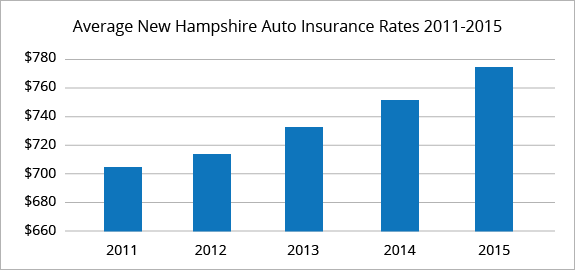 Finding the right car insurance company and policy in New Hampshire just got easier. Say goodbye to countless hours of researching offerings and comparing rates. With QuoteWizard's help, you can do both in a matter of minutes or even seconds.
We'll connect you to a number of top auto insurance companies so you can quickly compare quotes and find the coverage you need for a price you can afford.
Last year, 9,971 people used QuoteWizard to compare car insurance quotes in New Hampshire from top companies.
Best Car Insurance Companies New Hampshire
Last year, these were the most common car insurance companies reported by QuoteWizard users living in the state of New Hampshire. Out of the 9,971 New Hampshire drivers that used QuoteWizard to request insurance quotes last year, 1,612 had no car insurance.
Top 10 Vehicles
These are the most common vehicles owned by New Hampshire drivers requesting car insurance quotes through QuoteWizard in the past year.
Ford F150
Honda Accord LX
Honda Civic EX
Chevrolet C1500 Silverado
Ford Focus
Toyota Camry LE/XLE/SE
Toyota RAV4
Toyota Prius
Ford Ranger
Honda CR-V EX
New Hampshire Car Insurance Laws
Minimum Car Insurance Requirements in New Hampshire
New Hampshire is unique. It's the only state in America that does not require all drivers to have car insurance. Although car insurance isn't required, the state of New Hampshire does require drivers to meet their financial obligations when they're involved in an accident. For drivers who do use car insurance to prove their financial responsibility, all policies in New Hampshire must include the minimum coverage below:
$25,000 of coverage for bodily injury liability per person
$50,000 of coverage for bodily injury liability per incident
$25,000 of coverage for property damage liability per incident
$25,000 of coverage for uninsured motorist bodily injury liability per person
$50,000 of coverage for uninsured motorist bodily injury liability per incident
$25,000 of uninsured property damage coverage per incident
$1,000 of medical payments coverage
Liability coverage is meant to help pay for other peoples' medical and repair bills if you're found at fault in a car accident. Medical payments coverage is intended to pay for your medical expenses after an accident, regardless of who was at fault.
Recommended Coverage Levels
New Hampshire is a truly unique state for car insurance. It is the one state in the country that does not require drivers to carry auto insurance unless an SR-22 is involved.
However, not being required to have it and not needing it are two very different things. Though it's not required, only ten percent of New Hampshire drivers do not have auto insurance. Interestingly, about 13 percent of drivers across America have no insurance.
If you get in an accident in New Hampshire, there's a one in ten chance that the other driver isn't covered. Any damages to your car will be paid out of your own pocket. Consider investing in uninsured motorist coverage to prevent this.
Don't skimp on liability, either. The price difference between little liability and strong liability isn't huge. Consider purchasing:
$100,000 Individual Body Injury Liability
$300,000 Total Bodily Injury Liability
$100,000 Property Damage Liability
Required Proof of Financial Responsibility
New Hampshire does not require drivers to carry car insurance unless they have a history of major vehicular offenses. However, New Hampshire does require drivers to be able to pay for damage that they cause in an at fault accident. Any New Hampshire driver that doesn't have insurance must deposit cash or securities with the state Treasurer in the amount of $75,000. As a result, most drivers purchase car insurance even though it's not mandatory.
New Hampshire drivers saved up to $383 on their car insurance policies by comparing rates through our simple form.
Ready to see if you're eligible?
Click Here
SR-22 Requirements
New Hampshire residents that have had their driver's license suspended due to drunk driving convictions or other violations must provide proof of financial responsibility by filing an SR-22 form. "SR" stands for safety responsibility and it certifies that a driver is financially responsible, and able to pay for damage caused in an car accident.
New Hampshire law requires that an SR-22 be carried for 36 consecutive months. If a driver fails to renew their policy 15 days before expiration, a letter is sent to the state resulting in suspension of their license. Once renewed, the license will be reinstated, but this can be a time-consuming process.
State of New Hampshire Traffic Safety Laws
Distracted Driving Laws
New Hampshire law forbids driving while using a handheld cell phone, or similar mobile device, effective July 2015. Novice drivers are prohibited from using cell phones while driving. All drivers are forbidden to send or receive text messages while driving in New Hampshire.
Implied Consent to Chemical Tests Law
This law requires that any driver submit to blood, breath, or urine testing. These tests check for alcohol or drugs when arrested by law enforcement for suspicion of Driving While Intoxicated (DWI). Refuse the test and you'll face the following penalties in addition to the penalties for a DWI:
First Offense: 180-day driver's license suspension
Second Offense: 2-year driver's license suspension
Third Offense: 2-year driver's license suspension
DWI Law and Penalties
If you drive or operate a motor vehicle in New Hampshire with a Blood Alcohol Content (BAC) of 0.08% or higher, you are guilty of Driving While Intoxicated (DWI).
The penalties for a first offense DWI conviction are:
Minimum of 10 days in jail
A fine of between $500 and $750
A driver's license suspension of between 9 and 18 months
The penalties for a second offense DWI conviction are more severe:
Minimum of 30 days in jail
A fine of at least $750
Minimum 3-year driver's license suspension
An ignition-interlock device may be required
After a third DWI conviction the penalties increase to:
Minimum of 180 days in jail
Minimum $750 fine
Driver's license suspended indefinitely
An ignition-interlock device may be required
Aggravated DWI
When arrested for a DWI in New Hampshire and the following apply, you may be charged with an Aggravated DWI. This could result in additional jail time, fines, and penalties:
Driving 30 MPH above the posted speed limit
Causing an accident which resulted in serious injuries
Attempting to elude law enforcement
Someone under 16 was in the vehicle with you
Your Blood Alcohol Content (BAC) was 0.16% or higher
Child Restraint Law
New Hampshire law requires that children ride in an appropriate child safety seat until they are 7 years old or measure 57 inches tall, whichever comes first. The maximum fine for failing to properly restrain a child is $50 for a first offense.
Proper use of child safety seats reduces fatalities by 71%
Driver's License
New Hampshire is unusual among states, in that it doesn't issue a learner's permit. Drivers can begin practicing driving at age 15 ½ without a permit or license, but they must be supervised by a parent or guardian with a valid New Hampshire driver's license. Drivers can apply for a New Hampshire driver's license once they turn 16, complete an approved New Hampshire driver's education program, and log at least 40 additional hours of supervised driving. Once the new driver passes a written test, vision test and road test, a youth operator license is issued.
Drivers under age 18 face several driving restrictions. They cannot drive between 1:00 am and 4:00 am until they turn 18. For the first 6 months, drivers under 18 can't drive with more than one passenger under the age of 25. Unless they're a family member or the driver has a parent or guardian in the car.
Senior Drivers in New Hampshire
All New Hampshire drivers are required to renew their driver's license every 5 years. If you are 75 or older, you will need to retake the road test.
Seat Belt Laws
In New Hampshire, everyone under the age of 18 must be properly secured with a seat belt or a child safety seat. Unlike most states, adults age 18 and over are not required to wear seat belts while in a moving vehicle.
Vehicles Registered in Another State
When you drive a vehicle in New Hampshire that is required to be registered in another state, you must have the type of insurance required by that state. You must be able to provide proof of this insurance to law enforcement upon request.
Car Insurance Risk in New Hampshire
Vehicle Thefts in New Hampshire
New Hampshire had 857 vehicle thefts reported in 2014, an 9.2% decrease compared to 2013. In 2014, the vehicle theft rate was 64.6 per 100,000, a decrease of 9.5% from the 2013 rate of 71.4 per 100,000.
The vehicle theft rate in the state of New Hampshire is far below the overall US vehicle theft rate, which was 216.2 per 100,000 in 2014.
Top 10 Most Stolen Vehicles in New Hampshire
Some cars are more prone to theft than others, so be sure to check the list below to see if your car is a target on the streets.
Source: National Insurance Crime Bureau - Hot Wheels Report 2014
2000 Honda Civic
2000 Ford Pickup (Full Size)
2006 Dodge Caravan
1999 Chevrolet Pickup (Full Size)
2008 GMC Pickup (Full Size)
1999 Jeep Cherokee/Grand Cherokee
1997 Honda Accord
2000 Toyota Camry
1997 Toyota Corolla
2001 Chevrolet Pickup (Small Size)
Uninsured Motorists
The percentage of New Hampshire residents estimated to be driving without insurance is 9.3%. That ranks New Hampshire as #34 among US states and the District of Columbia. That's better than the national average despite the fact that New Hampshire residents aren't legally required to purchase car insurance.
New Hampshire Auto Insurance Company Market Share
Source: New Hampshire Insurance Department

| Rank | Market Share | Company |
| --- | --- | --- |
| 1 | 12.2% | Progressive |
| 2 | 12.1% | Liberty Mutual |
| 3 | 9.9% | National Indemnity |
| 4 | 9.3% | Allstate |
New Hampshire Insurance Department
Website:
Insurance Commissioner:

John R. Elias
Insurance Hotline:

(800) 852 – 3416
Office Hours:

Monday - Friday
8:00 am to 4:30 pm
File a Consumer Insurance Complaint
Sources:
QuoteWizard.com LLC has made every effort to ensure that the information on this site is correct, but we cannot guarantee that it is free of inaccuracies, errors, or omissions. All content and services provided on or through this site are provided "as is" and "as available" for use. QuoteWizard.com LLC makes no representations or warranties of any kind, express or implied, as to the operation of this site or to the information, content, materials, or products included on this site. You expressly agree that your use of this site is at your sole risk.