Auto Insurance for Senior Citizens
This article covers everything you need to know about auto insurance for seniors, including car insurance rates and how to reduce risk on the road.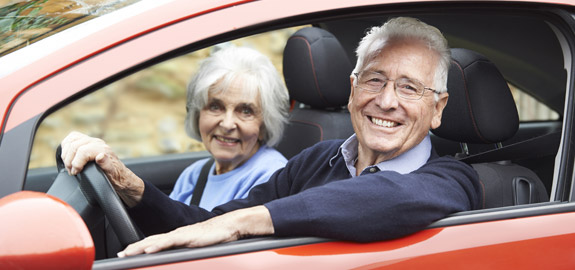 Your insurance rates start increasing after you reach age 65. Getting older doesn't necessarily mean your driving will worsen. It does mean that your reflexes could get slower, and you should be more prepared when heading out on the road. That's why it's important to know how to find the cheapest rates to keep them low. This article covers what you need to know about auto insurance for seniors, including:
Senior car insurance rates
Young people and senior citizens typically pay more for car insurance than drivers between ages 25 and 65. We found that seniors pay an average of $1,478 per year for auto insurance, or $123 per month. Despite having more miles logged on the road, driving does become more challenging as your body ages. Your ability to respond quickly to changing situations deteriorates. Because of the delayed motor skills, hearing and vision that come with old age, seniors are deemed a higher risk by car insurance providers. This results in higher premiums.
Around age 65, most people will see an increase in their car insurance premiums. But if you have a clean driving record, the increase probably won't be drastic. And there are ways to mitigate this potential increase.
Best car insurance for seniors
Looking for cheap car insurance for seniors? We compared four major auto insurance companies to find the lowest auto insurance rates for senior citizens. We found that, on average, auto insurance will cost a senior $1,478 annually. However, your exact rates depend on your driving record, where you live, the car you drive and more. These are the rates we found for each car insurance company we analyzed:
Car Insurance Company
Yearly Premium
The Hartford with AARP
$1,873
GEICO
$1,361
Progressive
$1,228
Allstate
$1,450
Rates are based on quotes from a 70-year-old female driver with a clean driving record using a 2018 Nissan Altima in the Seattle metropolitan area. Coverage limits are 25/50/25 with $500 deductibles for collision and comprehensive insurance.
We found that Progressive offers the cheapest auto insurance for seniors, whereas AARP/Hartford insurance is the most expensive. To find the cheapest auto insurance rates, compare quotes from several insurers.
How to keep auto insurance rates low for seniors
Some things that can harm your driving record are driving with an expired license, the number of traffic accidents you have been involved in, traffic violations and fines and any DUIs. The less strikes you have on your driving record, the less you will be charged for car insurance. Here are some ways to keep your auto insurance rates low:
Drive carefully and maintain a clean driving record. The cleaner your driving record, the lower your premiums will be.
Purchase a safer car. Purchasing a newer car equipped with more safety features is bound to make your premiums go down. You will be at much less risk of being injured (and filing an insurance claim related to the injury) in a modern car, than if you were driving a 30-year-old vehicle with no airbags.
Take a safe driver class . You can get a driving refresher through The American Association of Retired Persons (AARP) or a local senior center. By proving that you are taking the necessary steps to maintain a safe driving record, you might qualify for a discount from your insurance provider.
Drive less. You're less likely to get into an accident if you don't drive often. By limiting the miles you drive annually and notifying your insurance provider of this change, you can lower your rates.
Increase your deductible if you drive less. Since driving less means you would have a lower risk of getting into an accident, your premiums will go down.
Reassess what is covered on your basic auto insurance policy. For example, adjusting your physical damage coverage. Physical damage coverage is a combination of both collision coverage and comprehensive coverage, both of which cover damage to your vehicle.
Insurance policy considerations
When determining whether your car insurance policy meets your current needs or if you need to update it, there are a few different things to take into consideration.
First, you should reassess who is included in your car insurance policy. Maybe you've been divorced, remarried, or widowed. You might not have revised your policy, so you might be paying more than you need to for your insurance. If you have an older car and don't want to buy a new vehicle, you might want to consider getting safety features installed to reduce your premiums. You should also consider "bundling" your home and auto insurance with the same carrier. Doing this can get you a sizable discount on your premiums.
In order to make changes to your policy to better fit your current needs, it's important to contact your insurance agent or broker and discuss any changes that you want to make. They might even offer you discounts depending on how long you have been with that provider.
How seniors can reduce risk on the road
If you as a senior citizen feel confident as driver, you can reduce risk of an accident by taking some basic safety precautions while on the road. As we age our eyesight weakens, so it makes sense to consider ways to make it easier to read what is on your dashboard. You may be able to add a back-up sensor or camera to your vehicle. Some cars even have self-parking features that help you parallel park.
It also might be in your best interest to reduce the amount that you drive if you feel uncomfortable on the road. If it's late at night, foggy, snowy, or rainy, you might choose to wait for conditions to improve before driving.
It could also come in handy to install a voice-activated GPS in your car, so you don't have to take your eyes off the road to read a map when unsure of where to go.
QuoteWizard.com LLC has made every effort to ensure that the information on this site is correct, but we cannot guarantee that it is free of inaccuracies, errors, or omissions. All content and services provided on or through this site are provided "as is" and "as available" for use. QuoteWizard.com LLC makes no representations or warranties of any kind, express or implied, as to the operation of this site or to the information, content, materials, or products included on this site. You expressly agree that your use of this site is at your sole risk.