Compare Auto Insurance in Nevada
The mix of neon lights and mountains in the distance make Nevada one of the best states to cruise across on a hot summer night. Whether you are heading out for a night on the strip or one under the stars, there is never a dull moment in Nevada.
Drivers know not to gamble with their auto insurance, so we've got all the answers below. From average cost of insurance and average rates to the laws you have to follow on the road, we bet you'll find what you need.
Average Nevada Car Insurance Rates
Car insurance in Nevada is more expensive than it is in most of the country. You can thank the high number of uninsured motorists, drunk drivers, car prowlers, and lawyers the next time you're writing a check to your insurance company. The average cost of car insurance in Nevada is $985.39 per year. The national average annual cost is $889.01. On average, Nevada drivers pay 11% more for auto insurance than the average American.
Your prices may vary depending on your car, driving record, zip code, limits, and the number of claims filed in your neighborhood.
Nevada (NV) Average Annual Car Insurance Rates
Coverage
Rates
Liability
$681.56
Collision
$303.86
Comprehensive
$117.63
Total Cost Per Year
$985.39
Price Per Month
$82.11
Source: Facts + Statistics: Auto insurance
The graph below shows the change in Nevada's average auto insurance rate from 2011 to 2015, the most recent year the data is available. According to the III, Nevada's car insurance rates increased from $904 in 2011 to $985 in 2015, a jump of $80, or 8.89 percent.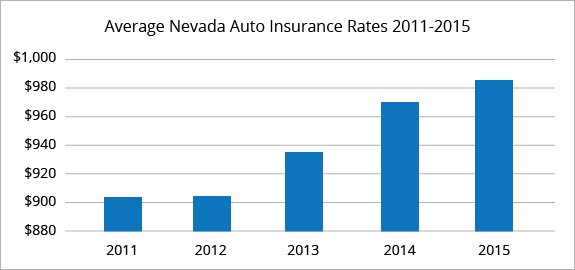 If you're like most Nevada drivers, car insurance is a must-have. But that doesn't mean you should go with the first policy that comes your way.
You want car insurance that's reliable and fits your needs while also being affordable. To get that, you have to compare auto insurance quotes.
That can take some time if you do it yourself. With QuoteWizard, you can do it in seconds. Fill out our form and we'll connect you to multiple top car insurance companies so you can compare rates and get the best coverage.
Last year, 30,729 people used QuoteWizard to compare car insurance quotes in Nevada from top companies, and find the cheapest rates.
Best Car Insurance Companies in Nevada
Last year, these were the most common car insurance companies reported by QuoteWizard users living in the state of Nevada. Out of the 30,729 Nevada drivers that used QuoteWizard to request insurance quotes last year, 3,442 had no car insurance.
Top 10 Vehicles
These are the most common vehicles owned by Nevada drivers requesting car insurance quotes through QuoteWizard in the past year.
Ford F150
Honda Accord LX/EX
Chevrolet Silverado
Ford Explorer
Ford Mustang
Ford Ranger
Nissan Altima 2.5 S
Honda Civic EX/LX
Toyota Camry LE/XLE/SE
Chevrolet Malibu LS
Nevada State Auto Insurance Laws
Minimum Car Insurance Requirements in Nevada
Legally, almost all US drivers are required to carry a minimum level of car insurance, but this minimum amount varies from state to state. In Nevada, drivers need to follow what is known as the 25/50/20 rule when it comes to their insurance policies.
This means that any policy must include the following:
$25,000 protection of bodily injury or death of an individual in any single accident
$50,000 of bodily injury or death coverage of all individuals in any single accident
$20,000 of coverage for injury to or destruction of property of others in any single accident
Remember you can purchase more inclusive plans that cover more, but if you want the bare minimum required to keep you legal on the road, make sure your policy has the above protection.
Recommended Coverage Levels
There is a huge problem with auto theft in Nevada. Auto insurance companies pass the risk on with higher premiums for all drivers in the state. There are ways to keep your car safe, and that helps reduce state insurance rate levels.
Comprehensive coverage is another way to defray the cost of auto theft. It provides protection in the event of theft or vandalism. It even covers natural disasters. Comprehensive coverage is one of the options available to provide protection that your liability policy will not. And it's not very expensive.
Regarding liability coverage, consider increasing yours. It's easy for a serious crash to cost more than what a minimum liability plan covers. Whatever isn't covered comes out of your pocket. In order to avoid this, we recommend getting:
$100,000 Individual Body Injury Liability 
$300,000 Total Bodily Injury Liability 
$100,000 Property Damage Liability 
Required Proof of Car Insurance
Just like your driver's license, it is important to always carry proof of insurance for your car. Nevada law requires you to have proof of insurance at hand at all times while operating a motor vehicle. It must include the following information:
Name of the insurance company
Policy number
Effective date of the policy
Expiration date of the policy
Description of the year, make, and/or model of the insured vehicles, or the name of the insured driver
Nevada drivers saved up to $383 on their car insurance policies by comparing rates through our simple form.
Ready to see if you're eligible?
Click Here
LIVE (Liability Insurance Validation Electronically) System
Whether you are caught on the side of the road, or the Nevada LIVE system does its job, you are subject to punishment for operating a vehicle without insurance. If this occurs, your registration will immediately be suspended. For first offenders, the cost of reinstating your registration varies depending on how long your insurance had lapsed. If it was within 30 days, the fee is $250. Between 31 and 90 days, it is $500. Between 91 and 180 days, the cost is $750… and if you fail to cover your vehicle within that 180-day window, the cost is $1,250.
The price continues to escalate for second offenses, and by your third offense you will be required to file a SR-22 and have your license suspended for a minimum of 30 days.
SR-22 Requirements
Nevada drivers who have infractions such as DUIs on their records, or who have been caught driving without insurance, will need to file an SR-22. This indicates proof of financial responsibility and mandates that the minimum coverage is carried on your car. This is to be carried on your record for three years, and any lapse in renewal will start the three-year cycle over again.
State of Nevada Traffic Safety Laws
Distracted Driving Laws
More and more accidents are being caused by inattentive drivers using their phones. In order to protect drivers, Nevada has a statewide ban against using handheld devices for making or receiving calls, or texting while driving.
Implied Consent Law
Nevada's Implied Consent law requires that any driver submit to testing to determine the alcohol or drug content of their blood, breath, or urine when arrested by law enforcement for suspicion of driving under the influence (DUI) of alcohol or drugs.
Refuse the test and the arresting officer may direct that reasonable force be used to the extent necessary to obtain samples of blood from the person to be tested.
DUI Law and Penalties
If you drive or operate a motor vehicle in the State of Nevada with a Blood Alcohol Content (BAC) of 0.08% or higher, you are guilty of Driving While Under the Influence (DUI).
The penalties for a first offense DUI conviction are:
Between 2 days and 6 months in jail
A fine of $400 to $1,000
90-day driver's license suspension
Possible requirement of an ignition interlock device
The penalties for a second offense DUI conviction are:
Between 10 days and 6 months in jail
A fine of $750 to $1,000
1-year driver's license suspension
Possible requirement of an ignition interlock device
The penalties for a third offense DUI conviction are:
Between 1 and 6 years in jail
A fine of $2,000 to $5,000
3-year driver's license suspension
Required installation of an ignition interlock device
Senior Drivers in Nevada
Every driver in the state is required by law to renew their driver's license every 4 years, which can be done through the mail. If you are over the age of 70, your mail renewal must include a medical report for assessment as well.
Car Insurance Risk in Nevada
Vehicle Thefts in Nevada
In 2014, 10,185 vehicles were reported stolen in Nevada, a 1.9 percent increase from 9,998 in 2013. With the national average sitting at 216.2 thefts per 100,000 cars, Nevada is high above that average with 358.7 thefts per 100,000 cars on record. Be sure to lock your doors and keep any valuables out of sight so you don't give any passing criminals an incentive to act.
Top 10 Most Stolen Vehicles in Nevada
Some cars are more prone to theft than others, be sure to check the list below to see if your car is at risk.
Source: National Insurance Crime Bureau - Hot Wheels Report 2014
1994 Honda Accord
1998 Honda Civic
2006 Ford Pick-Up (Full Size)
1999 Chevrolet Pick-Up (Full Size)
2014 Toyota Camry
2005 Dodge Pick-Up (Full Size)
1994 Nissan Sentra
2013 Nissan Altima
1996 Nissan Maxima
2013 Toyota Corolla
Uninsured Drivers
In 2012, it was estimated that 12.2% of all drivers on Nevada roads had no car insurance. This number is nearly equal to the national average of 12.6% and ranks Nevada 23rd in the nation for uninsured motorists.
Nevada Private Passenger Auto Liability Market Share
Source: Nevada Division of Insurance

| Rank | Market Share | Company |
| --- | --- | --- |
| 1 | 9.65%% | Mid Century Insurance |
| 2 | 6.4% | Allstate |
| 3 | 5.81% | Western United Insurance |
| 4 | 5.38% | Progressive Northern |
| 5 | 4.58% | Progressive Direct |
| 6 | 4.4% | GEICO Casualty |
| 7 | 3.26% | American Family |
| 8 | 2.69% | USAA |
| 9 | 2.6% | GEICO General |
Nevada Division of Insurance
Website:
Insurance Commissioner:

Barbara Richardson
Insurance Hotline:

(888) 872 – 3234
Office Hours:

Monday - Friday
8:00 am to 5:00 pm
File a Consumer Insurance Complaint
Sources:
QuoteWizard.com LLC has made every effort to ensure that the information on this site is correct, but we cannot guarantee that it is free of inaccuracies, errors, or omissions. All content and services provided on or through this site are provided "as is" and "as available" for use. QuoteWizard.com LLC makes no representations or warranties of any kind, express or implied, as to the operation of this site or to the information, content, materials, or products included on this site. You expressly agree that your use of this site is at your sole risk.