Get Cheap Car Insurance in Florida
Florida might be the most expensive state in the U.S. when it comes to car insurance, but it is still possible to get cheap auto coverage there. That's especially true if you get it from GEICO, State Farm or Allstate.
For example, a typical Florida driver pays $840 per year for the minimum amount of auto insurance the state requires if they buy it from GEICO, according to QuoteWizard research. And that same driver pays $1,661 per year for full-coverage car insurance, which usually includes liability, collision and comprehensive protection, from GEICO.
Compare that to what most Floridians spend on auto insurance each year. Our data shows that the average driver in the Sunshine State pays $1,344 annually for state-minimum coverage and $2,371 annually for full coverage.
Keep reading to learn where else you can find cheap auto insurance in Florida. You'll also find information on:
Who has the cheapest car insurance in Florida?
Based on rate data we gathered for a standard driver, GEICO offers the cheapest car insurance in Florida for state-minimum coverage, with an $840 average annual premium. GEICO also offers the best car insurance rates in the state for full coverage, according to our research, with a $1,661 average annual premium.
GEICO isn't the only company that offers Florida drivers cheap car insurance, though. Our research found that both Allstate and State Farm offer car insurance rates that are more affordable than the state average.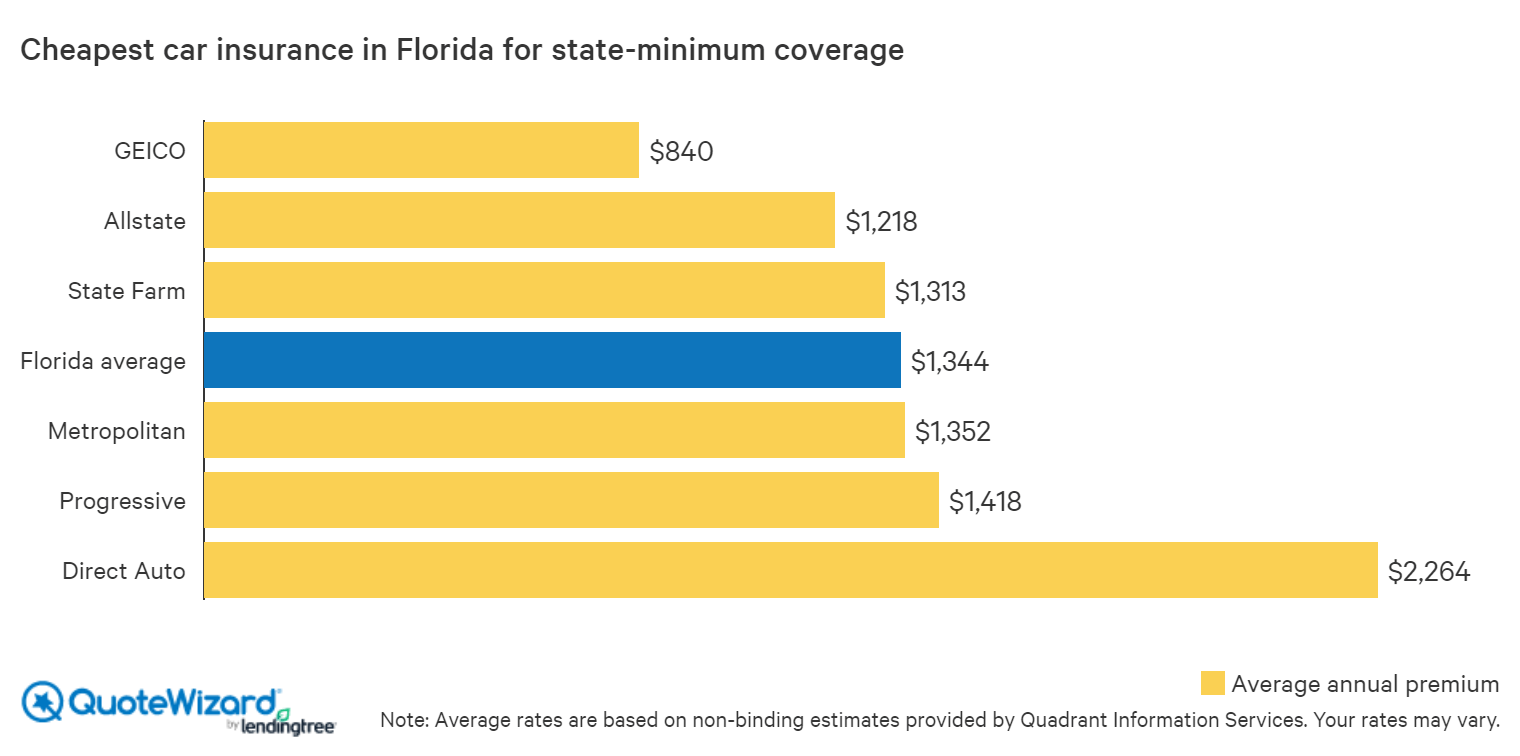 The rate Allstate offered our sample driver for state-minimum coverage was $1,218 per year, for instance. State Farm's quote was just a few dollars higher, at $1,313 per year.
The quote State Farm sent to our sample driver for full-coverage auto insurance was comparable to GEICO's, too, at $1,982 per year. Progressive followed close behind with an annual rate of $2,293, while Allstate's was $2,356.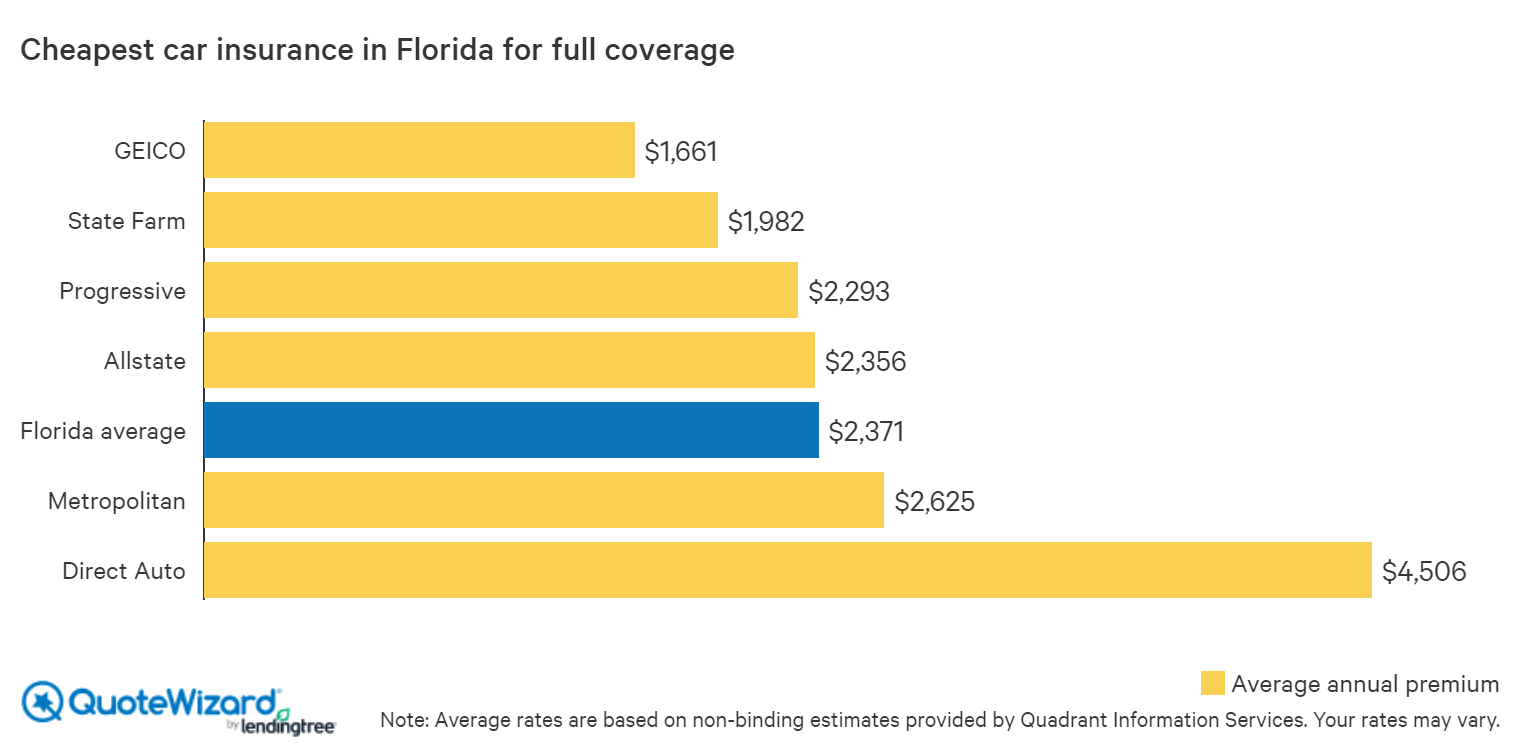 Direct Auto was the most expensive option for Florida drivers in both cases. Its quote of $2,264 per year for state-minimum auto insurance coverage was $846 more than the quote Progressive sent us. And the $4,506 annual quote it sent us for full coverage was $1,881 more than Metropolitan's quote for the same policy.
Keep in mind that what you pay for car insurance is based on many rate factors, including where you live and the kind of vehicle you drive. Your driving record also impacts the cost of coverage.
What are the best car insurance companies in Florida?
Allstate, GEICO and State Farm stood out as Florida's best car insurance companies in our survey of the state's providers. Here's why.
GEICO: best value
If you live in Florida and you need or want cheap car insurance, get a quote from GEICO while shopping for a policy. The quotes GEICO sent to our sample drivers were lower than any of its competitors both for state-minimum and full-coverage car insurance.
How much cheaper were the rates GEICO sent us? Its quote for state-minimum auto insurance coverage was $378 cheaper than runner-up Allstate's quote. And GEICO's quote for a full-coverage policy was $321 cheaper than runner-up State Farm's quote.
Although this doesn't guarantee GEICO will be the best car insurance company for you, it does suggest you should include GEICO among your options when shopping for auto coverage.
Allstate: runner-up for state-minimum coverage
Florida drivers who only want state-minimum car insurance should also approach Allstate when shopping for coverage. The quote Allstate sent us was the second cheapest of the companies we surveyed for this article, at $102 per month, or $1,218 per year.
You might want to check out Allstate for full-coverage auto insurance, too. The quote it offered our sample driver was $695 more than GEICO's quote, but that was still cheaper than the state average.
State Farm: runner-up for full coverage
Drivers looking for the cheapest full-coverage car insurance in Florida should get a quote from State Farm as well as Allstate and GEICO. The annual rate State Farm quoted us for a full-coverage policy was only $321 more than GEICO's, at $1,982 per year. Also, that's $389 per year less than what we found to be the state average for this kind of coverage.
State Farm may be a good option for drivers who want the minimum car insurance Florida requires, too. Of the providers we surveyed, it offered the third-cheapest rates for state-minimum coverage, at $1,313 per year, or $109 per month. That's $473 per year, or about $39 per month, more than what GEICO offered.
Direct Auto: best for high-risk drivers
There's no getting around the fact that Direct Auto was the most expensive of the companies we gathered rates from for this article. Still, you might want to get a quote from them if you're a high-risk driver with multiple accidents or tickets on your record.
Why? Some companies won't sell car insurance to high-risk drivers. Direct Auto isn't one of them. In fact, Direct Auto is known for catering to people with bad driving records.
Just know that high-risk drivers often pay more for car insurance than people with clean records. So, don't expect the rate quote Direct Auto sends you to compare with, say, GEICO's if you have several tickets or accidents on your record.
What are the most popular car insurance companies in Florida?
GEICO is more than the best and cheapest car insurance company in Florida. It's also the most popular car insurance company in the state, according to market share data gathered from S&P Global.
In fact, GEICO writes 28% of Florida's auto policies, making it the largest provider of car insurance in the state. (It is second among the largest car insurance companies in the U.S., however, just behind State Farm.)
Biggest car insurance companies in Florida
Company
Florida market share
GEICO
28%
Progressive
18%
State Farm
14%
Allstate
9%
USAA
7%
Liberty Mutual
4%
Source: S&P Global
Florida drivers seem to like our runners-up for best and cheapest auto insurance, too. State Farm is the third-largest auto insurer in Florida, owning 14% of the market, while Allstate is in fourth, with 9%.
Though its rates struggled to compare with those of GEICO, State Farm and Allstate in our survey, Progressive writes more policies in Florida than two of those companies. Its 18% market share is enough to make it the state's second-largest insurance provider in this area.
What are Florida's car insurance requirements?
To register a vehicle in Florida, you must prove you're carrying the state-minimum amounts of both Personal Injury Protection (PIP) and Property Damage Liability (PDL) car insurance coverage.
That means you need to have at least $10,000 in PIP coverage and $10,000 in PDL coverage. Also, you need these coverage amounts even if you're not driving the vehicle or if the vehicle is inoperable.
The penalty for failing to meet these requirements? The state may suspend your driver's license and registration for up to three years. You might have to pay a reinstatement fee of up to $500, too.
Florida is one of the few states that doesn't require its drivers to carry Bodily Injury Liability (BIL) coverage unless they need SR-22 insurance.
Methodology
We conducted a comprehensive study of car insurance rates in Florida through Quadrant Information Services. The collected quotes were for a single, 35-year-old male. He has an excellent credit score and a clean driving record. He owns a 2012 Honda Accord and drives it an average of 15,000 miles a year. His car insurance policy has 100/300/50 coverage limits and a $1,000 deductible.
QuoteWizard.com LLC has made every effort to ensure that the information on this site is correct, but we cannot guarantee that it is free of inaccuracies, errors, or omissions. All content and services provided on or through this site are provided "as is" and "as available" for use. QuoteWizard.com LLC makes no representations or warranties of any kind, express or implied, as to the operation of this site or to the information, content, materials, or products included on this site. You expressly agree that your use of this site is at your sole risk.