Compare Auto Insurance in Wyoming
Wyoming is known as the Cowboy State. The handy insurance information that QuoteWizard has compiled about Wyoming from industry and regulatory sources will make you yell "Yee-haw!"
This page will show you which types of coverage are legally required in Wyoming, provide information about the cost of driving including average rates, and share some insights about insurance risk to help you protect yourself and your family.
Average Wyoming Car Insurance Rates
How much is car insurance in Wyoming? Average premiums here are well below the national average. Prices may vary depending on your limits, urban conditions, coverage, and zip code.
On average, the cost of auto insurance in Wyoming is $656.64 a year. The national average price is $889.01.
Wyoming Average Annual Car Insurance Rates
Coverage
Rates
Liability
$321.04
Collision
$278.83
Comprehensive
$247.57
Total Annual Cost
$656.64
Price Per Month
$54.72
Source: Facts + Statistics: Auto insurance
The graph below shows the change in average Wyoming rates from 2011 to 2015, the most recent year the data is available. According to the III, Wyoming car insurance rates increased from $619 in 2011 to $656 in 2015, a jump of $36 dollars, or 5.93 percent.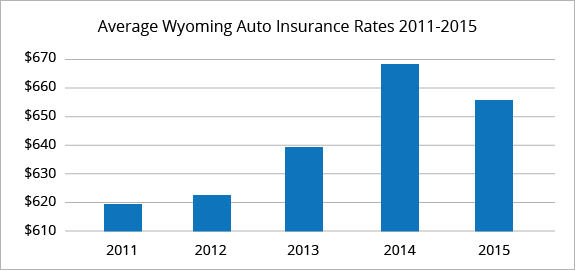 If you want car insurance in Wyoming that offers reliable coverage at an affordable price, you have to shop around. To do this, you have to compare quotes from multiple insurance companies. But that can be a hassle if you do it on your own. Thankfully, QuoteWizard makes it a lot easier.
We'll help you by introducing you to a number of top insurance companies. Then you can compare rates and decide which coverage options are the best for your situation. That means less legwork and, better yet, lower costs.
Last year, 4,822 people used QuoteWizard to compare car insurance quotes in Wyoming from multiple companies to lower their rates.
Best Car Insurance Companies in Wyoming
This is our list of the most common car insurance companies reported by QuoteWizard users living in the state of Wyoming last year. Out of the 4,822 Wyoming drivers that used QuoteWizard to request insurance quotes last year, 486 had no car insurance.
Top 10 Vehicles
These are the most common vehicles owned by Wyoming drivers requesting car insurance quotes through QuoteWizard in the past year.
Ford F150
Ford F250 Super Duty
Chevrolet Silverado
Dodge RAM
Chevrolet Blazer
Ford Ranger
GMC Sierra
Jeep Grand Cherokee Laredo
Ford Taurus
Dodge Durango
Wyoming State Auto Insurance Laws
Minimum Car Insurance Requirements in Wyoming
Legally, almost all drivers in the US are required to carry a minimum level of car insurance. The amount of required coverage varies from state to state. In Wyoming, drivers need to follow what is known as the 25/50/20 rule when it comes to their insurance policies.
This means that any policy must include at least the following:
$25,000 of coverage for bodily injury liability per person
$50,000 of coverage for bodily injury liability per incident
$20,000 of coverage for property damage liability per incident
Remember, you can purchase more inclusive plans that offer more coverage, but if you want the bare minimum required to keep you legal on the road, make sure your policy has the above coverage.
Uninsured/Underinsured Motorist Coverage
Wyoming also requires its residents to carry uninsured motorist coverage. This additional mandatory coverage protects you and your passengers from injuries sustained in crashes involving:
Drivers without insurance
Drivers with too little insurance
Hit and run accidents
Uninsured Motorist Minimum Requirements
Wyoming requires residents to maintain uninsured motorist coverage levels equal to the minimum liability requirements:
$25,000 of coverage for bodily injury liability per person
$50,000 of coverage for bodily injury liability per incident
$20,000 of coverage for property damage liability per incident
This coverage only pays for medical expenses related to accidents involving uninsured or underinsured motorists. It will not help you recover losses from property damages.
Wyoming does allow you the option of requesting uninsured motorist coverage levels lower than your liability insurance coverage. Just ask your insurer for a rejection form then sign and return it to them before your policy goes into effect.
Recommended Coverage Levels
Wyoming is number three for deaths due to car crashes in the country. On top of the threat to life and limb, a large amount of auto accidents will raise the auto premiums in the state. Little can be done to reduce this other than paying attention and driving safe.
To protect yourself after a car crash, get collision insurance. Collision insurance helps cover damages to your car after an accident. This is important to have in the event of a crash. Liability insurance only covers the other driver's damages in an accident. If you don't have the proper coverage, you wind up paying your own repair bill.
Speaking of liability insurance, look into upping your coverage limits. If you have a major accident, minimum liability will probably only cover part of it. The rest would be out of your pocket. To keep this from happening, we recommend:
$100,000 Individual Body Injury Liability 
$300,000 Total Bodily Injury Liability 
$100,000 Property Damage Liability
Required Proof of Car Insurance
Any time you drive in Wyoming, you must be prepared to show your car insurance identification card to law enforcement upon request. You'll get this identification card from your car insurance company when you buy a policy.
The card must include all of the following:
Name of the insurance company
Policy number
Effective date of the policy
Expiration date of the policy
Description of the year, make, or model of the insured vehicles, or the name of the insured driver.
Penalties
Operating a vehicle without the required proof of insurance is punishable by a fine of up to $750, and up to six months in jail. You may also have your license and registration suspended until you're able to show proof of insurance.
Wyoming drivers saved up to $383 on their car insurance policies by comparing rates through our simple form.
Ready to see if you're eligible?
Click Here
SR-22 Requirements
Wyoming residents that have had their driver's license suspended due to drunk driving convictions or other violations must provide proof of financial responsibility by filing an SR-22 form. "SR" stands for safety responsibility and it certifies that a driver has the minimum amount of insurance required by state law.
Wyoming law requires that an SR-22 be carried for 36 consecutive months. If a driver fails to renew their policy 15 days before expiration, a letter is sent to the state resulting in suspension of their license. Once renewed, the license will be reinstated, but this can be a time-consuming process.
State of Wyoming Traffic Safety Laws
Distracted Driving Laws
Drivers under the age of 18 may not use cell phones at any time while driving.  Adult drivers with full driving privileges are banned from sending or receiving text messages while driving in Wyoming.
Implied Consent Law
Wyoming's Implied Consent law requires that any driver submit to testing to determine the alcohol or drug content of their blood, breath, or urine when arrested for suspicion of Driving While Under the Influence (DUI).
Refuse the test and you'll face the following penalties:
First Offense: 6-month driver's license suspension
Second Offense: 18-month driver's license suspensions
Third Offense: 18-month driver's license suspension
DUI & DWAI Law and Penalties
If you drive or operate a motor vehicle in the state of Wyoming with a Blood Alcohol Content (BAC) of 0.08% or higher, you're guilty of Driving While Under the Influence (DUI).
The penalties for a first offense DUI conviction are:
Up to 6 months in jail
Fines of up to $750
License suspended for 90 days
Required installation of an ignition interlock device< if BAC higher than 0.15%
The penalties for a second offense DUI conviction are:
Between 7 days and 6 months in jail
Between $250 and $750 in fines
License suspended for 1 year
Required installation of an ignition interlock device
The penalties for a third offense DUI conviction are:
Between 1 and 6 months in jail
$750 and $3,000 in fines
License suspension 3 years
Required installation of an ignition interlock device
The penalties for a fourth offense DUI conviction are:
Up to 2 years in jail
Fines of up to $10,0000
License suspended varies
Required installation of an ignition interlock device for the rest of your life
Senior Drivers in Wyoming
Wyoming has no special provisions for senior drivers. All drivers are required to renew their driver's license every 4 years.
Seat Belt Laws
Wyoming requires that all passengers in moving vehicles wear seat belts. Children are required to use an approved child safety restraint system as described above. The minimum fine for a first offense is $25 for the driver and $10 per passenger.
Vehicles Registered in Another State
When you drive a vehicle in Wyoming that is required to be registered in another state, you must have the type of insurance required by that state. You must be able to provide proof of this insurance to law enforcement if requested.
Car Insurance Risk in Wyoming
Vehicle Thefts
Wyoming had 603 vehicle thefts reported in 2014, a 4.3% increase compared to 2013. In 2014, the vehicle theft rate was 103.2 per 100,000, an increase of 4.2% over the 2013 rate of 99.1 per 100,000.
The vehicle theft rate in Wyoming is less than half of the overall US vehicle theft rate, which was 216.2 per 100,000 in 2014.
Top 10 Most Stolen Vehicles in Wyoming
Some cars are more prone to theft than others, be sure to check the list below to see if your vehicle is a target on the streets.
Source: National Insurance Crime Bureau - Hot Wheels Report 2014
1995 Ford Pick-Up (Full Size)
2002 Chevrolet Pick-Up (Full Size)
2006 Dodge Pick-Up (Full Size)
1998 GMC Pick-Up (Full Size)
1997 Chevrolet Pick-Up (Small Size)
2004 Dodge Durango
1998 Ford Explorer
2000 Ford Pick-Up (Small Size)
2001 Ford Taurus
1997 Jeep Cherokee/Grand Cherokee
Uninsured Motorists
In 2012 it was estimated that 16.2% of drivers on Wyoming roads had no car insurance. This number is well above the national average of 12.6% and ranks Wyoming 9th in the nation for uninsured motorists.
Wyoming Office of the Insurance Commissioner
Website:
Insurance Commissioner:

Tom Glause
Insurance Hotline:

(800) 438-5768
Hours:

Monday – Friday
8:00 am to 5:00 pm
File a Consumer Insurance Complaint
Website:
Sources:
QuoteWizard.com LLC has made every effort to ensure that the information on this site is correct, but we cannot guarantee that it is free of inaccuracies, errors, or omissions. All content and services provided on or through this site are provided "as is" and "as available" for use. QuoteWizard.com LLC makes no representations or warranties of any kind, express or implied, as to the operation of this site or to the information, content, materials, or products included on this site. You expressly agree that your use of this site is at your sole risk.