Compare Auto Insurance in South Dakota
South Dakota residents, QuoteWizard has compiled some insurance data that can help send your car insurance rates...south.
This page will show you which types of coverage are legally required in South Dakota, provide information about the cost of driving including average rates, and share some insights about insurance risk to help you protect yourself and your family.
Average South Dakota Car Insurance Rates
How much is car insurance in South Dakota? Average insurance premiums in South Dakota are well below the national average. On average, the cost of auto insurance in South Dakota is $615.78 a year. The national average price is $889.01.
Prices may vary depending on your limits, urban conditions, coverage, and zip code.
South Dakota (SD) Average Annual Car Insurance Rates
Coverage
Rates
Liability
$300.22
Collision
$208.58
Comprehensive
$258.11
Total Annual Cost
$615.78
Price Per Month
$51.31
Source: Facts + Statistics: Auto insurance
The graph below shows the change in average South Dakota rates from 2011 to 2015, the most recent year the data is available. According to the III, South Dakota car insurance rates increased from $538 in 2011 to $615 in 2015, a jump of $77 dollars, or 14.35 percent.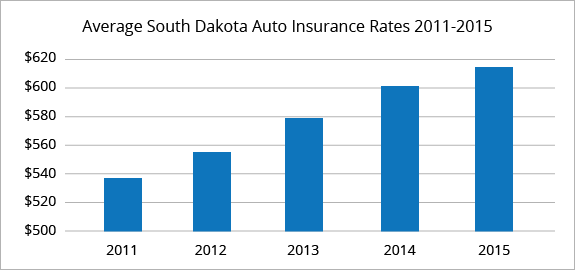 Finding the right car insurance in South Dakota for your needs and budget doesn't have to be stressful. Then again, you want to make sure the company you choose is the right fit, and that means comparing car insurance rates!
Comparing auto quotes can be time-consuming. But with a little help from QuoteWizard, you'll have a policy in no time. We'll connect you with top auto insurance companies so you can find the best coverage at the best price.
Last year, 6,672 people used QuoteWizard to compare auto insurance quotes in South Dakota from multiple companies and find the cheapest rates.
Best Car Insurance Companies in South Dakota
Last year, these were the most common car insurance companies reported by QuoteWizard users living in the state of South Dakota. Out of the 6,672 South Dakota drivers that used QuoteWizard to request insurance quotes last year, 966 had no car insurance.
Top 10 Vehicles
These are the most common vehicles owned by South Dakota drivers requesting car insurance quotes through QuoteWizard in the past year.
Ford F150
Chevrolet Impala LS
Chevrolet Silverado
Chevrolet Blazer
Ford Taurus
Pontiac Grand Prix GT
Ford Explorer
Chevrolet Cavalier
Toyota Camry LE/XLE/SE
Buick LaSabre
South Dakota State Auto Insurance Laws
Minimum Car Insurance Requirements in South Dakota
Legally, nearly all US drivers are required to carry a minimum level of insurance, but those levels vary from state to state. In South Dakota drivers need to follow what is known as the 25/50/25 rule when it comes to their insurance policies.
This means that you must have a policy with at least the following coverage:
$25,000 of coverage for bodily injury liability per person
$50,000 of coverage for bodily injury liability per incident
$25,000 of coverage for property damage liability per incident
$25,000 of uninsured motorist bodily injury coverage per person
$50,000 of uninsured motorist bodily injury coverage per incident
Remember, you can purchase more inclusive plans that cover more, but if you want the bare minimum required to keep you legal on the road, make sure your policy has the above protection plan. And, if you've financed your car through a lender, they'll require that you purchase collision and comprehensive coverage to protect their investment.
Recommended Coverage Levels
While fatal crash rates in South Dakota are relatively low compared to the rest of the country, they're still on the rise in the state. While buckling up and staying aware on the road are common sense, protecting yourself after a crash is important too. Collision coverage helps pay for repairs after an accident.
Collision insurance is but one of the options you should consider to enhance your coverage. Liability insurance only covers damages you cause to the other driver in an accident, leaving the rest up to you. And minimum liability is often not enough. You should increase the limits of your liability coverage beyond the minimum amount. We recommend:
$100,000 Individual Body Injury Liability
$300,000 Total Bodily Injury Liability
$100,000 Property Damage Liability
Required Proof of Car Insurance
Any time you drive in South Dakota, you must be prepared to show your car insurance identification card to law enforcement upon request. You will get this identification card from your car insurance company when you buy a policy. The insurance ID card must include all of the following:
Name of the insurance company
Policy number
Effective date of the policy
Expiration date of the policy
Description of the year, make, or model of the insured vehicles, or the name of the insured driver
Penalties
A conviction for failing to maintain proof of financial responsibility is a Class 2 Misdemeanor punishable by 30 days of imprisonment in a county jail, a $100 fine, or both.
South Dakota drivers saved up to $383 on their car insurance policies by comparing rates through our simple form.
Ready to see if you're eligible?
Click Here
SR-22 Requirements
South Dakota residents that have had their driver's license suspended due to drunk driving convictions or other violations must provide proof of financial responsibility by filing an SR-22 form. "SR" stands for safety responsibility and it certifies that a driver has the minimum amount of insurance required by state law.
State of South Dakota Traffic Safety Laws
Distracted Driving Laws
South Dakota bans novice drivers from using cell phones while driving. All drivers are forbidden to send or receive text messages while driving in South Dakota.
DUI Law and Penalties
If you operate a motor vehicle in South Dakota with a Blood Alcohol Content (BAC) of 0.08% or higher, you are guilty of Driving While Under the Influence (DUI).
The penalties for a first offense DUI conviction are:
Up to 1 year in jail
A fine of $1,000
Driver's license suspended from 30 days to 1 year
The penalties for a second offense DUI conviction are more severe:
Up to 1 year in jail
A fine of $1,000
Driver's license suspended from 180 days to 1 year
After a third DUI conviction the penalties increase to:
Up to 2 years in jail
A fine of $2,000
A driver's license suspension of 1 year
Senior Drivers in South Dakota
All drivers are required to renew their driver's license every 5 years. There are no special restrictions for senior drivers in South Dakota.
Seat Belt Laws
South Dakota requires that everyone age 18 or older sitting in the front seats of a vehicle must wear seat belts. Children are required to use approved child seats as mentioned above.
Vehicles Registered in Another State
When you drive a vehicle in South Dakota that is required to be registered in another state, you must have the type of insurance required by that state. You must be able to provide proof of this insurance to law enforcement upon request.
Car Insurance Risk in South Dakota
Vehicle Thefts
South Dakota had 1,007 vehicle thefts reported in 2014, a 7.6% increase compared to 2013. In 2014, the vehicle theft rate was 118 per 100,000, a 6.6% increase from 2013.
The vehicle theft rate in South Dakota is considerably lower than the overall US vehicle theft rate, which was 216.2 per 100,000 in 2014.
Top 10 Most Stolen Vehicles in South Dakota
Some cars are more prone to theft than others, so be sure to check the list below to see if your car is a target on the streets.
Source: National Insurance Crime Bureau - Hot Wheels Report 2014
1994 Ford Pickup (Full Size)
2000 Chevrolet Pickup (Full Size)
1998 Chevrolet Pickup (Small Size)
2001 Chevrolet Impala
2004 Pontiac Grand Prix
1997 GMC Pickup (Full Size)
2002 Honda Accord
2006 Chevrolet Malibu
2001 Ford Explorer
1995 Jeep Cherokee/Grand Cherokee
Uninsured Motorists
The percentage of South Dakota residents estimated to be driving without insurance is 7.8%. That ranks South Dakota as #42 among US states and the District of Columbia, much better than the national average of 12.6%.
Crash Statistics
The South Dakota Department of Public Safety maintains a website with vehicle crash reports here: Enforcement Accident Records
South Dakota Auto Insurance Company Market Share
Source: South Dakota Department of Labor Regulation

| Rank | Market Share | Company |
| --- | --- | --- |
| 1 | 10.2% | American Family |
| 2 | 9.6% | Progressive Northern |
| 3 | 4.6% | Farmers Mutual Insurance |
| 4 | 4.4% | De Smet Insurance |
| 5 | 3.9% | Mid Century |
| 6 | 3.8% | Farm Bureau |
| 7 | 3.3% | Progressive Direct |
| 8 | 2.8% | Amco Insurance |
| 9 | 2.7% | North Star Mutual Insurance Co. |
South Dakota Division of Insurance
Website:
Insurance Commissioner:

Larry D. Deiter
Insurance Hotline:

(605) 773 – 3563
Office Hours:

Monday - Friday
8:00 am to 4:00 pm
File a Consumer Insurance Complaint
Sources:
QuoteWizard.com LLC has made every effort to ensure that the information on this site is correct, but we cannot guarantee that it is free of inaccuracies, errors, or omissions. All content and services provided on or through this site are provided "as is" and "as available" for use. QuoteWizard.com LLC makes no representations or warranties of any kind, express or implied, as to the operation of this site or to the information, content, materials, or products included on this site. You expressly agree that your use of this site is at your sole risk.