Compare Auto Insurance in Iowa
Iowa is known as the Hawkeye State. Here at QuoteWizard, we've compiled useful insurance information from industry and government sources which Iowans can use to analyze their car insurance policies like a hawk.
This page will show you which types of coverage are legally required in Iowa, inform you about important insurance laws, and provide both information about the cost of driving, and some insights about insurance risk in Iowa, all to help protect you and your family.
Average Iowa Car Insurance Rates
How much is car insurance in Iowa? Drivers here pay less for car insurance than those in every state but Idaho. On average, Iowa drivers pay 32% less for auto insurance than the average American. The average cost of car insurance in Iowa is $599.03 per year. The national average annual cost is $889.01.
Prices will vary depending on your car, driving record, zip code, limits, and the number of claims filed in your neighborhood.
Iowa Average Annual Car Insurance Rates
Coverage
Rates
Liability
$299.18
Collision
$219.75
Comprehensive
$183.53
Total Cost Per Year
$599.03
Price Per Month
$49.91
Source: Facts + Statistics: Auto insurance
The graph below shows the change in average Iowa insurance rates from 2011 to 2015, the most recent year the data is available. According to the III, Iowa car insurance rates increased from $551 in 2011 to $599 in 2015, a jump of $47 dollars, or 8.58 percent.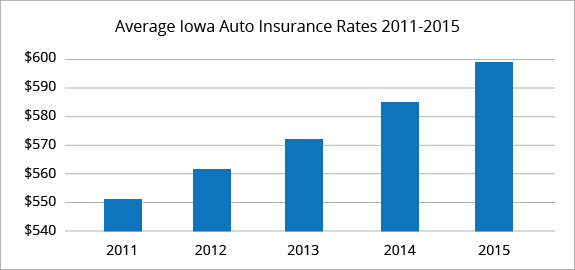 Shopping around and comparing auto insurance quotes is important, but who has the time and energy for it? Well, if you use QuoteWizard, you won't have to worry about time or energy.
That's because QuoteWizard will connect you to multiple companies that serve Iowa drivers so you can compare car insurance rates and get coverage that fits your needs.
Last year, 38,178 people used QuoteWizard to compare car insurance quotes in Iowa from multiple companies to find the lowest rates.
Most Popular Insurance Companies in Iowa
These are the most common auto insurance companies reported by QuoteWizard users last year. Out of 38,178 Iowa drivers who used QuoteWizard to find auto insurance quotes, 6,216 had no insurance.
Which insurance company has the best policy for you? Look at our company compare page and find out. We've put together guidelines for the biggest insurers in the country.
Looking for high-risk auto insurance? If other insurers are not able to provide the coverage you need, contact the Iowa Automobile Insurance Plan (IAIP). The IAIP can help you find the minimum liability insurance you need to drive.
Are you a teen driver or the parent of one? If so, you know just how expensive it is to insure a teen. Our studies have shown that teen drivers can pay an astounding average of $438 a month for coverage. AAA, GEICO, and Progressive are known to have good coverage for Iowa teens at a reasonable price.
Top 10 Vehicles
These are Iowa's most popular vehicles according to QuoteWizard users:
Ford F-150
Chevrolet Impala
Dodge Ram 1500
Chevrolet Equinox LT
Chevrolet Silverado C1500
Ford Focus SE
Ford Fusion SE
Chevrolet Malibu LS
Toyota Camry LE
Ford Taurus SE
Iowa Car Insurance Rate Factors
Iowa has much average rates than other parts of the country. Contributing factors include a low population and the large rural to urban area ratio. When you have fewer people driving on uncluttered roads, the chances of accidents drop considerably.
There are other regional factors that affect all drivers in the area, not just an individual.
Uninsured Drivers
8.7 percent of Iowa drivers are uninsured, giving Iowa the 38th lowest rate of uninsured drivers in the country. This is well below the national average of 13 percent. That's great for Iowa drivers, as a small percentage of uninsured drivers helps keep rates low.
Best and Worst Drivers
Our recent study shows that Iowa ranks 20th for worst drivers in the country. We compiled this ranking by looking at accident, DUI, citation, and speeding ticket data in Iowa for the year. Insurers consider regions with bad driving history to be high-risk.
Iowa's Most Commonly Stolen Vehicles
Some cars are easier than others to steal. And if you drive a commonly stolen car, it'll cost a bit more to insure. Check below and see if your car is one of Kentucky's most stolen vehicles.
Source: National Insurance Crime Bureau- Hot Wheels Report 2017
2005 Chevrolet Pickup (Full Size)
1999 Ford Pickup (Full Size)
1998 Dodge Pickup (Full Size)
2004 Chevrolet Impala
2006 Chevrolet Malibu
1998 Toyota Camry
1995 Honda Accord
1998 Jeep Cherokee
2000 GMC Pickup (Full Size)
2005 Dodge Caravan
Car Insurance Discounts
Insurance companies offer a wide array of specific discounts to help you save money. Here are some specifically for Iowans:
Iowa Car Insurance Laws
Minimum Requirements
Iowa insurance law requires you to carry minimum insurance of:
Bodily Injury Liability Coverage: $20,000 per person, $40,000 per accident
Property Damage Liability Coverage: $15,000
Uninsured Motorist Bodily Injury Coverage: $20,000 per person, $40,000 per accident
Underinsured Motorist Bodily Injury Coverage: $20,000 per person, $40,000 per accident
Recommended Coverage
Auto theft is becoming a problem in parts of Iowa. Car insurance premiums increase alongside theft rates. You can protect your pocketbook in the event of a car theft with comprehensive coverage. It covers you and your car from theft and vandalism, as well as natural disasters.
A minimum liability policy is not going to cover your damages in the event of a crash. You should also explore increasing your liability coverage. The payout limits of a minimum liability plan are easy to exceed, and you'd be left paying the rest. As such, consider upping your liability coverage to:
Individual Body Injury Liability:$100,000
Total Bodily Injury Liability: $300,000
Property Damage Liability: $100,000
Required Proof of Insurance
When driving in Iowa, you must be able to provide proof of insurance coverage upon request from law enforcement. This proof may be in hard copy or digital form.
SR-22 Requirements
If your license in revoked or suspended, Iowa requires you to get a SR-22. The SR-22 is proof of financial responsibility and shows that you can maintain the minimum liability insurance required. Iowa requires you to maintain the SR-22 for two years. If you cancel the SR-22 for any reason, the suspension is reinstated.
Totaled Cars with Salvage or Rebuilt Titles
If your car is damaged in a crash and its repair cost is close to or equal to the car's worth, your insurer will consider it a total loss. Total loss cars get a salvage title. If a salvage car is repaired to being road-legal, it earns a rebuilt title.
States have different criteria regarding totaled cars. In Iowa, total loss is calculated by a percentage (50 percent) of the car's total cash value. If the damage to the car is equal to or more than 50 percent of the car's actual cash value, it is totaled.
Getting insurance for a salvaged or rebuilt car is a tall task. At the very least, you'll face higher premiums. Some insurers will not cover these types of titles.
Iowa Traffic Safety Laws
Distracted Driving
Iowa's distracted driving law prohibits the use of electronic hand-held for texting while driving. Making phone calls is not banned. However, drivers with an instruction permit or an intermediate license can't use electronic hand-held devices at all while driving.
Iowa considers distracted driving a primary traffic offense. This means that you can be pulled over for it. It is a misdemeanor offense that costs and average of $100 in penalties. The state does not consider it a moving violation, so it won't affect your driving record or insurance rates.
OWI Law
If you are caught driving in Iowa with a Blood Alcohol Content (BAC) of 0.08 percent or more, you are guilty of "operating while intoxicated" (OWI). Depending on how many offenses you have on your record, OWI penalties include:
Two days to five years in jail
$625 to $9,375 in fines
Three months to six years license revocation
On top of whatever penalties law enforcement imposes, you will see an increase in your insurance rates. Our study found that drivers pay about $830 more per year for car insurance after an OWI. This assumes you can find an insurer to cover you.
Senior Drivers
Around age 65, drivers are bound to see a raise in auto insurance rates. If you have a clean record, the increase should be minimal. However, as you get older the increases will get higher.
Iowa has some complicated rules regarding senior drivers. The frequency in which you need to go in person to renew your license gets shorter as you get older:
Age 69: renewal every five years
Age 70: renewal every four years
Age 71: renewal every three years
Age 72 and up: renewal every two years
A vision test is required at every renewal period. A written test and/or a road test may be required if deemed necessary.
Cars Registered in Another State
If you're driving a car registered in another state while in Iowa, you're required to have the insurance that the home state requires. You also must be able to show proof of insurance.
Iowa Insurance Division
Website:
Insurance Commissioner:

Doug Ommen
Insurance Hotline:

(515) 281 - 5705
Office Hours:

Monday - Friday
8:00 am to 4:30 pm
File a Consumer Insurance Complaint
Sources:
QuoteWizard.com LLC has made every effort to ensure that the information on this site is correct, but we cannot guarantee that it is free of inaccuracies, errors, or omissions. All content and services provided on or through this site are provided "as is" and "as available" for use. QuoteWizard.com LLC makes no representations or warranties of any kind, express or implied, as to the operation of this site or to the information, content, materials, or products included on this site. You expressly agree that your use of this site is at your sole risk.