Compare Auto Insurance in Maine
Maine's state animal is the moose and you want to be sure that you have adequate insurance coverage if you ever run into one on the road. Here at QuoteWizard, we've compiled useful insurance information you can use to make sure your car insurance rates and coverage are what they should be.
This page will show you which types of coverage are legally required in Maine and inform you about important insurance laws. It also has information about the cost of driving and some insights about insurance risk in Maine.
Average Maine Car Insurance Rates
Congratulations Maine! Car insurance in Maine is far cheaper than it is in most of the country. On average, Maine drivers pay 30% less for auto insurance than the average American. It's not a coincidence that Maine is ranked second for lowest number of uninsured motorists. The average cost of car insurance in Maine is $617.73 per year. The national average price is $889.01.
Prices may vary depending on your car, driving record, zip code, limits, and the number of claims filed in your neighborhood.
Maine (ME) Average Annual Car Insurance Rates
Coverage
Rates
Liability
$338.87
Collision
$259.98
Comprehensive
$104.98
Total Cost Per Year
$617.73
Price Per Month
$51.47
Source: Facts + Statistics: Auto insurance
The graph below shows the change in average Maine rates from 2011 to 2015, the most recent year the data is available. According to the III, Maine car insurance rates increased from $577 in 2011 to $617 in 2015, a jump of $40 dollars, or 6.99 percent.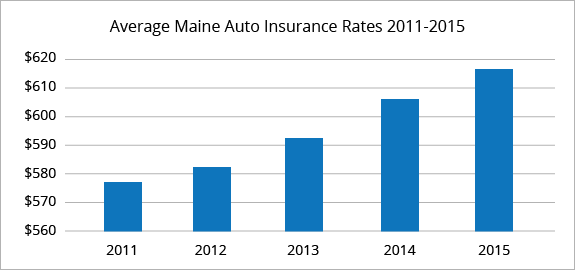 Finding the right car insurance company and policy in Maine just got easier. Say goodbye to countless hours of researching offerings and comparing rates. With QuoteWizard's help, you can do both in a matter of minutes--even seconds.
We'll connect you to a number of top auto insurance companies so you can quickly compare quotes and find the coverage you need for a price you can afford.
Last year, 11,011 people used QuoteWizard to compare quotes from top companies and find the cheapest car insurance in Maine.
Most Common Auto Insurance Companies in Maine
These are the most frequently used auto insurance companies of QuoteWizard users in Louisiana. Of the 22,774 Maine drivers who used QuoteWizard to find auto quotes last year, 2,408 were uninsured.
Need help figuring out which insurance company is best for you? Look at them side-by-side on ourcomparison page . You will find extensive overviews of the biggest auto insurers in the US.
Are you looking for high-risk auto coverage? If voluntary providers don't have what you need, contact the Maine Automobile Insurance Plan (MAIP) . MAIP is there to make sure you have the minimum insurance you need to drive legally in Maine.
Are you a teenage driver or the parent of one? Finding the right auto insurance can be difficult and expensive. Our research shows that teens can pay around $438 a month for coverage. GEICO, AAA, and State Farm are good recommendations for Maine teen drivers.
Top 10 Vehicles
These are the top automobiles owned by QuoteWizard users in Maine:
Ford F150
Ford Focus SE
Dodge Ram 1500
Chevrolet Silverado
Jeep Grand Cherokee Laredo
Toyota RAV4
Toyota Camry LE
Ford Fusion SE
Toyota Prius
Chevrolet Impala
Maine Car Insurance Rate Factors
Maine's average auto coverage is significantly less than in other parts of the country. One of the key reasons for this is their low rate of uninsured drivers. This is one of the factors that goes into calculating your premium, which is based on regional trends rather than personal ones. Others include area driver history and auto theft rates.
Uninsured Drivers
Only 4.5 percent of Maine's drivers are uninsured. This is the lowest percentage of uninsured drivers in the country. Regions with a high number of uninsured drivers normally see insured driver paying for it with higher premiums.
Best and Worst Drivers
As low as Maine's rate of uninsured drivers is, our study shows they come in at number one for worst drivers in the country. This ranking is based on citation, speeding ticket, DUI, and crash statistics in Maine last year. Areas with a history of tickets and accidents tend to be considered high-risk by insurers.
Stolen Vehicles
Maine comes in 47th for auto theft incidents. Some vehicles are more attractive to thieves than others. If your car is one of them, you may see a hike in your premium. Below is a list of the most commonly stolen cars in Maine. Have a look to see if yours is high-risk.
2005 Chevrolet Pickup (Full Size)
2002 Ford Pickup (Full Size)
2004 GMC Pickup (Full Size)
2014 Jeep Cherokee
2005 Toyota Corolla
2007 Subaru Legacy
2012 Chevrolet Impala
2003 Dodge Pickup (Full Size)
2003 Ford Focus
2013 Hyundai Elantra
Car Insurance Discounts in Maine
Insurers tend to offer incentives in the form of discounts for their policyholders. Here are some that may be of interest to Maine drivers:
Maine drivers saved up to $383 on their car insurance policies by comparing rates through our simple form.
Ready to see if you're eligible?
Click Here
Car Insurance Laws
Car Insurance Requirements in Maine
Maine law requires that you have minimum car insurance of 50/100/25. What this means is that any coverage you purchase must at least have:
Individual Bodily Injury Liability: $50,000
Total Bodily Injury Liability: $100,000
Property Damage Liability: $25,000
Recommended Coverage
We advise increasing your liability coverage. If you cause a serious car crash, minimum liability may only cover a fraction of the damages. In order to avoid being in a bind, we recommend:
Individual Bodily Injury Liability: $100,000
Total Bodily Injury Liability: $300,000
Property Damage Liability: $100,000
Required Proof of Insurance
Maine state law requires that you be able to provide proof of car insurance upon request from law enforcement. You can provide this information in either physical or electronic format. Failure to provide proof of insurance can result in a fine between $100 and $500. If you can show proof of insurance or financial responsibility was in place at the time of the infraction, the court may dismiss it.
SR-22 Requirements
If your license is suspended in Maine, you may be required to file an SR-22 form. An SR-22 certifies that a driver maintains the fiscal responsibility to meet minimum liability requirements. State law requires the SR-22 to be maintained for a minimum of three years. Further infractions may result in further penalties. An SR-22 usually results in higher auto premiums.
Totaled Cars with Salvage or Rebuilt Titles
If your vehicle is damaged in an accident and the cost to repair it is more than what the car is worth, it is considered totaled. Total loss vehicles get a salvage title. If the vehicle is repaired, it gets a rebuilt title.
Each state has different criteria in regard to totaled cars. In Maine, the threshold for totaled cars is based on a Total Loss Formula (TLF). If the cost of repairs plus the salvage value equals or exceeds the actual cash value of the car, it is totaled.
Finding insurance for a rebuilt or salvage title vehicle in Maine can be a difficult process. The best-case scenario is that you'll have high premiums. Some insurers won't even touch these titles.
Medical Payments Coverage
Maine requires drivers to carry $2,000 medical payment coverage as part of their policy. This coverage takes care of medical expenses for you, passengers, or anyone else driving your car.
Maine Traffic Safety Laws
Distracted Driving
Maine has stringent distracted driving laws to reduce accidents. Drivers with learning permits or intermediate licenses are prohibited from using cell phones while driving. Minor drivers under the age of 18 may not use communication devices of any sort. Texting while driving is forbidden for all Maine drivers. Infraction of any of these is a moving violation and a primary offense. That means that you can be pulled over for any of these as the sole reason.
OUI Law
If you are found driving with a Blood Alcohol Content (BAC) of 0.08 percent, you are guilty of Operating Under the Influence (OUI). Depending on how many OUI offenses are on your record, penalties include:
A fine of $500 to $2,500
Jail time of two days to six months and 20 days
License suspension of 150 days to eight years
Regardless of the legal penalties you accrue, your insurance rates will definitely go up. Our study shows that you can pay $830 more a year for auto insurance after a DUI—assuming you are able to find insurance.
Senior Drivers
When you turn 65, you will probably see your rates go up. If you have a clean driving record, the initial increase should be minimal. However, as you get older, the increase will become greater.
In Maine, drivers 65 years and older must renew their license every four years. Senior drivers 62 and older must also pass a vision test at every renewal period.
Cars Registered in Other States
If you're driving in Maine with a car registered in another state, it must have the insurance coveragerequired by the home state. You are also required to have proof of insurance.
Maine Bureau of Insurance
Website:
Insurance Commissioner:

Eric Cioppa
Insurance Hotline:

(800) 300 – 5000
Office Hours:

Monday - Friday
8:00 am to 5:00 pm
File a Consumer Insurance Complaint
QuoteWizard.com LLC has made every effort to ensure that the information on this site is correct, but we cannot guarantee that it is free of inaccuracies, errors, or omissions. All content and services provided on or through this site are provided "as is" and "as available" for use. QuoteWizard.com LLC makes no representations or warranties of any kind, express or implied, as to the operation of this site or to the information, content, materials, or products included on this site. You expressly agree that your use of this site is at your sole risk.