Compare Auto Insurance in North Dakota
A little snow doesn't slow North Dakota down. Armed with a shovel, snow tires and determination, North Dakotans still get where they need to go in winter. But knowing how to handle yourself in winter weather is a different skill than knowing how to handle your car insurance.
We've got all the information here for North Dakota drivers. For instance, did you know that North Dakota is one of the most affordable states in the US when it comes to car insurance? Whether it's questions about your coverage or car, we've got you covered.
Average North Dakota Car Insurance Rates
How much is car insurance in North Dakota? Residents should be pleased to learn that for many drivers, average car insurance rates here are much, much lower than the national average. The average cost of auto insurance in North Dakota is $637.54 year. The national average price is $889.01.
Prices will vary depending on your zip code, local crime, and the number of claims filed.
North Dakota (ND) Average Annual Car Insurance Rates
Coverage
Rates
Liability
$298.18
Collision
$244.09
Comprehensive
$231.04
Total Cost Per Year
$637.54
Price Per Month
$53.12
Source: Facts + Statistics: Auto insurance
The graph below shows the change in average North Dakota rates from 2011 to 2015, the most recent year the data is available. According to the III, North Dakota car insurance rates increased from $549 in 2011 to $637 in 2015, a jump of $87 dollars, or 15.97 percent.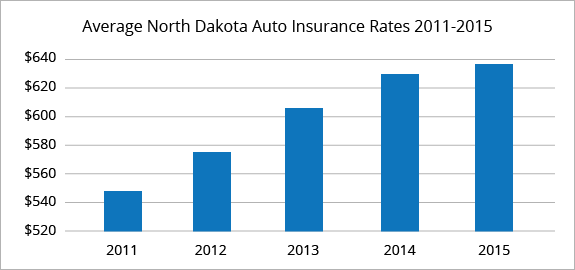 Buying car insurance in North Dakota should be easy. Unfortunately, it can be the opposite when you shop for it on your own.
Instead of spending hours researching insurers by yourself, let QuoteWizard lend a helping hand. We'll connect you to the top car insurance companies in the country so you can compare rates. In the end, you'll not only save time, but also money.
Last year, 5,376 people used QuoteWizard to compare auto insurance quotes in North Dakota from multiple companies and find the cheapest rates.
Best Car Insurance Companies in North Dakota
Last year, these were the most common car insurance companies reported by QuoteWizard users in North Dakota. Out of the 5,376 North Dakota drivers that used QuoteWizard to request insurance quotes last year, 633 had no car insurance.
Top 10 Vehicles
These are the most common vehicles owned by North Dakota drivers requesting car insurance quotes through QuoteWizard in the past year.
Ford F150
Chevrolet Silverado
Chevrolet Blazer
Dodge RAM
Ford Taurus
Ford Explorer
Chevrolet Impala
Pontiac Grand AM SE
Jeep Grand Cherokee Laredo
GMC Sierra
Buick LaSabre
North Dakota Car Insurance Laws
Minimum Car Insurance Requirements in North Dakota
Legally, all North Dakota drivers are required to maintain a minimum amount of coverage for each vehicle registered under their name. Different carriers have different rates as well as additional coverage options, but all policies must follow the 25/50/25 rule.
That means that all car insurance policies in North Dakota must contain the following:
$25,000 of bodily injury or death of an individual in any single accident
$50,000 of bodily injury or death of all individuals in any single accident
$25,000 of injury to or destruction of property of others in any single accident
North Dakota is one of the 12 US states that have a no-fault insurance system. In no-fault states, accident victims can collect benefits from their own insurance companies, regardless of whether the other party is insured. Liability coverage is meant to help pay for other peoples' medical and repair bills if you're found at fault in a car accident. Personal Injury Protection (PIP) coverage is intended to pay for your medical expenses after an accident, regardless of who was at fault. The minimum amount of (PIP) coverage required by the state of North Dakota is $30,000.
Remember you can purchase more inclusive plans that cover more, but if you want the bare minimum required to keep you legal on the road, make sure your policy has the above coverage. And, if you've financed your car through a lender, they'll typically require that you purchase collision and comprehensive coverage to protect their investment.
Recommended Coverage Levels
ND is a sparsely populated state, meaning residents have to drive long distances. On top of that, the state sees plenty of snowfall every year. Combine those two factors, and you have people driving in dangerous conditions. If you're one of these drivers, add comprehensive coverage to your policy. It will pay for your damages after a single car crash due to snow.
It may be tempting to only stick with your minimum liability coverage. One severe accident is all it takes to prove otherwise. Liability insurance only covers the other driver involved in a crash and does nothing for your damages. Also, a major accident can easily exceed minimum coverage amounts, leaving you to pay the rest. The avoid this, we recommend raising your liability insurance levels to:
$100,000 Individual Body Injury Liability
$300,000 Total Bodily Injury Liability
$100,000 Property Damage Liability
Required Proof of Car Insurance
Be sure to have proof of your insurance policy on hand at all times while driving. All North Dakota drivers are required by law to be able to provide proof of insurance, whether on paper or electronically, at any request by an officer of the law.
The following information should be included.
Name of the insurance company
Policy number
Effective date of the policy
Expiration date of the policy
Description of the year, make, or model of the insured vehicles, or the name of the insured driver
Failure to provide the above information upon request will result in being issued a citation and further action may be taken.
Penalties
It's in your best interest to always have valid proof of insurance on you at all times while driving in North Dakota. If you fail to provide satisfactory proof of insurance, even if you are actually insured, you are issued a ticket that gives you up to 20 days to provide that documentation.
For drivers that don't have insurance, it is classified as a class B misdemeanor and will result in a court appearance. If it was issued at a traffic stop, you are given a warning, and if you receive two warnings in an 18-month window then your license is suspended until a $50 reinstatement fee is paid. Your license will also be marked which will cost an additional $50, and it will take another $50 to remove the mark from your license.
If you are involved in a crash while uninsured your license will be suspended and requires the above payments to reinstate your license. More importantly you will be required to carry a certificate of insurance for 3 years as well as file an SR-22 for 1 year after the incident.
Finally, if you are caught without insurance in the case of a criminal act (like a DUI), it will result in a fine up to $1,000 as well as potential imprisonment up to 30 days, depending on the circumstances.
North Dakota drivers saved up to $383 on their car insurance policies by comparing rates through our simple form.
Ready to see if you're eligible?
Click Here
SR-22 Requirements
North Dakota drivers who have had their licenses revoked for driving under the influence or driving without insurance will be required to file an SR-22 to provide proof of financial responsibility. You request the SR-22 through a state-authorized insurance agency, and are required to carry it on your record for 12 months.
There is an alternative for North Dakota drivers not wishing to file an SR-22, as well. Any motorist can deposit $25,000 in cash or securities to the State Treasurer in place of an SR-22, and can file a surety bond or real estate bond approved by a court of record.
State of North Dakota Traffic Safety Laws
Distracted Driving Laws
With more accidents than ever being caused by drivers using their phone while behind the wheel, the state of North Dakota has enacted a number of laws to help prevent these types of accidents. While operating a motor vehicle, all drivers are banned from any type of texting while on the road. Any driver under the age of 18 also must refrain from talking or making calls on a phone or handheld device as well.
Implied Consent Law
North Dakota's Implied Consent law requires that any driver submit to testing to determine the alcohol or drug content of their blood, breath, or urine when arrested by law enforcement for suspicion of driving while under the influence (DUI) of drugs or alcohol. Refuse the test and you'll face the following penalties as well as those for a DUI:
First Offense: 1-year driver's license revocation
Second Offense: 3-year driver's license revocation if you refused the test within the previous 5 years
Third Offense: 4-year driver's license revocation if you refused the test twice within the previous 5 years
DUI Law and Penalties
If you drive or operate a motor vehicle in North Dakota with a Blood Alcohol Content (BAC) of 0.08% or higher, you are guilty of Driving While Under the Influence (DUI).
The penalties for a first offense DUI conviction are:
Class B misdemeanor
$500 fine if BAC was below .16%
Two-day imprisonment and $750 fine if .16% or greater
Addiction evaluation
91-day suspension if BAC was below .18%
180-day suspension if BAC was .18% or greater
The penalties for a second offense DUI conviction are more severe:
Class B misdemeanor
Ten-day imprisonment and $1,500 fine
Addiction evaluation
One year in the 24/7 program
365-day suspension if BAC was below .18%
Two-year suspension if BAC was .18% or greater
After a third DUI conviction the penalties increase to:
Class A misdemeanor
120-day imprisonment and $2,000 fine
Addiction evaluation
One year supervised probation
One year in the 24/7 program
Two-year suspension if BAC was below .18%
Three-year suspension if BAC was .18% or greater
After a fourth DUI conviction the penalties are raised to:
Class C felony
One year and one-day imprisonment and $2,000 fine
Addiction evaluation
Two years supervised probation
Two years in the 24/7 program
A first offense DUI with a minor in the vehicle is punishable by up to one year in jail and/or a $2,000 fine. If you have a previous conviction for this violation, it's a Class C Felony.
Senior Drivers in North Dakota
For drivers in North Dakota, the standard renewal cycle is every 6 years, but any driver over the age of 78 must renew their license every 4 years.
Seat Belt Laws
As previously mentioned, any passenger under the age of 18 is required to be properly restrained by a seat belt or child safety seat depending on their age. Additionally, any vehicle occupant in a front seat, regardless of age, is required to wear a seat belt as well. Failure to comply with this law will result in a $20 fine.
Vehicles Registered in Another State
Until your car is registered in the state of North Dakota, you must carry the required minimum levels of insurance designated by your state of origin.
Car Insurance Risk in North Dakota
Vehicle Thefts
In North Dakota, over 1,000 cars are stolen each year, with 1,514 thefts recorded in North Dakota 2014.
However, the national average rate of car theft is 216 thefts per 100,000 people. North Dakota's vehicle theft rate is only 204.7 thefts per 100,000 people, slightly below the national average.
Top 10 Most Stolen Vehicles in North Dakota
Below is a list of the most frequently stolen cars in the state.
Source: National Insurance Crime Bureau - Hot Wheels Report 2014
1999 Chevrolet Pickup (Full Size)
1997 Ford Pickup (Full Size)
2005 Dodge Pickup (Full Size)
1999 GMC Pickup (Full Size)
1998 Chevrolet Pickup (Small Size)
2006 Chevrolet Impala
1998 Jeep Cherokee/Grand Cherokee
2000 Buick Lesabre
1998 Ford Taurus
2001 Pontiac Grand Prix
Uninsured Motorists
The percentage of North Dakota residents estimated to be driving without insurance is 5.9%. That ranks North Dakota as 47th among US states and the District of Columbia. Only Maine, Massachusetts, New York, and Utah have a lower percentage of uninsured drivers.
North Dakota Auto Insurance Company Market Share
Source: North Dakota Department of Insurance

| Rank | Market Share | Company |
| --- | --- | --- |
| 1 | 10% | Progressive Northwestern |
| 2 | 8.8% | National Farmers Union |
| 3 | 8.6% | American Family Mutual |
| 4 | 7.8% | Nodak Mutual |
| 5 | 5.3% | Progressive Direct |
| 6 | 4.2% | Center Mutual |
| 7 | 2.7% | Mid Century Insurance |
| 8 | 2.4% | Allstate |
| 9 | 2.3% | Owners Insurance |
North Dakota Insurance Department
Website:
Insurance Commissioner:

Jon Godfread
Insurance Hotline:

(800) 247 – 0560
Office Hours:

Monday - Friday
8:00 am to 5:00 pm
File a Consumer Insurance Complaint
Sources:
QuoteWizard.com LLC has made every effort to ensure that the information on this site is correct, but we cannot guarantee that it is free of inaccuracies, errors, or omissions. All content and services provided on or through this site are provided "as is" and "as available" for use. QuoteWizard.com LLC makes no representations or warranties of any kind, express or implied, as to the operation of this site or to the information, content, materials, or products included on this site. You expressly agree that your use of this site is at your sole risk.