Compare Auto Insurance in Alabama
Here at QuoteWizard, we've compiled useful insurance information from industry and governmental sources you can use to have the lowest car insurance rates between Mobile and Huntsville.
This page will show you which types of coverage are legally required in Alabama. It also provides information about the cost of driving including average rates, and insights about insurance risk in Alabama.
Average Alabama Car Insurance Rates
How much does car insurance cost in Alabama? Depending on where you live, many Alabama drivers pay far less for car insurance than the national average. On average, auto insurance in Alabama costs $722.89 a year. The national average price is $889.01.
Prices may vary depending on your driving record, zip code and the total number of claims filed.
Alabama Average Annual Car Insurance Rates
Coverage
Rates
Liability
$394.21
Collision
$317.96
Comprehensive
$156.31
Total Cost Per Year
$722.89
Price Per Month
$60.24
Source: Facts + Statistics: Auto insurance
The graph below shows the change in average Alabama insurance rates from 2011 to 2015, the most recent year the data is available. According to the III, Alabama car insurance rates increased from $653 in 2011 to $722 in 2015, a jump of $69 dollars, or 10.56 percent.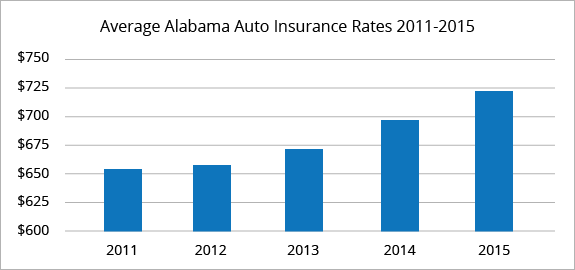 Finding the right car insurance in Alabama for your needs and budget doesn't have to be stressful. Then again, you want to make sure the company you choose is the right fit, and that means comparing car insurance rates!
Comparing auto quotes can be time-consuming. With a little help from QuoteWizard, you'll have a policy in no time. We'll connect you with top auto insurance companies so you can find the best coverage at the best price.
Last year, 62,639 people used QuoteWizard to compare auto insurance quotes in Alabama from multiple companies to find the best rates.
Best Car Insurance Companies in Alabama
This is our list of the most common car insurance companies reported by QuoteWizard users living in the state of Alabama last year. Out of the 62,639 Alabama drivers that used QuoteWizard to request insurance quotes last year, 7,980 had no car insurance.
Top 10 Vehicles
This is our list of the 10 most common vehicles owned by Alabama drivers requesting car insurance quotes through QuoteWizard in the past year.
Ford F150
Chevrolet Silverado
Honda Accord EX/LX
Toyota Camry LE/XLE/SE
Ford Mustang
Ford Taurus
Ford Ranger
Chevrolet Impala
Nissan Altima 2.5 S
Chevrolet Tahoe
Alabama Car Insurance Rate Factors
Compared to the rest of the country, auto insurance in Alabama is relatively inexpensive. A lot of the residents live in rural areas. Getting out of the gridlock of city life reduces the chances of an accident a lot. There are other factors that affect insurance premiums in different parts of Alabama, such as number of uninsured drivers and auto theft rates.
Uninsured Drivers
18.4 percent of Alabama drivers are uninsured. This makes Alabama 6th in the nation for most uninsured drivers. High numbers of uninsured drivers will raise the rates for the entire state. Fortunately, Alabama has relatively affordable insurance in spite of the high number of uninsured drivers.
Best and Worst Drivers
A bad driving record can impact your rates. And even if your driving record is clean, living in an area with bad drivers can also raise your rates. Our study on the best and worst driving states in America found that Alabama ranks 28th for worst drivers in the country. Our city study put Birmingham as the 56th worst driving city in the US.
Alabama's Most Commonly Stolen Vehicles
Some makes and models are more attractive to thieves than others. If you drive a type of vehicle that has a high theft rate, your rates can suffer because of it. See if your vehicle is one of Alabama's most commonly stolen cars.
Source: National Insurance Crime Bureau- 2017 Hot Wheels Report
2004 Chevrolet Pickup
2005 Ford Pickup (Full Size)
1996 Honda Accord
2016 Toyota Camry
2006 Nissan Altima
2005Chevrolet Impala
2016 Trailer Trailer
2001 Dodge Pickup (Full Size)
1999 GMC Pickup (Full Size)
2002 Ford Mustang
Discounts
Insurers have different discounts that can reduce your rates. Here are some that may be of particular interest to Alabama drivers:
Alabama Car Insurance Laws
Minimum Car Insurance Requirements in Alabama
Alabama requires you to maintain a minimum coverage level of 25/50/25. This means you must have basic coverage of:
Bodily injury or death per person: $25,000
Bodily injury or death per incident: $50,000
Property damage per incident: $25,000
Recommended Coverage
Alabama has the sixth highest rate of uninsured drivers in the country. More than 18 percent of Alabama drivers have no insurance! This unfortunately affects the insurance rates for all insured drivers in the state. On top of a higher insurance price tag, an accident with an uninsured driver can leave you paying for all your damages. Fortunately, adding uninsured/underinsured coverage will protect you should the need arise.
Full coverage is good for many reasons. Minimum liability covers the expenses of the other driver involved in a crash but doesn't help pay your damages. Better coverage gives better peace of mind. Also, a serious accident can exceed what minimum coverage will pay for. In order to make sure you don't have to pay the difference, we recommend:
Individual Body Injury Liability: $100,000
Total Bodily Injury Liability: $300,000
Property Damage Liability: $100,000
Required Proof of Insurance
Alabama requires drivers to carry proof of insurance with them when driving. A recent law now allows Alabama drivers to show proof of coverage on their cell phone if desired.
Failure to show proof of auto insurance upon request by law enforcement is a misdemeanor with a $500 fine. If you receive a ticket for failure to provide proof, you can have it dismissed if you can prove you had auto coverage in place at the time.
SR-22
Should your license be suspended, Alabama requires you to file an SR-22 afterwards. The SR-22 is proof of financial responsibility and that you have the minimum required insurance. SR-22 requirements often come with higher insurance rates. Depending on circumstances, you are required to maintain the SR-22 for three to five years. If a lapse in the policy occurs, your license is immediately suspended again.
Totaled Cars with Salvage or Rebuilt Title
If your car is damaged in a crash and it would cost more to repair it than it's worth, your insurer will deem it a total loss.  A totaled car will have a salvage title attached to it. Once the car is repaired to road-worthy status, it gets a rebuilt title.
Every state has its own laws for totaled cars. Alabama calculates total loss as a percentage (75 percent) of the vehicle's actual cash value. If the damage to the car exceeds 75 percent of its value, they consider the car totaled.
Getting insurance in Alabama for rebuilt or salvaged cars is difficult. Some insurers will deny coverage altogether. If you can find a policy for a rebuilt or salvaged car, expect a high price tag for it.
Alabama Traffic Safety Laws
Distracted Driving
Distracted driving is becoming more and more common. Alabama has laws on the books prohibiting texting and driving. Law enforcement can issue a primary citation for breaking this law. This means they can pull you over for texting and driving. The penalty for the first infraction is $25.
DWI Law
If you drive in Alabama with a Blood Alcohol Content (BAC) of 0.08 percent or more, you are guilty of Driving While Intoxicated (DWI). The first-time offense penalties are:
Up to one year in jail
Substance abuse evaluation
A fine between $600 and $2,100 plus court costs
License suspension for 90 days. The suspension may be stayed if the offender installs an ignition interlock device (IID) in their car.
On top of all this, your auto insurance rates will increase each time you're convicted of a DWI.  Our data shows that drivers with DWIs will pay an average of $830 more annually for car insurance after a DWI. That is if you can find an insurer who will cover you.
Senior Drivers
Drivers 65 and over often see an increase in their auto insurance rates. The increase is a small one if you have a clean driving record but will go up considerably as you age. Senior drivers in Alabama have to take a vision test and possibly a written test at their time of license renewal.
Cars Registered in Other States
If you drive a car in Alabama registered in another state, you need to meet that state's insurance requirements. You must also be able to provide proof of insurance to police upon their request.
Alabama Department of Insurance
Website:
Insurance Commissioner:

Jim L. Ridling
Phone:

(334) 241-4141
8:00 am-5:00 pm
After Hours:

(334) 240-4431
File a Consumer Insurance Complaint
Sources:
QuoteWizard.com LLC has made every effort to ensure that the information on this site is correct, but we cannot guarantee that it is free of inaccuracies, errors, or omissions. All content and services provided on or through this site are provided "as is" and "as available" for use. QuoteWizard.com LLC makes no representations or warranties of any kind, express or implied, as to the operation of this site or to the information, content, materials, or products included on this site. You expressly agree that your use of this site is at your sole risk.