Car Insurance Rates for Men and Women
Does gender impact your car insurance rates? Historically, women pay less for car insurance than men. But that could be changing...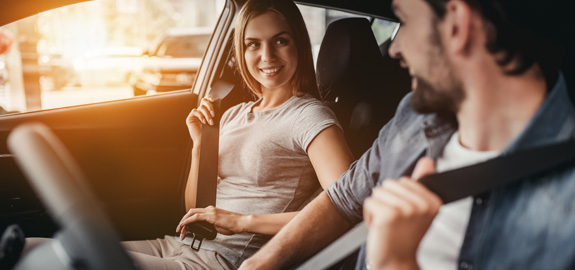 Your insurance company takes several factors into account while pricing your policy. One of those factors is your gender. Women historically pay less than men for car insurance because data shows that they take fewer risks on the road. Men also get into severe and fatal car accidents at a much higher rate.
If you're a guy, don't worry too much. Insurers rely much more on other factors to determine your policy rates. And days could be numbered to use gender when determining insurance rates. Laws are starting to pass in some states that make using gender as a factor to determine prices illegal.
In this Article
Car Insurance for Males vs. Females
Insurers consider a driver's gender (among other things) when calculating auto insurance premiums. On average, women tend to pay less for auto insurance than men. Why? Studies show that women are overall safer on the road. Accident frequency, speeding tickets, and DUIs are all factors that lead to higher insurance prices for men. Because women are less likely to get into an accident (and therefore submit fewer claims than men), insurance companies generally charge them less for auto insurance.
Gender and age interact to determine your auto insurance prices. QuoteWizard commissioned Survata to conduct a survey of 7,500 drivers to determine average insurance rates across genders and for different age groups.
| Age | Average Monthly Premium (Male) | Average Monthly Premium (Female) |
| --- | --- | --- |
| 18 to 24 | $170.04 | $155.36 |
| 25 to 34 | $138.60 | $132.61 |
| 35 to 44 | $134.83 | $145.22 |
| 45 to 54 | $147.05 | $145.59 |
| 55 to 64 | $138.44 | $125.83 |
The difference between prices shifts as drivers age. We found that men ages 18 to 24 pay around $15 more monthly than women the same age. That gap gets smaller as drivers become more experienced with gender playing a smaller role in rates. But the gap jumps again as drivers approach the senior age group.
Gender as a Car Insurance Factor
Gender plays an undeniable role in how much you'll be paying for car insurance. However, there are other factors that influence your rates more than your gender. Your driving history, age, location, and car type all have a bigger impact on your rates than your gender. That's why as drivers age, the prices equalize as a more extensive driving history develops. However, your gender will still influence your rates, especially when you're young.
Car Insurance for Women
Women tend to pay less in auto insurance premiums than men. Women statistically drive less than men, and accident and DUI statistics show that males are riskier on the road than females. That risk calculation is what causes insurers to charge women less for car insurance.
Keep in mind though, if you have a poor driving record your rates will still be high, regardless of your gender. But in general, women can expect to pay less for car insurance.
Young Women
Young drivers have high insurance premiums, no matter their gender. But young women still have cheaper rates than young men. But they do pay more than older men. That's because the less experience you have on the road, the more you'll have to pay for car insurance. On average, women ages 18 to 24 pay $155.36 monthly for car insurance. If you're a young woman and rates are too high, ask your insurer if they offer discounts for defensive driving courses or good grades.
Older Women
Older women pay less for auto insurance than younger female drivers. In fact, they pay less for car insurance than most drivers. The combination of experience on the road and their gender's good reputation behind the wheel means lower insurance rates.
However, there are several other factors that influence a driver's rates. Older women could be paying more than older men because of their driving record and other factors. That's why the gap in gender-based rates significantly decreases as drivers age.
There's some controversy surrounding premiums for older women compared to older men. According to a study by the Consumer Federation of America, most large auto insurers charge 40 and 60-year-old women higher rates than men that same age. This is directly opposed to data that claims that men are riskier behind the wheel. CFA is insisting that state insurance commissioners make insurers explain why they charge middle-aged women more. So, older women may find that they pay more than their male counterparts, but the reason for the higher rates is a mystery.
Car Insurance for Men
Car insurance for men tends to be more expensive than for women. According to the Insurance Institute for Highway Safety, in 2017 there were 26,380 male deaths and 10,697 female deaths caused by crashes. That difference in fatal crashes forces insurance companies to be wary of insuring male drivers, leading to higher prices for men.
Young Men
Young men pay the most for car insurance, based on their gender and their age. The younger you are, the more you'll pay for car insurance. It may feel unfair to people who fall into this category, but data shows that young men are the most likely group to get into car accidents.
A high chance of car accidents translates to a high number of claims, which insurance companies want to avoid. That's why premiums are higher for young men than for young women. According to our data, young men ages 18 to 24 pay an average of $170.04 monthly for car insurance, 9.45 percent more than young women.
Older Men
Older men pay less than younger men but can still have higher rates because of their gender. They tend to pay more than women their age but less than young women, because age outweighs gender for policy pricing. The gap between gendered auto insurance pricing gets smaller with age. Factors like your driving record become more important than your age and gender with time. In fact, we found that men ages 55 to 64 pay and average 10 percent less in monthly premiums than women the same age.
The Disappearance of Gender as a Car Insurance Rate Factor
The practice of using gender as a car insurance rate factor isn't as cut and dry as it seems. There are new laws in place across six US states that prohibit insurance companies from using gender to price policies.
California was the most recent state to make it illegal for insurers to consider gender to determine insurance prices. This is a big step in the movement toward creating policy that is fair for all genders. The logic behind the bill is the fact that gender is out of your control, and some lawmakers believe drivers should be able to influence their rates.
Removing gender as a factor is predicted to equalize auto insurance costs for all drivers – especially younger people. States that ban using gender to set rates include Hawaii, Massachusetts, Montana, North Carolina, Pennsylvania, and California. If you live in one of these states, younger men who typically pay more for car insurance could see a decline in costs. Younger women could see an increase.
How to Save Money on Car Insurance
If you're a man, you may face higher auto insurance rates. Luckily, there are several discounts and other ways to save money on your car insurance. If you are a student, for example, see if your carrier offers good student discounts. This is a great option for people who fall into the "young man" category and face high costs.
Regardless of your gender, driving safely and maintaining a clean driving record is crucial in keeping prices low. That's one of the main factors companies will consider while pricing your policy. If you're still facing high prices, shop around and compare auto insurance quotes from several companies.
FAQ
Q: Who pays the most for car insurance?
A: Historically, men pay more for car insurance than women. That's due to data that shows that men are a higher risk on the road. However, there are other factors that influence your prices much more than your gender. For example, your age has a big effect on your rates. Young people pay significantly more than older people. That's because they have less experience behind the wheel and are a bigger risk. So, if you're a young male, your prices will typically be much higher than an older woman's auto insurance rates, or anyone else's for that matter.
Q: What other factors will insurance companies consider when they determine my rates?
A: Insurance companies will look at several factors to determine your rates—not just your gender. Some key factors include your age, vehicle value and safety ratings, location, driving record, occupation, and even marital status. The most substantial factor is your driving record, which is why it's important to avoid traffic citations and accidents.
QuoteWizard.com LLC has made every effort to ensure that the information on this site is correct, but we cannot guarantee that it is free of inaccuracies, errors, or omissions. All content and services provided on or through this site are provided "as is" and "as available" for use. QuoteWizard.com LLC makes no representations or warranties of any kind, express or implied, as to the operation of this site or to the information, content, materials, or products included on this site. You expressly agree that your use of this site is at your sole risk.