Compare Auto Insurance in Connecticut
Are you a Connecticut driver? Here is everything you need to know to find the best car insurance in the Constitution State.
Average Connecticut Car Insurance Rates
How much is auto insurance in Connecticut? Overall, Connecticut drivers pay more than others in the US. The average cost of auto insurance in Connecticut is $1048.56 yearly. This is a big jump from the national average of $889.01.
Your premium will vary based on your driving record, car type, zip code, and claims.
Connecticut (CT) Average Annual Car Insurance Rates
Coverage
Rates
Liability
$650.94
Collision
$368.51
Comprehensive
$131.62
Total Cost Per Year
$1,048.56
Price Per Month
$87.38
Source: Facts + Statistics: Auto insurance
The graph below shows the change in average Connecticut insurance rates from 2011 to 2015, the most recent year the data is available. According to the III, Connecticut car insurance rates increased from $969 in 2011 to $1,031 in 2015, a jump of $79 dollars, or 8.16 percent.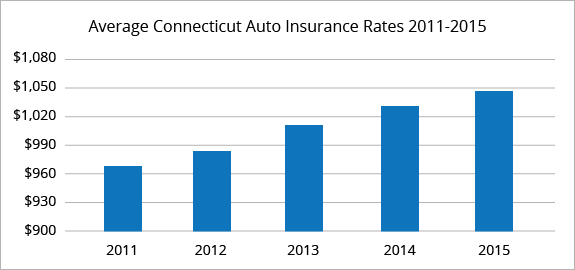 When it comes to buying car insurance in Connecticut, finding a policy that fits your needs and budget can be tough. Comparing companies and rates makes things a lot easier.
With QuoteWizard, you can compare quotes from top car insurance companies and discover which one is best for you. All it takes is a few clicks, and you'll have all the information and help you need!
Last year, 26,989 people used QuoteWizard to compare auto insurance quotes in Connecticut from multiple companies to find the cheapest rates.
Best Car Insurance Companies in Connecticut
Of the 26,989 people from CT that went to QuoteWizard for auto insurance, 2,303 had no current policy. These are the most popular companies amongst Connecticut drivers who used QuoteWizard in the last year.
What insurance company suits your needs best? You can study them side by side on our compare page. We've compiled guidelines for the 30 biggest insurance companies in America. We'll help you compare the top insurers to find the right match for you.
If you're looking for high-risk insurance in Connecticut, you may struggle to find a company to cover you. Check out the Connecticut Motor Vehicle Insurance Plan (CO AIP). This is state-sponsored plan that helps all state residents find legal minimum car insurance.
Are you a teen driver or the parent of one? You're going to want to find the best teen auto insurance possible. After all, insuring a teen is very expensive. Our data shows that an average car insurance policy for a teen costs $438 a month. GEICO, Progressive, and Liberty Mutual are excellent choices for teens who need a policy.
Top 10 Vehicles
These are the most common cars owned by QuoteWizard users in Connecticut:
Honda Accord LX/EX
Honda Civic
Nissan Altima 2.5 S
Toyota Camry LE/XL/SE
Ford F150
Jeep Grand Cherokee Laredo
Honda CR-V EX
Ford Ranger
Nissan Maxima GLE/GXE/SE
Acura MDX
Ford Taurus
Connecticut Car Insurance Rate Factors
The cost of living in Connecticut is higher than many other states. This contributes to the high cost of auto insurance in the state
There are some factors that go into the cost of your premium that affect everyone in your region. These include the number of uninsured drivers, driver history, and the auto theft rate.
Uninsured Drivers
A high percentage of uninsured drivers in a state raises insurance rates for everyone. The III reports that 9.4 percent of CT drivers are uninsured. Fortunately, that's the 15th for fewest number of uninsured drivers in the country.
Best and Worst Drivers
We compiled a study on America's best and worst drivers. Connecticut has the 22nd best drivers in America. Our city study found that Hartford, CT ranks 37th for worst driving cities in the country. Areas that have a trend of bad drivers will see a hike in premium rates.
Stolen Vehicles
Here is a list of the most commonly stolen car in CT. If you drive one of these cars, it may cost more to insure due to the high rate of theft.
Source: National Insurance Crime Bureau- 2017 Hot Wheels Report
1998 Honda Civic
2001 Honda Accord
2015 Nissan Altima
2014 Toyota Camry
1997 Honda CR-V
2004 Nissan Maxima
2015 Jeep Cherokee/Grand Cherokee
2014 Toyota Corolla
2011 Hyundai Sonata
2008 Ford Pickup (Full Size)
Car Insurance Discounts in Connecticut
Insurers offer many unique discounts for policyholders. Here are a few that may be of particular interest for Connecticut drivers:
The average Connecticut household has two cars. If you're one of them, ask your insurance carrier if they have a multi-car
Do you have life, home, or renters insurance? See if you can bundle an auto policy with it. Bundling is easy and allows for you to save money on both policies.
Connecticut is a big Navy state. If you're are active or retired military personnel, you should know that many insurers offer discounts for all branches of the armed services.
48% of the state is married. You and your spouse may qualify for a married couples discount.
If you're pulling good grades at one of Connecticut's universities or colleges, ask your insurer about a Good Student discount.
Connecticut Car Insurance Laws
Minimum Car Insurance Requirements in Connecticut
In Connecticut, drivers are required to carry the minimum auto coverage of 25/50/25. This breaks down to:
Body Injury Liability per person: $25,000
Body Injury Liability per incident: $50,000
Property Damage Liability per incident: $25,000
Uninsured/underinsured per person: $25,000
Uninsured/underinsured per accident: $50,000
Unlike most states, Connecticut requires you to carry uninsured/underinsured coverage. This coverage pays for your damages in the event of an accident involving an uninsured driver.
Recommended Coverage
If you live in a part of Connecticut with a lot of car thefts, you're going to see an increase in your auto insurance rates. The only real way to prevent this increase is to secure your car. Taking reasonable steps to make sure your car is as safe as possible helps everyone. Adding comprehensive coverage is a good move, too, as it covers you in case your car is stolen.
You should also look into coverage options that supplement your minimum liability. While minimum liability helps with the damages to the other driver in a crash, it doesn't cover yours. Also, consider increasing your liability limits. It's very easy for a serious accident to have a larger price tag than what a minimum policy will cover. We recommend:
Individual Body Injury Liability: $100,000
Total Bodily Injury Liability: $300,000
Property Damage Liability: $100,000
Required Proof of Insurance
In Connecticut, you are required to present either an insurance ID card or the declaration page of your policy when asked by law enforcement. Failure to provide either will get you a ticket and a fine of $35 on the first offense. Your second offense carries a fine of $50 and a court date. Heavier penalties can be applied in court.
SR-22
Should you have your license suspended in Connecticut, you will need to file an SR-22 form. An SR-22 proves financial responsibility to maintain CT's minimum liability coverage. You are required to keep the SR-22 for a minimum of three years. If you don't maintain the SR-22 for the required duration, your license may be re-suspended.
Totaled Cars with Salvage or Rebuilt Titles
If your car is damaged in a crash and the repair cost is close to or equal to the car's value, it's marked as a total loss. Total loss vehicles get a salvage title. If it's repaired to road-worthiness, it gets a rebuilt title.
Each state has specific approaches towards totaled cars. Connecticut uses a Total Loss Formula (TLF). Your insurer adds the cost of repairs to the car's scrap value. If this sum equals or exceeds the car's actual cash value, it is considered totaled.
Getting a policy for a rebuilt or salvage title is tough. At best, you'll have a high premium. At worst, you won't be able to get the car insured.
Connecticut Traffic Safety Laws
Distracted Driving
Connecticut prohibits the use of handheld devices for texting or phone calls .hile driving Hands free devices are allowed, unless the driver is under 18. Novice drivers are not permitted to use electronic devices while driving. This infraction is a primary offense, meaning the police can pull you over for this reason alone.
DUI Law
If you drive in Connecticut with a Blood Alcohol content (BAC) of 0.08 percent or more, you're guilty of Driving Under the Influence. Depending on the number of offenses you have, penalties include:
Six months to three years in jail
$500 to $8,000 in fines
45 day to permanent license suspension
On top of the above penalties, you are definitely looking at your auto insurance rates increasing. The increase will occur after your first DUI and then go higher with each DUI thereafter. Our studies show you can expect to pay around $830 more per year for car insurance after a DUI. This assumes you can find an insurer who will cover you.
Senior Drivers
It's probable that your auto insurance will go up around the time you turn 65. If your record is clean, the first increase should be negligible. However, as you get older the increase will continue.
For Connecticut drivers over 65, you are required to renew your driver's license in person at your local DMV. You may also be required to take vision and medical tests.
Cars Registered in Other States
If you're driving a car in Connecticut with registration from another state, it must have coverage required by the home state. You must be able to provide proof of coverage to law enforcement upon request.
Connecticut Insurance Department
Website:
Insurance Commissioner:

Katharine L. Wade
Insurance Hotline:

(800) 203 – 3447
Office Hours:

Monday - Friday
8:00 am to 4:30 pm
File a Consumer Insurance Complaint
Sources:
QuoteWizard.com LLC has made every effort to ensure that the information on this site is correct, but we cannot guarantee that it is free of inaccuracies, errors, or omissions. All content and services provided on or through this site are provided "as is" and "as available" for use. QuoteWizard.com LLC makes no representations or warranties of any kind, express or implied, as to the operation of this site or to the information, content, materials, or products included on this site. You expressly agree that your use of this site is at your sole risk.