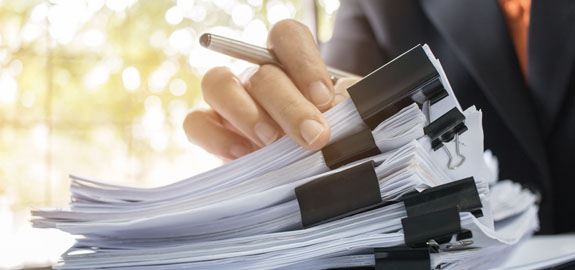 The declaration page of your auto insurance policy is basically a quick-access cheat sheet for finding the key information you need regarding your coverage. It contains the basics of your car insurance coverage, your insurer's contact information and an overview of other details you may need. It's invaluable when you're filing a claim, or if you're looking for a new car or insurance policy. This article will cover:
What is a car insurance declaration page?
The purpose of your car insurance declaration page is to provide a snapshot of your auto insurance policy. It doesn't give in-depth details of your coverage and coverage types. That's what the rest of the policy document is for. The declaration page is designed for when you need to know the basics of your auto insurance policy quickly, such as when filing a claim.
On top of providing you with necessary information about your policy at a glance, your declaration page also acts as proof of insurance. This is necessary when you're looking to buy a new car or are shopping around for a new auto insurance policy.
What does my declaration page contain?
There is no universal format for declaration pages among car insurance companies. How the policy information appears on it may vary from insurer to insurer. The most commonly seen information on a declaration page includes:
Policy number
Despite there being no real uniformity among different insurers' declaration pages, the policy number most often appears at the top of the page. When filing an auto insurance claim, the policy number is usually one of the first bits of information you'll need. In some cases, a renewed policy will have your previous policy number on it. This is useful if you need to access your past insurance history.
Policy effective date
The start date of your auto insurance policy, also known as the effective date, should be prominent on the declaration page. Some insurers include the expiration date of your current auto insurance as well.
Car insurance provider information
The declaration page will have the name of your insurance company along with their phone number, address and any other relevant contact information. If you're dealing with a specific agent, their contact information should be here as well.
Insurance coverage overview and limits
The types of auto insurance coverage your policy provides will be listed on the declaration page. This may include:
Liability
Personal injury protection
Collision
Comprehensive
Underinsured/uninsured coverage
The corresponding limits of each coverage type will be included as well. In some cases, policy exclusions may also be shown here. Any endorsements, such as roadside assistance or rental car reimbursement, may be placed here. If they're not, make sure you're aware of where they're located in the car insurance policy itself.
Premium and deductible amounts
The declaration page will include your current yearly premium. If you're renewing your auto insurance policy, the previous premium may be included as a point of comparison. Your required deductible per claim may be included along with it.
Currently insured vehicles
The vehicles covered under your car insurance policy should have the following information:
Year
Make and model
Vehicle identification number (VIN)
Additional named insured
Any additional named insured drivers on your car insurance policy, most often other family members, will be included on the declaration page. If your auto insurance policy has any excluded drivers, they will probably be noted here.
Lienholders and loss payees
Individuals or companies with a vested interest in the status of your auto insurance coverage will be noted on the declaration page. This most often includes banks from which you received a car loan or companies from which you're leasing the vehicle.
It should be noted that an entity listed on your car insurance policy as a lienholder or loss payee cannot file claims on your behalf. They are just the parties that will be reimbursed in the event that you file a damage claim, or notified if there are any changes to or cancellation of your car insurance.
Discounts
Discounts included in your current car insurance policy are included as well. The amounts of each discount may be included as either percentages or dollar amounts.
Declaration page best practices
When you first get your auto insurance declaration page, read it thoroughly and make sure your car insurance coverage is as you wanted it. If there are any inaccuracies or anything you don't understand, contact your insurer immediately to get it corrected or clarified. It's usually not a big deal to get any errors in your auto insurance policy corrected, but you don't want to wait until you need to file a claim to discover there's an exclusion you didn't want or an incorrect limit. Either problem can result in a claim denial.
Keep your declaration page somewhere safe but easily accessible. If you cannot find it or lose it, contact your insurance provider to request one. Many insurers have websites or apps that make getting and accessing your declaration page easy.
Your declaration page after renewing your auto insurance policy
Upon renewing your auto insurance policy, you will be issued a new declaration page. It will be updated to reflect the new coverage period, as well as any alterations to your coverage, premium, deductible and discount price differences. The premium may show the percentage or dollar amount by which it has changed.
QuoteWizard.com LLC has made every effort to ensure that the information on this site is correct, but we cannot guarantee that it is free of inaccuracies, errors, or omissions. All content and services provided on or through this site are provided "as is" and "as available" for use. QuoteWizard.com LLC makes no representations or warranties of any kind, express or implied, as to the operation of this site or to the information, content, materials, or products included on this site. You expressly agree that your use of this site is at your sole risk.