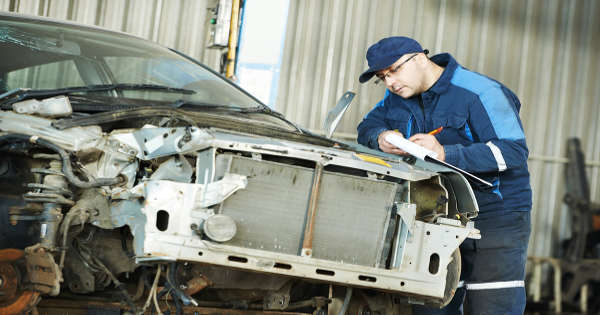 Say you take a trip out to a used car dealership to look for a new car. You find several vehicles that would meet your needs. The only problem? When you look at the paperwork, you find that one of them has a rebuilt title, and the other has a salvage title.
You're concerned, but you're not sure exactly what that means. Should you walk away? Use the status of the title as a bargaining chip? Just pull the trigger? This article is intended to help drivers understand what these title statuses mean, and what the car insurance implications are.
Salvage Title vs. Rebuilt Title
There is a big difference between a salvage and rebuilt title. A salvage title means that the vehicle was totaled. This could be from a natural disaster, vandalism, or a car wreck. A rebuilt title just means the vehicle has been rebuilt.
What is a Salvage Title?
When a car is damaged to the point where it will cost more to fix than what it's worth, it is deemed a total loss, or "totaled," by your insurance company. This will most likely happen if the damage is between 50 to 80 percent of the actual cash value of the vehicle.
Your insurer will probably take possession of your totaled car and sell it to a salvage car lot or someone who will rebuild it. Of course, your insurance provider will pay you for the car. Either they will pay you the actual cash value of the car in its current condition— or they will replace your car with one worth about the same amount.
Wherever the car ends up, it gets registered as having a "salvage" title. This title will let potential buyers know that there has been significant damage done to the car.
Trouble insuring a salvage car? Rebuilt title?
Find low rates with top insurance providers!
Compare now and save!
Click Here to Begin
What is a Rebuilt Title?
If a car with a salvage title gets repaired, its title changes to "rebuilt." In order to obtain this change in status, the car must go through a thorough inspection after it's repaired.
It would be prudent to get a second opinion from a mechanic that you trust before considering purchasing a vehicle with a rebuilt title. When a vehicle is severely damaged, it can be difficult to return it to its previous condition.
Should you buy a car with a salvage title?
Purchasing a Salvage Car
Many people are keen on the idea of purchasing a salvage title car for the sole reason that it's inexpensive. While salvage vehicles are cheap, they typically require a lot of fixing up, which can be costly. It may even push the total vehicle cost above what a comparable non-salvage vehicle would cost.
Buying Salvage Car Insurance
Insuring a salvage car can be tricky. Some insurers will issue you a policy, and others won't. Some may increase your premiums.
The best way to ensure that you're getting the lowest rates is to shopping around and compare car insurance quotes from top insurers.
Repairing a Salvage Car
When purchasing a salvage vehicle, be prepared to put in some money to get it up to snuff. You might want to start by trying to get access to the repair estimate the salvage lot had. Depending on who you are buying the car from, they may or may not have repaired any of the damage yet.
By looking at the estimate, you can get an idea of what type of damage needs repairing, before you fully commit to purchasing the car.
The bottom line is that you will be purchasing a salvaged car—repairing it—and getting it a rebuilt title. Depending on your state, you may or may not be able to actually drive a salvaged car on the road. Check with your state insurance commissioner for further information.
Should you buy a car with a rebuilt title?
Purchasing a car with a rebuilt title
Buying a car with a rebuilt title means that the damage sustained by the vehicle has been repaired. Vehicles must pass a thorough inspection before their title may be changed. However, no inspection is foolproof. You should consider getting a second opinion to ensure the vehicle was rebuilt properly.
The plus side of purchasing a car with a rebuilt title is that it will be much cheaper than a used car that doesn't have a record of being totaled in the past.
An important thing to note is that if you ever decide to sell your rebuilt-titled car is that it is more difficult than selling a regular used car. Just keep that in mind when determining whether to purchase a rebuilt-titled car or a regular used car.
Buying Auto Insurance for Cars With a Rebuilt Title
Just like insuring a salvage vehicle, a a vehicle with a rebuilt title comes with similar insurance implications. You will most likely be able to purchase liability and collision coverage without a hassle. However, it might be more difficult to obtain full insurance coverage. The reason is that it's difficult to know how much a car with a rebuilt title is worth.
Since every state except New Hampshire requires drivers to have liability insurance at the bare minimum, this can make your new ride unusable.
If you are having trouble finding the coverage for your rebuilt vehicle, don't give up. Shop around and compare rebuilt title insurance quotes from multiple companies. This is the best way to find an insurance company willing to insure rebuilt vehicles at the lowest rate.
Precautions to Take
Purchasing a salvage or rebuilt car can be a big responsibility. It is important to make sure you are taking all the necessary precautions, before purchasing the car. For example, if you are purchasing a car with a rebuilt title, you want to check up on how it came to be salvaged, and where and how it was repaired. In order to avoid fraud, you want to make sure the previous owners reasoning for the car being salvaged is accurate. You also want to make sure that the vehicle hasn't suffered any hidden damage.
Frequently Asked Questions
Q: Should I buy car with a rebuilt title?
A: That depends on how much risk you're willing to accept. Other factors to consider are:
What happened to the car?
How extensive was the damage?
Who repaired the vehicle. Are they certified?
Are the repairs under warranty?
Is the price discounted enough to make buying the car worth the risk?
Q: Does a rebuilt title affect auto insurance?
A: If you buy a car with a rebuilt title, your insurance options could be limited. It all depends on your insurance company. Some insurers won't sell comprehensive or collision coverage if your vehicle has a rebuilt title. But you should be able to obtain basic liability for it. One positive is that rebuilt cars are cheaper than those with clean titles making them cheaper to insure.
Q: How do I get car insurance for my rebuilt vehicle?
A: You must first apply for a title change by going to your state Department of Motor Vehicles. You must provide your receipts from the repairs, the proof of inspection, and proof that you own the car. Depending on your state, you may or may not have to provide additional information.
After getting the change in title approved, you must make sure that your insurance company will cover a car with a rebuilt title. Your best bet is to shop around and compare car insurance rates on your new vehicle.
Q: Where can you purchase a salvage-titled car and what do you need to do before you buy?
A: You may check out a salvage car lot, or even a private vendor when considering purchasing a salvage car. Once you locate a lot, keep in mind a few things before you purchase the vehicle.
Always check for extreme damage that is on the brink of being beyond repair. If you find any, you might want to get an estimate on how much it would cost to fix, before you purchase the fixer-upper. Also check with your insurance company on how they feel about insuring salvage or rebuilt vehicles. You might also check with your bank and see if you are able to take out a loan to fix a salvage car.
These safety precautions could help save you a fortune.
Q: What is a "BRANDED TITLE" for an automobile?
A: The title of a vehicle is branded if it has been:
Salvaged
Junked
Rebuilt
Reconstructed
Submerged in a flood
Burned in a fire
Odometer tampered with
Manufacter buyback (Lemon Law)
Q: Can I get "Salvage" or "Rebuilt" removed from my car's title?
A: Not legally. Once a car has been declared "Salvage" you can repair it and redesignate it a "Rebuilt" vehicle. This may seem inconvenient, but it's for everyone's safety.
QuoteWizard.com LLC has made every effort to ensure that the information on this site is correct, but we cannot guarantee that it is free of inaccuracies, errors, or omissions. All content and services provided on or through this site are provided "as is" and "as available" for use. QuoteWizard.com LLC makes no representations or warranties of any kind, express or implied, as to the operation of this site or to the information, content, materials, or products included on this site. You expressly agree that your use of this site is at your sole risk.