Compare Auto Insurance in Idaho
Idaho is known as the Gem State because of its abundance of natural resources. Here at QuoteWizard, we've compiled useful insurance information from industry and government sources which Idahoans can use to save money on a gem of an insurance policy.
This page will show you which types of coverage are legally required in Idaho and inform you about important insurance laws. It also provides you with information about the cost of driving and some insights about insurance risk.
Average Idaho Car Insurance Rates
How much is car insurance in Idaho? When it comes to car insurance, Idahoans must be doing something right. Drivers here pay less for car insurance than those in any other state. The low number of uninsured motorists could have something to do with it. Only 6.7 percent of the drivers on Idaho roadways are uninsured.
On average, Idaho drivers pay 35 percent less for auto insurance than the average American. The average cost of car insurance in Idaho is $573.83 per year. The national average price is $889.01.
How much you pay may vary depending on your car, driving record, zip code, limits, and the number of claims filed in your neighborhood.
Idaho (ID) Average Annual Car Insurance Rates
Coverage
Rates
Liability
$344.29
Collision
$219.05
Comprehensive
$116.55
Total Cost Per Year
$573.83
Price Per Month
$47.82
Source: Facts + Statistics: Auto insurance
The graph below shows the change in average Idaho insurance rates from 2011 to 2015, the most recent year the data is available. According to the III, Idaho car insurance rates increased from $535 in 2011 to $573 in 2015, a jump of $38 dollars, or 7.24 percent.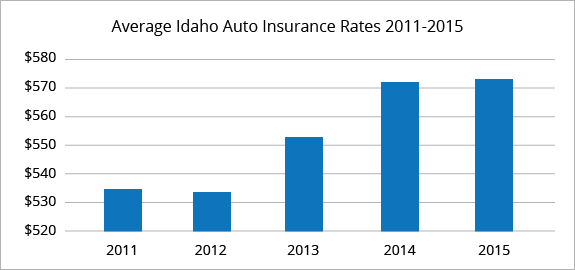 Finding a reliable auto insurance provider is important these days. But how do you determine which insurer is right for you?
One way is to compare rates from a number of different car insurance companies. Let QuoteWizard help you do that. We'll get you all the info you need, and connect you to a handful of agents who serve Idaho drivers, so you can find a policy that you, your vehicle, and your wallet will love.
Last year, 59,808 people used QuoteWizard to compare car insurance quotes in Idaho from top companies.
Most Popular Auto Insurance Companies in Idaho
These are the most common insurance companies reported by QuoteWizard users in Idaho last year. Of the 59,808 QuoteWizard users in Idaho last year, 8,239 were uninsured.
Need to find the insurer who has the best quote for you? Take a look at our compare page to weigh insurance companies side-by-side. We've put together overviews of the biggest insurers in the country.
Looking for high-risk auto insurance? If finding coverage is a challenge, take a look at the Idaho Automobile Insurance Plan. It's there to make sure that you can get the minimum liability coverage that Idaho requires on the road.
Are you a teen driver or the parent of one? Finding auto insurance for teens can be a challenge. Our data shows that teen car insurance is $438 a month on average. Progressive, GEICO, and AAA all tend to have good rates for teens in Idaho.
Top 10 Vehicles
These are the most commonly owned cars of QuoteWizard users living in Idaho:
Ford F150
Dodge Ram 1500
Toyota Camry LE
Ford Explorer
Ford Focus SE
Ford Ranger
Honda Accord EX
Ford F250 Super Duty
Chevrolet Impala
Ford Mustang
Idaho Car Insurance Rate Factors
Idaho's car insurance costs are well below the national average. There are several reasons for that, including the fact that Idaho has a relatively sparse population. Less density usually leads to fewer accidents and a lower claim rate. A few other factors help keep Idaho's insurance rates low.
Uninsured Drivers
8.2 percent of Idaho drivers are uninsured. This is well below the national average of 10 percent uninsured. Uninsured drivers cause everyone to cover the cost with higher rates.
Best and Worst Drivers
Our national study found that Idaho ranks as seventh in the country for worst drivers. We compiled this ranking from looking at Idaho's speeding ticket, citation, DUI, and auto accident data for the year. We applied the same formulas on the city level and Boise, Idaho ranks 27th for worst city drivers in the country.
Most Commonly Stolen Vehicles
Idaho has a low rate of auto theft compared to the rest of the country. But that doesn't mean there's nothing to beware. Insurers consider cars with a higher chance of auto theft to be high-risk and can raise rates because of it. Below is a list of the most frequently stolen cars in Idaho. See if your car is at risk.
Source: National Insurance Crime Bureau- 2017 Hot Wheels Report
2004 Chevrolet Pickup (Full Size)
2006 Ford Pickup (Full Size)
2017 Toyota Camry
1996 Honda Accord
2005 Nissan Altima
2000 GMC Pickup (Full Size)
2004 Dodge Pickup (Full Size)
2006 Chevrolet Impala
2017 Toyota Corolla
2000 Honda Civic
Car Insurance Discounts
Insurers usually have different sorts of discounts to lower your premium. Here are some discounts for Idaho drivers:
Idaho Car Insurance Laws
Minimum Requirements
Idaho requires you to maintain minimum coverage levels of 25/50/15. This means whatever auto policy you have must at least cover:
Bodily injury liability per person: $25,000
Bodily injury liability per accident: $50,000
Property damage liability per accident: $15,000
Recommended Coverage
According to Safewise, Idaho is the sixth most dangerous state for driving in snow. Between the poor visibility and loss of control due to slick roads, accidents can happen. Consider adding collision coverage to your policy. It covers your damages if you get into a car crash.
Also, think about increasing your liability coverage. It doesn't take much for the bill for an accident to exceed the limits of minimum liability. As such we recommend:
Individual Body Injury Liability: $100,000
Total Bodily Injury Liability: $300,000
Property Damage Liability: $100,000
Required Proof of Insurance
All drivers in Idaho must be prepared to show proof of car insurance to law enforcement upon request. Idaho law permits for either physical proof or proof stored on cellphone, tablet, or another electronic device as acceptable.
Failure to show valid proof of insurance is a traffic infraction. Knowingly providing false evidence of insurance coverage is a misdemeanor.
SR-22 Requirements
Should your license get revoked or suspended, the Idaho Transportation Department charges between $25 and $285 for reinstatement fees.
They may also require you to file an SR-22 form. An SR-22 proves financial responsibility, and that you maintain the minimum required liability coverage in Idaho. You are required to maintain the SR-22 for three years after the first offense.
Totaled Cars with Salvage or Rebuilt Titles
If your car is damaged and the cost to repair is near the car's value, it is a total loss. Total loss vehicles get a salvage title. If the car is repaired to road-legal status, it gets a rebuilt title.
Each state has their own laws regarding total loss cars. In Idaho, total loss is based on a Total Loss Formula (TLF). If the cost of repair plus the car's salvage equals the car's actual cash value, it is a total loss.
Getting auto insurance for a rebuilt or salvage title car in Idaho can be difficult. At best, you'll probably pay a high premium to insure it. Many insurance companies do not cover rebuilt or salvage titles.
Idaho Traffic Safety Laws
Distracted Driving
Idaho currently bans texting while driving. Making a phone call while driving is acceptable. Idaho recently put forth legislation to ban hand-held devices.
DUI Law
If you are found driving in Idaho with a Blood Alcohol Content (BAC) of 0.08% or more, you are guilty of Driving Under the Influence (DUI). Depending on how many DUIs are on your record, the penalties include:
Six months to five years in jail
Up to a $5,000 fine
Nine days to five years license suspension
Interlock ignition device installment in your car
On top of whatever penalties you face, you will see your auto insurance increase. Our studies show you will pay $830 more a year for car insurance after a DUI offense. This assumes you will be able to find an insurer to cover you.
Senior Drivers
Around the time you turn 65, you will probably see an increase in your auto insurance. If you have a clean record at that time, the initial increase should not be large. However, as you get older the increases will become larger.
Idaho requires drivers 63 and older to renew their licenses every four years. Drivers 70 and up can't renew by mail. In both age brackets, a vision test is required at renewal.
Cars Registered in Other States
If you're driving in Idaho with a car registered in another state, you're required to carry that state's required auto insurance. You must also be able to prove coverage if pulled over by law enforcement.
Idaho Department of Insurance
Website:
Insurance Commissioner:

Dean L. Cameron
Insurance Hotline:

(800) 721 – 3272
Office Hours:

Monday - Friday
8:00 am to 5:00 pm
File a Consumer Insurance Complaint
Sources:
QuoteWizard.com LLC has made every effort to ensure that the information on this site is correct, but we cannot guarantee that it is free of inaccuracies, errors, or omissions. All content and services provided on or through this site are provided "as is" and "as available" for use. QuoteWizard.com LLC makes no representations or warranties of any kind, express or implied, as to the operation of this site or to the information, content, materials, or products included on this site. You expressly agree that your use of this site is at your sole risk.