The Cheapest Car Insurance in New York (2020)
New York drivers looking for the cheapest car insurance rates in their state should get quotes from NYCM, Erie, GEICO and Preferred Mutual.
A typical driver in New York pays about $713 per year for the minimum amount of auto insurance the state requires if they get it from NYCM, according to QuoteWizard research. And they pay around $731 per year if they get it from Erie.
Compare that to what most New Yorkers spend on car insurance each year. Our data shows the average driver in the Empire State pays $1,120 annually for state-minimum coverage.
Our data also shows the average New York driver pays $1,773 annually for full-coverage car insurance, which usually includes liability, collision and comprehensive protection.
Erie and NYCM are the cheapest options in New York for this type of coverage, too. The base driver in our survey of the state's car insurance providers paid $1,182 for a full-coverage policy from Erie and $1,376 for the same policy from NYCM.
That's just the tip of the iceberg in terms of the car insurance rate data you'll find in this article. You also find data related to:
Where to get cheap auto insurance in New York
NYCM offers the cheapest car insurance in New York for state-minimum coverage, with a $713 average annual premium, based on rate data we gathered for an average driver. Erie offers the cheapest car insurance rates in the state for full coverage, with a $1,182 average annual premium.
Our research found several other companies serving New York that also offer cheap coverage, so check them out if you're looking for affordable car insurance.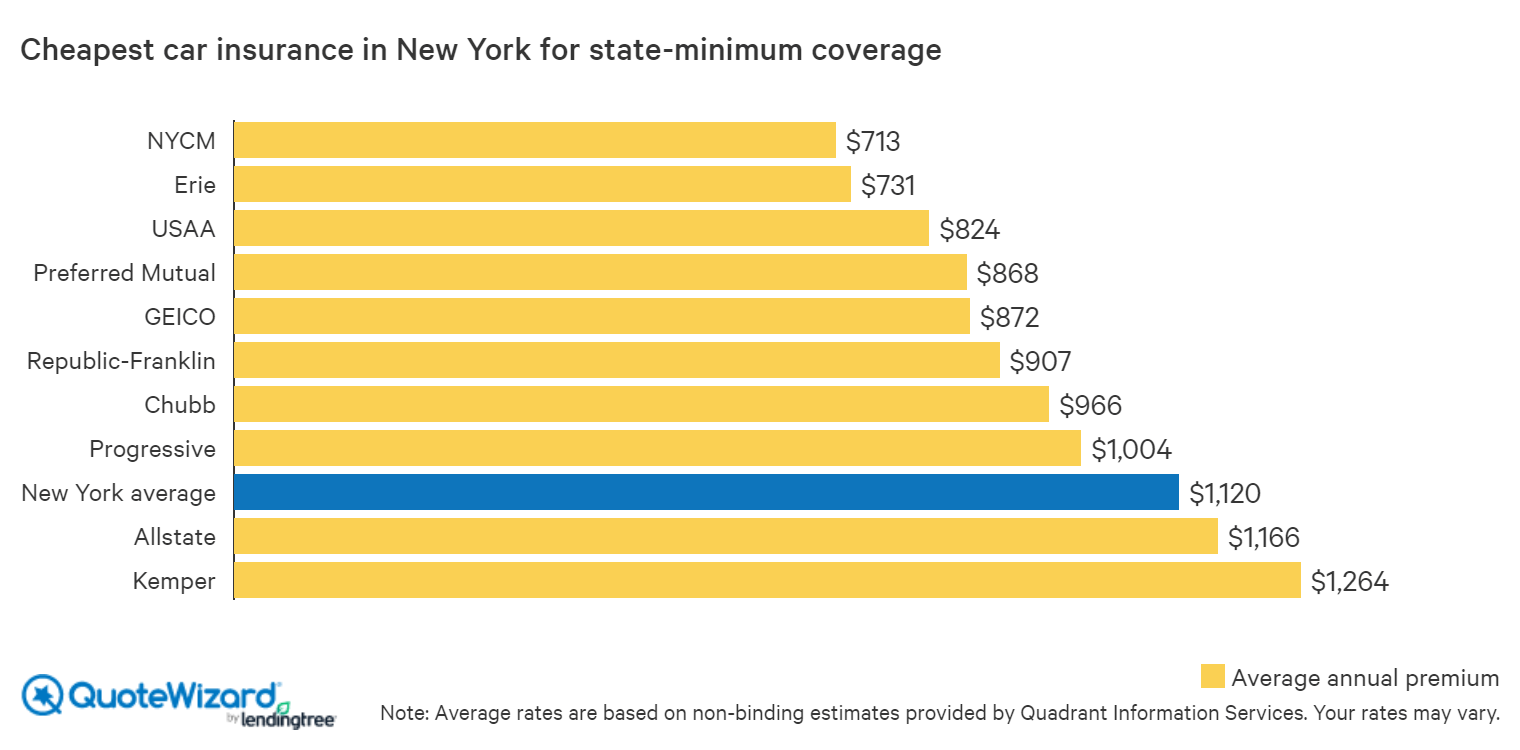 NYCM might offer the lowest rates for state-minimum auto insurance coverage in New York, according to our survey, but the rates we received from Erie were nearly as low, at $731 per year. The rates we received from USAA, Preferred Mutual and GEICO were well below the state average of $1,120 per year for this kind of coverage, too.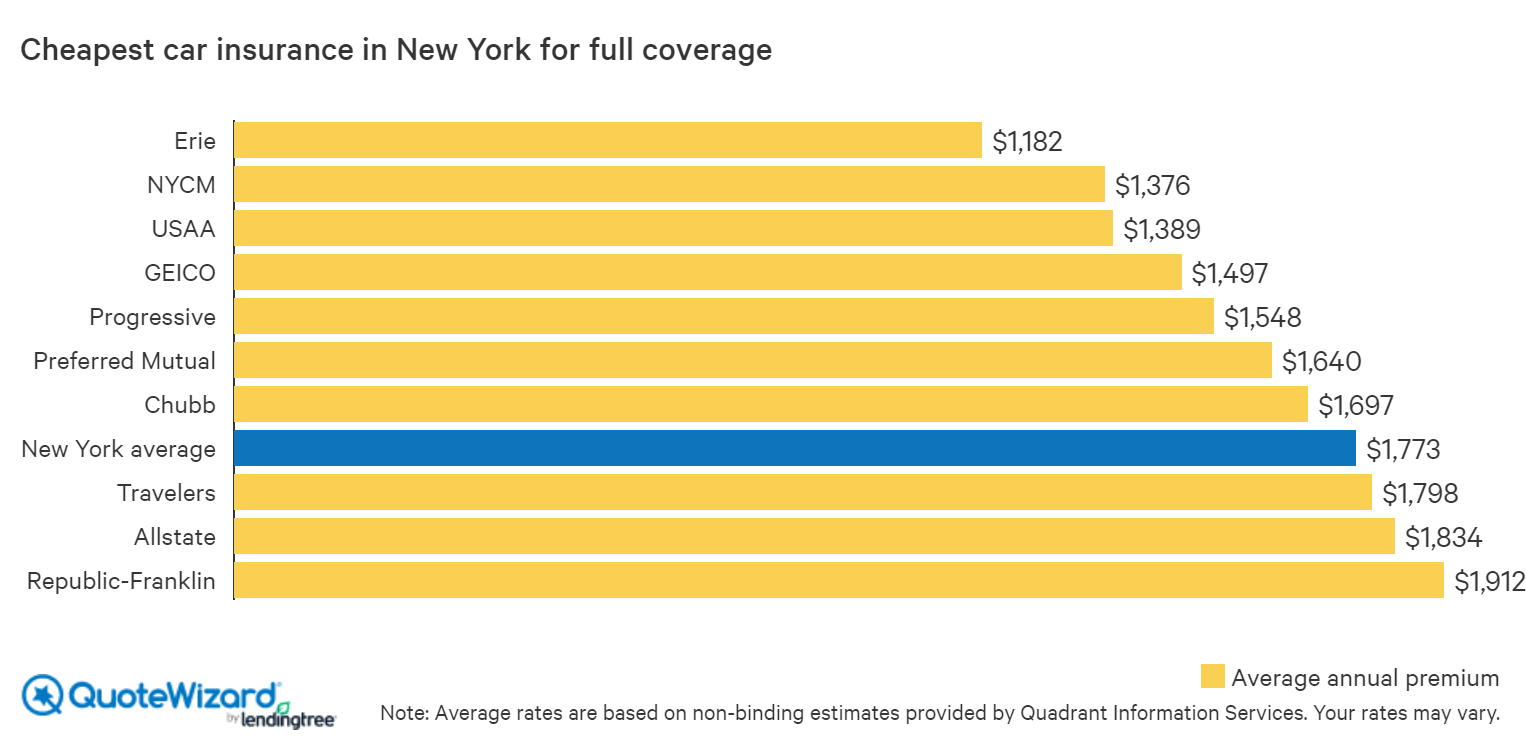 Erie quoted our sample driver the lowest rate for a full-coverage policy, at $1,182 per year. NYCM and USAA were close behind, at $1,376 and $1,389 per year, respectively. GEICO and Progressive also offer fairly cheap premiums for this type of policy, which typically provides liability, collision and comprehensive protection.
Something to keep in mind here: what you pay for car insurance is based on several rate factors, including where you live and the kind of vehicle you drive. Your driving record plays a role, too. For example, both new and high-risk drivers, or drivers with multiple infractions on their records, often pay a lot more for car insurance than good drivers.
In our survey of New York auto insurers, the state's high-risk drivers spent an average of $5,370 a year on full-coverage car insurance. Republic-Franklin quoted our sample bad driver a rate far lower than that, though, at $2,414 a year. As for young or new drivers, our data shows they pay an average of $6,393 a year for car insurance in New York. GEICO, however, quoted our sample first-time driver an annual premium of $3,223. That was the best rate we received from the insurers we surveyed.
Best car insurance companies in New York
NYCM, Erie, GEICO and Preferred Mutual stood out as New York's best car insurance companies in our study of the state's providers. Here's why.
NYCM: best value
Naming NYCM the best overall auto insurance company in New York was a no-brainer after we found out it offers the cheapest rates for state-minimum coverage, at $59 per month, and the second-cheapest rates for full coverage, at $115 per month.
What else makes NYCM a top choice for New York drivers in our eyes? A few examples:
J.D. Power ranked the company No. 1 in customer satisfaction among New York auto insurers for two straight years.
Despite its small size, NYCM has an A+ financial strength rating from AM Best.
It offers policyholders a variety of discounts, including ones for auto-pay, anti-theft systems, students, senior drivers and more. 
Erie: runner-up for cheapest rates
If you don't like the quote you receive from NYCM, get one from Erie next. The rates it sent our sample driver a full-coverage policy were the lowest of all the insurers we surveyed, at $99 per month. The rates it sent us for state-minimum coverage were similarly low, at $61 per month — or just $2 more per month than top-ranked NYCM.
There's more to Erie than low car insurance premiums. This regional company also offers:
Coverage for pets, roadside assistance and locksmith services.
Numerous discounts, including ones aimed at teen drivers and safe drivers.
Preferred Mutual: best regional provider
Preferred Mutual only sells insurance in four states: Massachusetts, New Hampshire, New Jersey and New York. Limiting its reach hasn't limited its ability to offer cheap car insurance to drivers in those states, though. This is especially true when it comes to state-minimum coverage, where our research found Preferred Mutual to be New York's fourth-cheapest option.
Beyond its competitive premiums, Preferred Mutual deserves a look from New York drivers for the following reasons:
Besides cars, it also covers boats, snowmobiles and motor homes.
Preferred Mutual policyholders can buy an optional Premier Auto Endorsement that covers airbag replacement, emergency service charges, towing and more.
GEICO: best nationwide provider
If you prefer to get your car insurance from a national company rather than a regional or local one, GEICO is your best bet. GEICO's rates for both state-minimum and full-coverage car insurance compare favorably with the rates offered by NYCM and Erie, according to our data. The quotes GEICO sent our sample New York driver for state-minimum coverage averaged $73 a month, for instance. That's a little over $10 more per month than the quotes Erie and NYCM sent us.
Though you might pay a bit more for a policy you buy from GEICO than you would if you bought it from Erie or NYCM, you'll also get all the perks that come with being covered by a big, nationwide brand. A case in point: It's often easier to bundle policies when you get them from a large insurer. Larger companies also typically offer better availability and a wider selection of discounts.
Most popular car insurance companies in New York
NYCM, Erie, GEICO and Preferred Mutual are the best and cheapest car insurance companies in New York, according to our research. Local drivers don't entirely agree with that assessment, though, based on the market share of the state's top providers.
Company
New York market share
GEICO
33%
Allstate
14%
State Farm
12%
Progressive
9%
Liberty Mutual
6%
Travelers
4%
USAA
4%
NYCM
3%
Nationwide
2%
National General
2%
Source: S&P Global
Although GEICO is the largest car insurance company in New York and writes 33% of the state's auto policies, our top pick, NYCM, owns just 3% of the market. Two of our other best companies, Erie and Preferred Mutual, didn't make the top 10 of the data we gathered from S&P Global.
New York auto insurance requirements
If you want to register and drive a vehicle in New York, you need to carry at least a minimum amount of car insurance coverage. This means your policy's coverage limits must meet or exceed the following:
Type of coverage
Minimum coverage requirements
Personal Injury Protection
$50,000 per person
Bodily Injury Liability
$25,000 per person, $50,000 per accident ($50,000 per person and $100,000 per accident for injuries resulting in death)
Property Damage Liability
$10,000 per accident
Uninsured Motorist
$25,000 per person, $50,000 per accident
Source:New York State Department of Financial Services
New York is one of 12 states that has a no-fault insurance system. In no-fault states, accident victims may collect benefits from their own insurance companies, no matter who caused the crash.
Liability coverage helps pay for other peoples' medical and repair bills if you cause an accident. Personal injury protection, also called PIP, pays for your medical expenses after an accident, regardless of who was at fault.
Methodology
We conducted a comprehensive study of auto insurance rates in New York through Quadrant Information Services. The collected quotes were for a single, 35-year-old male with an excellent credit score and a clean driving record. He owns a 2012 Honda Accord and drives it an average of 15,000 miles a year. His car insurance policy has 100/300/50 coverage limits and a $1,000 deductible.
QuoteWizard.com LLC has made every effort to ensure that the information on this site is correct, but we cannot guarantee that it is free of inaccuracies, errors, or omissions. All content and services provided on or through this site are provided "as is" and "as available" for use. QuoteWizard.com LLC makes no representations or warranties of any kind, express or implied, as to the operation of this site or to the information, content, materials, or products included on this site. You expressly agree that your use of this site is at your sole risk.