Compare Auto Insurance in Utah
If you love skiing or hiking in beautiful national parks, Utah has you covered. Some of the state's insurance regulations are complex, but we'll help you work through them. This page will cover Utah's car insurance laws, how to find cheap insurance, how to pick a plan, and more.
Average Utah Car Insurance Rates
How much is car insurance in Utah? Premiums in Utah are generally lower than the national average. The average cost of auto insurance in Utah is $784.10 per year. The national average price is $889.01.
Utah Average Car Annual Insurance Rates
Coverage
Rates
Liability
$497.53
Collision
$256.90
Comprehensive
$109.50
Total Cost Per Year
$784.10
Price Per Month
$65.34
Source: Facts + Statistics: Auto insurance
The graph below shows the change in average Utah rates from 2011 to 2015, the most recent year the data is available. According to the III, Utah car insurance rates increased from $712 in 2011 to $784 in 2015, a jump of $71 dollars, or 10.01 percent.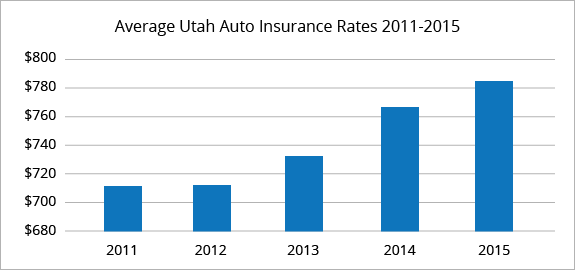 Buying car insurance in Utah should be easy. Unfortunately, it can be the opposite when you shop for it on your own.
Instead of spending hours researching insurers by yourself, let QuoteWizard lend a helping hand. We'll connect you to the top car insurance companies in the country so you can compare rates. In the end, you'll not only save time, but also money!
Last year, 21,266 people used QuoteWizard to compare car insurance quotes in Utah from multiple companies to find the cheapest rates.
Best Car Insurance Companies in Utah
Out of the 21,266 drivers in Utah that used QuoteWizard to find insurance quotes last year, 2,236 were uninsured. These are the main insurers according to QuoteWizard users from Utah in the last year:
Top 10 Vehicles
This list shows the cars most commonly owned by Utah drivers using QuoteWizard last year:
Ford F150
Honda Accord EX/LX
Ford Ranger
Chevrolet Cavalier
Chevrolet Silverado
Ford Explorer
Ford Taurus
Chevrolet Blazer
Honda Civic
Dodge Durango
Utah Car Insurance Rate Factors
Utah's sparse population (3.1 million as of last year) means fewer people on the road. That, in turn, leads to fewer risks on the road. However, Utah is one of the snowiest states in the country. Snowy conditions contribute to car accidents, and that can raise rates in the entire state.
Best and Worst Drivers in Utah
Our data currently shows that Utah is the third worst state for driving in the US. Salt Lake City, Utah, ranks as the tenth worst city for driving. This ranking is based on accidents, tickets, DUIs, and citations occurring in Utah.
Living in an area with bad drivers can increase your insurance premium. More bad drivers lead to more accidents and, subsequently, more claims. If there's an above-average amount of claims filed in your area, insurers will raise rates across the board.
Uninsured Drivers
The III states that only 8.2 percent of Utah's drivers are uninsured. This low number keeps car insurance rates down for all Utah Drivers.
Car Insurance Discounts
Want to save money on your premium? There are many options available to Utah drivers: 
If you're married, insurers often offer discounts to married couples 
If you avoid accidents and tickets, that can add up to lower rates
Bundle your auto insurancewith home or renters insurance. You can save upwards of 15 percent on bundling 
If you're over 55, see what discounts are available to you
Take a certified defensive drivingcourse 
Drop your comprehensive coverage
If you have more than one car, look at a multiple car discount
Check and see if where you livegets you a discount 
Make sure your car as up-to-date safety features and anti-theft devices
Active duty and retired members of the Military, National Guard, or Reserves are entitled to discounts for their service
Utah Car Insurance Laws
Minimum Car Insurance Requirements in Utah
Utah requires a minimum level of insurance coverage of 25/65/15. This means that your policy must have:
$25,000 of coverage for bodily injury liability per person
$65,000 of coverage for bodily injury liability per incident
$15,000 of coverage for property damage liability per incident
$3,000 of coverage for Personal Injury Protection
Utah is one of 12 US states that have no-fault insurance. In no-fault states, accident victims can collect benefits from their insurance companies regardless if the other party is insured. Liability pays for the medical and repair bills of others if you're found at fault in an auto accident. Personal Injury Protection (PIP) covers your medical expenses after an accident, regardless of who is at fault.
Recommended Coverage Levels
Utah is one of the few states that has no-fault insurance requirements. This means you can get a payout from your own insurer after an accident, regardless of who was at fault. You're going to want to consider collision and comprehensive coverage options to fill in the limits of liability insurance.
As a serious accident could quickly exceed minimum coverage payout limits, it's a good idea to increase your liability. We recommend:
$100,000 Individual Body Injury Liability
$300,000 Total Bodily Injury Liability
$100,000 Property Damage Liability
Required Proof of Car Insurance
All Utah drivers need to be ready to show proof of insurance to law enforcement upon request. Driving without auto insurance in Utah is a misdemeanor with a minimum of a $300 fine. If you're convicted of driving without insurance in Utah, you may also need to carry SR-22 coverage.
SR-22 Requirements
Utah drivers with a suspended license due to DUI or other violations must file an SR-22 form. In Utah the amount of coverage required for proof with an SR-22 is: 
$25,000 of bodily injury or death of one person in one accident 
$50,000 of bodily injury or death of any two people in one accident 
$15,000 of injury or destruction of property of others in one accident 
Utah requires SR-22 holders to maintain the SR-22 for at least three years. Should your SR-22 lapse, the state will suspend your license. Needing an SR-22 virtually guarantees an insurance rate increase.
Totaled Cars with Rebuilt or Salvage Titles
In Utah, total loss is calculated by a total loss formula. Add the repair costs to the car's salvage value. If that total is greater than the car's actual cash value, your insurer will deem it a total loss.
Buying insurance for rebuilt or salvaged cars in Utah is hard. Some insurers don't cover them at all. If you can find coverage, expect a higher rate.
State of Utah Traffic Safety Laws
Distracted Driving Laws
Utah has laws in place to prevent distracted driving accidents. The state prohibits all drivers from using handheld devices while driving.  This includes texting. Breaking this law can result in a $750 fine and up to three years in prison.
DUI Law and Penalties
If you're driving in Utah with a Blood Alcohol Content level of 0.08 or higher, you're guilty of DUI. Depending on how many DUI offenses you have, you could face prison time and pay at least $1,500 in fines.
In any case, a DUI will affect your premiums. Our data shows that drivers with DUIs pay an extra $830 per year for car insurance.  
Senior Drivers in Utah
Car insurance rates tend to go up when a driver turns 65, and increase as you get older. Senior drivers in Utah must also take a vision test every time they renew their license.
Vehicles Registered in Another State
When driving a vehicle registered to another state in Utah, you need the insurance required by that state and proof of insurance.
The Cost of Driving in Utah
Vehicle Thefts
In 2016, 9,388 vehicles were reported stolen in Utah. This is a 7.57 percent increase over the 8,727 vehicles stolen in 2015.
Top Ten Most Stolen Vehicles in Utah
If your car is a theft risk in Utah, it might affect your premium. Check the list below and see. 
Source: National Insurance Crime Bureau – Hot Wheels Report 2016 
1997 Honda Accord
1998 Honda Civic
2001 Ford Pickup (Full Size)
2001 Chevrolet Pickup (Full Size)
2000 Toyota Camry
1999 Jeep Cherokee/Grand Cherokee
2005 Dodge Pickup (Full Size)
1998 Subaru Legacy
2005 Toyota Corolla
1997 Nissan Altima
Utah Insurance Department
Website:
Insurance Commissioner:

Todd E. Kiser
Insurance Hotline:

(800) 439 - 3805
Office Hours:

Monday - Friday
8:00 am to 5:00 pm
File a Consumer Insurance Complaint
Sources:
QuoteWizard.com LLC has made every effort to ensure that the information on this site is correct, but we cannot guarantee that it is free of inaccuracies, errors, or omissions. All content and services provided on or through this site are provided "as is" and "as available" for use. QuoteWizard.com LLC makes no representations or warranties of any kind, express or implied, as to the operation of this site or to the information, content, materials, or products included on this site. You expressly agree that your use of this site is at your sole risk.