What is Full Coverage Car Insurance?
Learn what full coverage car insurance is, how much it costs, and whether you need to purchase it.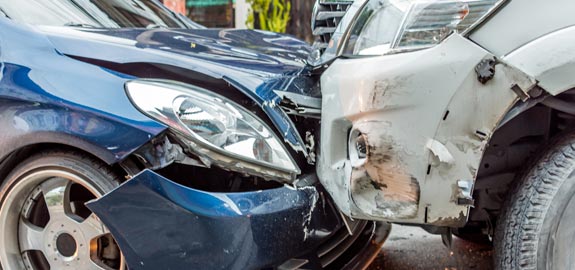 Full coverage auto insurance refers to multiple types of coverage under one policy. If you have liability, comprehensive, and collision coverage, it's considered a full coverage policy. This article discusses:
What Full Coverage Auto Insurance Does and Doesn't Cover
A standard full coverage plan with liability, comprehensive, and collision covers the following situations:
Damages and medical bills from accidents you cause
Damages to your own vehicle from accidents you cause
Stolen or vandalized cars
Natural disaster damage to your car
Hit and run damage to your car
Damage from falling objects like tree branches and utility poles
Water damage
Full coverage auto insurance does not cover:
Liability, comprehensive, and collision coverage do not include the following:
Racing
Off-roading
Car sharing
Terrorism and war
Destruction or confiscation from government authorities and police
Using your car for commercial business
Intentional damage
Cars with rebuilt titles
Additional coverage like roadside assistance, rental reimbursement, personal injury protection, and uninsured/underinsured motorist coverage are not part of a standard full coverage plan.
Cheap Full Coverage Car Insurance
How much is full coverage insurance? The cost of a full coverage car insurance policy depends on your personal factors. Your car type, where you live, and your driving history are some of the factors that determine the cost of your car insurance.
To see how much full coverage car insurance costs, we compared several car insurance quotes from top companies.
Company
Liability only (50/100/50)
Plus comprehensive ($500 deductible)
Plus collision ($500 deductible)
Full coverage
GEICO
$57.80
$65.21
$104.58
$112
Allstate
$113
$126
$167
$180
State Farm
$50.66
$56.88
$91
$97.21
Average
$73.82
$82.70
$122.86
$129.74
These quotes are based on a single 30-year-old Seattle man with a good driving record. He owns a 2012 Honda Civic and drives about 10,000 miles a year. Coverage levels include $50,000/$100,000/$50,000 in liability plus $500 deductibles for collision and comprehensive coverage.
Key findings:
A policy with only liability coverage costs $73.82 per month.
Full coverage costs $129.74 per month, an increase of more than 75 percent from liability only.
Adding just comprehensive coverage raises rates by 12 percent. Adding just collision coverage raises rates by 66 percent.
As you can see, adding full coverage raises your rates quite a bit. And it's the collision coverage that is responsible for most of the cost. Comprehensive coverage doesn't account for much of the cost of full coverage.
Though they aren't included in a standard full coverage policy, coverage like towing and rental reimbursement don't cost much. Uninsured and underinsured motorist coverage and personal injury payments, however, can hike your rates. Want to find out how much full coverage car insurance will cost you? Compare auto insurance quotes from several companies.
Liability Insurance vs. Full Coverage Insurance
The difference between liability insurance and full coverage insurance is that full coverage also includes comprehensive and collision insurance. Liability coverage is required on every car insurance policy. But comprehensive and collision coverage are optional. Adding comprehensive and collision coverage to a liability policy gives you full coverage.
Liability: If you cause an accident that hurts someone or damages property, liability pays for it. Minimal insurance requirements in every state include bodily and property liability. However, state minimum liability amounts are rarely enough. Liability coverage is divided into three limits: maximum amount for injuries per person, maximum amount for injuries per accident, and maximum amount for property damage. Insurers recommend you buy as much liability as you can comfortably afford. A good amount is bodily injury at $100,000 per person, $300,000 per accident, and $50,000 for property damage. That amount is enough for most people. However, if you have ample assets, you'll want more coverage.
Comprehensive: Covers damages caused by non-collision accidents. Natural disasters like fire, earthquakes, hurricanes, and hail are only covered by this type of policy. Similarly, comprehensive coverage includes theft and vandalism.
Collision: If you cause an accident, liability pays for damages to other people and property. But it doesn't cover damages to your own vehicle. That's where collision coverage comes in. It pays for repairs to your vehicle after an accident. It's especially helpful if you're at fault for the accident.
Do You Need Full Coverage Auto Insurance?
Every state requires drivers to carry a minimum amount of auto insurance coverage. State minimum requirements include liability coverage. Because full coverage auto insurance includes liability coverage, it meets minimum state auto insurance requirements, but you are not legally required to carry full coverage auto insurance.
You should buy full coverage car insurance if...
You can afford it - Insurance exists to protect your assets. If you can afford higher levels of insurance protection, it's usually not a bad investment. Buying a higher limit is a good choice. If you have large assets, that means you can afford more liability. That also means you have more to lose in the event of a lawsuit from an accident.
You have a brand-new car - If you have a brand-new car, more insurance coverage is almost always a good idea.
Your car is financed - If you're financing a car, you should buy full coverage car insurance. If your car is totaled, you will still owe the original amount. You'll be making payments on a worthless car. In many cases, lenders require full coverage. Your state doesn't require full coverage, but your finance company will.
You live in a disaster-prone area - Is your neighborhood located in or near a flood zone? Do you live in an area with a high risk of wildfires?If yes, purchase full coverage. The comprehensive portion will pay for damages related to all common natural disasters.
Your car is valuable - Full coverage is ideal for valuable cars. That includes new cars, classic cars, collector cars, and more. There's more at stake for high-value cars. Comprehensive and collision coverage are must-haves on these vehicles.
You might not need full coverage car insurance if...
Your car is old - Most old cars aren't worth much. You might be losing money long-term if you're paying for a full coverage policy for an old car. For many old cars, the car's value doesn't justify the cost of full coverage.
You have a garage - If you keep your car in a garage, you cut down on the risks that full coverage pays for. That includes bad weather, hit and runs, theft, vandalism, falling tree branches, and more. Parking your car in a private garage might be enough to skimp on full coverage. Of course, you're still at risk when you're driving the car or parking away from home.
You can't afford it - Don't buy something you can't afford. That includes insurance. Full coverage is a bit of a luxury. If you're unable to comfortably pay for it, don't buy it.
QuoteWizard.com LLC has made every effort to ensure that the information on this site is correct, but we cannot guarantee that it is free of inaccuracies, errors, or omissions. All content and services provided on or through this site are provided "as is" and "as available" for use. QuoteWizard.com LLC makes no representations or warranties of any kind, express or implied, as to the operation of this site or to the information, content, materials, or products included on this site. You expressly agree that your use of this site is at your sole risk.