If you're a bad driver with a less-than-stellar driving record, you may know firsthand just how expensive car insurance can be. Whether it's due to tickets, accidents or DUIs, people with bad driving records face significantly higher insurance rates.
We researched quotes from dozens of insurance companies and found that Erie, USAA, Travelers, Auto-Owners and Mercury offer some of the cheapest car insurance for bad drivers.
Exact insurance rates for drivers with bad records depend on the company and the driving violation. For example, a speeding ticket raises rates by 35% on average. But the cheapest company, Erie, only increases rates by 5% after a speeding ticket. On the high end, Amica increases rates by 89%. And getting a DUI increases rates by an average of 132%, much higher than a speeding ticket.
This article covers the cheapest car insurance for drivers with bad records, including:
How much does car insurance go up for a bad driving record?
Insurance rates for bad drivers depend on the type of violation. The most common violations are speeding tickets, accidents and DUIs, with rate increases ranging from 35% to 132%.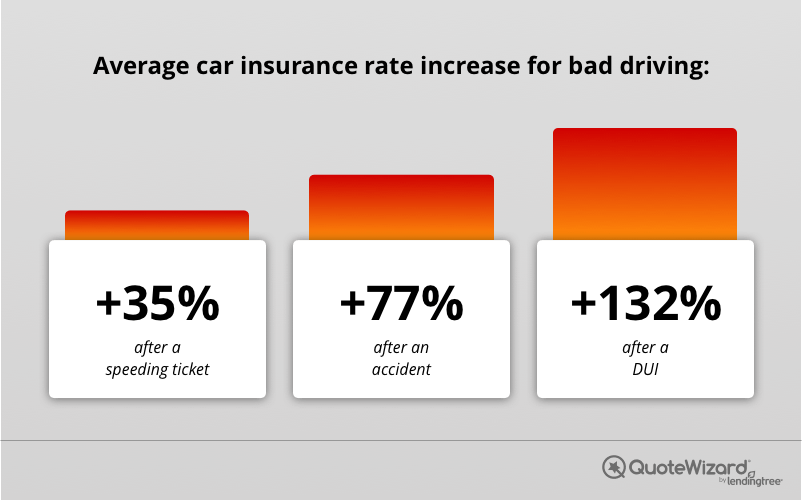 Average increase based on type of incident

| Type | Increase |
| --- | --- |
| Speeding Ticket | 35% |
| Accident | 77% |
| DUI | 132% |
Who has the cheapest car insurance for bad drivers?
The cheapest car insurance companies for people with bad driving records are Erie, USAA, Auto-Owners and Travelers. The sortable table below shows rates for a driver with a clean record compared with bad driving violations like accidents, speeding tickets and DUIs.
Cheapest car insurance with a bad driving record
Company
Clean driving record
Accident
Speeding
DUI
Erie
$92
$118
$97
$140
USAA
$102
$154
$129
$243
Auto-Owners
$111
$132
$141
$219
Travelers
$114
$174
$160
$185
Mercury
$128
$237
$180
$168
American Family
$129
$201
$165
$232
State Farm
$130
$220
$179
$348
Cincinnati
$136
$283
$182
$185
GEICO
$136
$251
$195
$181
Kemper
$150
$322
$197
$365
U.S. average
$155
$275
$209
$359
Progressive
$163
$254
$209
$537
Nationwide
$169
$275
$203
$313
National General
$172
$255
$181
$394
CSAA
$177
$359
$223
$322
Auto Club
$178
$285
$232
$635
Allstate
$215
$387
$272
$333
Average rates are based on non-binding estimates provided by Quadrant Information Services. Your rates may vary.
While they aren't the cheapest overall, companies like National General, Nationwide and American Family offer smaller rate hikes after a driving violation.
Lowest rate increases after a violation

| Company | Violation | Rate increase |
| --- | --- | --- |
| Auto-Owners | Accident | 19% |
| Erie | Speeding | 5% |
| Mercury | DUI | 31% |
Bad drivers usually face bad car insurance rates
We can help you find good rates
Rate increases vary quite a bit depending on the company and the nature of the violation. Let's get into the specifics.
Cheapest car insurance after a speeding ticket
Erie, USAA and Auto-Owners offer the cheapest rates for drivers with speeding tickets. In most cases, speeding tickets stay on your record for three years. You may face higher insurance rates during that time. We found that insurance companies raise premiums by 35% on average after a speeding ticket, averaging $209 per month.
Cheapest car insurance after an accident
Causing an accident is a surefire way to increase your car insurance rates. While the exact increase depends on the details of the accident, we found that Erie, Auto-Owners and USAA offer the cheapest car insurance rates after an accident. Drivers face an average rate increase of 77% after causing an accident, translating to $275 per month.
If your car insurance rate goes up after an accident, expect the higher rate to stick around for three years. And if you get another bad mark on your driving record during that time, your insurer could drop you.
Cheapest car insurance after a DUI
We found that Erie, Mercury and GEICO offer the cheapest insurance after a DUI. Travelers and Cincinnati are close behind with rates significantly cheaper than the average of $359 per month. Insurers will likely consider you a high-risk driver if you get a DUI, and the rate increases may be significant.
Getting a DUI can lead to higher insurance rates for three to seven years, although the offense can stay on your driving record for longer depending on where you live.
High-risk insurance companies for bad drivers
If you rack up violations on your record, insurance companies may see you as a high-risk driver. Standard insurance companies may refuse to cover high-risk drivers, or, if they do offer coverage, they'll charge considerably higher rates.
You may struggle to find an insurance company to cover you due to your bad driving record, but you have a few options. First, you can get quotes from companies that specialize in covering high-risk drivers.
Get quotes from high-risk car insurance companies
High-risk car insurers include companies like:
Dairyland
Acceptance
The General
Bristol West
Kemper
GAINSCO
If you're still struggling to get insured, see if your state offers an assigned risk plan. These are government programs that provide liability insurance to drivers who struggle to find car insurance on their own. But know that these plans are often expensive and should be considered a last resort.
How to get insurance discounts as a bad driver
We've established that you'll likely face higher rates for a few years if you have blemishes on your driving record. Besides comparing car insurance quotes, there are a few things you can do to get cheaper rates.
First, bundling your insurance is an easy way to cut 10% (or more) off your premium. Most people bundle car insurance with home or renters insurance.
Second, you can work to lower your credit score. If your credit score is lousy, you'll likely face significantly higher rates. Taking steps to improve your credit can cut a hefty amount off your insurance rates.
Third, check with your insurer to see if you qualify for any other discounts, including:
Low mileage
Defensive driver courses
Good student
Summing up
There's no way around it: bad drivers pay more for car insurance. How much more depends on the violation and the insurance company. In general, rate increases range from 35% to 132%, and these rate increases usually stay on your record for three years. We found that the cheapest companies for bad drivers are Erie, Auto-Owners, USAA, Travelers and American Family. But depending on your driver profile and where you live, you may find cheaper rates from a different company. That's why you should always compare car insurance quotes!
QuoteWizard.com LLC has made every effort to ensure that the information on this site is correct, but we cannot guarantee that it is free of inaccuracies, errors, or omissions. All content and services provided on or through this site are provided "as is" and "as available" for use. QuoteWizard.com LLC makes no representations or warranties of any kind, express or implied, as to the operation of this site or to the information, content, materials, or products included on this site. You expressly agree that your use of this site is at your sole risk.