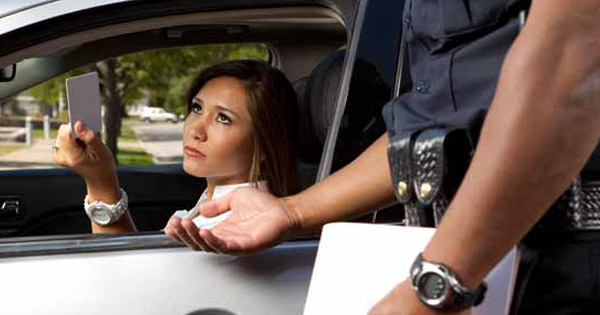 It's no secret that drivers with perfect driving records get the best insurance rates. So, what can you do if you're one of the millions of Americans with accidents, moving violation tickets or both on your driving record? Insurance agents realize that accidents happen, and that not every ticket is a sign of a high risk driver. Some insurance companies specialize in providing inexpensive coverage to drivers with accidents, tickets, or both. It's important to shop around and get car insurance quotes from top insurance companies.
Did a speeding ticket, car accident, or traffic violation raise your insurance rate?
If your insurer recently raised your rates because of an accident or moving violation ticket, it's time to look elsewhere for coverage. Car insurance customers can and should shop around, especially if they're considered a high risk driver based on a bad driving record.  Unlike cable and wireless phone service companies, auto insurance carriers don't require a contract, so you're not locked in and can change insurance companies at any time.
Additionally, contact your state's Department of Motor Vehicles (DMV) agency and request a copy of your driving record.  Just like reviewing your credit history, it's important to periodically review your driving record. If you find items on your driving record that shouldn't be there, request that the citations be removed from your record. Depending on the state you live in, first time offenders that complete driving safety programs after an infraction can request that the infraction be removed.
At QuoteWizard, we'll review your driving history and connect you with an agent that's a good fit. Don't assume you're going to get the same high rates with every company just because of multiple tickets or accidents. Each auto insurance company has a unique way of determining risk—it's not an exact science. We can help you find the best car insurance for bad driving records.
Have you been dropped from your auto insurance carrier due to multiple car accidents or tickets?
Some drivers will have their insurance cancelled or non-renewed by their insurance company, most likely due to multiple accidents, tickets or a bad driving record. If this happens to you, we suggest contacting several auto insurance companies for quotes. Some states have programs that offer car insurance for bad drivers who lose their insurance, so that they can continue to operate a vehicle while maintaining the minimum insurance requirements. Oklahoma is an example of one state that has such a program.
Drivers with really bad driving records may have to find insurance through a high-risk/non-preferred insurer. These high risk car insurance companies are required by most state DMVs to have an SR-22.  Sometimes referred to as a certificate of financial responsibility insurance, an SR-22 enables drivers to reinstate their driving privileges following loss of insurance, an uninsured car accident or other traffic-related offense.
Don't give up on affordable car insurance even if you have lots of tickets on your driving record
It'd be nice to have a perfect driving record—just like it'd be nice to have flawless SAT scores and perfect teeth—but not everyone does. Don't let a few minor slip-ups keep you from cheap auto insurance. There are agents for every kind of driving record.
Rates went up due to a car accident or lots of tickets? Find low rates with top insurance providers!
You can save up to $492/year!
Click Here
Bad Driving Record Insurance Q & A
Q: How long do tickets/accidents points stay on your driving record?
A: It depends on which state you live in. Generally, it depends on the severity of the infraction. Most moving violations remain on your record for 3-5 years. More severe violations like reckless driving can remain on your record for 10-15 years. For more information specific to your particular situation, we recommend reaching out to your state's Department of Motor Vehicles (DMV).
Q: How Many accidents or tickets does it take to be considered a high-risk driver?
A: It depends on the state you live in and how many points are on your driving record.  There isn't a "one size fits all" evaluation that put a driver into a "high risk" status. Some insurance companies will consider you high risk and raise your premiums or drop you from their policy from just one accident.  Others will allow more depending on differing circumstances.
Q: How much does high risk auto insurance cost?
A: The short answer is, it depends.  Not all high risk car insurance is the same and it's not possible to lump them together in one group.  There are several factors that go into high risk auto insurance pricing:
Driving record
State and zip code you live in
Type of car you're driving
Coverage
Credit score
Age
Marital status
We've seen high risk car insurance premiums range from hundreds to thousands of dollars.  That's why it's important to do your homework and shop around. We recommend getting quotes from at least three different insurance companies. Once you've had auto insurance for at least six months, get quotes again. Be sure to say you've had continuous insurance for the past 6 months and they'll most likely provide better prices.
Q: How Much Does Insurance Go Up After an Accident?
A: it depends on whether or not you were at fault and the size of the claim resulting from the accident. If the accident involves gross negligence (think DWI), you could be dropped by your car insurance company. This means you'll pay a lot more for insurance since you'll be considered "high risk" and need high risk auto insurance.
Keep in mind that auto insurance companies can't change premiums in the middle of your policy's term for any reason. Rate increases can only occur during policy renewals. So, if your accident happened in January and your policy doesn't renew until July, several months will pass before you receive any related rate increase.
This is important because it gives you time to get quotes from several auto insurance carriers.  Of course, they'll see your accident and rate you accordingly, however, the chances are good you'll be able to find cheaper car insurance.
Q: Where can I find the lowest quote online for high risk auto insurance?
A: Why, at QuoteWizard of course!
Q: What causes an auto insurance company to be classified high risk/non-preferred?
A: Car insurance companies aren't high risk, the drivers they insure are.  Insurance companies that cater to high risk drivers are generally willing to:
File an SR22 with the state you live in
Write an operator exclusion form
Insure drivers that have a DUI, more than two at fault accidents in three years or more than three moving violations
Cover drivers with no prior insurance coverage or a lapse in coverage of more than 30 days
Insure drivers under 20, over 70 or have a low credit score (usually below 550, but that number can vary)
Preferred car insurance companies won't do any of the above listed items. Also, please keep in mind that once you move to a high risk/non-preferred car insurance company, it's difficult to move to a company that offered preferred or super preferred rates. You'll have to have a standard policy with a preferred auto insurance carrier for one year, at least, before they'll move you to preferred or super preferred rates.
Q: Can you get insurance with a suspended license?
A: Yes, however, it depends on which state you live in.  Most states offer some kind of program for high risk or suspended license drivers. Contact your states Department of Motor Vehicles (DMV) for specific details related to where you live. These programs work with car insurance companies that specialize in insuring high risk drivers. Their rates will differ among the various companies and could be very high. That's why it's so important to shop around and get at least three different quotes.
If you'd like to save money on your insurance premium, use our handy form to request quotes from top insurance companies and agents.
QuoteWizard.com LLC has made every effort to ensure that the information on this site is correct, but we cannot guarantee that it is free of inaccuracies, errors, or omissions. All content and services provided on or through this site are provided "as is" and "as available" for use. QuoteWizard.com LLC makes no representations or warranties of any kind, express or implied, as to the operation of this site or to the information, content, materials, or products included on this site. You expressly agree that your use of this site is at your sole risk.