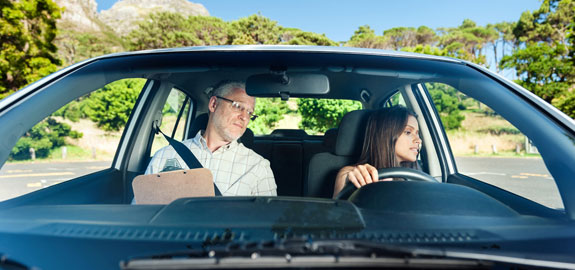 What is defensive driving?
"A Defensive Driving Course is a common term for a driver improvement course that experienced drivers will take to improve their skills," says J.C. Fawcett, instructor and master examiner at Defensive Driving School.
Defensive driving is a form of driver-education that goes beyond grasping the basic rules of the road. Standard drivers education programs teach traffic code and the mechanics of driving. Defensive driving courses, however, emphasize skills that help drivers avoid danger and accidents. These courses educate drivers on collision prevention techniques while encouraging courtesy and cooperation on the road.
"The defensive course will focus more on anticipating and reactions to situations," says Judy Ann Lunblad, the owner and operator at Ann's Driving School. "A regular class would typically include more rules and regulations."
Completing a defensive driving course can help you in three key ways:
Ticket dismissal
Removing license points
Lowering insurance premiums
Beyond that, defensive driving courses aim to help you become a better driver. The Colorado State Patrol conducted a study on 1000 defensive driving grads and found that 89 percent believed they were safer drivers because of the class.
Courses are taught online, in a classroom, or behind the wheel. These courses are generally affordable, but are they a good investment?
Are defensive driving courses worth the money?
The short answer is yes.
A defensive driving course gives drivers new perspectives on viewing the road. It helps drivers identify dangerous situations before they unfold. Defensive drivers can determine and mitigate risky behavior from other drivers. To put it plainly, defensive driving courses can save lives.
These courses can help you save more than just your life. Most insurance companies offer discounts to customers who complete a defensive driving course. Many states legally require defensive driver discounts. The course will pay for itself through insurance discounts. Consider this:
Defensive driving courses range in price from $15 to $100. Most online courses cost between $20 and $40.
Completing an approved defensive driving course gives a three-year premium discount.
Discounts for defensive driving courses vary from five to 20 percent. Most insurance companies offer discounts of about 10 percent.
According to our survey data, the national average insurance rate is $142 a month. Let's pretend you enroll in a defensive driving course for $40. Once you complete the course, your insurance company gives you a 10 percent rate discount.
After the 10 percent discount, your monthly premium shrinks by over $14. You now pay about $128 per month for car insurance. After one year, you would save almost $170 thanks to a $40 defensive driving course. "The discounts keep running for 3-5 years, which is where the real savings are," says Devin Engelmann of Secord Insurance. In just three years, you save over $500.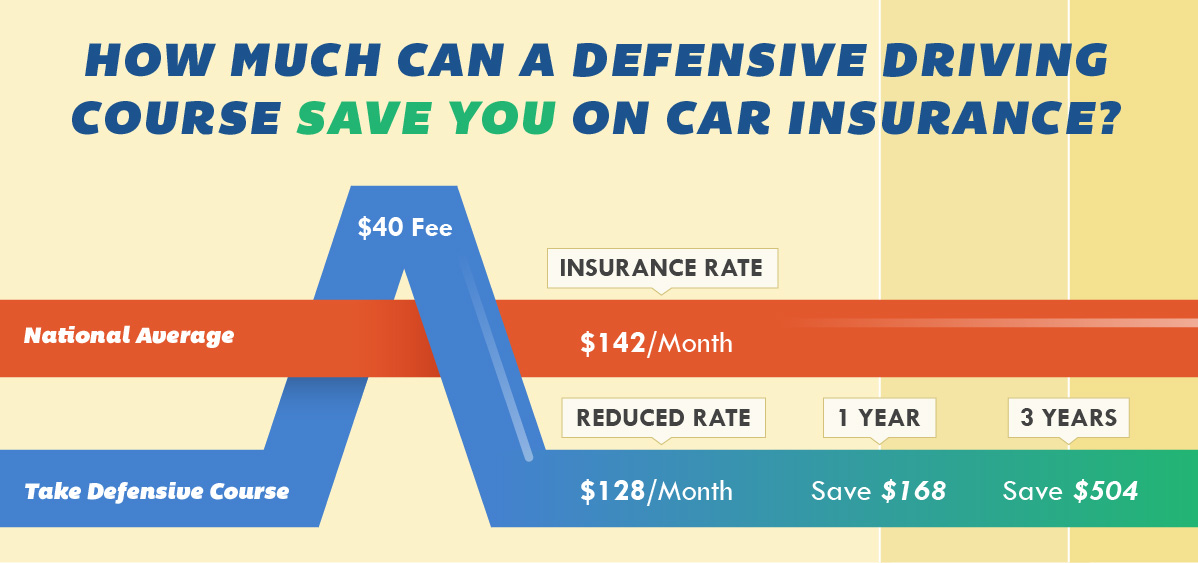 If you lower the discount to five percent and raise the cost of the defensive driving course to $100, you still come out ahead. You save over $80 a year or about $250 over a three-year period for the cost of a $100 driving course. And remember, most courses cost less than $100.
Without a discount, defensive driving courses remain a great investment. According to Improv Traffic School, drivers who complete a defensive driving course can lower their fatality rate by 50 percent.
Now that you're aware of the defensive driving savings you can earn, let's discuss whether you're eligible for discounts.
Do I qualify for a defensive driving course discount?
Many insurance companies reward a defensive driving certification with a premium discount. The specifics of this discount depend on a few different factors:
Insurance provider: While most insurers give discounts for defensive driving courses, it's not always the case. Check with your insurance company to be sure.
State: Even if your insurance company does offer defensive driving discounts, it usually/ varies by state. Discounts available in California may not be available in Georgia, for example. Some states legally require insurance providers to offer discounts for completing a defensive driving course.
Course: Not all defensive driving courses are equal. You can be complete some courses entirely online, while others require in-person lessons in class or behind the wheel.

Insurance companies usually only accept certification from official schools. If you sign up for a course, make sure it's from a reputable organization. Again, the best course type depends on each insurance company's requirements.
Driving record: Most insurance companies only give defensive driving discounts to drivers with good records. If you have recent at-fault accidents or moving violations, you may not qualify for the discount. Similarly, if you're taking a court-mandated defensive driving course, most insurers won't offer you a discount.
Age: A majority of defensive driving discounts are available only to drivers over the age of 55 or under the age of 25. Insurance companies consider these two age groups to be more at-risk drivers than others.
What insurance companies offer defensive driving discounts?
Many insurance companies give lower insurance rates to drivers who complete defensive driving courses. The exact discount depends on multiple factors like your state, driving history, and insurance company. The following insurance carriers provide defensive driving discounts:
GEICO: GEICO's lengthy list of discounts include defensive driving courses. This discount is available in 45 states, but stipulations vary state-by-state:

In most states, drivers must be at least 50 years old to qualify for the discount.
Most drivers receive a 10 percent rate reduction after completing the course. California drivers receive the lowest rate breaks at five percent. Drivers in Arkansas, Delaware, and New Jersey, on the other hand, can qualify for discounts up to 15 percent. New Mexico drivers can benefit from a whopping 20 percent discount.

GEICO drivers can complete online defensive driving courses through the National Safety Council or the American Safety Council. Both courses are available online, and they're standardized and affordable: prices range from $15 to $25. Some states may require drivers to complete an in-person course.
QuoteWizard.com LLC has made every effort to ensure that the information on this site is correct, but we cannot guarantee that it is free of inaccuracies, errors, or omissions. All content and services provided on or through this site are provided "as is" and "as available" for use. QuoteWizard.com LLC makes no representations or warranties of any kind, express or implied, as to the operation of this site or to the information, content, materials, or products included on this site. You expressly agree that your use of this site is at your sole risk.