The Cost Benefit of Defensive Driving Courses
Taking a defensive driving class is a smart way to save money on your car insurance premium.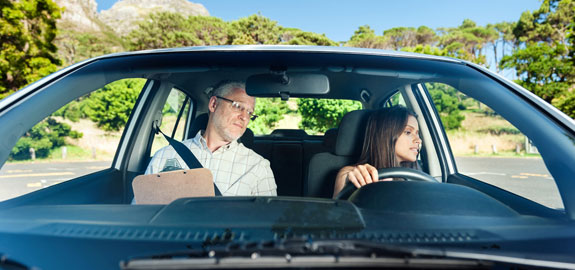 What is defensive driving?
"A Defensive Driving Course is a common term for a driver improvement course that experienced drivers will take to improve their skills," says J.C. Fawcett, instructor and master examiner at Defensive Driving School.
Defensive driving is a form of driver-education that goes beyond grasping the basic rules of the road. Standard drivers education programs teach traffic code and the mechanics of driving. Defensive driving courses, however, emphasize skills that help drivers avoid danger and accidents. These courses educate drivers on collision prevention techniques while encouraging courtesy and cooperation on the road.
"The defensive course will focus more on anticipating and reactions to situations," says Judy Ann Lunblad, the owner and operator at Ann's Driving School. "A regular class would typically include more rules and regulations."
Completing a defensive driving course can help you in three key ways:
Ticket dismissal
Removing license points
Lowering insurance premiums
Beyond that, defensive driving courses aim to help you become a better driver. The Colorado State Patrol conducted a study on 1000 defensive driving grads and found that 89 percent believed they were safer drivers because of the class.
Courses are taught online, in a classroom, or behind the wheel. These courses are generally affordable, but are they a good investment?
Are defensive driving courses worth the money?
The short answer is yes.
A defensive driving course gives drivers new perspectives on viewing the road. It helps drivers identify dangerous situations before they unfold. Defensive drivers can determine and mitigate risky behavior from other drivers. To put it plainly, defensive driving courses can save lives.
These courses can help you save more than just your life. Most insurance companies offer discounts to customers who complete a defensive driving course. Many states legally require defensive driver discounts. If you have tickets or accidents on your driving record, these courses can mitigate the insurance rate raises. The course will pay for itself through insurance discounts. Consider this:
Defensive driving courses range in price from $15 to $100. Most online courses cost between $20 and $40.
Completing an approved defensive driving course gives a three-year premium discount.
Discounts for defensive driving courses vary from five to 20 percent. Most insurance companies offer discounts of about 10 percent.
According to our data, the national average insurance rate is $105 a month. Let's pretend you enroll in a defensive driving course for $40. Once you complete the course, your insurance company gives you a 10 percent rate discount.
After the 10 percent discount, your monthly premium shrinks by over $14. You now pay about $128 per month for car insurance. After one year, you would save almost $170 thanks to a $40 defensive driving course. "The discounts keep running for 3-5 years, which is where the real savings are," says Devin Engelmann of Secord Insurance. In just three years, you save over $500.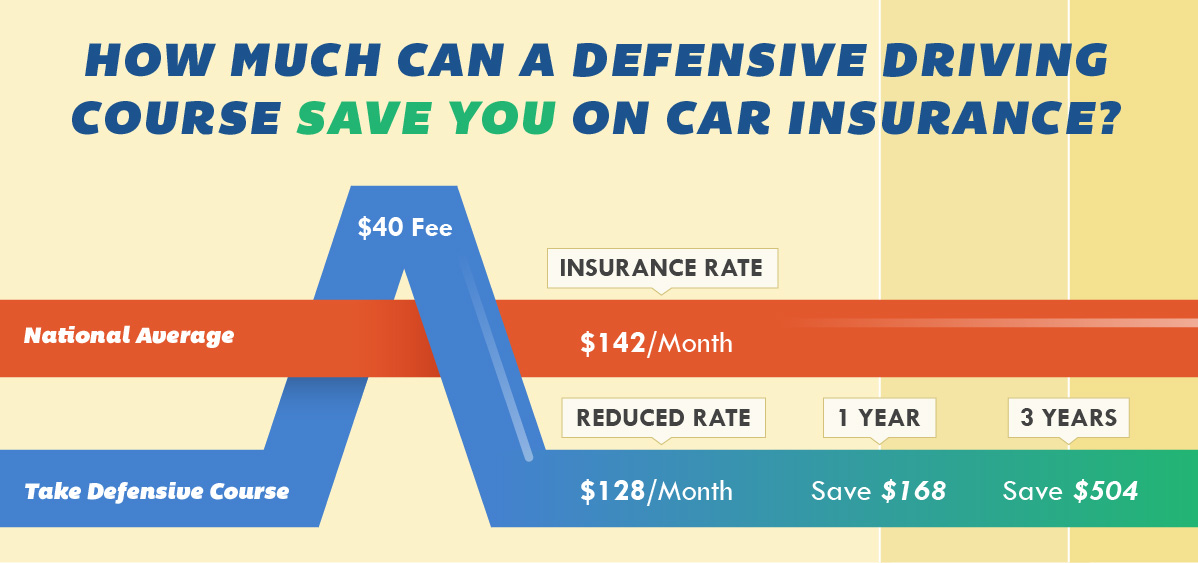 If you lower the discount to five percent and raise the cost of the defensive driving course to $100, you still come out ahead. You save over $80 a year or about $250 over a three-year period for the cost of a $100 driving course. And remember, most courses cost less than $100.
Without a discount, defensive driving courses remain a great investment. According to Improv Traffic School, drivers who complete a defensive driving course can lower their fatality rate by 50 percent.
Now that you're aware of the defensive driving savings you can earn, let's discuss whether you're eligible for discounts.
Do I qualify for a defensive driving course discount?
Many insurance companies reward a defensive driving certification with a premium discount. The specifics of this discount depend on a few different factors:
Insurance provider: While most insurers give discounts for defensive driving courses, it's not always the case. Check with your insurance company to be sure.
State: Even if your insurance company does offer defensive driving discounts, it usually/ varies by state. Discounts available in California may not be available in Georgia, for example. Some states legally require insurance providers to offer discounts for completing a defensive driving course.
Course: Not all defensive driving courses are equal. You can be complete some courses entirely online, while others require in-person lessons in class or behind the wheel.

Insurance companies usually only accept certification from official schools. If you sign up for a course, make sure it's from a reputable organization. Again, the best course type depends on each insurance company's requirements.
Driving record: Most insurance companies only give defensive driving discounts to drivers with good records. If you have recent at-fault accidents or moving violations, you may not qualify for the discount. Similarly, if you're taking a court-mandated defensive driving course, most insurers won't offer you a discount.
Age: A majority of defensive driving discounts are available only to drivers over the age of 55 or under the age of 25. Insurance companies consider these two age groups to be more at-risk drivers than others.
What insurance companies offer defensive driving discounts?
Many auto insurance companies give lower insurance rates to drivers who complete defensive driving courses. The exact discount depends on multiple factors like your state, driving history, and insurance company. The following insurance carriers provide defensive driving discounts:
GEICO: GEICO's lengthy list of discounts include defensive driving courses. This discount is available in 45 states, but stipulations vary state-by-state:

In most states, drivers must be at least 50 years old to qualify for the discount.
Most drivers receive a 10 percent rate reduction after completing the course. California drivers receive the lowest rate breaks at five percent. Drivers in Arkansas, Delaware, and New Jersey, on the other hand, can qualify for discounts up to 15 percent. New Mexico drivers can benefit from a whopping 20 percent discount.

GEICO drivers can complete online defensive driving courses through the National Safety Council or the American Safety Council. Both courses are available online, and they're standardized and affordable: prices range from $15 to $25. Some states may require drivers to complete an in-person course.
Travelers: Drivers ages 21 and under who complete a driver education program are eligible for a Driver Training Discount. The discount can reach as high as 8 percent.
State Farm: Drivers under the age of 25 can enroll in State Farm's Steer Clear program. Steer Clear requires drivers to complete an educational course and sign a safe driving pledge. It can lead to a 15 percent reduction on insurance rates. This program is available to drivers with clean records in 45 states.

State Farm also offers a defensive driving course discount. Eligibility and courses vary considerably depending on where drivers live.
MetLife: Completing the National Safety Council's defensive driving course can bring policy discounts between five and 10 percent. MetLife requires drivers to be licensed for at least two years. Additionally, an 80 percent course score is necessary to qualify for the discount. The course is $21.95, and most policyholders will receive discounts for three years. This discount is available to drivers in most states.
USAA: Military personnel and family members who complete an approved defensive driving course are eligible for lower premiums. Discounts vary state-by-state, and some age restrictions apply.
Nationwide: Nationwide's customers ages 55 and older can qualify for a defensive driving discount. Nationwide requires the defensive driving course to be DMV approved. The exact driving discount varies, but it's usually around five percent.
American Family Insurance: AmFam policyholders who complete defensive driving courses earn decent discounts. Drivers in participating states can earn a five to 10 percent break on their premiums. However, only drivers ages 55 and up can qualify for the defensive driver discount.
Farmers: Farmer's defensive driving discount is an option for senior citizens. Drivers must be 65 or older – 55 in some states – to earn for the discount. Farmers requires courses to be DMV approved.
Allstate: Drivers ages 55 and older can receive discounts as high as 10 percent after completing a defensive driving course. Allstate requires the driving course length to be six hours or more. Drivers must have no at-fault claims or violations to qualify for the full discount.

Young drivers can also net discounts through teenSMART, a computer-based driver education program. Allstate drivers in 42 states are eligible for teenSMART discounts. They advertise that teens who complete their program have up to 30 percent fewer collisions than those who do not. TeenSMART is a third party program, and Allstate is one of their insurance partners.

Who offers defensive driving courses?

From driving schools to safety organizations, there are various course providers to choose from. Finding one that best fits you depends on your insurance company and where you live. The following are well-known defensive driving course providers:

Online courses vs classroom courses

Both web and class-based defensive driving courses cover the same material, but there are differences:

Online courses:

Complete course in your spare time from the comfort of your own home
Usually cheaper than classroom courses due to lower overhead
More flexibility
Not all online courses are approved and regulated
There's no instructor to answer any questions you may have

Classroom courses:

Taught by certified instructors
Only require a single afternoon or weekend
In-person courses may have better reputations and regulations
Lessons can cover local traffic laws
Less flexibility

One format may suit you better depending on your needs and learning habits. Most importantly, make sure that your driving school is fully certified in your state. Otherwise, your defensive driving certificate may be worthless when it comes to discounts.

Defensive Driving school Q & A

Q: How do I pick the best defensive driving school?

A: There are numerous schools and courses, so it's easy to feel overwhelmed about picking the right one.

First, make sure any prospective schools have state regulated certification. Courses from schools with proper regulation are more likely to qualify for a discount. "We issue a course completion certificate for the student to use for insurance discounts," says Lunblad.

Some schools may offer courses in states in which they are not certified. "Check with the DMV to make sure it is an accredited school," says Lunblad. Otherwise, you may sign up for an unsanctioned course, meaning you miss out on potential insurance discounts and benefits.

"When choosing a course, one should ask questions about curriculum," says Fawcett. For classroom courses, he recommends physically checking them out. "Visiting the site in person and speaking with an instructor will also give a prospective student some idea of what they can expect," he says.

Q: Can I take the course online or in person?

A: You can do either, but it depends on your needs. Both course formats are readily available in most areas. Many insurers accept online defensive driving courses, while some require in-person courses. The best fit for you depends on what type of learner you are and what you're looking for from a defensive driving course.

Online courses are generally cheaper, more flexible, and can be completed at your own pace. Instructors tailor classroom courses to local laws, and you have the benefit of a certified instructor who can answer any questions you may have. Both course formats will ultimately help make you a safer driver. But be sure that your driving school of choice is certified.

Q: How long is the defensive driving insurance discount good for?

A: It varies between insurance companies. However, most insurance providers will give you a rate discount for three years after completing a defensive driving course.

Q: How do I get a defensive driving discount?

A: First, contact your insurance provider and ask if they give defensive driving discounts. If they do, find a certified and insurance-approved course provider. There are many different driving schools, but some are not accepted by insurance companies. Once you complete the course, your insurer will want proof. Submit your certificate of completion and enjoy the savings.

Some insurance companies have partnerships with course providers. For example, Geico customers get special deals on SafetyServe courses, and course results are automatically submitted to Geico.

Q: Why should I take a defensive driving course?

A: Several reasons:

Become a statistically safer driver.
Dismiss a ticket
Remove points from your license

Q: How do I know if I qualify for a defensive driving discount?

A: "It is a good idea to check with your insurance company to see if a defensive driving course will result in a discount," says Fawcett.

In some states, the law requires insurance providers to give discounts in exchange for completing a defensive driving course. But that's not the case everywhere. Your insurance provider will be able to tell you what kind of discounts you're eligible for, as well as which defensive driving courses they accept.

Q: How much does a defensive driving course cost?

A: Most online courses will cost between $15 to $40 depending on where you live. In-person courses are usually more expensive due to higher overhead. In-person courses require certified instructors and class space. You can expect to pay between $60 to $100 for a classroom course.

Q: How long does a defensive driving course take?

A: Online courses are generally completed in four to eight hours, but can be completed incrementally at your own pace. In-person courses usually take about eight hours across one or two days. The format and time varies between courses and instructors.

Q: What does a defensive driving course cover?

A: Defensive driving courses focus on several areas:

Risk aversion
Dangers of driving under the influence of any substances
Recognizing potential accidents before they happen
Avoiding accidents and preventing crashes
Analyzing safety equipment
State specific traffic laws
Crash statistics
Accident dynamics

These subjects are usually taught with videos, graphics, and reading lessons. Online courses typically include quizzes after each section.
QuoteWizard.com LLC has made every effort to ensure that the information on this site is correct, but we cannot guarantee that it is free of inaccuracies, errors, or omissions. All content and services provided on or through this site are provided "as is" and "as available" for use. QuoteWizard.com LLC makes no representations or warranties of any kind, express or implied, as to the operation of this site or to the information, content, materials, or products included on this site. You expressly agree that your use of this site is at your sole risk.