What Is a Car Insurance Deductible?
Your deductible is how much you pay out of pocket before your car insurance will cover your car's damages. Find out how deductibles work and how to choose yours.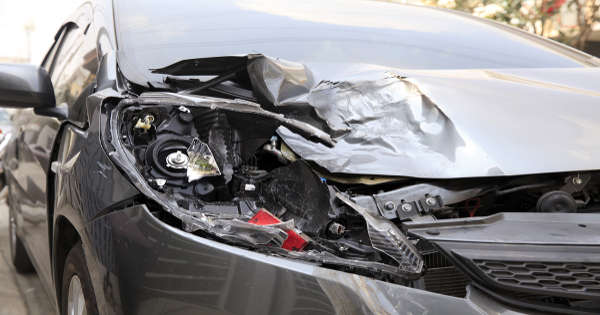 The definition of a car insurance deductible is the amount you pay if your car is damaged before your insurance company covers your damages. You choose your deductible amount based on how much you can pay out-of-pocket at once, and your insurer pays the rest. The higher your auto deductible amount, the lower your monthly premiums are, and vice versa. This article explains:
How Do Auto Insurance Deductibles Work?
Car insurance deductibles work by having your insurer pay the difference between your deductible and the total amount for repairs, to the limit of your policy. Imagine you are in an accident that results in $5,000 in repairs and you have a $1,000 deductible. You'll pay $1,000 of those costs and your insurer pays the remaining $4,000.
Deductibles are attached to your collision and comprehensive insurance coverage. Notably, your deductible won't apply to your liability coverage. Liability car insurance covers property damage and bodily injury that you cause to other people, and it doesn't have a deductible. The deductible only applies to comprehensive and collision claims. You can have a separate deductible for collision and comprehensive.
Your deductible amount is determined by the terms of your car insurance policy. In general, the higher your deductible, the lower your monthly premiums are. There are policies without deductibles, but they're rare and cost a lot more than policies that have deductibles.
When do you pay the deductible for car insurance?
You pay your car insurance deductible after your car is damaged in an accident and you file a claim with your insurance company. When you pay your deductible, your insurer will cover the remaining damages up to your policy limits.
If you decide not to repair your car after filing a claim, your insurance provider will write you a check for how much the repairs would cost, minus your deductible. For example, if your car has $2,000 in damages and you have a $500 deductible, your insurer will pay you $1,500.
Do you have to pay a deductible if you're not at fault for the accident?
After an accident, who's at fault may not be clear. Normally, you won't pay your deductible if another driver causes the accident. But determining fault and getting reimbursed can take a lot of time, and your car will sit unrepaired during that time.
To speed things up, you can file a claim with your car insurance company even if it's not your fault. If you're deemed not at fault after you already paid your deductible and got your car repaired, you can try to get your deductible back. There are a few avenues to pursue:
Your insurer could decide to pursue action against the other driver's insurance policy. This process is called subrogation. If your insurance company can recover funds from the other driver's insurance company, they must reimburse your deductible payment.
If your car insurance company doesn't recover money from the other driver's insurer, you can still get your money back. You can take the other driver to small claims court to get the amount you paid for your deductible.
Collision Deductible
Collision insurance is defined as protection from damages that result from your car colliding with or into something. It applies if you hit a lamp post, another car, a tree, and more. If you have this type of coverage, you'll pay your collision deductible after you file a claim with your insurance company.
Comprehensive Deductible
The definition of comprehensive insurance is coverage that includes damages other than collision. With comprehensive coverage your car is protected from falling objects, fires, theft, earthquakes, and more. You'll pay your comprehensive deductible if you have this type of coverage and file a claim for damages resulting from anything other than a collision.
Average Car Insurance Deductible Amounts
The higher your deductible, the lower your monthly costs. According to Progressive , this is an example of how your collision deductible can impact your monthly rates:
| Deductible | Monthly Price |
| --- | --- |
| $100 | $250 |
| $250 | $182 (27% lower) |
| $500 | $129 (29% lower) |
| $1,000 | $89 (31% lower) |
| $2,000 | $84 (6% lower) |
By Progressive's example, lowering your deductible from $2,000 to $100 will increase your premium by 198 percent. And unlike health insurance, you can't meet an annual car insurance deductible. That means you must be prepared to pay your deductible amount every time you file a claim.
Increasing your deductible from $500 to $1,000 is an easy biggest way to cut your monthly rates. Just remember, you must be able to pay your full deductible amount out-of-pocket if you're in an accident.
$500 Deductible
A $500 deductible means you'll pay $500 out of pocket after an accident, and your insurer will pay for the rest of the damages up to your policy limits. This deductible amount is a common choice for drivers. According to Progressive's example, if you choose a $500 deductible, you'll be paying around $129 per month.
If your car repairs are less than your $500 deductible, don't file a claim. You should cover any repairs close to your deductible amount as they're considered "small repairs." It's unwise to file a claim for a minor accident.
For example, if your final repair bill from the mechanic is $600, this exceeds your $500 deductible. But it's not in your best interest to file a claim. You would pay the insurance company $500 of a $600 repair bill; they would in turn send you a check for $600. They just gave your $500 back and you only got $100 from the insurance company.
And there's a good chance your insurance company would raise your rates after a claim. So even if the repair bill is $750, your rate increase will likely cost more than the $250 you save from filing a claim rather than paying for repairs yourself.  
$1,000 Deductible
If you're able to fork over $1,000 at once after an accident, choosing this deductible amount is a good option. Many drivers choose this amount if they're able to afford it.
$1,000 deductibles are a good cost-cutting solution, saving you around 31 percent monthly than if you were to choose a $100 deductible. According to Progressive's example, choosing a $1,000 deductible over a $500 deductible would save you around $480 annually.
Choosing Your Deductible Amount
The amount you choose for your deductible influences your monthly costs and how much you'll have to pay at once. That's why it's important to choose the right deductible for your situation. These are some questions you should ask yourself while choosing your deductible amount:
How much cash do I have available? If you have an ample amount of money in your savings account, you should choose a high deductible that will save you money month-to-month. If you don't have a lot extra income, a lower deductible would cost more monthly but reduce the risk of not being able to meet a large payment if you're in an accident.
What are the chances that I'll have to file a claim? You probably want a lower deductible if you have a lot of accidents on your record. That way you don't have to dish out $1,000 every time you file a claim. If you have a clean driving history and don't expect to file a lot of claims, a high deductible may be a better option. Of course, you never know when you'll get in an accident, so be sure you're able to pay your deductible- even if you have a spotless record!
What's my car worth? If your car is low in value, you shouldn't carry a high deductible because the value of the vehicle could be close to how much you'll have to pay out-of-pocket.
Does my auto lease require a certain deductible amount?
You may have a required deductible amount if you have a loan or are leasing your vehicle. Some lease agreements require low deductibles of $500 or less to ensure that you're able to pay if the car is damaged.
QuoteWizard.com LLC has made every effort to ensure that the information on this site is correct, but we cannot guarantee that it is free of inaccuracies, errors, or omissions. All content and services provided on or through this site are provided "as is" and "as available" for use. QuoteWizard.com LLC makes no representations or warranties of any kind, express or implied, as to the operation of this site or to the information, content, materials, or products included on this site. You expressly agree that your use of this site is at your sole risk.