Best Home and Auto Insurance Companies for Bundling
Bundling car and home insurance with one company is an easy way to get a discount on your premiums. Here are the best home and auto insurance bundles.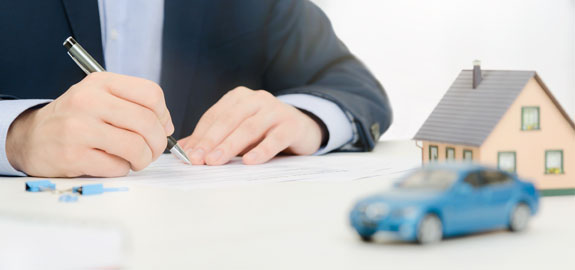 Bundling your home and auto insurance policies with one company is one of the quickest ways to get cheaper insurance. You can instantly save 10 to 25 percent on your combined insurance rates. Some insurance companies offer even higher discounts. This article covers:
Best Bundled Home and Car Insurance Companies
Top-rated home and auto insurance companies usually offer bundling discounts. But some bundles come with cheaper rates than others. An average bundle deal from most companies has a 10 percent discount. But Liberty Mutual, Country Financial, AAA, and Erie all have bundle discounts of 20 percent or higher. And on the highest end, a bundle from American Family insurance can cut up to 42 percent from auto and 27 percent from home insurance rates.
Here are average bundling discounts with some of the best home and auto insurance companies.
| Insurance Company   | Bundling Discount up to   |
| --- | --- |
| Country Financial   | 25% total   |
| Allstate   | 10% on auto, 25% on home   |
| State Farm   | 17% on auto, 25% on home   |
| Travelers   | 10% on auto, 15% on home   |
| USAA   | 10% total   |
| Esurance   | 10% total   |
| Erie   | 25% total   |
| Liberty Mutual   | 20% total   |
| American Family   | 42% on auto, 27% on home   |
| Amica   | 15% total   |
| AAA   | 25% total   |
| Safeco   | 15% total   |
| 21st Century   | 10% total   |
| The Hartford/AARP   | 10% on auto, 20% on home   |
Those aren't the only car and home insurance companies with multi policy discounts. The following insurance companies also offer bundling discounts:
Nationwide
GEICO
Progressive
Chubb
Farmers  
Kemper
MetLife
Mercury  
This list isn't exhaustive – we're only including the best rated insurance companies. There are plenty of regional insurers that offer multi policy or bundling discounts. If you don't see your current insurer listed, contact them and ask about bundling. And the companies listed don't operate in every state. For example, you can't get an Erie insurance bundle in California, Georgia, or 36 other states.  
Be aware that these discount amounts aren't guaranteed. Your total insurance bundle discount depends on factors like your car make and model, your driving history, your age, your claim history, where you live, your house, weather and crime rates in your area, and more.  
How to Compare Car and Home Insurance Bundles
You should compare home and car insurance bundles by studying them side by side.
But remember: cost isn't the only thing that matters when it comes to choosing car and home insurance companies. This is especially true when choosing a home insurance company, as a house is usually a person's most expensive asset. You want good coverage, rather than just cheap coverage.
Yes, an affordable quote is appealing when shopping for either home or auto insurance. But make sure you're buying home insurance from a reputable company with good reviews. You don't want to skimp on coverage by choosing the cheapest bundle only to find your insurance company doesn't provide basic service you want. Look at auto and home insurance company ratings to find carriers with a decent reputation.
In particular, check out home and auto insurance company ratings from Consumer Reports and JD Power. While you're at it, examine the complaint ratio in your state for any prospective insurance company. You can see how many policyholders have issues with specific insurers. Ideally, your preferred insurer will have good reviews and a reasonable ratio of customer complaints.
Also, consider your personal insurance requirements. Whether you want the best customer service, the cheapest premiums, or specific coverage options, you'll want an insurer that meets your needs. You'll need to do a comparison of different car and home insurance companies to find your ideal match.
Should You Bundle Your Car and Home Insurance?
In most cases, you should bundle your car and home insurance. After all, it makes your home and auto insurance rates cheaper. But unfortunately, there are scenarios where a multi-line insurance discount isn't the right choice. Read the pros and cons and see which apply to you.  
Bundling Pros
Save money: This one is easy. Bundling allows you to shrink your insurance premiums by five to 25 percent. Think of it as a bulk buy discount. You're giving an insurance company extra business by buying two policies. They're giving you a discount.  
Simplify your life: What's better than two insurance bills? One. Bundling with one company means you deal with half the paperwork.  
Lowers your risk: If you own a house that's considered an insurance risk, or if you have tickets and accidents on your driving record, you might have trouble finding insurance. By bundling two separate policies with one company, you can mitigate your total risk level in the eye of the insurer.  
Bundling Cons
You don't always save money: I know we just said you can save up to 25 percent on your premiums by bundling. That's a best-case scenario, but the math doesn't always check out. Imagine you get a 10 percent discount for bundling your homeowners policy with your car insurance company. But now your new homeowners policy costs 30 percent more than your old policy. Even with that 10 percent bundling discount, you're ultimately paying more than before.
You might end up with an affiliate: While it might seem like an insurance company offers both auto and home coverage, that might not be the case. Insurers sometimes use partner networks. They'll sell you a policy that is underwritten by another company. If you buy a home insurance policy through GEICO, for example, a company other than GEICO provides the actual coverage. This eliminates the convenience of dealing with one insurance company, rather than two.
You could lose certain coverages: Every insurance company offers unique coverage options. Switching your policy to a new provider means you may lose policy features that you rely on. For example, some insurance policies come with replacement cost value no extra cost. This is an added benefit that you might not got with another company.
Tips for Bundling Auto and Home Insurance
So, you're interested in combining your home and car insurance with one company. Great! Here's how you do it:
Find out if your current home and auto insurance companies offer bundling discounts.
Compare quotes for auto and home insurance bundles from top-rated insurance companies, including your current company. It's time consuming, but it's worth it. Enter your zip code in at the top of the page, and QuoteWizard can help you get online home and auto quotes. Or, call around and get quotes from different insurers.
Make sure you keep the coverage you want. Remember – every insurer has their own policy features. If there's something you loved about your previous policy (roadside assistance, good customer service, easy billing, for example), check to see that your new insurer offers it. You don't want to switch insurance providers to bundle only to find out you're missing out on coverage options that are important to you.
Be aware of any policy cancellation fees before switching over. It's not super common, but some insurers will charge you a fee to cancel your policy. That's especially true if you cancel in the middle of a policy term.
Avoid a lapse in your insurance. If you bundle a home and auto policy with one company, make sure it starts on the same day your old policy ends. Some insurers offer a small grace period between policies, but you shouldn't rely on that.
QuoteWizard.com LLC has made every effort to ensure that the information on this site is correct, but we cannot guarantee that it is free of inaccuracies, errors, or omissions. All content and services provided on or through this site are provided "as is" and "as available" for use. QuoteWizard.com LLC makes no representations or warranties of any kind, express or implied, as to the operation of this site or to the information, content, materials, or products included on this site. You expressly agree that your use of this site is at your sole risk.