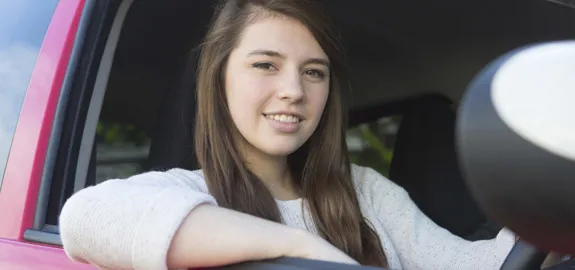 Teen drivers are expensive to insure, and with good reason. Statistically speaking, teens get into far more accidents than other drivers. If you're planning on adding a teenage driver to your existing car insurance policy, brace yourself for a significant rate increase. Teenage boys are almost twice as expensive to insure as girls, but you can expect to pay more with either.
Even though these increases are inevitable, there are steps you can take to mitigate them, as well as teen drivers' increased risk on the road.
Experience is Still the Best Teacher
Not being used to common driving situations can affect a teen's ability to make decisions and react quickly. These factors can lead to crash rates for 16-19 year olds that are over three times higher than drivers 20 and older.
Driving courses can help fix this problem by giving your teen some hands on experience. While the effectiveness of these courses is still being studied, introducing your teen to driving practice early on can make them more self-aware while on the road solo.
Learning defensive driving in particular can define your teen's ability to avoid wrecks and illegal maneuvers, both of which can increase your car insurance rates drastically. Teens may think more deliberately about the act of driving when they have solid defensive driving skills. They may also experience less panic in tight situations, such as when someone unexpectedly cuts in front of them or suddenly turns without a signal.
Driving courses range from typical Driver's Ed classes with both classroom and behind the wheel training, to full-blown road courses taught by expert drivers. For the latter, your teen will get valuable lessons on track driving as well as tips for handling commonly-seen problems on the road.
Keep an eye out for programs that can nab you a discount for car insurance premiums too. Many insurers offer a discount for young drivers that have completed a driver's Ed course. You can find out how much the discount is by comparing quotes from multiple insurance companies.
Graduating from Highway High School
Graduated license programs are single-handedly the most effective method for reducing teen accidents. States with these programs have been extremely successful in curbing accident rates in new drivers by as much as 10-30 percent.
If your state has a graduated license program, hold your teen to the rules. Make sure that they don't drive with too many people in the car, or past their curfew. Also, make sure that they are being honest with their logged driving hours.
When they are still using their learner's permit, give them advice while sitting in the passenger seat. Try to stay calm when you're doing this. It is kind of hard to learn from someone who is yelling in fear. Remember that your teen is still learning! Hurting their feelings can be discouraging, no matter how many times they make your life flash before your eyes.
If your state doesn't have a graduated license program, or if the one you do have is too lax for your tastes, impose your own rules. Study up on some states that have rigid programs and adopt the rules you think would work best. The more restrictions you start off with, the easier it will be to curb problem behaviors later.
Alcohol and Drugs — Bad Influences
Being under the influence of alcohol or psychoactive drugs can single-handedly change an excellent teen driver into a dangerous one. In 2012 data compiled from fatal crashes involving teens, 27 percent of males and 15 percent of females had blood alcohol levels (BACs) over 0.08%.
Be crystal clear to your teen when you explain to them how much trouble they can get themselves into when they drink or do drugs and drive. Not only can they risk jail time and steep fines, they could critically injure themselves or someone else on the road in an instant.
Car accidents are the number one cause of death in teenagers; having a conversation about this danger is imperative. Give teen drivers options to get home safe should they be too tired or impaired to drive, such as cab fare or a ride from a family member.
Their First Days on Their Own
16-year old drivers are the most likely to get into accidents. These accidents are usually characterized by:
Higher incidents of driver error as the cause
Excessive speeding being related to the initial cause. A third of all teen crash fatalities are estimated to be the result of speeding
Single vehicle crashes where the driver simply lost control either from speeding, distractions or mishandling the vehicle from inexperience
Passengers being a distraction — each passenger increases the odds of a teen crashing
Night driving error — teens are four times as likely to have fatal crashes at night than during the day when comparing the miles driven
These dangers are especially relevant during a teens first few months of licensure. 16 year olds' crash rates are twice as high in the first two months as they are 9-10 month later.
As a parent, warn your young driver about the presence of these dangers in their first few months. Ride with them and have regular conversations to curb deadly habits before they form. A teen driver's "breaking in" period should never be literal.
Other Ways to Reduce Your Rates
There are many ways to make the increased premiums sting a little less. Some policies can give students that carry a "B" average a premium discount. These benefits can carry over when the student moves off to college, as well.
Cars that are expensive to insure for adults are even more so when it comes to teens. It's best to stick with low-horsepower sedans and wagons. Try to avoid small, sporty cars.  These "speed machines" not only cost more to fix, but they also tend to tempt people, especially young teens, into showing off their amateur racing skills.
Finally, impress on teens the importance of obeying traffic laws and posted speed limits. If you thought insuring a teen was expensive before, wait until they get a couple of tickets…
Just remember to tell them to be safe and make smart choices on the road. Talking with your teen regularly about their driving habits can help identify and curb problem behaviors. Emphasize to them that the consequences could cost a lot more than just an insurance rate hike.
Do Your Homework
While parents love to push teens to their do homework, they sometimes don't practice what they preach. In other words, don't go with the first car insurance policy you happen to find. Compare quotes for teen drivers to find lower rates. Rates for teens can vary dramatically, so it's worth getting quotes from a few different companies.
Avoid getting more coverage than you need for your teen. Ideally, they will be driving an inexpensive, reliable vehicle that does not cost a great deal to fix.
You might even want to keep an eye out for a new policy for yourself in the process. It is almost always cheaper to add a teen to an existing policy instead of purchasing a separate one. With enough diligent research, you and your teen can both enjoy relatively low premiums together
QuoteWizard.com LLC has made every effort to ensure that the information on this site is correct, but we cannot guarantee that it is free of inaccuracies, errors, or omissions. All content and services provided on or through this site are provided "as is" and "as available" for use. QuoteWizard.com LLC makes no representations or warranties of any kind, express or implied, as to the operation of this site or to the information, content, materials, or products included on this site. You expressly agree that your use of this site is at your sole risk.