Cheap Car Insurance for College Students
Find out what college students and their parents need to know about keeping car insurance premiums low.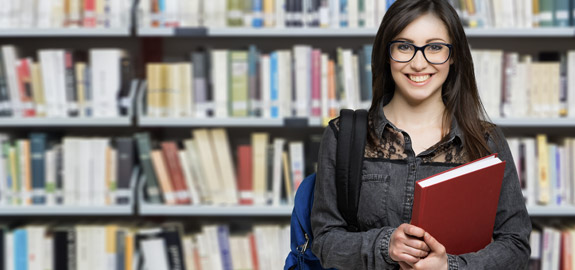 Drivers under the age of 25 face some of the highest car insurance costs of any age group in the U.S. — mainly because they are involved in a lot of accidents. Most college students are part of that age group, which is why it's important to know how to save on auto insurance as a college student. There are discounts for students, plus changes you can make to your policy that will save you money. This article covers how college students can get cheap car insurance, including:
The best cheap car insurance for college students
According to our data, GEICO has the cheapest car insurance for college students out of the four major insurers we analyzed. We found that GEICO's average annual car insurance rate for a college student is $2,420 per year. That premium is only six dollars less than State Farm®'s annual rate. But it's almost half as expensive as Allstate's premium, the highest premium for college students out of the companies we analyzed.
 Insurance company
 Average annual rate
Allstate 
$4,564
GEICO 
$2,420
Progressive 
$3,343
State Farm®
$2,426
These average rates are based on our sample quote data from Quadrant Information Services. 1
How to save money on car insurance as a college student
Most college students are between ages 16 and 22. That age group tends to pay the most for car insurance because companies see them as the highest risk to insure. They're seen as high risk because they have less experience on the road, which results in more accidents and traffic citations than older drivers. Luckily, there are several ways you can save money on car insurance as a college student. This is how:
Leave the car at home, if possible
If you're a soon-to-be student, the best thing you can do for your budget is not bring a car to school with you. That's true even if you already own a vehicle but leave it with your parents while you're away.
Ray Crisci, worldwide auto and excess liability manager for Chubb Personal Insurance, says many insurers "give auto insurance customers a discount on their auto policies if the student is 100 or more miles away from home without the car."
If your college is located 100 or more miles away from home and you choose to be car-free, your premiums may be reduced by up to 20% while still providing coverage when you return home during breaks or even when you borrow a vehicle while on campus.
Should you go this route, though, be sure to let your insurer know about it. Also, let them know if the car will be left in a garage except for when you come home for visits, or if it'll be driven by someone (your parents, a sibling, etc.) in the meantime.
If you must own a vehicle, drive it as little as possible
Another way to earn a premium discount or rebate — or at least keep related expenses at bay — as a car-owning college student is to limit your driving. Instead, walk, bike or carpool with friends or use public transportation as often as possible.
Be smart about where and how you park it
Chubb's Crisci also stresses the importance of following parking regulations while at school if you want to keep your car insurance premiums as low as possible.
"Campus police departments are known for their propensity to ticket or tow parking violators," he said. "Also, a car parked on campus is most vulnerable to theft. Often, it is parked in an unguarded lot on campus, so [don't] leave valuables — such as a laptop, a GPS or a camera — in your car, because these valuables can attract a thief's attention."
Stay on your parents' insurance
If the vehicle you wind up taking to school with you is owned by your parents, it may be in both of your best interest for it to be added to your parents' insurance policy (if it isn't already).
This will likely save you money — even if your parents make you pay your portion of their bill. That amount is still sure to be less than what you'd be charged if you took out your own policy.
Buy an older car
Buying an older used vehicle instead of a new one can go a surprisingly long way, as doing so will keep your premiums to a minimum. Older cars are cheaper to insure because they aren't as costly to repair or replace.
Also, if the vehicle you purchase and take to school with you is old enough, you might decide to forego paying for comprehensive or collision coverage — or both — and save even more.
Make sure the car you take to college includes anti-theft or security features
In general, the more "vehicle safety equipment" that can be found in a car, the lower that car's insurance rates are likely to be. This is some of the equipment that can help you (and your wallet):
Alarm systems
Anti-lock brakes
Automatic seatbelts
Daytime running lights
Driver and passenger airbags
Electronic stability control
Rearview cameras
This means that the flip side is true, too — if your car has few or no anti-theft or security features, you're probably going to pay more for car insurance.
Complete a defensive driving course
Some car insurance providers offer discounts to people who go through a defensive driving course or driver's education program.
Check with your insurer to see if that's something they support. If they do, ask them exactly what you need to do to earn the related discount or rebate. You may need to participate in a particular program. Or you may need to show some kind of proof that you completed it.
Get good grades
Many insurance companies offer young adult customers (or their parents, depending on who's footing the bill) a reduced rate if they can prove they're a full-time student and they achieve a good GPA.
These reduced rates can be up to 20% lower than what drivers between the ages of 16 and 25 would receive otherwise, depending on the insurer. As a result, be sure to let your agent know if your student has a high GPA, usually a 3.0 or above.
Raise your deductible
Raising your deductible is probably the easiest way to lower your insurance rates. If your vehicle is still worth enough that dropping your collision and comprehensive coverage isn't a good idea, you could still raise the deductible associated with that coverage. That would lower your premium payments. Keep in mind that you'll have to pay more if you're in an accident, though.
Shop around
Shop around and compare quotes from a number of insurers before choosing one option over another. The benefit of this legwork: it will ensure that you end up with the best possible rates on the right amount and types of coverage.
Methodology
1 For the rates we gathered, our driver profile was a 20-year-old college student who is eligible for good student discounts. The driver has a 2012 Honda Accord and drives 15,000 miles annually. We compared rates from 10 to 20 random cities in Maine, Pennsylvania and Illinois. We analyzed rates from four insurance carriers that offer policies in those cities. Average rates are based on non-binding estimates provided by Quadrant Information Services. Your rates may vary.
QuoteWizard.com LLC has made every effort to ensure that the information on this site is correct, but we cannot guarantee that it is free of inaccuracies, errors, or omissions. All content and services provided on or through this site are provided "as is" and "as available" for use. QuoteWizard.com LLC makes no representations or warranties of any kind, express or implied, as to the operation of this site or to the information, content, materials, or products included on this site. You expressly agree that your use of this site is at your sole risk.