The Affordable Care Act (ACA) is commonly associated with the health insurance marketplace, but many of the law's provisions also apply to health care policies you can buy on your own. Here's what you need to know about the rate factors health insurance companies use to determine your premium and the steps you can take to save money.
How are health insurance premiums calculated?
A health insurance plan that complies with the ACA can only use the following five factors to determine your premium:
Your age.
Where you live.
Whether you smoke or use nicotine products such as e-cigarettes and vaping devices.
The number of family members on your policy.
The plan category you choose.
For ACA compliance, the insurance company has to charge men the same rate as women, and can't charge more or deny coverage for a pre-existing condition.
What is an ACA-compliant health care plan?
ACA-compliant health insurance includes plans available in the health insurance marketplace, including your state's health care exchange, and many, but not all, plans you can purchase outside the marketplace. The rules are slightly different for employer-sponsored plans.
Now that the personal mandate to purchase health insurance is no longer in effect, there is no legal requirement to purchase an ACA-compliant health care plan. However, ACA-compliant health care plans tend to offer more coverage and consumer protections than non-compliant plans.
For example, an ACA-compliant health care plan offers 10 essential benefits, including coverage for prescription drugs and emergency medical services. These benefits are not always included in non-compliant plans, such as most short-term insurance and ministry health plans.
Non-compliant health insurance companies can also charge higher rates to customers with chronic illnesses or other long-term conditions and non-renew customers. ACA-compliant policies include guaranteed renewability.
Shop for health insurance
How do health insurance rate factors affect my premium?
In general, the health insurance rate factors allowed under the ACA result in higher premiums for customers who fall into groups that tend to need more medical care. Here's a closer look at each rate factor.
Age
Older people tend to need more medical care than younger people. Insurance companies can increase your rate as you age, but they cannot charge older customers more than three times as much as they charge younger ones.
Location
The ACA allows insurance companies to set rates that reflect the local costs of doing business in each community they serve. If you live in an area with a high cost of living and an expensive healthcare environment, you and your neighbors are likely to also pay more for health insurance.
Tobacco and nicotine
Those who smoke or use other nicotine products tend to have greater medical needs than those who don't. In most states, insurance companies can charge nicotine users up to 50% more than non-users. However, nine states and the District of Columbia either ban or limit this so-called "tobacco surcharge".
The good news is that ACA-compliant plans include coverage for smoking cessation programs. You can also save on future health insurance premiums if you successfully quit.
If nicotine use you didn't disclose in your application is subsequently discovered during your medical care, the insurance company can apply the tobacco surcharge retroactively to the beginning of your policy period.
Family members on your policy
Adding a spouse and/or dependent children to your policy will increase your premium. However, keeping family members on a single plan is usually cheaper than the combined costs of getting separate plans for family members in your home. You can usually keep your children on your policy until they turn 26.
Plan category
The ACA standardized the categories of coverage that insurance companies offer. Of the four "metal" categories — Bronze, Silver, Gold and Platinum — Bronze offers the lowest premiums, while Platinum provides the most coverage.
Catastrophic plans are available to those under the age of 30 and others meeting financial hardship criteria. With high deductibles, catastrophic plans usually result in the highest out-of-pocket costs, but they also cover three primary care visits before you reach your deductible.
You can also usually choose from among different types of plans within each category. Depending on the company, you may see choices such as health maintenance organizations (HMOs) and/or preferred provider organizations (PPOs). In general, PPOs tend to have higher premiums than HMOs in the same category.
Learn more about the differences between HMOs and PPOs.
Health insurance disparities by race and ethnicity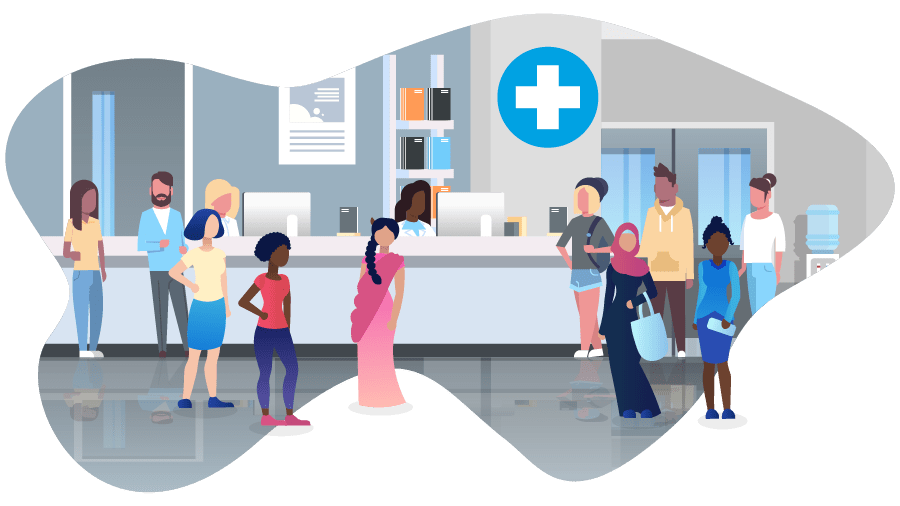 People of color face greater challenges when it comes to both health care and health insurance. Black, Hispanic and other communities of color are less likely to have health insurance and more likely to experience higher rates of illness and death.
Key findings:
People of color are two to three times more likely not to have health insurance.
In 11 states, more than 20% of Hispanic residents don't have health insurance.
Nationwide, 9% of people don't have health insurance.
The coronavirus pandemic is a striking example of the greater health care burden placed on communities of color. Our team of analysts found that Black and Hispanic communities were twice as likely to die and three times more likely to be hospitalized due to COVID-19 than white communities.
Lack of health insurance is a major reason why people of color face more adverse health outcomes. Nationwide, nearly 18% of Hispanic people and 10% of Black people don't have health insurance.
The disparity in health insurance coverage among people of color is even greater in certain states. Our team of analysts found 11 states where more than 20% of Hispanic residents don't have health insurance. Maine and Montana are the only two states where white communities have a higher proportion of people without health insurance than communities of color.
Health insurance coverage by race and ethnicity
State
% uninsured (Asian alone)
% uninsured (Black alone)
% uninsured (Hispanic or Latino)
% uninsured (white alone)
Alabama
>1%
7%
24%
7%
Alaska
8%
>1%
7%
4%
Arizona
2%
5%
8%
4%
Arkansas
22%
3%
21%
6%
California
7%
5%
7%
3%
Colorado
3%
1%
6%
5%
Connecticut
8%
2%
12%
2%
Delaware
15%
6%
>1%
3%
Florida
2%
6%
12%
5%
Georgia
2%
7%
24%
10%
Hawaii
1%
>1%
4%
3%
Idaho
4%
>1%
12%
6%
Illinois
3%
3%
16%
2%
Indiana
1%
7%
26%
5%
Iowa
10%
2%
28%
4%
Kansas
3%
8%
12%
5%
Kentucky
>1%
5%
5%
5%
Louisiana
>1%
9%
24%
6%
Maine
>1%
>1%
>1%
7%
Maryland
2%
4%
7%
2%
Massachusetts
2%
6%
5%
3%
Michigan
2%
2%
4%
3%
Minnesota
6%
3%
18%
3%
Mississippi
>1%
10%
49%
8%
Missouri
>1%
5%
13%
4%
Montana
>1%
>1%
2%
5%
Nebraska
>1%
10%
16%
3%
Nevada
12%
4%
16%
5%
New Hampshire
6%
>1%
12%
4%
New Jersey
4%
7%
9%
2%
New Mexico
1%
5%
8%
6%
New York
13%
1%
6%
3%
North Carolina
3%
12%
9%
5%
North Dakota
17%
>1%
5%
3%
Ohio
>1%
5%
6%
3%
Oklahoma
>1%
1%
10%
6%
Oregon
1%
>1%
10%
6%
Pennsylvania
6%
15%
14%
4%
Rhode Island
3%
>1%
3%
2%
South Carolina
>1%
12%
8%
5%
South Dakota
>1%
17%
26%
5%
Tennessee
9%
12%
13%
6%
Texas
16%
8%
22%
6%
Utah
>1%
6%
7%
4%
Vermont
>1%
>1%
4%
3%
Virginia
4%
2%
8%
2%
Washington
5%
3%
24%
3%
West Virginia
>1%
19%
24%
3%
Wisconsin
>1%
4%
3%
4%
Wyoming
53%
>1%
17%
8%
Source: United States Census Bureau Household Pulse Survey
Why do health insurance premiums increase?
Your age and increases in your insurance company's costs of providing care are the two most common reasons your health insurance premiums may go up each year.
Your age normally has a slight impact on your rates each year until you approach or reach your 60s, when the annual rate increases become more significant. Fortunately, you can enroll in Medicare, if you qualify, at age 65.
In addition to standardizing rate factors and coverage levels, ACA guidelines on insurance companies' spending help keep rate increases in check. The law's 80-20 rule requires insurance companies to spend at least 80% of the premiums they collect on care and no more than 20% on overhead, administrative costs and marketing expenses.
The insurance commissioner in each state has the authority to approve or deny insurance rates. For proposed rate increases, the insurance company has to show that at least 80% of the premiums it collects after a rate increase will be spent on care.
If an insurance company fails to meet the 80% threshold at the end of a year, it has to provide customers with a rebate on the portion of premiums that were overcharged.
Find affordable health care
How can I lower my health insurance costs?
The best ways to lower your health insurance premiums are to comparison shop and see if you qualify for subsidies, such as tax credits or cost-sharing reductions.
Health insurance is a dynamic industry, with competition and regulatory changes leading to frequent rate fluctuations. Though it may seem inconvenient, shopping for health insurance every year or two may help you find a plan that offers lower premiums and/or covers more of your medical expenses.
The health care marketplace has made it relatively easy to shop online, but a licensed health insurance agent or broker can also help, at no additional cost to you.
Seventeen states and the District of Columbia currently operate their own health insurance exchange, and each one has a website that you can visit to learn about your financial aid options and compare rates. If your state does not operate its own exchange, you can shop on the federal health insurance marketplace at Healthcare.gov.
You can normally only sign up for health insurance or switch companies during open enrollment, which begins in November. However, you don't have to wait until then if you experience a life event that qualifies for special enrollment, such as marriage, the birth of a child or job loss.
The two most common forms of financial assistance for health care include premium tax credits and cost-sharing reductions. Here's how they work:
Premium tax credits are available to those with a household income below specified thresholds. If you qualify, your monthly insurance bill is reduced by the amount of your tax credit, which goes directly to the insurance company. Most people with a household income of 100% to 400% of the federal poverty level are eligible. The American Rescue Plan Act temporarily expanded eligibility to some households earning more.
Cost-sharing reductions are available on Silver plans to those who also meet income eligibility requirements. If you choose a Silver plan with a $750 deductible, a cost-sharing reduction could reduce your deductible to $500 or $300, depending on how much aid you qualify to receive, at no extra cost. Cost-sharing reductions can also apply to your co-payments.
If you can't find a plan that suits you on the exchange, you can also purchase health insurance directly from a provider, usually with or without the assistance of a licensed agent or broker.
Frequently asked questions
What is a health insurance premium?
A health insurance premium is the cost you pay to keep your policy in force. Most plans also require you to pay your deductible and copayments for treatment out of your own pocket.
How does age affect health care rates?
As a group, older people require more medical treatment than the young, and the Affordable Care Act allows insurance companies to charge older customers up to three times as much.
How do insurance companies check for smoking?
Insurance companies can access your medical records when they process payments for treatment. In most states, they can charge you extra if your medical records reveal tobacco use you did not disclose on your application. The nicotine byproduct cotinine is detectable in urine and blood.
References:
QuoteWizard.com LLC has made every effort to ensure that the information on this site is correct, but we cannot guarantee that it is free of inaccuracies, errors, or omissions. All content and services provided on or through this site are provided "as is" and "as available" for use. QuoteWizard.com LLC makes no representations or warranties of any kind, express or implied, as to the operation of this site or to the information, content, materials, or products included on this site. You expressly agree that your use of this site is at your sole risk.