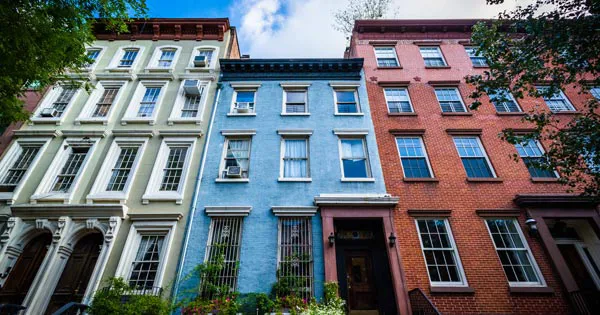 Renters insurance is not required by law, but landlords often make you get it. Considering the relatively low cost of renters insurance and the benefits it provides, it's often worth getting even when your landlord does not require it. Here is a look at the most important reasons why you may need renters insurance.
My landlord requires renters insurance
Deciding whether you need renters insurance is a no-brainer if your landlord requires it for a lease.
Landlords are generally allowed to make their tenants get renters insurance, and, in most states, you can be held financially responsible for damage you cause to your landlord's property.
Although your landlord's insurance also covers damage to your building, your landlord, or their insurance company, may try to get you to pay for damage you cause. This is where the liability coverage in renters insurance can protect you.
Your security deposit also covers damage you may cause to a rental unit. In most cases, though, this is only enough for relatively minor repairs. Renters liability can cover more significant damage. Think kitchen fire or water damage from a bathtub you let overflow.
Renters insurance requirements and protections are similar for most different types of rental homes, including apartments, condominium units, houses and mobile homes.
Renters insurance vs landlord insurance coverage comparison

| Type of incident | Covered by renters insurance? | Covered by your landlord's insurance? |
| --- | --- | --- |
| Damage to your apartment building or rental house from a fire or act of nature | No | Yes |
| Damage you cause to your unit or the building | Yes: renters liability | Maybe: your landlord's insurance company covers damage to the building, but it may try to make you pay for damage you cause |
| Theft or damage to your belongings | Yes: personal property coverage | No |
| Injuries to a guest inside your unit | Yes: guest medical and, possibly, liability | No |
| Injuries to a guest in a common area on the property | No | Yes: landlord's guest medical and, possibly, liability |
| Increased rent for a temporary home after a fire damages your unit | Yes, additional living expenses | No |
Find cheap renters insurance near you
I need renters insurance to protect my belongings
Even if your landlord does not require renters insurance, you may still need it for the money it can provide to replace your possessions if they are stolen or damaged by a fire or other covered peril.
You may not think your possessions are worth much. However, when you tally up the costs of everything you own, including your furniture, electronics, clothes, recreational gear and kitchenware, you are likely to discover how quickly their combined value can add up.
Unfortunately, your landlord's insurance does not cover your belongings.
The average occupant of a one-bedroom apartment has about $30,000 worth of stuff. The average cost of a $30,000 renters insurance policy ranges from $12 a month to $31 a month, depending on your state.
These relatively low rates allow renters insurance to provide affordable protection from a potentially large expense, if you ever need to replace your belongings.
Most renters insurance policies cover your belongings at actual cash value, which deducts depreciation from your insurance payment. However, several companies offer upgrades to replacement-cost coverage, which pays to replace stolen or damaged items with comparable new ones.
When shopping for renters insurance, make sure to compare quotes from multiple companies to get the best rate.
I want the liability protection that renters insurance provides
While the personal property coverage in renters insurance is important, the personal liability coverage that renters insurance provides may seem like a godsend if you ever need it.
In addition to covering damage you may cause to your rental unit, renters liability also covers injuries and property damage you may accidentally cause to others.
The coverage typically follows you when you are away from home, such as at a local park or in a vacation rental. It usually also extends to injuries or damage your child or a pet may cause.
This can shield you from costly expenses that may otherwise come out of your own pocket, putting your savings or other assets at risk. Renters liability also covers the costs of your legal defense against a liability claim.
I may need other renters insurance protections
Guest medical payments and additional living expenses are important renters insurance coverages that most people don't think about until they need them.
Guest medical payments
If a guest is injured in your unit for any reason, the guest medical coverage in your renters insurance policy pays for their initial medical treatment.
Even if your injured guest has medical insurance, your renters insurance may spare them from deductibles and copayments.
Renters insurance companies typically offer guest medical coverage with limits ranging from $1,000 to $5,000. If the injury is later found to be the result of your neglect, the injured guest or their health insurance may file a liability claim against you.
Additional living expenses
The additional living expense (ALE) coverage in renters insurance can come in extremely handy if a covered peril leaves your rental unit temporarily uninhabitable.
Having to vacate a home damaged by a fire, windstorm or other covered cause may force you to find a temporary home that costs more to rent. Or you may need to spend more on food or transportation than you normally do.
Renters ALE covers the portion of your living expenses that exceed your normal costs, until you move back into your unit or find a new long-term home. This helps reduce the strain on your budget in the aftermath of a disaster.
Frequently asked questions
You can purchase renters insurance before you move into a unit, but you usually don't need the policy to take effect until your move-in date. If your landlord requires renters insurance, you can normally share a copy of your declarations page to verify that you will have coverage in place when you move in.
If you live with roommates who are not related to you, each tenant typically needs their own renters insurance. Most insurance companies only extend coverage to your spouse and resident family members, although some cover unmarried couples in committed relationships.
You normally don't need renters insurance if you live with your parents. Even if you pay rent, a parent's coverage typically applies to all resident relatives, though you should check the policy for exclusions or limitations. You should also make sure the personal property limit in your parents' insurance is high enough to cover everyone's belongings.
QuoteWizard.com LLC has made every effort to ensure that the information on this site is correct, but we cannot guarantee that it is free of inaccuracies, errors, or omissions. All content and services provided on or through this site are provided "as is" and "as available" for use. QuoteWizard.com LLC makes no representations or warranties of any kind, express or implied, as to the operation of this site or to the information, content, materials, or products included on this site. You expressly agree that your use of this site is at your sole risk.