Best Car Insurance for Military and Veterans in 2020
Military personnel, veterans, and their families are eligible for exclusive discounts and lower auto insurance rates. Get quotes to save.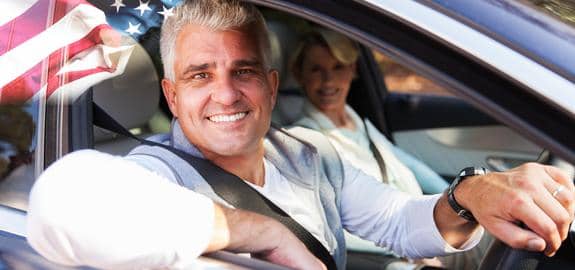 Military personnel and veterans might find some of the cheapest car insurance rates around. We found an average auto insurance quote for active military members to be as low as $39.75 monthly.
Military members, veterans and their families are eligible for exclusive discounts from multiple insurers, such as up to a 15% discount from GEICO. They are also eligible for coverage through USAA, an insurance provider only available to military personnel and their families.
Whether you are an active-duty military member or a retired or disabled  veteran, shopping around for car insurance is a great way to save on premiums. In some cases, car insurance companies that don't explicitly offer military and veteran discounts still might offer the most competitive rates for you.
In this article, we'll touch on:
Best car insurance companies for veterans and military members
The best auto insurance companies for members of the military and veterans not only offer good prices, but also have good customer service. In our research, we found that the following companies offer competitive prices, good customer service and services tailored to military members and veterans:
Allstate
Esurance
GEICO
Progressive
State Farm
USAA
State Farm, Allstate, GEICO, Progressive and USAA all have good customer service, according to company complaint index numbers
According to the National Association of Insurance Commissioners, State Farm has the fewest complaints relative to the other five companies that have competitive rates for military members and veterans.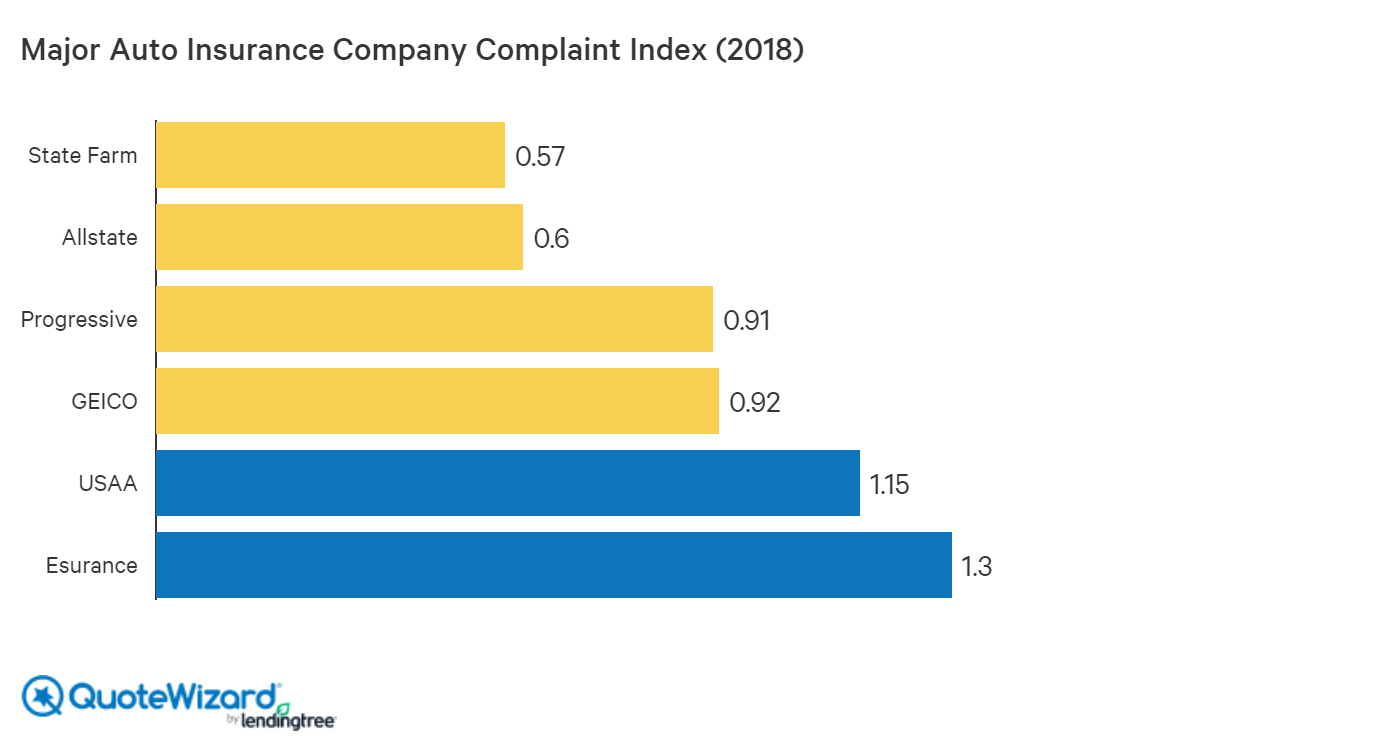 Having a complaint index score below 1.0 means an auto insurer has relatively low customer complaints. Having a score above 1.0 means an insurer has more complaints than the average for an insurer of comparable size. USAA and Esurance have slightly higher-than-average complaint scores, but they are not alarmingly high. All five of these insurers have good to great customer service, according to these metrics.
State Farm, Allstate, GEICO, Progressive and USAA all have high customer satisfaction on average, according to 2019 J.D. Power survey
Across almost all regions, USAA has the highest customer satisfaction index rating, according to J.D. Power's survey, and is rated consistently as "among the best", with a five-out-of-five J.D. Power Circle Rating. All six cheapest auto insurers for military members and veterans have customer satisfaction scores above the national average.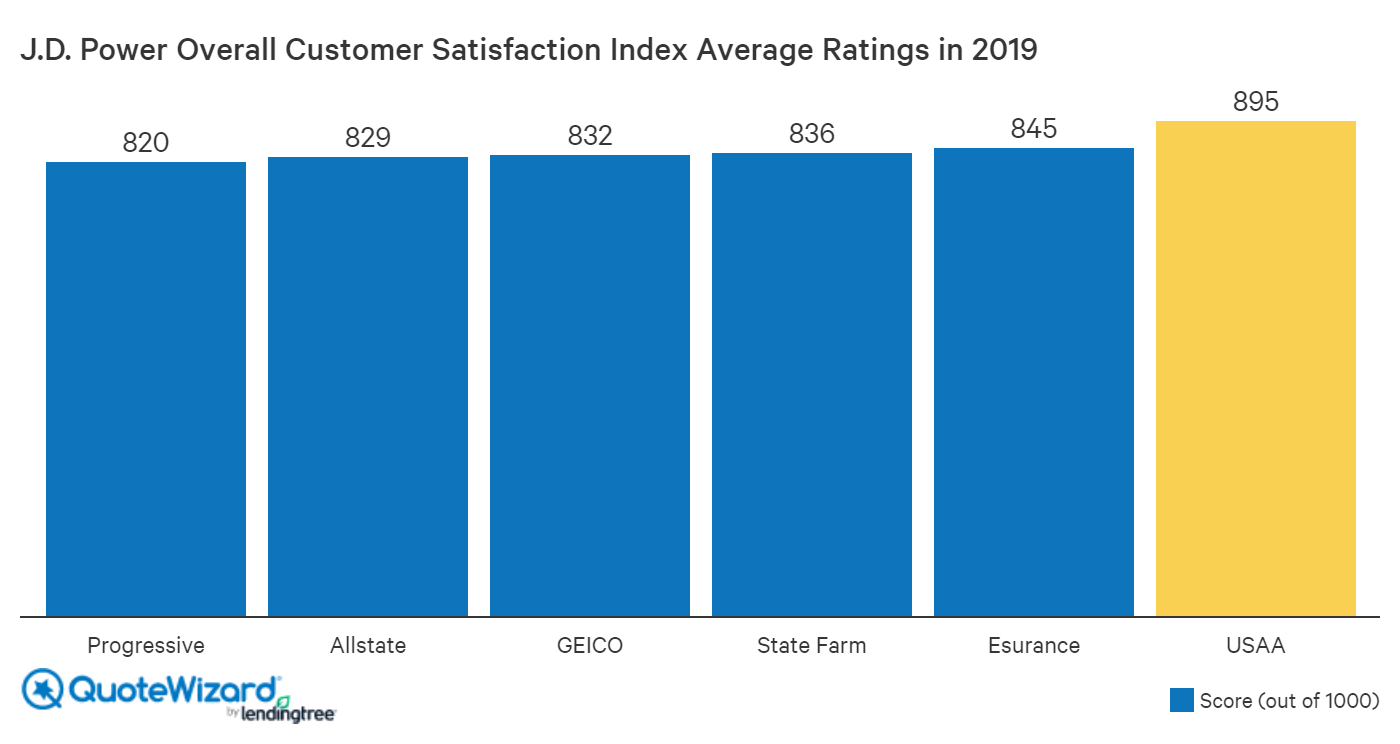 USAA, GEICO, Esurance and Progressive: car insurance companies that understand military and veterans
USAA, GEICO, Esurance and Progressive are among car insurance companies that seem to understand the unique circumstances military families might face. These auto insurance companies offer discounts and accommodating cancellation policies for military members who are deployed.
Company
Military Benefits
GEICO

GEICO employs veterans in its military insurance support team to understand the unique circumstances of the military.

GEICO offers 12-month overseas auto policies, as well as additional coverage if you need to ship your car overseas.

USAA

USAA offers comprehensive guides and information on insurance for veterans and military members.

USAA offers military overseas insurance to help you continue your car insurance coverage in other countries.

Progressive
Progressive does not penalize drivers for a lapse in coverage due to deployment. If you prove you are deployed and cancel your plan with Progressive, you are still eligible for their Continuous Insurance Discount when you return.
Esurance
Esurance has easy cancellations and reinstatement of policies for military members, and no fees associated with a policy canceled due to deployment.
Cheapest auto insurance for military and veterans
Although USAA offers competitive insurance rates exclusively to military members, veterans and their families, it doesn't offer the cheapest prices across the board. No single auto insurance company will be cheapest for everyone. For example, we found that MetLife offers cheaper rates than USAA in Maine for our sample driver. Car insurance companies offer many discounts, so make sure to bundle as many discounts, such as safe driver and homeowners discounts, as you can. As a veteran or military personnel, you might save hundreds of dollars by gathering as many quotes as possible and finding the best car insurance policy for you.
Cheapest military car insurance companies
We sampled six states with the highest shares of veteran populations and found the cheapest military auto insurance in each:
State
Car insurance company
Monthly premium
Maine
MetLife
$39.75
Pennsylvania
USAA
$48.67
Illinois
USAA
$60.33
Alaska
State Farm
$69.87
Montana 
USAA
$76.13
Texas
Loya Insurance
$94.50
Average rates are based on non-binding estimates provided by Quadrant Information Services. Your rates may vary. View our methodology here.
As you can see, for our sample driver, there isn't one clear winner across the states. By shopping around in Maine, for example, you might save 48% compared to the state average for military and veterans. And smaller providers might offer more competitive rates than the major companies listed above. For example, Loya Insurance was almost 11% cheaper than Allstate, the runner-up insurer in price in Texas.
Average car insurance rates for veterans
Across these six states, the average annual auto insurance premium for our sample military driver was $1,565.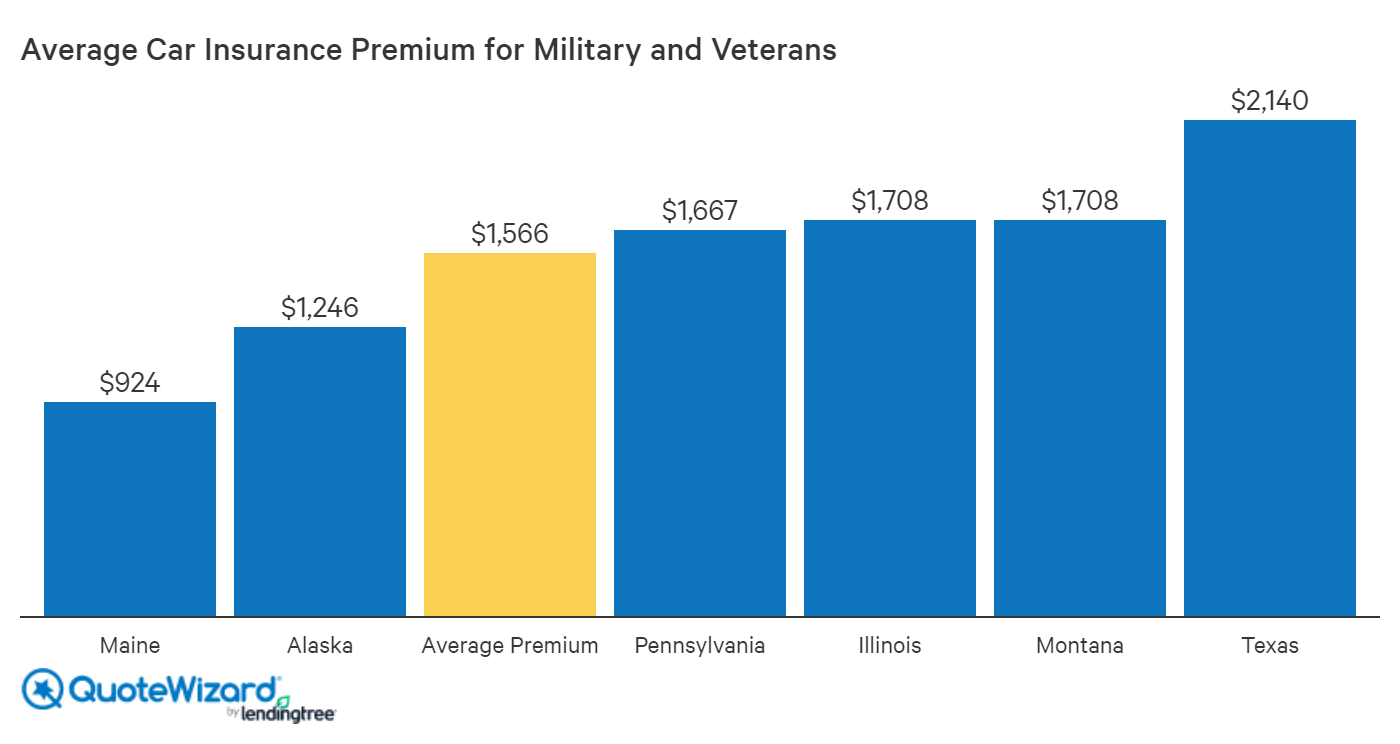 Companies that offer military car insurance discounts
Many car insurance companies offer exclusive discounts for military and veterans. Military discounts for car insurance vary based on company and state, so make sure to shop around for military car insurance quotes. Smaller local providers may offer their own military discounts, and large auto insurance companies might only offer military discounts in certain states.
Companies with military and veteran car insurance discounts include:
USAA vs. GEICO military car insurance discounts
USAA and GEICO are the only two companies that offer explicit military and veterans auto insurance discounts across all states. Both offer competitive rates, with USAA offering better discounts for those actively deployed or on-base. Even with these military discounts for auto insurance, it is best to shop around for quotes to see which provider ends up being the cheapest.
USAA military car insurance discounts are largest for active military
USAA is only available to military personnel and their families. USAA offers highly competitive rates without a specific military discount to all of their customers. 
USAA offers two discounts specifically for active military:
Up to 15% off of comprehensive car insurance coverage premium when you live on and store your car on a military base within the United States
Up to 60% off of auto insurance for a garaged car when deployed overseas
If you're deployed, USAA offers the cheapest way for you to maintain coverage for your stored car. If you're deployed outside of the United States, you might want to minimize the amount you spend on car insurance during that time. You would want to avoid a lapse in auto insurance coverage since that can lead to steep price increases in premiums in the future.
USAA offers up to a 60% discount on auto insurance premiums if you are deployed and store your car. For example, if you pay $600 a year in premiums for USAA insurance and are deployed, you would then only pay $240 annually to keep your car insurance. While you do have the option to cancel or suspend your insurance entirely when deployed, you might end up paying more in the long run due to higher rates after a lapse in coverage. Your car would also not be covered for any damage done to it while uninsured.
USAA auto insurance policies are available to:
Active, retired and honorably discharged members of the Army, Coast Guard, Marines, Navy, National Guard, Reserves and Air Force
Those training for service at academies and those in ROTC
Spouses and children of those within the military who have had USAA previously
GEICO military car insurance discounts for active and retired military
GEICO offers a military and veterans discount of up to 15% to any active or retired military members and their families. GEICO's military discount includes emergency deployment discounts for military members who are deployed to imminent danger pay areas defined by the Department of Defense (such as Iraq, Afghanistan and Libya, among others). This is a more limited benefit than that of USAA because not all deployment areas are considered imminent danger pay areas. Veterans should not worry about not having this benefit with GEICO since they would not be deployed.
GEICO also has discounts for those in military associations including:
Association of the United States Army
Fleet Reserve Association
Armed Forces Benefit Association
Navy League of the United States
Navy Federal Credit Union
American Society of Military Comptrollers
Car insurance discounts for military spouses and family
As long as a military personnel or veteran is a named insured on an auto insurance policy, their spouse and dependents also receive a USAA discount for their service. And if current military members or veterans were once USAA customers, spouses and children are eligible for USAA coverage in the future, even if they have their own car insurance policy.
Methodology
For all of the rates we gathered, our base driver profile was a 45-year-old married man in the Army with a clean driving history. The driver owns a 2012 Honda Accord and selects the minimum liability coverage required auto policy. Annually, the driver drives his vehicle 15,000 miles. We sampled rates from a comprehensive set of cities in Alaska, Montana, Illinois, Texas, Pennsylvania and Maine. Average rates are based on non-binding estimates provided by Quadrant Information Services. Your rates may vary.
QuoteWizard.com LLC has made every effort to ensure that the information on this site is correct, but we cannot guarantee that it is free of inaccuracies, errors, or omissions. All content and services provided on or through this site are provided "as is" and "as available" for use. QuoteWizard.com LLC makes no representations or warranties of any kind, express or implied, as to the operation of this site or to the information, content, materials, or products included on this site. You expressly agree that your use of this site is at your sole risk.