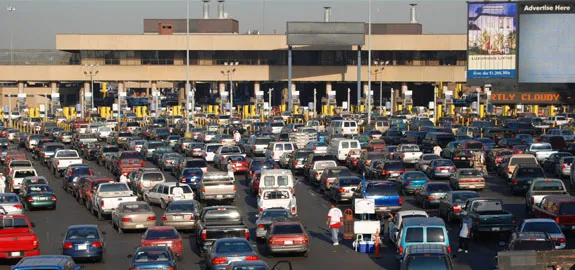 American auto insurance is not valid in Mexico. So, if you're planning on driving south of the border, you'll have to purchase a Mexican car insurance policy. Typically, your US auto insurance won't cover you in another country anyway. It's also illegal to drive in Mexico without car insurance – you can face fines and jail time if you don't have a policy.
This article includes everything you need to know about car insurance in Mexico, including:
Do You Need Car Insurance to Travel in Mexico?
You will need auto insurance to travel by car in Mexico, and your US policy typically won't extend past the border. You could be in serious trouble if you get into an accident and you don't have the funds to cover damages. In Mexico, car accidents are criminal and civil offenses. Your car could be impounded, and you could face steep fines and even jail time until you sort it out.
Mexican insurance policies are not only mandatory, but also relatively cheap. Make sure you have one before you start traveling around Mexico by car.  
Mexican Auto Insurance Laws
Mexican driving laws require drivers to be financially liable for any physical damage or bodily injury they cause in a car accident. That means you need to purchase liability insurance underwritten by a Mexican auto insurance company as proof of coverage. Liability insurance covers:
Bodily injury
Property damage
Driving laws in Mexico allow for a high level of compensation if someone is killed in an auto accident. The at fault driver pays a lump sum liability limit. That's different than in the US, where bodily injury is paid out per person, per accident. That amount can be high in Mexico, so it's recommended that you buy at least a $500,000 liability insurance limit.
You also need a valid US driver's license, which are recognized in Mexico. Without this, your Mexico insurance policy is invalid.
How to Get Mexican Car Insurance
You can purchase Mexican car insurance online. Major auto insurance companies like AAA, GEICO, and Progressive partner with highly-rated Mexican insurance companies to provide coverage over the border. You can also purchase auto insurance at the border. Doing so is more expensive than purchasing ahead of time. Some US auto insurance plans offer collision and comprehensive coverage within 25 miles of the border. But that does not fulfill Mexico's liability coverage requirements. If your current policy offers a limited extension, you'll still have to purchase additional coverage.
To purchase car insurance in Mexico, you provide the company with the following information:
Car make, model, and year
How long you'll be in Mexico
Your car's market value
If you'll be traveling to certain areas in Mexico
If you're towing anything (like an RV)
If any drivers are under 21
Rental Car Insurance in Mexico
Driving a rental car in Mexico requires you to purchase Mexican car insurance. There are several ways to purchase car insurance for a rental car in Mexico.
One common way is through your rental car company. Most major rental car companies, like Avis, offer services in Mexico and policies for their cars. To drive legally, you'll need to at least purchase liability coverage. You can also buy a collision waiver. That covers any theft or physical damage that occurs to the vehicle while you're traveling. If you don't purchase enough coverage and something happens, like if the car is stolen, you'll have to pay out of your own pocket.
Your credit card company may also provide rental car insurance in Mexico. Some credit cards, especially those customized for travel, offer coverage for car rentals. That applies to Mexico, along with other foreign countries. For example, a CITI card covers your rental car insurance worldwide. But that coverage does not include liability insurance, which is mandatory in Mexico. You'll have to purchase additional insurance. Find out your coverage limits through your credit card company or on the terms and conditions of your credit card.
Cost of Mexican Car Insurance
On average, a Mexican auto insurance policy with full coverage will cost you $20.72 per day. Your rates depend on what time of year you're traveling, your car's make and model, and how long you're planning on staying. Unlike in the US, your driving record doesn't factor into the prices.
The companies we looked at are the ones that AAA, Progressive, and GEICO are partnered with. As required by local driving laws, they are Mexico-based and underwrite all insurance policies themselves.
Company
One Week
Six Months
GNP Seguros
Liability only: $63.05
Full coverage: $149.68
Liability only: $186.38
Full coverage: $424.62
El Aguila
Liability only: $81.30
Full coverage: $147.59
Liability only: $186.38
Full coverage: $382.09
ABA Seguros
Liability only: $92.80
Full coverage: $137.75
Liability only: $243.26
Full coverage: $459.95
These one-week and six-month rates are based on quotes from three different auto insurance companies for a 2018 Corolla traveling in Mexico.
Short-Term Auto Insurance Policies
Depending on how long you're planning on staying in Mexico, you may be looking for a short-term auto insurance. Luckily, most policies are offered for one day, one week, six months, or annually. Daily policies are a popular option for those looking for insurance for a day trip across the border. If you need car insurance for one day, it will be cheaper than a week-long policy. Be sure to include your travel dates to find the most accurate pricing.
Motorcycle Insurance in Mexico
Are you planning on driving your motorcycle in Mexico? Like car insurance in Mexico, you'll need to insure your motorcycle with at least liability coverage to legally drive.
Most Mexican insurance companies don't provide physical damage protection for motorcycles, so it can be hard to come by. You can find basic coverage through any company that offers international motorcycle insurance. We recommend purchasing additional coverage that covers any theft or damage that occurs to your bike. That way if it's stolen or wrecked, you're not left paying the entirety of expenses out of your own pocket.
QuoteWizard.com LLC has made every effort to ensure that the information on this site is correct, but we cannot guarantee that it is free of inaccuracies, errors, or omissions. All content and services provided on or through this site are provided "as is" and "as available" for use. QuoteWizard.com LLC makes no representations or warranties of any kind, express or implied, as to the operation of this site or to the information, content, materials, or products included on this site. You expressly agree that your use of this site is at your sole risk.