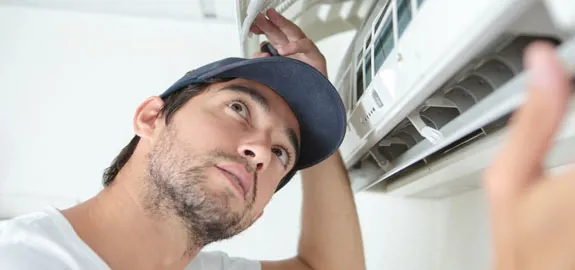 Homeowners insurance covers common causes of damage or loss on a central air conditioner such as fire and theft. Window unit ACs can qualify for some home insurance coverage as well. Both types of AC units have their own exclusions. This article goes over:
Is Your AC Covered Under Home Insurance?
Standard home insurance policies usually cover central AC units, barring issues like poor maintenance, natural disasters, and wear-and-tear. Common home insurance coverage on a central AC includes:
Fire and lightning
Vandalism and theft
Damage due to the AC unit or attached pipes freezing
Water damage due to AC pipe leaks
Damage due to falling trees
Window unit ACs are usually covered by a standard homeowners policy. However, they are under a different coverage type than central AC units, the peril limits that a window AC coverage include are more restricted as well.
Due to a window unit AC not being a part of the house, it is covered under content coverage. Also, Homeowners content coverage on a window AC is limited to named perils. These perils include fire, lightning, theft, and vandalism. Named peril coverage only provides protection against problems that are defined in your policy. Named perils can vary from insurer to insurer. Check your policy to see exactly what's covered.
Home Insurance Air Conditioner Exclusions
As with any home insurance policy, there AC issues that aren't covered. Exclusions include:
Wear-and-tear : Insurers usually won't cover a central AC if it's 10 years or older. If your central AC is past this age range and your fan motor, condenser, or compressor gives out, your claim will likely be denied.
Natural disasters : Damage to your central AC from natural disasters like floods, hurricanes, and earthquakes is not covered by standard homeowners insurance. You can purchase flood or earthquake insurance separately. If your central AC is damaged in a flood or earthquake, these policy types usually cover it. Window AC units share the same exclusions in a standard home insurance policy.
Policyholder damage : If you or a family member damage the AC unit, it will not be covered. If your child damages the AC with a baseball bat, for example, you will have to pay out-of-pocket. Damages due to improper maintenance aren't covered as well.
While wear-and-tear isn't a covered peril, you still have options for getting it covered. Home warranties cover repairs and replacements for wear and tear on common systems and appliances in your home. AC unit coverage can be part of a home warranty policy, or at least as an add-on to the policy.
Filing a Claim on an Air Conditioner
Filing a home insurance claim on an AC issue can be stressful. The process requires some hard decision-making and clear attention to details if your claim is going to be successful.
Decide if the claim is necessary
The first step in filing a claim for an AC problem is to decide if you're better off paying out-of-pocket. Get an estimate from a licensed HVAC specialist for the repair or replacement costs. The odds are good that your provider will ask you to contract an HVAC specialist anyway in order to know what caused the damage and the extent of it.
If the final cost is around your deductible limit, it's probably not going to be worth it to file a claim. Any claim you make is almost certainly going to result in a premium increase, even if the damage bill is only a couple hundred dollars. If paying for the AC damage yourself can save you from a higher premium moving forward, it's recommended you do so.
Get the paperwork
If you decide to file the claim, take photographs of the damaged unit. Also, find the serial and model number on the AC. Your insurance company will want all of these in order to start the claims process. If the damage to the air conditioner was due to theft or vandalism, file a police report first. Your insurer will probably need a copy of this as well.
Contact your home insurance company
Once you have collected the above info, call your insurance provider. They will start the claims process and arrange for an adjuster to come to your home to examine the damaged AC. If the damage is covered under your homeowners policy, your insurer will arrange for the air conditioner to be repaired or replaced as necessary. If the unit needs repair, you will probably receive half of the payment at the start of the repair work. The remaining amount is then issued when the work is done.
QuoteWizard.com LLC has made every effort to ensure that the information on this site is correct, but we cannot guarantee that it is free of inaccuracies, errors, or omissions. All content and services provided on or through this site are provided "as is" and "as available" for use. QuoteWizard.com LLC makes no representations or warranties of any kind, express or implied, as to the operation of this site or to the information, content, materials, or products included on this site. You expressly agree that your use of this site is at your sole risk.