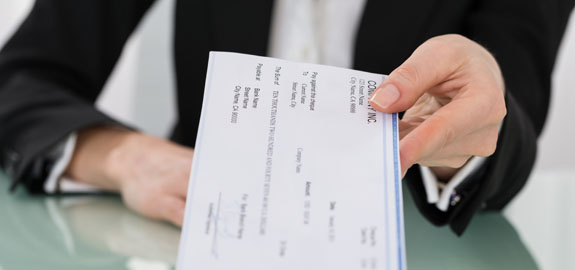 A loss payee is an insurance term for a bank, mortgage company, or financial institution that has a financial stake or interest in a property – including cars, homes, boats, and more. Usually this person or organization has an interest in your property because they loaned you money to buy it.
If something damages or destroys that piece of property, your insurance company sends claim payments to the loss payee up to the amount you still owe before sending them to you. To ensure that, you need to name the loss payee on your insurance policy. You'll learn why that is here. You'll also learn:
Why Do I Need to Name Loss Payees on an Insurance Policy?
Lenders and lessors require this because they want to protect themselves and their investments. The way they do that is to make you prove you've insured that investment – your property. And the way they make you prove it is to have you list them on the insurance policy as a loss payee. If that property is destroyed, the loss payee is paid first.
You're usually required to name a loss payee on an insurance policy as part of the loan terms. In most cases, you agreed to it when you took out a loan for your house or car. Or you might have agreed to it when you signed a lease for a vehicle.
Why? Insurance companies notify loss payees when:
They're added to a policy
The policy changes in any way
You miss a payment or you make a late payment
You let the policy lapse or cancel it
The insurance company cancels the policy
If you or your insurer cancels your policy and you don't replace it, the loss payee can buy force-placed insurance for you and charge you for it. You'll learn more about force-placed insurance in a minute.
How Do I Add a Loss Payee to an Insurance Policy?
Adding a loss payee to an insurance policy is easy. You just give the relevant details to your insurance company when you buy the policy.
Here's the information you have to give your insurance company so it can add a loss payee to your policy:
The name of the lender or lessor – the leasing company
Their address
Their phone number or other contact information
You may have to give your insurer a loan number, too.
Can I Remove a Loss Payee from a Policy?
You can remove a loss payee from an insurance policy. You can only do this after you've paid off the loan tied to your property, however.
You should remove the loss payee from your policy as soon as possible in this situation, by the way. If you don't, you'll have to show your insurance company proof that you paid off your loan before it'll send you claim payments.
Is a Loss Payee Different from a Lienholder?
Generally, a loss payee and a lienholder are the same thing.
The main difference between the two is that a loss payee doesn't need to own the property that's being insured. A lienholder does – until the property has been paid off, that is.
In other words, lienholders often are loss payees, too. But loss payees aren't always lienholders.
Is a Loss Payee Different from an Additional Insured?
Although it can seem like loss payees and additional insureds are one and the same, they're actually quite different.
The defining trait of an additional insured is that it has the same insurance coverage as the "named insured" or policyholder.
That's not the case for most, if any, loss payees.
Is a Loss Payee the Same as a Mortgagee?
Yes, sometimes the loss payee and the mortgagee named on a homeowners insurance policy are one and the same. That's not always true, however.
Why? Because, as SF Gate puts it, "while your lender is not necessarily your loss payee, your lender is always the mortgagee" when it comes to a home insurance policy.
Sidenote: a mortgagee is the entity that lends you money to buy property in a mortgage  deal.
What Is Force-Placed Insurance?
A loss payee can buy force-placed insurance for you if you let your auto or home policy lapse  , you or your insurer cancel your policy, or your coverage is deemed insufficient and you don't promptly replace it.
Don't think of it as a freebie. You'll pay for it. The loss payee will increase your car or mortgage payments to match the force-placed policy's premiums.
That might sound appealing in some ways, but don't be fooled. Force-placed insurance almost always is more expensive than insurance you find and buy on your own. And it usually provides less coverage, too. For instance, it may not cover personal items or owner liability, according to the National Association of Insurance Commissioners.
Something else to keep in mind here is this kind of policy goes by many names. Among the most common: creditor-placed, collateral protection, forced placed, and lender-placed insurance.
What Should I Do If My Insurance Company Buys Force-Placed Insurance for My Car or Home?
As soon as possible, either:
Once you've got your own coverage again, contact your insurance company and let them know. Contact your loan servicer, too, and ask them to cancel your force-placed policy.  
Why Do Loss Payees Matter When It Comes to Insurance?
Loss payees matter because they have a financial interest in the car, home, or other piece of property they leased to you or helped you buy.
Also, loss payees can cause a lot of problems for you if don't keep up your end of the lending or leasing bargain – with force-placed insurance being a prime example.
Are Car Insurance Loss Payees Different from Home Insurance Loss Payees?
In general, the differences between the two are minimal.
Auto lenders tend to be loss payees when it comes to car insurance policies. And mortgage companies tend to be loss payees when it comes to home insurance policies.
The good news here is if you're at all confused about whether or not you need to name a loss payee on a policy or even who you should name in that situation, you can just contact your insurance company and ask for help.
What If I Lease a Vehicle? Do I Have to List the Leasing Company as a Loss Payee on My Car Insurance Policy?
Yes, if you lease a vehicle, you might have to name the leasing company as a loss payee on your car insurance  policy. You might have to name the leasing company as an additional insured on your policy, too.
Why both? You don't own a leased vehicle. The leasing company does.
By having you list it as a loss payee and an additional insured on your car insurance policy, the leasing company protects its property as fully as possible. The company also protects itself from any lawsuits tied to you getting into an accident.
If you're not sure if you need to list a leasing company as a loss payee or an additional insured on your car insurance policy, ask your insurer.
QuoteWizard.com LLC has made every effort to ensure that the information on this site is correct, but we cannot guarantee that it is free of inaccuracies, errors, or omissions. All content and services provided on or through this site are provided "as is" and "as available" for use. QuoteWizard.com LLC makes no representations or warranties of any kind, express or implied, as to the operation of this site or to the information, content, materials, or products included on this site. You expressly agree that your use of this site is at your sole risk.