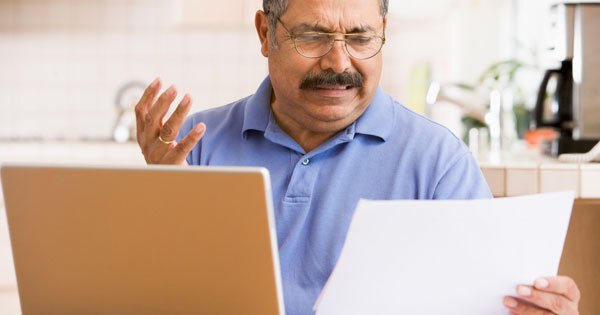 If your insurer decides your homeowners insurance claim doesn't fit your policy, your claim can be denied. If you do have a claim denied you can dispute it. However, taking steps to avoid a denial altogether, such as understanding your policy and making sure you have enough coverage, is a better route. This article will discuss:
Why Was My Claim Denied?
If you get a denial for a homeowners insurance claim, odds are it's going to be for one of these reasons:
Negligence
If you don't properly maintain your property, this is one of the main circumstances under which a home insurance claim is going to get rejected. For example, say you filed an insurance claim on your roof after a heavy rain damaged it. If the insurer's adjuster found during the inspection your roof shingles were too old, your claim can be denied.
Christopher Cornetta, an attorney with Cornetta Babine LLC uses the example of a leaking water heater: "An insurer may conclude that you were negligent in allowing the problem to linger and in attempting to fix it on your own rather than hiring a plumber to correct the issue and may deny coverage on that basis."
A non-covered peril
Take time to carefully read and understand what is and isn't covered under your home insurance. You don't want to find out that your home insurance doesn't cover earthquakes until after a quake. You need to purchase separate earthquake insurance for that coverage.
Not enough coverage
If you file a claim for damages that exceed your coverage limits, there's a good chance it'll be denied. IF, for example, your policy's dwelling coverage has a limit of $200,000, but your home costs $300,000 to rebuild, your $300,000 damage claim won't fly.
Filing delay
Another major reason for claim denial is waiting too long to make a claim. Most insurers have a statute of limitations for how long after the policy event occurs you can make a claim.
How to Dispute a Homeowners Insurance Claim
If your home insurance company denies your claim, all is not yet lost. It is in your best interest to appeal the denial. Here are some steps you can take towards getting your claim approved:
Review your homeowners insurance policy carefully. Make sure you fully understand what is included and what is excluded in your coverage. Make sure you didn't over or underestimate what your policy coverage amounts are when you filed your claim.
Reread your claim denial letter. Did you or the insurance company's adjuster sent out to assess the damage make the mistake?
Pull together all documentation related to the damage you made the claim on. This includes all pictures you took of the damage, as well as any receipts from contractors hired to do the repair work. Always keep any documents related to a home insurance damage claim. It gives you a greater chance of your claim being approved if you have hard evidence on your side.
If you're confident there's an error on the insurer's end, contact their adjuster and explain where the error is. Confine the conversation solely to the points in your claim that were denied. Share with them any documentation relevant to your claim.
If you're not making any headway with your home insurer, consider hiring a public claims adjuster. Insurance companies have adjusters that work for them. A public adjuster works for you. They can appeal on your behalf with your home insurer to dispute your claim. A good public claim adjuster knows how to handle a claim dispute. They can assist with the rejected claim process and all the paperwork involved as well.
How to Avoid a Claim Denial
Prevention is one of the best ways to avoid a claim denial in the first place. Steps you can take include:
Study the fine print
Make sure you understand what risks are covered under your home insurance policy and which ones are excluded. Also understand how much coverage your home insurance provides. Review the policy every six months, or every time you do a renovation to your home. Make sure any new additions are covered. If not, contact your home insurer and update you policy.
Disclose all life event changes with your home insurer
Disclose all life event changes with your home insurer. If you get married and your spouse moves in, you'll want to up your contents coverage. This will keep your home insurance needs up to date.
Take inventory of your home
Besides making a home inventory list of your possessions, take pictures of your home's structure as well. This way, if you get into a claim dispute, you can show your insurer before and after pictures.
Research insurers before choosing one
When deciding which homeowners insurance to buy coverage from, review them carefully. Look at customer satisfaction reports online to get an idea of what their reputation for claim approval is. Reviews of American insurance companies can be found on the websites of A.M. Best, the Better Business Bureau, J.D. Power, and Moody's.
Increase your coverage
Insurers may deny claims if you don't have enough coverage. Upping your coverage prevents them from doing this. Every time you remodel or add on to your home, its value will go up. So you'll want more of a safety net.
QuoteWizard.com LLC has made every effort to ensure that the information on this site is correct, but we cannot guarantee that it is free of inaccuracies, errors, or omissions. All content and services provided on or through this site are provided "as is" and "as available" for use. QuoteWizard.com LLC makes no representations or warranties of any kind, express or implied, as to the operation of this site or to the information, content, materials, or products included on this site. You expressly agree that your use of this site is at your sole risk.