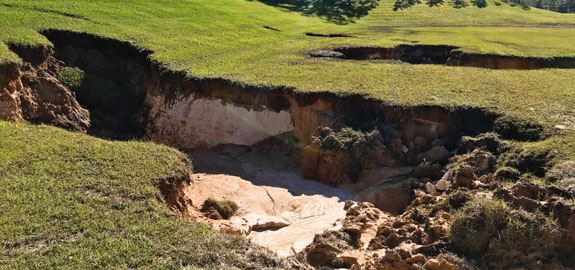 Home insurance does little to protect your house against sinkhole damage. In areas with sinkhole activity, having the proper sinkhole insurance for your home is important. Knowing what types of insurance cover sinkholes and their limits is in your best interest. This article details:
Does Homeowners Insurance Cover Sinkholes?
Most standard home insurance policies exclude damage due to earth movement. This means standard home insurance doesn't help much in the event of a sinkhole. In some states where sinkholes are common, sinkhole insurance is an option. Also, some states require policies to include catastrophic ground cover collapse coverage against sinkhole damage.
Sinkhole Insurance Coverage vs. Catastrophic Ground Cover Collapse Coverage
Sinkhole insurance is add-on coverage for your home insurance policy. It covers sinkhole damage to your home, contents, and property. Preventative measures, such as structural reinforcements, are covered by sinkhole insurance as well.  The rider may also cover additional living expenses. Florida has the highest number of sinkhole claims in the country. Both Florida and Tennessee require insurers in those states to offer optional sinkhole coverage
Florida also requires homeowners to carry Catastrophic Ground Cover Collapse (CGCC) coverage. CGCC has four criteria points your sinkhole damage must meet:
The abrupt collapse of ground cover
A depression in the ground cover clearly visible to the naked eye
Structural damage to the building, including the foundation
The insured structure is condemned by authorized government agency
All these criteria must occur during the sinkhole event in order for CGCC coverage to trigger. As such, you shouldn't rely on it alone to provide the best coverage. Sinkhole insurance offers the better coverage of the two. Say your house suffers cracks in the foundation due to a sinkhole, but there's no ground cover collapse. Your sinkhole insurance should cover it. However, since the damage does not meet all the criteria for CGCC coverage, the foundation would not be covered by CGCC. Also, sinkhole insurance does not require the condemnation of the house to approve the claim.
What Do Sinkhole Insurance and CGCC Coverage Exclude?
Sinkhole insurance and catastrophic ground cover collapse coverage share many exclusions. Neither sinkhole insurance nor CGCC coverage include damage to sidewalks, driveways, swimming pools, or decks. Open land, parking lots, streets, and roads aren't covered by either policy type as well. Sinkhole insurance and Catastrophic Ground Cover Collapse Coverage do not cover damage due to earthquake either.
Sinkhole insurance often requires an inspection before selling a policy. If any indications of a sinkhole are found, odds are you will be denied coverage.
A sinkhole insurance policy might not provide coverage for man-made damage like mine subsidence. Be sure to read over your sinkhole insurance policy to see how much protection it provides. You may need to purchase additional coverage.
What is the Average Cost of Sinkhole Insurance Coverage?
The cost for sinkhole insurance tends to be on the high end. In Florida, the yearly premium for a sinkhole insurance policy averages between $2,000 to $4,000 dollars. Sinkhole insurance often has a high deductible attached as well. However, considering that the average payout for a single sinkhole insurance claim is $140,000, the price tag is understandable. Catastrophic Ground Cover Collapse coverage costs vary considerably from county to county. Look into different insurance companies to compare prices.
Warning Signs of a Sinkhole
There are some signs to look for that indicate a sinkhole is in the making. Being able to spot the warning signs can at least help you get to safety:
Cracks in the home's foundation may indicate sinkhole activity. If the area under the slab of your house is eroding, the weight of the house is more than enough to shift, cause the foundation to go off balance, and crack.
If your doors and windows start opening and closing improperly or not at all, that could mean the house is shifting as your foundation sinks.
Sinkhole activity is not limited to just under your home. Your property can even be affected by sinkholes occurring under one of your neighbors' yards. If fences and trees along your property line are leaning over time, that could indicate a sinkhole problem
The sinking area under the earth will cause cracks to be apparent on the surface. If you see a network of cracks radiating outward from a central point, that's a good indicator of severe erosion.
Erosion can cause disintegrated limestone to enter into well water. This results in the water becoming cloudy or murky. This clouding, known as turbidity, is an indicator that sinkhole activity is occurring.
Sinkholes form by rain water into soil. Once there, the water slowly starts mixing with carbon dioxide and rotted vegetation. This combo creates an acidic mixture that fills into cracks and fissures in the earth. Over time, this mixture will erode away limestone underground, opening large spaces and creating cave networks. Sinkholes form when the ground above these networks falls in.
QuoteWizard.com LLC has made every effort to ensure that the information on this site is correct, but we cannot guarantee that it is free of inaccuracies, errors, or omissions. All content and services provided on or through this site are provided "as is" and "as available" for use. QuoteWizard.com LLC makes no representations or warranties of any kind, express or implied, as to the operation of this site or to the information, content, materials, or products included on this site. You expressly agree that your use of this site is at your sole risk.