Does Home Insurance Cover Basement Flooding?
When your basement floods, what your homeowners insurance covers depends on what caused the water damage.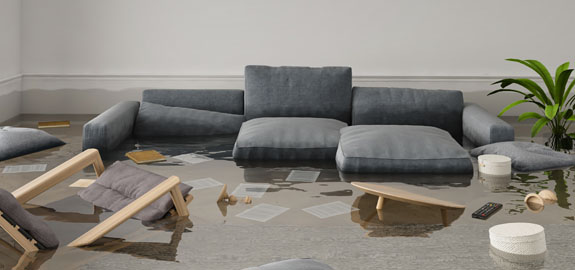 In the event of a flooded basement, homeowners insurance covers many causes of 'sudden and accidental' water damage. But there are various coverage exceptions depending on the cause of the flood as well as your insurers policy requirements. This article answers the following questions:
When Does Home Insurance Cover a Flooded Basement?
The most frequent homeowners insurance claims for a flooded basement are damage due to burst pipes, damaged appliances, and water discharge or overflow. A standard home insurance policy usually covers those instances. But there are always coverage exceptions.
Below are common flood causes and how homeowners insurance covers each, as well as exclusions that can lead to a claim denial.
Flood Due to Frozen or Burst Pipes
Water damage from burst pipes is usually considered a 'sudden and accidental discharge,' which is generally covered under your home insurance. During the winter, pipes can freeze and burst, leading to heavy water damage in the home. It's not just frozen pipes that can burst. If your pipes are unsecured, corroded, or suffer from water pressure issues, they can burst.
But homeowners insurance companies have certain requirements before they'll cover damage due to frozen or burst pipes. Insurers may require that you:
Keep the home at a minimum temperature
Live in the home at the time of the flooding
Stay up to date on basic maintenance
It's important to know that coverage on your pipes is limited to accidental and sudden damage. If damage comes from a slow leak or poor maintenance, it probably won't be covered. Also, the cost to replace or repair the burst pipe isn't covered. Home insurance will, however, help pay for expenses after a burst pipe like:
Replacing or repairing damaged floors
Drying carpet and padding
Restoring dry wall near the pipe
Additional living expenses if your home is unlivable
Broken Basement Appliance Flood Damage
If an appliance in the basement such as a washing machine, freezer, or AC unit causes accidental water damage, it's usually covered by a home insurance policy . This is crucial should your basement sink crack, or your washer drain out onto the floor.
If it turns out the fixture or appliance flood was due to poor maintenance, odds are your claim will not be approved. Your insurance company will only cover the costs of the water damage, not the cost to repair the appliance
Water Heater Leak
If your water heater in the basement leaks and causes damage, your homeowners insurance policy should cover it – assuming the heater isn't old and poorly maintained. If that's the case, your home insurance claim can be denied . Home insurance takes care of the water removal, debris cleanup, and damaged furnishings. But a home insurance policy won't pay to replace an old water heater.
Flood Due to Discharge or Overflow
Home insurance usually covers water damage from an accidental discharge or overflow. An example of discharge is when water pours out of a broken pipe. Overflow is when water in a container like a pool, sink, or tub exceeds container capacity and spills out onto the floor and surrounding area.
If the basement flooding is caused by an accidental discharge or overflow, then your homeowners insurance should cover it. Homeowners insurance also covers any damaged flooring, furnishings, or belongings stored in the basement.
When Homeowners Insurance Doesn't Cover a Basement Flood
Home insurance usually won't cover any flood damage from natural or weather-related causes. And if the flood source is outside of the house, it is often not covered by homeowners insurance. This includes:
Storm surges
Rain
Groundwater under the foundation
Water or sewer backups
Flood insurance may cover these floods when home insurance can't. The National Flood Insurance Program (NFIP) is the primary provider of flood insurance. The NFIP offers two separate flood insurance policies; one for dwelling and one for contents.
According to FEMA, the NFIP dwelling flood coverage includes the structure of the home and necessary support systems such as the furnace, basement AC unit, water heater, and circuit breakers. NFIP content flood coverage includes appliances such as your washer, dryer, and food freezers as well as the food stored in it.
There are flood insurance coverage limitations for basements, however. Personal property, flooring, drywall, and curtains in basements aren't covered by flood insurance.
Storm Surges and Rain
If you live in a coastal region with a history of heavy storms surges, flooding can happen. The same can occur if you live more inland and torrential rains happen a lot.
Water damage to the basement from storm surges, heavy rain, or natural disasters aren't covered under standard homeowners insurance. The water didn't come from the home's pipe system, so it's not really under your homeowners insurer's domain of coverage. This is an issue for flood insurance.
Underground Seepage
If groundwater accumulates near your home, it can seep under the home's foundation – especially if your foundation is old and cracked. This can damage the foundation and flood the basement through the floor. Home insurance doesn't cover damage from seepage, as it's often considered a maintenance problem.
Water and Sewer Backup
A standard home insurance policy doesn't cover water or sewer backup floods. You can add water and sewer backup insurance to your policy. However, it normally only covers it to a $10,000 maximum.
Sump Pumps
If you live in an area that is prone to flooding from rain or storms, odds are your home has a sump pump. Sump pumps remove collected water from the home's perimeter. It then delivers it to a storm drain or dry well away from the house. If the amount of water coming in is greater than the sump's capacity to hold, the pump can break down.
Sump pump floods are not covered under a standard homeowners insurance policy. But coverage for sump pumps is available as an endorsement to homeowners insurance.
Homeowners Insurance vs. Flood Insurance
Homeowners and flood insurance are two distinct policies. The difference often comes down to one question: where did the water come from?
If the water damage came from a source inside the premises of the home, your homeowners insurance probably takes care of it. That's assuming it was 'sudden and accidental,' and not gradual or caused by poor maintenance. If the water is due to other external sources like tides, rain, or city water and sewer lines and two or more properties are involved, you'll need flood insurance.
Filing a Claim for a Flooded Basement
If you're filing a claim for water damage from flooding in your basement, use the term 'water damage' rather than 'flood' from the start when talking with your insurer. Insurance providers have strict rules on what a flood is – much stricter than the word's everyday usage. If you call your homeowners insurance company to file a claim for a flood, there's a good chance they'll tell you you're out of luck. By using the term 'water damage,' you have a better chance of advancing your claim – assuming it's from a covered peril.
When filing a claim for basement water damage, first look over your homeowners insurance policy. Be as clear as you can on what your homeowners insurance coverage and exclusions are before you pick up the phone. Your provider will be able to help with everything else required to get the filing complete.
QuoteWizard.com LLC has made every effort to ensure that the information on this site is correct, but we cannot guarantee that it is free of inaccuracies, errors, or omissions. All content and services provided on or through this site are provided "as is" and "as available" for use. QuoteWizard.com LLC makes no representations or warranties of any kind, express or implied, as to the operation of this site or to the information, content, materials, or products included on this site. You expressly agree that your use of this site is at your sole risk.