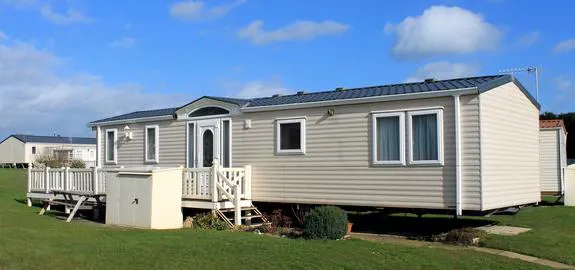 Finding the best mobile home insurance company to protect your home is important. The right company for you will depend on your unique situation, which is why we've picked four. Here's our thinking.
Best mobile home insurance companies
The best insurance for your mobile or manufactured home insurance will depend on what you value in a company. We found the following companies to be the best, each for its own reason.
Foremost — The best for all-around value and experience
Foremost specializes in mobile home insurance and partners with major insurance providers. For example, USAA and AARP's mobile home policies both redirect to Foremost. Although Foremost is now owned by Farmers Insurance, they've been in the mobile home insurance industry for over 55 years.
Foremost is a midsized insurer, accounting for a little over 1% of the U.S. residential insurance market. But because it's owned by Farmers, Foremost gives you access to an insurer with strong financial backing and a large network of agents that operate in every U.S. state except Hawaii.
In addition to Foremost's experience, financial backing and relationships, they have a below-average number of complaints according to the National Association of Insurance Commissioners (NAIC). That means customer satisfaction is high.
Foremost gives their mobile home insurance customers the option to add coverage for earthquakes, business liability and transportation of the home. These coverages cost more to add, but some companies don't offer them at all.
State Farm — The best for customer satisfaction
Of all the companies we reviewed, State Farm had the highest customer satisfaction, with an NAIC complaint index of 0.2 in 2018. That means that relative to its size, State Farm had five times fewer complaints than the national average.
State Farm is also the largest home insurance company in the U.S., writing 18.37% of all policies. It operates in all 50 states, and that means you should be able to find an agent close to where you live. State Farm's size and accessibility therefore gives it an edge over competitors.
American Modern — The best for hard-to-insure or older mobile homes
Although American Modern Insurance's customer satisfaction isn't as high as Foremost or State Farm, it offers one important advantage: specialty coverage. Specialty insurers cover homes and property even when other insurers won't — insurers can deny you for many reasons.
It can be hard to find coverage for older mobile homes, especially if they were built before 1976 (when HUD standardized their construction). You should explore American Modern as an option if you've been denied coverage from other insurers because you have an older mobile home or some other unique risk factor.
Coverage for hard-to-cover or older mobiles homes won't be cheap. Specialty insurers are taking on extra risk, and this is reflected in their annual premiums. Nevertheless, you'll be happy you have insurance in the event that your area suffers a disaster.
Assurant — The best for quick quotes
Assurant has the lowest customer satisfaction of any insurance company on our list, but it still makes it on for one reason: quick quotes.
Assurant is the only mobile home insurer we could find who provides fast online quotes. Although these quotes are not binding, it can still make the process easier and less stressful as it lets you ballpark what your insurance premium might be.
Assurant is a small-to-midsize player in the insurance industry, writing under 1% of all policies in the U.S. However, Assurant partners with companies such as Geico, Liberty Mutual and Progressive for mobile home insurance. They offer manufactured home insurance for homes up to $150,000, which is in-line with the industry standard.
Other options
Our picks for mobile home insurance companies are above, but some other large insurance companies, like Allstate and Erie, also offer manufactured home policies. You should always explore all insurance options in your area to make sure you get the best deal and the right coverage.
All companies should let you customize your policy to a certain degree. Choosing the best company for you then means balancing coverage with cost.
Mobile home insurance rates
We've seen annual mobile home insurance rates as low as $250 and as high as $2,000. There are unique risks associated with mobile homes, due to the way they are constructed and secured to the ground. So although mobile homes are typically more affordable than traditional stick-built homes, they can sometimes cost more to insure. Factors that affect your mobile home insurance premium include:
The age, construction and condition of your home
Location of your home
Whether your home is tied-down
What does mobile home insurance cover?
When choosing a mobile home insurance company or policy, you should make sure you have the main coverages: dwelling, personal property, liability and additional living expenses.
Dwelling: Dwelling coverage protects your manufactured home's structure. For example, if a storm blows a tree through your window, this part of your policy would pay for the repair.
Personal property: This portion of your mobile home insurance policy covers your personal items, including everything from glassware to your clothes. It doesn't, however, cover your car — that would fall under your auto insurance policy.
Liability: If you accidentally injure someone or damage their property, personal liability coverage can help pay for the expenses. Liability protection applies on and off of your property, so if your dog bites someone on a walk, you should be covered. Your insurance can help pay for other people's medical expenses and your legal defense.
Additional living expenses: An important part of a mobile home insurance policy is coverage for additional living expenses. If your home becomes uninhabitable and you have to leave for a period of time, your insurance can help pay the extra costs. This includes expenses such as food, hotel costs and storage units.
Your insurance will only apply if there is damage from a "covered peril." Most policies will insure against:
Fire
Lightning
Windstorm
Hale
The majority of mobile home insurance companies won't cover earthquakes, but some will allow you to add earthquake coverage. Adding coverage to your policy will raise your premium, but it may be worth the money if you live in a high-risk area.
QuoteWizard.com LLC has made every effort to ensure that the information on this site is correct, but we cannot guarantee that it is free of inaccuracies, errors, or omissions. All content and services provided on or through this site are provided "as is" and "as available" for use. QuoteWizard.com LLC makes no representations or warranties of any kind, express or implied, as to the operation of this site or to the information, content, materials, or products included on this site. You expressly agree that your use of this site is at your sole risk.