Tips for Filing Car Insurance Claims
If you've been in a car accident, you may need to file an auto insurance claim. This article can help make it simple.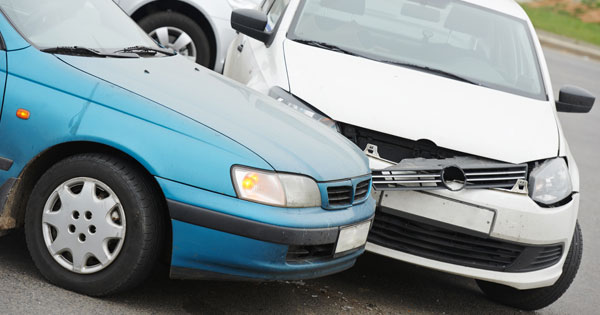 Whether you're in a pileup or just a fender bender, getting in a car accident often involves filing a claim. There may be some times when you don't want to file a car insurance claim, but you'll want to know exactly what those instances are. Otherwise you could wind up paying a hefty repair cost or see an increase in your rates.
When filing an auto insurance claim, you'll want to be aware of what portions of your policy cover what types of accidents, the claims process and how to dispute a claim if you find your auto insurance company's decision unsatisfactory. This guide will cover:
Do I need to file an auto insurance claim?
When deciding whether or not to file an auto insurance claim, there are two main things to consider:
Is the accident covered? If the reason for your accident isn't covered by your auto insurance policy, not only will the claim be denied, but it will also probably lead to an increase in your annual premium.
Cost of repairs versus your deductible. If the cost to fix your car isn't at least equal to your deductible, your auto insurer may deny the claim, and you may be looking at a premium increase either way.
An auto insurance claim stays on your insurance history for three years in most states, but in some states it can remain for up to five years. How much your auto insurance will increase during that time varies depending on the insurer and the details of the accident.
Depending on the severity of your accident, your insurance rates could increase. We found that auto insurance may go up an average of 55% after a single at-fault accident. The increase to your premium over time could cost vastly more than taking care of the repairs out of pocket. You'll want to seriously consider whether or not to file a claim iff:
Only your vehicle was damaged in the accident. Even if you damage your car swerving to avoid another car, the accident will probably be categorized as an at-fault collision against you. If you have an at-fault accident on your auto insurance record, you'll probably see an increase in your premium.
The damage to the other car is negligible or otherwise minimal. If you ding someone's fender while backing up, see if you can exchange information with the other driver and arrange to pay for the repairs yourself.
Once you've looked at your policy and deductible, consider who was at fault, if there were injuries and how severe the accident was.
Whose fault was it?
| Fault | How to file |
| --- | --- |
| The accident was your fault: | File a claim with your auto insurance company. If you have collision coverage, it should cover the other driver's damages. |
| The other driver was at fault: | File your claim with your or the other driver's auto insurance provider. |
| Both of you are at fault, or the cause of the accident is unclear: | File with both your auto insurance company and the other driver's insurer. Payout amounts may be adjusted if both parties are at fault. |
| Damage was due to a non-collision accident (ie. extreme weather, vandalism or theft): | If you have comprehensive coverage, file a claim with your auto insurance provider. |
| If the other driver is underinsured or doesn't have any auto insurance: | If you have uninsured/underinsured auto insurance, your auto insurance provider will cover the claim. Otherwise you may be paying out of pocket. |
Were you injured in the car accident?
| Fault | How to file |
| --- | --- |
| If you're at fault and have personal injury insurance (PIP): | File a claim with your car insurance provider. |
| If the other driver is at fault for your injuries: | File a claim with your or their car insurance provider. |
| The driver is uninsured or underinsured: | Your uninsured/underinsured insurance will cover the injuries if you have it as part of your coverage. |
Was there minor damage and no injuries?
| Fault | How to file |
| --- | --- |
| If you're at fault: | If the dollar amount of damage is less than or just around your deductible, consider not filing a claim. |
| If the other driver is at fault: | File a claim with your or their auto insurance company. |
If your vehicle is stolen and you have comprehensive coverage, you'll want to file a claim.
How to file an auto insurance claim
If it's necessary that you file a claim, the process is fairly straightforward if you're thorough at each step. In the event of a car theft or a collision, you should file a claim with your auto insurance provider as soon as possible. Most insurers want you to file a claim within 30 days of the claim event. However, in instances such as personal injury, where bills need to be paid out over extended periods, claims may be made up to three years after the accident. If you're unsure of how to proceed at any point or need more clarification on the process, don't hesitate to call your auto insurance company. You'll want to take the following steps to file your claim.
Call 911, if necessary
This is especially necessary if someone is injured in the accident or if traffic is in any way impeded, or if your car is stolen. Your auto insurance company will probably request a copy of the police report as part of your claim as well.
Collect documentation
Take pictures of the damage and the location where the accident occurred. Get the contact and auto insurance information from any other drivers involved. If there were any witnesses to the accident, see if you can get their contact information as well.
Call your auto insurance company
The major providers have online resources to file a claim quickly. However, it's recommended that you call your auto insurance company if it's a serious accident. This will make it easier for any specific questions to be answered by either party.
When you talk to your provider, have the following information on hand:
Police report number.
Who was driving your car.
The date, time and location of the accident.
A description of the damage.
Insurance information of other drivers involved.
Any witness contact information you have.
Depending on your auto insurance coverage and the extent of the damage to your vehicle, your insurance company may arrange for towing and a rental car for you. The agent with whom you speak will tell you any other steps you need to take and send you the necessary forms. They'll give a claim number. Make sure to write it down, along with the name of the agent with whom you spoke and their phone number.
If there's damage that needs to be taken care of now
You usually won't want to start repair work on your damaged vehicle until an insurer's adjuster can inspect it. However, there will be some cases where further damage will result if not repaired immediately. Always discuss these repairs with your insurer first. Let them know exactly what repairs need to be done immediately.
The benefits of going with approved repair shops
Auto insurers may have specific repair shops they recommend. While it's not usually required that you use the recommended shop, it may be highly advantageous to your claim. Repairs tend to be approved much more quickly if you go through a repair shop approved by your auto insurer.
Authorized repair shops tend to get paid directly through your insurer as well. Even so, do not approve of any repairs the shop recommends until you get your auto insurance company's approval. Keep all receipts pertaining to the repairs.
If you're injured in a car accident
If there are injuries involved and you have personal injury protection coverage, your insurer will make arrangements with you to directly pay for your medical bills until a final decision on your claim can be made.
File a report with the DMV, if necessary
Some state laws require you to file a report with the local DMV in the event of an accident. Your auto insurance company will be able to let you know if you need to do this step.
Meet with the auto insurance adjuster
Your auto insurer will arrange for an adjuster to contact you. They may address your claim over the phone or require an in-person meeting to inspect the damaged vehicle.
If the adjuster finds your damages to be within the limits of your auto insurance policy, they may give you a partial payout on the spot. Once the adjuster reports back to your auto insurance provider, they will either make a full payment or the remainder of what you are owed.
Sometimes the auto insurer of other drivers involved will want their adjuster to see your vehicle as well as part of their claim investigation. If both adjusters come to different decisions about who was at fault for the accident, the two companies will try to come to an agreement. If this fails, a civil court hearing may be necessary.
How long will it take to get my claim payout?
Insurers usually want to have a claim reconciled within 30 days of filing. However, it can take longer if communication issues, misunderstandings about coverage details or disputes about your claim occur.
If you need to dispute your auto insurer's decision
If your auto insurance claim is denied and you disagree with the decision, or if the amount your auto insurance company offers is unsatisfactory, it is not necessarily the end. If your vehicle sustains severe damage or is completely totaled, you'll want your claim to cover as much of the costs as possible. State insurance commissions often require insurance providers to have an appeals process for situations such as this. Your auto insurer will be able to give you details on how to file an appeal.
If your appeal isn't successful and you still feel you are in the right, consider contacting your state insurance regulator to file a complaint.
QuoteWizard.com LLC has made every effort to ensure that the information on this site is correct, but we cannot guarantee that it is free of inaccuracies, errors, or omissions. All content and services provided on or through this site are provided "as is" and "as available" for use. QuoteWizard.com LLC makes no representations or warranties of any kind, express or implied, as to the operation of this site or to the information, content, materials, or products included on this site. You expressly agree that your use of this site is at your sole risk.