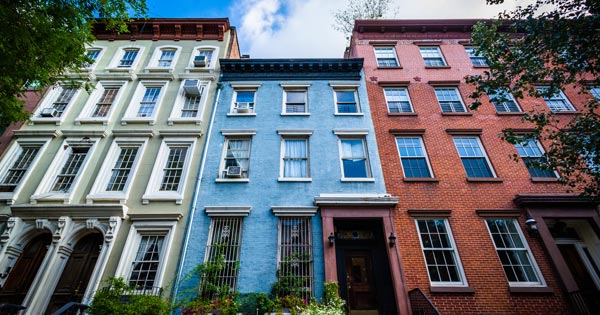 Homeowners insurance consists of many different policies, also known as forms. Owning a home, condo, or renting an apartment all entail different forms. Insurance vernacular calls them HO-1 through HO-8, with HO-6 meant to insure condos or co-ops. We're going to focus on the HO-6 policy.
A condominium (condo) is a home-unit that is part of a larger, multi-unit complex. You essentially own a piece of property, within a larger building. The homeowners or condominium association runs the building.
If you obtain a home loan to purchase a condo, your homeowners or condo association will typically require you to get an HO-6 policy.
Types of Coverage
You are responsible for insuring the interior structure of your condo. This includes your personal property. Your condominium association handles everything external. This falls under a master policy.
The condominium association may collect monthly fees that go toward the master policy's premiums. This covers the exterior structure of your condo and the complex. It also includes common areas like the pool, elevators, gym, and lounge areas.
The three types of master policies include:
Bare Walls. This covers the structure of the complex.
Single Entity. This covers the structure of the complex, as well as decorations, furniture, and more inside the common areas.
All Inclusive. This covers everything except what's inside each individual owner's condo.
Get affordable homeowners coverage for your condo.
Compare and save!
Click Here to Begin
The master policy also includes a deductible. The amount of the deductible depends on the amount of residents in the compound.
Read the master policy's fine print for further information. Also make sure to read up on what type of policy your condo association has.
Your HO-6 policy covers your living quarters. It includes:
Dwelling Coverage. This covers damage to the interior structure of the unit. It includes damage to the walls, flooring, ceiling, and other structures inside the home. Keep in mind your insurer will only pay for the repairs of perils that are on your policy.
Covered perils for condominiums usually include fire and smoke, explosions, theft, vandalism, and falling objects. They also include lightening, windstorms, hail, heavy snow or ice, aircraft damage, and motor vehicle damage.
Covered perils vary by company so check with your insurer for further information.
Other Structures Coverage. Check with your insurer on this one—as it's not always an option to buy. It covers structures you own that are standing apart from your condo. This includes things like garages and sheds.
Personal Property. It covers your personal property against covered perils. This includes anything inside your home that isn't part of the physical structure. Examples include furniture, electronics, clothing, and more.
Keep in mind that valuables and luxury items don't get full coverage. You might look into a rider or endorsement for these.
Loss of Use Coverage. If a covered peril makes your condo uninhabitable, loss of use coverage will help. It covers your living expenses while your condo is repaired.
Personal Liability Coverage. This provides coverage if you damage someone else's property. It also protects you if someone is injured in your condo.
If you don't have enough coverage and the other party files suit, liability coverage will help. It helps pay for your legal expenses, or their medical bills. 
Medical Payments Coverage. If a guest injures themselves in your condo, this would help pay their medical expenses.
Amount of Coverage
You should base the amount of coverage you buy on what is already included in your condo association's master policy.
Also determine the amount of coverage to get by the level of risk surrounding your living quarters. Do you live in an earthquake or hurricane prone area? What about an area with a high crime rate? Or maybe your plumbing has been faulty lately.
Depending on how much protection you want, you'll choose to insure your condo at replacement cost, or actual cash value (ACV). You might also consider guaranteed or extended replacement cost. Replacement cost is the amount it would cost to repair your condo to similar conditions as when you originally purchased it.
Actual cash value is the replacement cost, minus deprecation. Guaranteed or extended replacement cost will repair your condo back to its original conditions. This is the case, even if it exceeds your coverage cap. It will usually cover 20 to 25 percent of the expenses that go over your original limit.
It gets tricky when considering condos, because you don't have to insure the exterior of the unit. Instead, you should figure out how much your personal items and interior structure cost.
Let's say everything's worth around 150,000 dollars. If you choose to insure at replacement cost, you'll want to get at the least, 200,000 dollars in coverage.
Many insurers also suggest purchasing "loss assessment coverage." If the condo owners association files a claim with the master policy that's higher than their coverage amount, each condo owner would be responsible for the extra cost. Loss assessment coverage would prevent you from paying out of pocket. Check with your insurer for more information on this.
Deductible Amount
When you file a claim, your deductible is what you pay out of pocket before your insurance coverage kicks in. Monthly premiums and deductibles are inversely related. The higher you set your monthly premiums, the lower the deductible, and vice versa.
Master policy deductibles range from around 10,000 to 250,000 dollars. However, they are split evenly among all residents. If there are 50 residents and a 15,000-dollar deductible, that would be around 300 dollars per person.
Your HO-6 premiums will be around a few hundred dollars a month. Deductibles will vary by your amount of coverage, but most range from around 250 to 1,000 dollars.
Exclusions
There are many perils not covered by an HO-6 policy. In particular, floods and earthquakes aren't. You'll want to look into purchasing separate flood or earthquake insurance policies.
For a full list of exclusions, check with your insurance carrier.
Umbrella Policies
If you want to ensure full coverage on your home despite your condo's master policy, try looking into an umbrella policy. This is extra property damage and bodily injury liability coverage that exceeds your insurance limits.
The premiums aren't too expensive, but the deductible can rise into the hundred thousand dollar range. Read our article on umbrella insurance for more information.  
Reduce Rates
If you want to reduce your rates, you can take a few different measures. One is to purchase safety features for your condo. Installing a smoke or burglar alarm can significantly reduce what you pay in premiums.
If you bundle your condo insurance with your auto insurance, you may also be able to reduce your rates. And purchasing a newer condo, or purchasing one for the first time can cut the price as well. Ask your insurer about discounts and bundling.
Of course, the most dependable way to save on condo insurance is to shop around. Get home insurance quotes from multiple companies and compare rates to find the one that best fits your budget.
Frequently Asked Questions
Q: What if I rent out my condo?
A: If you rent your condo out, you'll continue to keep your HO-6 policy. However, your tenants might need to purchase an HO-4 policy. This is a homeowner's policy for renters and tenants.
If you're renting out your condo for the short term, you'll need to purchase a business policy. If you're renting out your condo for an extended period of time, you'll probably need a landlord or rental dwelling policy.
Q: What if I live in a townhouse or row house?
A: You may purchase homeowners, or condo insurance. Some insurers consider townhouses and row houses to be more like homes, and others consider them like condos. Check with your homeowners association or insurer for more information.  
Q: What's the difference between an attached and detached condo and how does insurance play a role?
A: Many condo associations will consider attached and detached condos to be the same. You still don't own the entire property, and are still only responsible for the interior structure of your condo.
Still, this varies among insurers, as well as homeowners and condo associations. Check with yours for more information.
QuoteWizard.com LLC has made every effort to ensure that the information on this site is correct, but we cannot guarantee that it is free of inaccuracies, errors, or omissions. All content and services provided on or through this site are provided "as is" and "as available" for use. QuoteWizard.com LLC makes no representations or warranties of any kind, express or implied, as to the operation of this site or to the information, content, materials, or products included on this site. You expressly agree that your use of this site is at your sole risk.