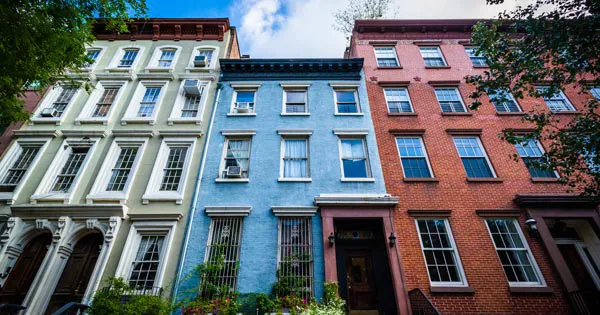 A standard homeowners policy for a condo, otherwise known as a HO-6 policy, provides coverage for the inside of your unit. Insurance for the outside of the condo is covered by your condo association. Knowing how they work together can help you understand what levels of insurance coverage you should get. This article will cover:
What is HO-6 insurance?
Standard condo insurance, also known as a HO-6 policy, provides coverage for the internal structure, your stuff, and liability for accidents inside of your condo. This differs a lot from standard home insurance, also called a HO-3 policy, which covers both the interior and exterior of the house.
Part of your monthly homeowners association (HOA) dues goes towards a shared separate master insurance policy that covers the external structure of the building. When you purchase a condo, your HOA or owner of the condo complex will usually require you to purchase a HO-6 policy. Most home insurance providers also offer condo insurance.
What is a condo master policy?
With condo complexes, there are two types of home insurance involved: the master policy and the HO-6 policy. The master policy covers liability and property damage for the condo building itself. It's a shared insurance policy for the entire condo. You should know what goes into the master policy as well as the HO-6 policy. Understanding the master policy helps give you a clearer eye of what kind of condo insurance you need to have full coverage. There are three types of master policy:
Walls in: This "bare walls insurance" covers only the structure of the condo complex. This includes the exterior, roofing, electrical, plumbing and insulation of the complex.
Single entity: This master policy type covers the structure of the condo complex, as well as decorations, communal furniture and more in the complex's common areas.
All in: This master policy type usually covers everything in the complex except for the inside of the individual condo units. We say "usually" because some all-in master policies cover built-in appliances in your unit.
The master policy is paid for out of the HOA dues of the condo owners in the complex. You can find out what kind of master policy your condo complex's trust documents.
What does condo insurance cover?
Standard condo insurance provides for the repair or replacement of the internal structure of your condo unit as well as your belongings in it. It also covers incidences that occur inside your condo such as personal liability and medical payments. Furthermore, it covers loss of use if you need to live somewhere else while repairs are done to your unit.
Dwelling coverage
Also known as hazard insurance, this covers damages done to the interior structure of your unit. It includes damages to the walls, floor, ceiling and other structures within. It is important to know, however, that a HO-6 policy only provides coverage for risks expressly listed in your insurance policy. If the source of the damage to your condo isn't named in your insurance policy, it isn't covered.
You can extend the range of risks covered by adding a Unit Owners Special Coverage Aendorsement to your condo insurance. This rider covers damages from any risks except ones specifically excluded in your HO-6 policy.
Personal property
Personal property coverage protects your belongings against risks named in your policy. This includes items such as furniture, electronics and clothing. If your computer and tv were destroyed in a fire, your personal property coverage would replace them.
Loss of use
If a covered risk renders your condo uninhabitable, loss of use coverage will help cover additional living expenses including rent, meals, commuting, and more. This means you would be able to have a roof over your head and keep your current standard of living while the repairs are done to your condo.
Personal liability
Personal liability on your condo insurance can cover legal fees in the event of a lawsuit. Liability lawsuits can happen if you damage someone's property, or if a person gets hurt in your condo. Personal liability usually starts at $100,000. While this may seem like a lot of money, keep in mind that a lawsuit can eat that up quick. We recommend you up your personal liability coverage to $300,000.
Medical payments
If a guest in your condo unit injures themselves, this part of your coverage can help pay their medical expenses.
Regarding other structure coverage
Some condo insurance policies do provide coverage for structures separate from your condo, such as a garage or shed. You'll want to check with your condo insurance provider to see if other structure coverage is an option.
How much condo insurance do I need?
It is recommended that you have enough coverage to totally rebuild your unit and replace your stuff if it's destroyed by a covered peril. Make sure that both the dwelling coverage and personal property coverage portions of your policy can completely cover these events. Being underinsured in the event of a major risk can leave you paying for a lot of the damages out of pocket.
When looking for comprehensive condo coverage, look at everything the master policy covers and compare it to your HO-6 policy. If the master policy is already taking care of a section of coverage that's also in your policy, there's no real reason for you to pay it as well. For example, some master policies cover in-unit appliances. In that case, you don't need to buy enough insurance to cover your appliances.
By the same token, you don't want to be left with not enough coverage. Talk with your condo insurer and make sure all your bases are covered.
You will also want to consider whether you want a replacement cost or actual cash value (ACV) policy. Replacement cost policies pay out base on what it would cost to repair your condo to the condition it was when you bought it, and what a covered item would cost to replace today. ACV pays as replacement cost minus any depreciation that has occurred over time.
Condo insurance cost and deductible
The average cost of condo insurance is $488 yearly, according to our study. However, there are variables that can affect your final premium:
If your complex's master policy is minimal in its coverage, you may need to spend more in order to get comprehensive coverage for your unit.
Taking a higher deductible on your condo insurance can reduce your monthly premium costs.
If you live in a location that is at risk for natural disasters or property crime, you can see a hike in your premium
Deductibles differ for master policies and HO-6 policies. Master policy deductibles can be anywhere from $10,000 to $250,000. Fortunately, that cost is split with your fellow condo owners in the complex. If the complex has a $15,000 deductible and there are 50 residents living in the building, it would come to about $300 per person.
It is also recommended that you consider getting loss assessment coverage. If your condo owners association files a claim on the master policy that's higher than the policy's limit, you and your fellow condo owners will have to help pay the difference. Loss assessment coverage prevents that cost from coming out of your pocket.
Your HO-6 deductible will depend on how much coverage you have, but most HO-6 deductibles range from $250 upwards to $1,000
QuoteWizard.com LLC has made every effort to ensure that the information on this site is correct, but we cannot guarantee that it is free of inaccuracies, errors, or omissions. All content and services provided on or through this site are provided "as is" and "as available" for use. QuoteWizard.com LLC makes no representations or warranties of any kind, express or implied, as to the operation of this site or to the information, content, materials, or products included on this site. You expressly agree that your use of this site is at your sole risk.