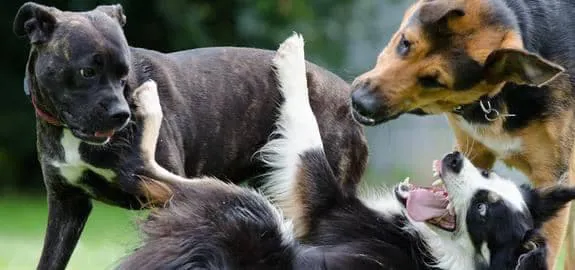 If you rent a home or apartment and own a dog, renters insurance often covers the liability costs if your dog attacks someone. A dog bite can be expensive, and having the proper insurance coverage can save you a lot in medical and legal bills. 
Finding a renters insurance company to cover your dog if it's a high-risk breed may be a bit of a challenge. Renters insurance companies have different risk levels for different breeds of dog. If you own what is considered an aggressive breed, your renters insurance provider may exclude it or charge a higher premium.
This article includes:
Does renters insurance cover dog bites?
Renters insurance usually covers your liability if you have a non-excluded breed of dog that attacks someone or causes property damage. Should your dog bite someone and it results in medical bills or legal action, your renters insurance will help cover the costs up to your policy limit.
It is important to clarify that your renters insurance only covers damage your dog causes to others. If your dog bites you or damages your property, your renters insurance will not cover your medical bills or costs to repair or replace your damaged stuff.
How renters insurance works with dog attacks
Besides coverage for your personal property and relocation costs if you need to move out of your rental residence while damages are repaired, renters insurance often provides liability coverage in the event of dog attacks. 
About 885,000 people a year suffer a dog bite serious enough to require medical attention. The III shows that dog bites are the most common claims on home insurance policies. In 2017, the average payout on claims due to a dog attack was $37,000.
The average renters insurance policy is usually between $150 and $200 a year. This means for as low as about $13 a month, you can cover yourself for liability due to dog bites, not to mention covering your personal property for repair and replacement. It also may cover relocation costs if you have to move out of your rental residence while damages are being repaired. 
When you consider that renters insurance costs $15 a month on average, getting a policy is a smart move and an excellent investment. Even if your landlord doesn't require you to have renters insurance as part of your lease, how much you can save versus how much a policy costs may be great.
Dog breeds excluded by renters insurance
There are some specific breeds of dogs that renters insurance companies exclude from coverage. Each provider may have different dog breeds that they do not cover under their renters insurance, but the most commonly excluded breeds are:
Akita
Chow
Doberman
German shepherd
Great dane
Pitbull
Rottweiler
Siberian husky
Wolf hybrid
While temperament is a contributing factor to a dog breed's risk level, size and strength also weigh into a provider's decision whether to cover a specific breed under renters insurance. The factors involved are often compiled from breed-wide statistics, not any one individual dog.
Some insurers may not exclude specific breeds from their renters insurance policies, but they could impose an exclusion if your dog has ever bitten someone. If your renters insurance provider asks about your dog's bite history or what breed it is, it is truly in your best interest to be honest. If it turns out your dog has a history of attacks or is a high-risk breed, your provider could cancel your renters insurance policy on top of rejecting the claim.
Renters insurance providers who exclude high-risk dogs or specific breeds include:
Allstate
Esurance
Farmers Insurance
Liberty Mutual
Nationwide
Best renters insurance providers for dog owners
The best major renters insurance providers for dog owners are USAA and State Farm. Neither insurer takes breed into account as a factor when quoting renters insurance. State Farm follows an "it's the bite, not the breed" model of covering dogs, on the idea that any dog can bite under specific conditions. They may still exclude your dog from coverage if it has a history of attacks.
Other renters insurance companies with less restrictive dog liability insurance policies include:
If your dog is not covered by renters insurance 
Even if your dog is excluded from your renters insurance policy, all is not lost. You should look at an umbrella policy or a canine liability as possible alternatives.
An umbrella policy provides liability coverage beyond the limits in a standard renters insurance policy. Umbrella policy coverage may offer coverage for medical bills or legal fees that can occur in the wake of a dog bite. 
This coverage is active whether you're at home, out for a walk in the park, or if your dog gets off its leash and runs away. The majority of umbrella liability policies on the market cover damages due to dog bites, but you should still check to make sure the policy you're considering does not exclude them. Umbrella policies are also relatively affordable.
Canine liability insurance is another separate policy which only covers liability costs occurring from dog attacks. If you're looking to get canine liability insurance, your best bet is to look at smaller carriers. 
The Federation of Insured Dog Owners (F.I.D.O., get it?) is a recommended source for dog owners and provides coverage in all states except Alaska. F.I.D.O. provide canine liability insurance for any breed of dog, regardless of risk status. The cost of F.I.D.O. dog liability coverage usually starts around $125 for coverage ranging from $50,000 to $100,000. Your annual premium could be affected by breed, age, weight, and other factors.
Other providers who specialize in canine liability insurance include:
Einhorn Insurance
Lester Kalmanson
Evolution Insurance Brokers
InsureMyK9
In summary
In short, if you're a dog owner and renting you should have renters insurance. Even if your landlord doesn't require you to have a policy, the amount of money you may save in medical and legal fees for a small monthly cost is well worth it.
QuoteWizard.com LLC has made every effort to ensure that the information on this site is correct, but we cannot guarantee that it is free of inaccuracies, errors, or omissions. All content and services provided on or through this site are provided "as is" and "as available" for use. QuoteWizard.com LLC makes no representations or warranties of any kind, express or implied, as to the operation of this site or to the information, content, materials, or products included on this site. You expressly agree that your use of this site is at your sole risk.