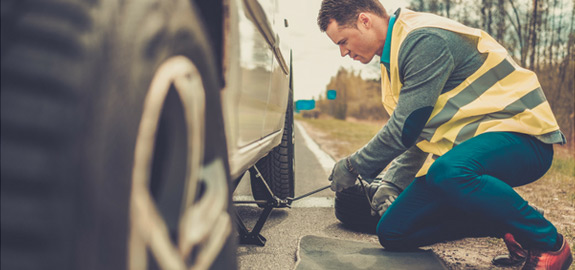 Getting a flat tire, waking up to a dead car battery, or running out of gas far from a gas station can happen to anyone. That's where roadside assistance saves the day. It ensures that you and your vehicle are covered in the event of unexpected car troubles, and it's surprisingly affordable. Roadside assistance will save you money and headaches down the road.
There are many companies that offer roadside assistance, and finding the one that most suits your needs isn't easy. QuoteWizard reviewed over 30 auto insurance companies on their roadside assistance programs to find the top 10 best programs.
Our reviews reveals that roadside assistance can cost as little as $5 for basic packages or as much as $124 for deluxe plans. Keep in mind that the cheapest roadside assistance companies require you to hold a car insurance policy through them, so that $5 price tag is misleading. But even the most expensive roadside assistance package only costs slightly more than $10 a month.
Because of the relatively inexpensive nature of roadside assistance, we decided not to factor price into these rankings. Our roadside assistance reviews focus solely on the quality of the coverage and the extent of services that each company offers.
Most companies provide the same basic services such as jump starts, flat tire changes, towing, gas delivery, and lockout assistance. Differences arise when you focus on the fine print. For example, some companies will restrict the distance they will tow your car, or they'll only pay for emergency services up to a certain price limit. You may pay a lower rate for a roadside assistance program, but you can end up paying considerably more in the long run in out-of-pocket expenses in the case of an emergency.
This review highlights ten roadside assistance programs that go above and beyond the minimum level of service. These ten plans will ensure that you and your car are back on the road with minimal stress.
1. Allstate
Allstate offers a few different roadside assistance options, the most comprehensive of which is the Motor Club Platinum Elite program. It covers virtually everything you need in the event of an emergency and includes several extra perks. There's also the Motor Club Roadside Advantage program, a slimmed-down package with less service options -- but it still packs a punch. Motor Club membership is available to anyone, even if you're not an Allstate member. In lieu of a full plan, Allstate customers can bundle towing and labor coverage into their policy for a small additional cost.
Allstate Motor Club Platinum Elite
Annual cost - $99/year
24-Hour Roadside Assistance: Allstate provides towing, tire changes, fuel delivery (with two free gallons of gas), and lockout and road service. Labor and materials are covered up to $250 per occurrence, which goes a long way in solving most car problems.
Trip Interruption: If your car becomes un-drivable while you're more than 100 miles from home, Allstate will provide up to $1,500 of lodging, transportation, and meals.
Arrest Bond Certificate: If you're arrested while driving due to a moving violation, Allstate will cover as much as $2,000 of arrest bonds or related fees.
CARFAX Vehicle History Reports: When you're in the process of buying or leasing a vehicle, Allstate provides free CARFAX reports to simplify your search.
Personal Concierge: Trip planning assistance, call-ahead services, and more are available 24/7.
Motorcycle & RV Coverage: Many roadside assistance plans exclude motorcycles and RVs due to their riskier nature. Allstate's Platinum Elite plan doesn't, meaning you have full access to roadside assistance when driving an RV or motorcycle.
Travel Savings: Platinum Elite members get exclusive access to discounts on travel purchases like hotels, flights, and more.
Allstate Motor Club Roadside Advantage
Annual cost - $52/year
For a little more than half the cost of the Platinum Elite membership, Allstate offers a pared-down plan. The Roadside Advantage program gives you similar access to roadside assistance, trip interruption services, and arrest bond certificates. However, cash limits are smaller for each service, and more restrictions apply. You also miss out on the personal concierge service, as well as the motorcycle and RV coverage.
Good Hands Rescue
Allstate offers a mobile app that will connect you to a countrywide network of roadside assistance providers. The app is free and available to anyone, so you don't need to be an Allstate customer to use it. However, it's a pay per use service, meaning you'll pay the full price of any assistance you require. It's a helpful tool, but with a minimum fee of $99 per tow, you're better off joining the Motor Club.
Towing & Labor Coverage
If you have an Allstate car insurance plan, you can add towing and labor coverage to your existing coverage for a small fee. As the name suggests, it will cover towing, as well as tire changes, jump starts, lockouts, and fuel delivery. The cost depends on your plan specifics, but according to Allstate, it "doesn't cost much."
QuoteWizard's Verdict
Allstate's Motor Club Platinum Elite package is a no-brainer. It's comprehensive and affordable, and it will virtually pay for itself in a single vehicle problem. The Roadside Advantage plan is also an excellent option for users who don't need the luxury provided by the Platinum Elite plan. We like the concept of the Good Hands Rescue app as a useful tool, but you're not getting much in terms of discounts.
Website: https://www.allstate.com/roadside-assistance.aspx
2. AAA
AAA is a non-profit motor club known for their roadside assistance programs. Since 1902, they have offered club memberships that include several benefits, chief among them are automotive services. Today, AAA's roadside assistance programs are still among the best. They currently offer three different tiered packages with varying prices and perks. The cost for these packages is dependent on what state you live in. For our study, we used Washington state's membership prices.
AAA Classic
Annual Cost - $65/year
The most basic AAA roadside assistance package covers all your bases. You get free towing up to five miles, $50 towards accidental lockouts, and gas delivery. Unlike more expensive roadside assistance packages, members must pay for the fuel itself.
AAA Plus
Annual cost - $92/year
The middle of the pack Plus package provides you a bit more than the Classic. Plus members receive 100 miles of towing, $100 on lockout services, and free fuel delivery. An additional perk with Plus is that you don't have to pay for the gas – AAA covers it.
AAA Premier
Annual cost - $124/year
Premier is the top dog when it comes to AAA's roadside assistance. It features a 200 mile towing radius, a $250 stipend for lockout mishaps, and complementary gas and delivery. Additional benefits include a comprehensive identify theft restoration program, where AAA's licensed investigators will conduct all legwork on your behalf in the event of an identity theft. That's not all – Premier members get a free one-day car rental from Hertz if their vehicle breaks down, as well as a trip interruption stipend of $1,500.
All AAA Plans
Service Call Limit: Four calls per year. Additional calls cost more.
Battery Service: Members receive free battery jumps and troubleshooting. If a replacement is needed, customers pay for replacement parts but AAA covers labor costs.
Flat Tire: If you have a functioning spare, AAA will replace your flat for free. If you don't have a spare, they will tow your vehicle to your preferred destination.
Bicycle Service: Experiencing technical difficulties while biking? AAA will help you. Be aware that bicycle assistance does count as one of your four annual service calls.
Discounts: Memberships include discounts on over 100,000 products and services.
Travel: AAA members have access to special deals on flights, travel packages, and hotels. Travel maps and custom itineraries are also free for members.
QuoteWizard's Verdict
With over a century of roadside assistance under their belt, you really can't go wrong with any of AAA's programs. Their extensive history means that they have an enormous network of service providers, so you won't have to wait long for help to arrive. The Classic offers great baseline protection for roadside incidents, and it's very affordable. At just $32 more than the Plus, it's hard to justify skimping on the Premier. AAA is especially appealing for families, since additional memberships can be added to your plan for just $36 each.
Website: https://www.aaa.com/
3. National General
Like AAA, National General Insurance has a membership-based motor club that offers three impressive roadside assistance programs: Basic, Standard, and Elite. Memberships are available for singles or couples, and family packages are an option for Elite members. Each membership level provides similar services, but the Elite level offers higher financial benefits across the board. It also includes multiple unique benefits like emergency room payments, arrest bonds, and legal defense. National General's roadside assistance plans feature attractive price breaks for family plans.
Motor Club Basic
Annual Cost:
Single - $59/year
Couple - $69/year
The Motor Club Basic membership is a good starter package for roadside assistance. It's reasonably priced and offers decent protection. Members receive three service calls per year, a five-mile towing radius, and lock repairs up to $60. There's also a dispatch guarantee of $120. The Basic program also includes the roadside service benefits that are standard for every membership level.
Motor Club Standard
Annual Cost:
Single - $79/year
Couple - $94/year
Additional dependents (must be under 21 years old) - $15/year
For a reasonable extra fee, you can upgrade to the Standard membership. Your towing radius increases to 20 miles, and you can use services four times, rather than the Basic limit of three. Your lock repair stipend and dispatch guarantees jump to $90 and $150, respectively. Standard members receive trip interruption protection, where you're reimbursed up to $750 for lodging and transportation in the event of a vehicle collision. You can also add dependents to your plan for an additional $15 each. Standard is a solid middle of the road plan, with improved benefits at a reasonable price increase compared to Basic.
Motor Club Elite
Annual Cost:
Single - $89/year
Couple - $99/year
Family (dependents must be under 26 years old) - $119/year
National General's top of the line package, the Elite membership, comes with many bells and whistles. First, the call limit allows four calls for single members, five for couples, and an impressive seven for family memberships. Your towing radius skyrockets to 100 miles, alongside a $260 dispatch guarantee and a $130 locksmith budget. The big improvement comes in the form of a $1,000 legal defense fee, a $1,000 arrest bond protection, and $1,000 towards emergency room fees due to vehicle incidents. These benefits provide plenty of protection beyond the road. And of course, also included is the standard roadside service package available for all Motor Club plans.
All National General Motor Club Plans
Jump starts
Flat tire change
Fuel delivery
Winching
Lockout service
Key replacement up to $25
QuoteWizard's Verdict
All of National General's plans offer a solid roadside assistance plan, but their Elite plan stands on its own. At just $10 more for an Elite membership than a Standard membership, the degree to which the benefits increase definitely outweighs the cost increase. Elite members receive considerable more protection off-road with benefits for court expenses, vehicle repair, and arrest bonds. There's also significant boosts to all other services like towing radius, claim limits, dispatch guarantees, and locksmith stipends. Plus, with their reasonably priced family plan, it's a no brainer if you're hoping to cover dependents.
Website: https://www.nationalgeneralmotorclub.com
4. Travelers
Travelers offers two great roadside assistance packages at very affordable rates. Unfortunately, these programs are only available to customers who have Travelers car insurance plans. But if you currently buy your auto insurance through Travelers you should absolutely consider adding their roadside assistance to your plan. It provides all the important services you need in the event of an unexpected vehicle emergency. Our study features approximate costs. The exact price of each package depends on your current insurance plan and where you live.
Basic Roadside Assistance
Annual cost - About $12/year
As the name suggests, this is a basic package. It provides you with 15 miles of towing, as well as these important services:
Jump starts
Fuel delivery
Flat tire change
Lockout assistance
Premier Roadside Assistance
Annual cost - About $23/year
Travelers' fancier roadside assistance package provides all of the same benefits as the Basic service, but the towing radius jumps to 100 miles. Beyond that, there are two main additional perks for Premier members:
Trip Interruption Coverage: Found yourself stranded with a car breakdown more than 100 miles from home? Travelers will provide $200 daily for meals and lodging, up to a $600 limit.
Personal Property coverage: Travelers provides $500 towards items damaged or stolen in the event of a breakdown or vehicle incident.
QuoteWizard's Verdict
If you're already a Travelers customer, you should sign up for their roadside assistance. It provides you with all the basics necessary in a roadside emergency, all for a nominal fee. Their plan isn't spectacular enough to warrant switching your car insurance to Travelers, but it's a good benefit to consider if you're already interested in Travelers.
Website: https://www.travelers.com/personal-insurance/auto-insurance/roadside-assistance.aspx
5. Nationwide
Nationwide insurance customers can add two different levels of roadside assistance to their plans. Each plan includes fundamental roadside services, and their Plus plan adds extra layers of protection in the event of an emergency. Roadside assistance members also receive Cross Country Perks, Nationwide's discount program for dining, travel, entertainment, shopping, and more.
Both Nationwide Plans
Both Basic and Plus plan members have access to these essential roadside assistance services:
Car towing
Ditch extraction
$100 towards lost or broken keys as well as accidental lockouts
Gas delivery
Battery jumps
Flat tire replacement if you have your own spare
Roadside Assistance Basic
Annual cost - About $20/year
As the name suggests, Nationwide's Basic plan is definitely Basic. But basic is good in this case, as this plan provides members with virtually everything needed to get a car back on the road at a fair price.
Roadside Assistance Plus
Annual cost - About $40/year
Nationwide's top-shelf plan gives members some extra protection when things go wrong on the road. The towing radius expands to 100 miles, allowing for considerably greater flexibility. The Plus plan also includes a $500 trip interruption stipend. This pays for alternate transportation, lodging, and meals when your vehicle becomes undrivable farther than 99 miles from your home.
Towing Coverage
Many Nationwide policies include towing and labor coverage. If you have car troubles that require a tow truck or roadside labor, you can submit your bills to Nationwide for reimbursement. Of course, reimbursement depends on the specifics of your plan.
Exceptions
There are a few restrictions that apply to Nationwide's roadside assistance. It's not available in every state, and some benefit specifics vary depending on your state. For example, Plus members in Virginia receive an extra $100 towards trip interruption. Be sure to check your state's coverage level before adding Nationwide's roadside assistance to your plan.
QuoteWizard's Verdict
If you're already a Nationwide customer, consider adding their roadside assistance to your plan. However, similar to Travelers, this plan isn't amazing enough to consider switching insurance providers. The Basic plan is affordable if you're looking for minimum roadside assistance benefits. But with a yearly price tag of about $40 for the Plus plan, you could consider one of the basic roadside assistance plans from AAA, National General, or All State. They're just a few dollars more, and they provide much more in terms of coverage and protection.
Website: https://www.nationwide.com/roadside-assistance.jsp
6. GEICO
GEICO car insurance policy holders can add roadside assistance to their plans for as little as $14 per year, per car. Of course, this price will vary depending on several factors such as where you live, your car make and model, and the specifics of your plan. Their Emergency Road Service coverage will give you good service at a good price.
GEICO's Emergency Road Service
Annual cost - Starts at $14/year
Dead battery jumps and service
Flat tire replacement, assuming you have a functional spare
Gas delivery
Locksmith services up to $100
Towing, as long as it's not due to an accident
Policyholders can request and track roadside assistance through the GEICO mobile app, a helpful feature if you're not a fan of phone calls. GEICO's ERS plan also includes a reimbursement option, where you receive compensation for eligible out-of-pocket expenses incurred during service.
QuoteWizard's Verdict
This roadside assistance plan provides GEICO customers a nice buffer of vehicle protection for a nominal fee. If you're a GEICO customer and you don't feel that a more comprehensive plan is necessary for your needs, consider this coverage add-on. It's not an amazing plan, but it will definitely get you out of a jam if you find yourself facing car troubles. Plus, bundling roadside assistance with your car insurance is convenient and may lead to discounts.
Website: https://www.geico.com/auto-insurance/emergency-road-service/
7. Mercury
Mercury offers a Mechanical Breakdown Protection plan, which essentially functions as an extended warranty. As the name suggests, this plan covers repairs to your vehicle in the event of a mechanical breakdown. These warranties cover your vehicle for up to seven years or 100,000 miles. There are a handful of plans to choose from, with the best option being the Platinum Plan. It covers virtually all mechanical and electrical components. Due to the warranty nature of this plan, pricing will vary greatly depending on your vehicle make and model.
As an added bonus, these plans include many additional benefits at no extra cost:
24-hour roadside assistance
Rental car assistance
Tire protection
Trip interruption coverage
Nationwide protection
Repairs at any licensed repair shop
No limit to number of claims
Coverage is transferrable
QuoteWizard's Verdict
Mercury's plan isn't a roadside assistance plan at heart. It's an extended warranty with roadside assistance added in to sweeten the deal. This could be an attractive option if you're interested in purchasing a warranty in the first place, but it will cost more than a stand-alone roadside assistance plan. We are very impressed with the unlimited claims, as no other roadside assistance provider offers that. But you're likely paying for those unlimited claims in the form of an expensive warranty.
Website: https://www.mercuryinsurance.com/insurance-products/mechanical-breakdown-protection.html
8. Progressive
Progressive is yet another car insurance company that offers roadside assistance coverage in conjunction with their car insurance plans. We were quoted a price of about $36 per year for roadside assistance coverage, but your price depends on your location and the type of vehicle you drive. Progressive offers a solid if unspectacular plan that provides you with all the core services you need to get your vehicle back on the road.
Progressive's Roadside Assistance
Annual cost - About $36/year
Towing within 15 miles or to the nearest repair facility. Getting your car towed to the nearest facility even if it's outside of their 15-mile radius limit is a neat feature.
Winching within 100 feet of a road or highway
Battery or Jump Start
Gas delivery, although you have to pay for the fuel
Locksmith service, but you cover the costs of lost or stolen keys
Tire change, assuming you have a functioning spare
One hour of on scene labor related to disablement
Progressive's Fine Print
In most states, customers will need to have comprehensive and collision coverage to add roadside assistance to their policy. There are also, of course, limits to how many service calls you can make without incurring additional charges. Progressive also consider each service call as a claim. They state that, while service calls won't affect your current premium, it will be factored into your renewal rate. Progressive also warns that excessive roadside assistance calls may result in cancellation or non-renewal of your policy.
Website: https://www.progressive.com/claims/roadside-assistance/
QuoteWizard's Verdict
We like that Progressive will tow your vehicle beyond 15 miles if there are no appropriate facilities within that radius. They also offer all the other common features that you may need in the event of an accident. Like other car insurance companies that offer roadside assistance, you may be eligible for bonuses and discounts by bundling roadside assistance coverage with your policy. This makes it appealing to people who already use Progressive for auto insurance, but their fine print may be off-putting to potential customers.
9. USAA
USAA insurance policies, available only to people or families that serve or have served in the United States military, consistently rank very well in customer satisfaction for car insurance. USAA customers are also eligible for roadside assistance programs with a premium increase.
USAA Towing and Labor Coverage With Roadside Assistance
Annual cost - About $60/year
Roadside assistance is part of USAA's towing and labor coverage add-on. It covers the important basics:
Towing disabled vehicles up to 11 miles
Gas delivery, but customers must pay for the gas itself
Lost keys and lockouts, although the key cost isn't covered
Flat tire replacement
USAA's program will also reimburse customers for tows if they pay out-of-pocket, although restrictions apply. All repairs parts must be paid for by the policyholder. Like other insurance companies that offer roadside assistance as a policy add-on, the true cost of this service will depend on the details of your policy.
QuoteWizard's Verdict
With USAA's excellent track record in providing high quality car insurance and customer service to military members, it's no surprise that their roadside assistance is well regarded. The benefits aren't groundbreaking or comprehensive, but they provide a good safety net to address most unforeseen car problems. If you're lucky enough to be a USAA member, adding roadside assistance to your policy is a great idea. But if you want extensive protection from a top of the line plan, consider looking elsewhere.
Website: https://www.usaa.com/inet/pages/auto_insurance_main
10. State Farm
State Farm car insurance policyholders can add emergency road service coverage to their plans for as little as $5 a year. It's a nice benefit for State Farm customers, and it offers all the basic services needed to fix unexpected car troubles. They advertise that they will pay for common and reasonable expenses needed to get your vehicle back into service.
State Farm's Coverage H (Emergency Road Service)
Annual cost - Starts at $5/year
One hour of mechanical labor at the breakdown site
One hour of locksmith labor for accidental lockouts, lost, or stolen keys
Delivery of gas, oil, car batteries, or replacement tires, although you pay for the items
Towing to the nearest repair location
Winching
If your labor costs exceed one hour, or if you tow the vehicle beyond the nearest repair facility, you will incur extra costs. Additionally, State Farm customers can still call the emergency road service hotline even if they haven't purchased the extra coverage. They will have to pay for the services out of pocket, but State Farm claims that they negotiate rates with service providers that are lower than market average.
QuoteWizard's Verdict
If you're already a State Farm customer, the Coverage H plan is surprisingly affordable and it'll cover your bases in the event of an emergency. You can bundle it with your current insurance policy, which is convenient and may provide a decent discount. State Farm's roadside assistance is by far the cheapest available, and there may be a reason for that.
Website: https://www.statefarm.com/claims/get-roadside-assistance
Final Thoughts
We ultimately recommend purchasing roadside service. It's surprisingly affordable, especially when you consider the normal costs for most emergency vehicle assistance. All it takes is one unexpected tow to realize how beneficial roadside assistance can be.
If you don't drive much, or if you drive a new car in excellent condition, purchasing roadside assistance coverage through your car insurance provider could be a good fit for you. But if you drive frequently, or you just want the peace of mind, we highly recommend AAA, All State, or National General. Their plans are in a league of their own, providing considerably more protection and extra benefits without wrecking your wallet.
QuoteWizard.com LLC has made every effort to ensure that the information on this site is correct, but we cannot guarantee that it is free of inaccuracies, errors, or omissions. All content and services provided on or through this site are provided "as is" and "as available" for use. QuoteWizard.com LLC makes no representations or warranties of any kind, express or implied, as to the operation of this site or to the information, content, materials, or products included on this site. You expressly agree that your use of this site is at your sole risk.