The Best Roadside Assistance Plans
We looked at roadside assistance plans from insurers, credit card companies, car manufacturers and more.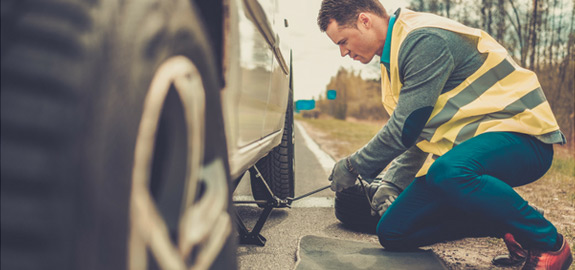 Roadside assistance ensures that you and your vehicle are covered in the event of emergency car troubles, and it's surprisingly affordable. You can get roadside assistance from auto insurance companies, cell phone providers, car manufacturers and credit card providers.
Most companies provide basic roadside assistance services like jump starts, flat tire changes, towing, gas delivery and lockout assistance. But some companies restrict the distance they will tow your car, or they'll only pay for emergency services up to a certain price limit. This article reviews major roadside assistance programs, including:
Roadside assistance through your auto insurance company
A common way to get roadside assistance is through an auto insurance company. We reviewed roadside assistance programs from some of the top car insurance companies.
AAA roadside assistance
There are several AAA packages to choose from that offer roadside assistance, including:
Package
Cost
Benefits
Basic
$65/year

Free towing up to five miles
$50 toward accidental lockouts
Gas delivery (must pay for the fuel itself)

AAA Plus
$92/year

100 miles of towing
$100 on lockout services
Free fuel delivery (don't have to pay for the fuel)

AAA Premier
$124/year

200-mile towing radius
$250 toward lockout services
Complimentary gas and delivery
Identity theft restoration program
Free one-day car rental if your car breaks down
$1,500 toward trip interruption
All AAA plans include:
Service Call Limit: Four calls per year. Additional calls cost more.
Battery Service: Members receive free battery jumps and troubleshooting. If a replacement is needed, customers pay for replacement parts, but AAA covers labor costs.
Flat Tire: If you have a functioning spare, AAA will replace your flat for free. If you don't have a spare, they will tow your vehicle to your preferred destination.
Bicycle Service: Experiencing technical difficulties while biking? AAA will help you. Be aware that bicycle assistance does count as one of your four annual service calls.
Discounts: Memberships include discounts on over 100,000 products and services.
Travel: AAA members have access to special deals on flights, travel packages and hotels. Travel maps and custom itineraries are also free for members.
Review
With over a century of roadside assistance under their belt, you really can't go wrong with any of AAA's programs. Their extensive history means that they have an enormous network of service providers, so you won't have to wait long for help to arrive. The Classic offers great baseline protection for roadside incidents, and it's very affordable. At just $32 more than the Plus, it's hard to justify skimping on the Premier. AAA is especially appealing for families, since additional memberships can be added to your plan for just $36 each.
Phone number: (800) 222- 4357
GEICO roadside assistance
GEICO car insurance policy holders can add roadside assistance to their plans for as little as $14 per year, per car. Of course, this price will vary depending on several factors such as where you live, your car make and model and the specifics of your plan. Their Emergency Road Service coverage will give you good service at a good price.
GEICO's Emergency Road Service includes:
Dead battery jumps and service
Flat tire replacement, assuming you have a functional spare
Gas delivery
Locksmith services up to $100
Towing, if it's not due to an accident
Policyholders can request and track roadside assistance through the GEICO mobile app, a helpful feature if you're not a fan of phone calls. GEICO's ERS plan also includes a reimbursement option, where you receive compensation for eligible out-of-pocket expenses incurred during service.
Review
This roadside assistance plan provides GEICO customers a nice buffer of vehicle protection for a nominal fee. If you're a GEICO customer and you don't feel that a more comprehensive plan is necessary for your needs, consider this coverage add-on. It's not an amazing plan. But it will get you out of a jam if you find yourself facing car troubles. Plus, bundling roadside assistance with your car insurance is convenient and may lead to discounts.
Phone number: (800) 424-3426
State Farm roadside assistance
State Farm car insurance policyholders can add emergency road service coverage to their plans for as little as $5 a year. It's a nice benefit for State Farm customers, and it offers all the basic services needed to fix unexpected car troubles. They advertise that they will pay for common and reasonable expenses needed to get your vehicle back into service.
State Farm's Coverage H (Emergency Road Service) includes:
One hour of mechanical labor at the breakdown site
One hour of locksmith labor for accidental lockouts, lost or stolen keys
Delivery of gas, oil, car batteries or replacement tires, although you pay for the items
Towing to the nearest repair location
Winching
If your labor costs exceed one hour, or if you tow the vehicle beyond the nearest repair facility, you will incur extra costs. Additionally, State Farm customers can still call the emergency road service hotline even if they haven't purchased the extra coverage. They will have to pay for the services out of pocket. But State Farm claims that they negotiate rates with service providers that are lower than market average.
Review
If you're already a State Farm customer, the Coverage H plan is surprisingly affordable, and it'll cover your bases in the event of an emergency. You can bundle it with your current insurance policy, which is convenient and may provide a decent discount. State Farm's roadside assistance is by far the cheapest available, and there may be a reason for that.
Phone number: (877) 627-5757
USAA roadside assistance
Roadside assistance is part of USAA's towing and labor coverage add-on. It costs about $60 per year and it covers these basics:
Towing disabled vehicles up to 11 miles
Gas delivery, but customers must pay for the gas itself
Lost keys and lockouts, although the key cost isn't covered
Flat tire replacement
USAA's program will also reimburse customers for tows if they pay out-of-pocket, although restrictions apply. All repairs parts must be paid for by the policyholder. Like other insurance companies that offer roadside assistance as a policy add-on, the true cost of this service will depend on the details of your policy.
Review
USAA has an excellent track record in providing high quality car insurance and customer service to military members. So, it's no surprise that their roadside assistance is well regarded. The benefits aren't groundbreaking or comprehensive, but they provide a good safety net to address most unforeseen car problems. If you're lucky enough to be a USAA member, adding roadside assistance to your policy is a great idea. But if you want extensive protection from a top of the line plan, consider looking elsewhere.
Phone number: (800) 531-8555
Progressive roadside assistance
Progressive is another car insurance company that offers roadside assistance coverage with their car insurance plans. It costs about $36 per year for roadside assistance coverage, but your price depends on your location, the type of vehicle you drive and more. Progressive offers a solid plan that provides you with all the core services you need to get your vehicle back on the road.
Progressive's Roadside Assistance includes:
Towing within 15 miles or to the nearest repair facility.
Winching within 100 feet of a road or highway
Battery or Jump Start
Gas delivery, although you must pay for the fuel
Locksmith service, but you cover the costs of lost or stolen keys
Tire change, assuming you have a functioning spare
One hour of on scene labor related to disablement
In most states, customers will need to have comprehensive and collision coverage to add roadside assistance to their policy. There are also limits to how many service calls you can make without incurring additional charges. Progressive also considers each service call as a claim. They state that, while service calls won't affect your current premium, it will be factored into your renewal rate. Progressive also warns that excessive roadside assistance calls may result in cancellation or non-renewal of your policy.
Review
We like that Progressive will tow your vehicle beyond 15 miles if there are no appropriate facilities within that radius. They also offer all the other common features that you may need in the event of an accident. Like other car insurance companies that offer roadside assistance, you may be eligible for bonuses and discounts by bundling roadside assistance coverage with your policy. This makes it appealing to people who already use Progressive for auto insurance, but their fine print may be off-putting to potential customers.
Phone number: (800) 776-2778
Allstate roadside assistance
Allstate offers a few different roadside assistance options, the most comprehensive of which is the Motor Club Platinum Elite program. It covers virtually everything you need in the event of an emergency and includes several extra perks and costs around $99 per year. There's also the Motor Club Roadside Advantage program, a slimmed-down package with less service options, that costs around $52 per year. Motor Club membership is available to anyone, even if you're not an Allstate member. In lieu of a full plan, Allstate customers can bundle towing and labor coverage into their policy for a small additional cost.
Allstate Motor Club Platinum Elite includes:
24/7 Roadside Assistance: Allstate provides towing, tire changes, fuel delivery (with two free gallons of gas), and lockout and road service. Labor and materials are covered up to $250 per occurrence, which goes a long way in solving most car problems.
Trip Interruption: If your car becomes un-drivable while you're more than 100 miles from home, Allstate will provide up to $1,500 of lodging, transportation and meals.
Arrest Bond Certificate: If you're arrested while driving due to a moving violation, Allstate will cover as much as $2,000 of arrest bonds or related fees.
CARFAX Vehicle History Reports: When you're in the process of buying or leasing a vehicle, Allstate provides free CARFAX reports to simplify your search.
Personal Concierge: Trip planning assistance, call-ahead services and more are available 24/7.
Motorcycle & RV Coverage: Many roadside assistance plans exclude motorcycles and RVs due to their riskier nature. Allstate's Platinum Elite plan doesn't, meaning you have full access to roadside assistance when driving an RV or motorcycle.
Travel Savings: Platinum Elite members get exclusive access to discounts on travel purchases like hotels, flights and more.
For a little more than half the cost of the Platinum Elite membership, Allstate offers a pared-down plan. The Roadside Advantage program gives you similar access to roadside assistance, trip interruption services and arrest bond certificates. However, cash limits are smaller for each service, and more restrictions apply. You also miss out on the personal concierge service, as well as the motorcycle and RV coverage.
Review
Allstate's Motor Club Platinum Elite package is a no-brainer. It's comprehensive and affordable and it will virtually pay for itself in a single vehicle problem. The Roadside Advantage plan is also an excellent option for users who don't need the luxury provided by the Platinum Elite plan. We like the concept of the Good Hands Rescue app as a useful tool, but you're not getting much in terms of discounts.
Phone number: (844) 864-7446
Roadside assistance through your car manufacturer
If you own a new car, chances are your car manufacturer offers a roadside assistance program. From the time you purchase your car, roadside assistance can last between two years to the life of the car. If your roadside assistance is through a car manufacturer, it only applies to that vehicle, it doesn't follow the driver. Also, you'll usually have to get your car serviced by a manufacturer-approved shop or dealership.
Many car owners with a Tesla, BMW or another specialty vehicle opt for roadside assistance through their manufacturer because of their car's unique needs. If you own a Ford, Honda or Hyundai, you may find more flexibility with a roadside assistance program through a third party.
Roadside assistance through your cell phone provider
Do you have a phone plan with a major cell phone provider? If so, you should consider purchasing roadside assistance through your phone company. The major draw of a purchasing a plan through your phone company is that coverage applies to wherever the phone is. You can be in a passenger in another vehicle, in a rental car or even lend your phone to someone—it's all covered. Both these major providers offer roadside assistance if you already have a plan with them.
AT&T
To add roadside assistance through AT&T, you must have a plan with them. Adding this feature costs $3 per month.
Services include:
Towing for mechanical failures
Battery service or jump starts
Flat-tire help
Fuel delivery up to three gallons
Lockout assistance
Key replacement
Verizon
Verizon offers 24/7 roadside assistance anywhere in the US, Canada and Puerto Rico. You must have a phone plan with the company and the feature costs $3 per month to add. If you don't have the feature pre-added and need to use the service, it costs $90. Services include:
Towing up to 10 miles
Battery jump
Winching
Lockout assistance
Fuel delivery up to three gallons
Flat-tire service
Roadside assistance through your credit card company
Depending on your credit card, you may already be a part of a roadside assistance program. Some credit card companies offer roadside assistance as a card holder perk. We've compiled some major companies that offer roadside assistance.
American Express
No matter the Amex card you have, roadside assistance is included. For some cards it's free, and others require an additional fee. Services include:
Towing up to 10 miles
Tire replacement
Lockout assistance
Jump starting
Fuel delivery up to two gallons
Winching
Visa
If you have a Visa card, you can get roadside assistance for an additional $60 or so. Services include:
Towing up to five miles
Tire replacement
Lockout assistance
Jump starting
Fuel delivery up to five gallons
Winching
Mastercard
Mastercard holders qualify for roadside assistance for a pre-negotiated fee. Services include:
Towing
Jump starting
Tire replacement
Fuel delivery
Methodology
We studied roadside assistance plans from top providers to see which ones stood out among the rest. Our criteria focused on price, extent of service, exclusions and customer reviews.
QuoteWizard.com LLC has made every effort to ensure that the information on this site is correct, but we cannot guarantee that it is free of inaccuracies, errors, or omissions. All content and services provided on or through this site are provided "as is" and "as available" for use. QuoteWizard.com LLC makes no representations or warranties of any kind, express or implied, as to the operation of this site or to the information, content, materials, or products included on this site. You expressly agree that your use of this site is at your sole risk.