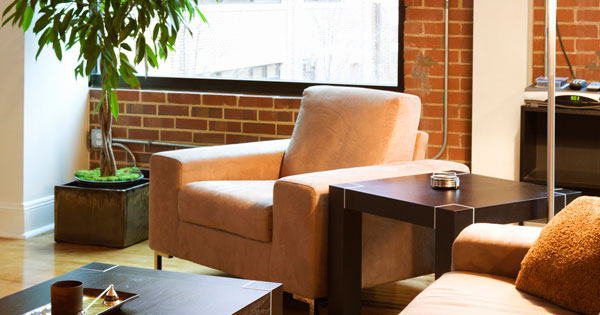 Many people don't bother buying renters insurance because they think it's too expensive, or not worth the money. But this type of coverage can cost as little as $13 a month, and does much more than just protect the value of items inside your apartment.
It can cover the cost of your belongings if they're stolen from another location, like your car. If you accidentally damage your friend's furniture, you'll also have coverage. And renters insurance can even pay for expenses if you need to find alternative housing during extensive apartment repairs.
The best way to find out exactly what your insurance covers is to read your policy. But in general, renters insurance will help pay for damages resulting from events such as:
Theft
Fire
Windstorm
Vandalism
Hail
Lightning
Renters might assume their items are protected no matter what happens. But there are some limits on what your policy will cover.
Here are several cases where your renters insurance won't protect your belongings:
Floods
Floods are the most common natural disaster in the United States. Despite this, renters insurance won't cover damages if your belongings are destroyed in a flood.
Instead, you'll need to buy a separate flood insurance policy. Luckily, it's easy and relatively inexpensive to buy a flood policy. Flood coverage doesn't take effect until 30 days after the policy is purchased, so it's best to buy flood insurance as soon as possible.
Even if you don't live in a high-risk area, flood coverage is a good idea. According to the National Flood Insurance Program, 20 percent of flood claims come from people living in low or moderate risk areas.
Check out our guide to flood insurance for renters to learn more.
Earthquakes
Although earthquakes are common in certain areas of the United States, this natural disaster is not generally covered by renters insurance. Like flood insurance, you'll have to buy a separate policy.
Earthquake coverage can be expensive, especially if you live in a high-risk area. You can learn more about your risk level using the USGS Hazard Map. People living in California, Oregon, and Washington typically see the highest premiums.
Rates are determined by risk level. Factors such as how close you live to a fault line or if you live on a hill or a valley will affect your rates.
Vehicles
Cars are not covered under this type of policy. To protect your vehicle, you must buy separate car insurance. By law you'll need to have at least liability insurance. To protect your car from other events like vandalism or a falling tree, you would need comprehensive coverage.
However, if someone has their belongings stolen while they are inside a car, renters insurance will cover the cost of those items. Bikes and other sports equipment will also be protected.
Roommate's belongings
Your roommate may live with you, but your insurance won't protect their belongings. The only way their items would be protected is if they're listed on your policy. Depending on your insurer, you may have the option to share a policy with your roommate.
Some people might consider having a joint policy with their roommate to save money. Yet, most of the time the coverage will cost the same whether you have a separate policy or not. It is generally recommended that people have their own renters policy.
Personal business items
Items that are used for business purposes, like a computer for people who work from home or a guitar if someone plays in a band, won't have protection. For example, if you own a guitar and play as a hobby, then your renters insurance will usually cover the instrument. If, however, you play a guitar in a band where you make a profit from gigs or music sales, your renters insurance won't cover any damages to it.
If you want to protect these items, you'll need to buy business property insurance.
Expensive items such as jewelry or art
Insurance companies may place a restriction on how much they will reimburse a policyholder for valuables like jewelry, art, and antiques. For instance, jewelry is usually only covered up to $1,500.
In order to have extra protection for these more expensive items, consider purchasing a floater, also known as a rider. A floater is a separate policy you can buy for an item so that it's covered for its full value. You may need to have it appraised to prove its value to the insurer.
Not sure if you need a floater? Find out more here.
Bed bugs, termites, rodents, and other pests
Unfortunately, renters insurance doesn't typically cover damages from pests such as rats, termites, bed bugs, or cockroaches. It also wouldn't cover extermination costs.
In general, landlords must make sure they keep their property habitable, although the specifics can differ from state to state.
Landlord's responsibility
As mentioned above, one of the most common reasons renters insurance won't cover a claim is because the claim pertains to something that was the landlord's responsibility. If an item is damaged because of something the landlord failed to fix, then an insurer wouldn't cover the cost to replace it.
For example, if your landlord neglected to repair your plumbing, which caused a leak and ruined your couch, you wouldn't have coverage. Another example is if a fire started due to faulty electrical wiring which wasn't properly maintained by your landlord.
Acts of war and terrorism
Unfortunately, terrorism has become more high profile in recent years. This means more people are concerned about having coverage for this type of event than in the past.
Acts of war aren't covered in a standard renters policy, including terrorism. This includes invasion and revolution as well. According to the Insurance Information Institute (III), insurers also won't cover, "nuclear, biological, chemical, and radiological events."
In the past, terrorism protection was included at no extra charge. But after 9/11/2001, insurers started to sell this type of coverage on its own. You can also buy separate war risk insurance to supplement your renters policy.
Sinkholes
Because sinkholes are considered "ground movement," they fall into the same category as an earthquake. According to the United States Geological Society, around 20 percent of the country is prone to sinkholes. Your belongings are typically not protected from sinkholes, although there are some exceptions depending on the state you live.
The majority of sinkholes occur in the following states:
Alabama
Kentucky
Florida
Missouri
Pennsylvania
Tennessee
Texas
People living in a high risk area can buy sinkhole coverage. The III states that in Florida, insurance companies are required to offer optional sinkhole coverage as well as insurance for catastrophic ground cover collapse. Tennessee is also required to offer optional sinkhole coverage.
If you intentionally damaged your belongings
If you purposely destroy your belongings and try to seek replacement from your insurance company, you'll be out of luck. The insurance company will not reimburse you for suspicious claims. The insurer will thoroughly investigate what happened before shelling out any money. Plus, intentionally destroying your belongings in order to get money from your insurer is insurance fraud. If they catch you, you could be criminally charged.
Frequently Asked Questions
Q: Are there any specific items that my policy won't cover?
A: Renters insurance won't cover all items that you own for its full value. For example, it won't cover your car. You'll need to buy car insurance to protect your vehicle.
You would also need to buy a separate business property policy to insure items you use for business purposes. This means if you use a computer as a freelance graphic designer—and make a profit—the computer won't be covered.
Your valuables such as jewelry and antiques are insured up to a certain value. But to insure these items for their full value, you'll need to buy a special rider or floater.
Q: Are floods and earthquakes covered by my renters insurance?
A: No, although floods and earthquakes are common occurrences in many parts of the United States, they are not included in a renters policy. If you want protection from these natural disasters, you'll need to buy a separate flood and earthquake policy.
Q: Should I get a joint policy with my roommate?
A: Some people might think it is easier and cheaper to have joint renters insurance coverage with their roommate. But having a joint policy usually makes things more complicated, and often doesn't affect the cost of premiums.
If you share insurance, cashing a claim check will require both your signature and your roommates. And if your roommate decides to move out, it can be challenging to remove someone from a policy.
Q: How much will renters insurance cost?
A: Costs vary depending on how much coverage you buy and the company. In general, though, expect to pay $150 to $300 a year for $15,000 to $30,000 worth of coverage. That works out to only about $12 to $25 a month.
To save on renters insurance, consider bundling policies. If you need car insurance as well, buy both products from the same insurer to get a discount.
Another option to lower your costs is to compare renters quotes from multiple insurance companies. Policyholders should shop around often to make sure they're getting the best rates.
Q: If I don't have a lot of stuff, do I really need renters insurance?
A: Even if you don't own a lot of things, renters coverage is still a good idea. In some cases, your landlord might even require it.
People are often surprised as to how much their belongings are actually worth. Even if you live in a studio apartment, your combined value of any electronics (like a phone), computer, clothes, jewelry, books, movies, and furniture is probably substantial.
Besides covering the cost of your belongings, renters insurance is useful for several other reasons. It gives you liability coverage if someone hurts themselves in your apartment. It also pays for expenses if you have to live in temporary housing while your apartment gets repaired.
References:
QuoteWizard.com LLC has made every effort to ensure that the information on this site is correct, but we cannot guarantee that it is free of inaccuracies, errors, or omissions. All content and services provided on or through this site are provided "as is" and "as available" for use. QuoteWizard.com LLC makes no representations or warranties of any kind, express or implied, as to the operation of this site or to the information, content, materials, or products included on this site. You expressly agree that your use of this site is at your sole risk.